Melbourne/Northern suburbs
The
northern suburbs
of
Melbourne
include Ascot Vale, Broadmeadows, Brunswick, Bundoora, Coburg, Epping, Hume, Ivanhoe, Moonee Ponds, Nillumbik Shire, Northcote, South Morang, and Tullamarine.
Understand
Moonee PondsOnce the heart of boring, conformist suburbia, Moonee Ponds is the home of Barry Humphries' character Mrs (later Dame) Edna Everage. The local racecourse is one of Melbourne's Big Three, along with Caulfield and Flemington.

Brunswick and Coburg are major destinations in the inner and middle north of Melbourne. They fall within the City of Moreland, which also covers other suburbs including Fawkner, Pascoe Vale and Glenroy. Brunswick is famous among Melburnians and visitors for its unique hipster vibe and amazing bar and café scene. The spine of the area is Sydney Road, a happening place day and night. The area is not to be confused with Brunswick St, a popular place for eating out in Fitzroy in Melbourne's inner north.
Banyule is a suburban region in the north-east of Melbourne. The main centre is the suburb of Heidelberg, with a sizeable shopping strip, hospital and other services, and the namesake for the Heidelberg School of Art. Ivanhoe is a major suburb in the south of the region, with the original 1960s city hall, and Greensborough is home to a major shopping centre in the north. While much of Banyule possesses a suburban nature, most of its borders are lines by creeks and rivers, including the Yarra River in the east and the Darebin Creek in the west. Densely-wooded hills provides an escape from suburbia in the far north-western area around Montmorency and Saint Helena.
Get in
The three main rail corridors through Melbourne's north are the Craigieburn, South Morang and Upfield lines. Tram lines also radiate from the city, better serving the inner suburbs than those further out. Buses fill the spaces in between.
Moonee Ponds
Moonee Ponds JunctionThe Moonee Ponds tram and bus interchange is at the intersection of Mount Alexander Road, Ascot Vale Road and Pascoe Vale Road. The route 59 tram stops there, heading south to the city and north to Essendon and Airport West. The 82 tram terminates there, connecting Moonee Ponds and Footscray. Buses from the interchange connect Moonee Ponds to the northern suburbs, to north-western suburbs past Essendon, and to Footscray and Williamstown.

Moonee Ponds Railway StationOn the Craigieburn line, it has trains to and from the city every 20 minutes.
Ascot Vale
Ascot Vale railway stationTrains run to Ascot Vale station every 20 minutes from the city. The Route 57 tram from the city travels along Union Road and Epsom Road, and the 82 tram from Footscray to Moonee Ponds passes the north end of Union Road as it runs along Maribyrnong Road.
The route 472 bus between Moonee Ponds and
Williamstown
stops at the intersection of Union Street and Francis/Mariam Streets, and the 404 between Moonee Ponds and Footscray runs along Ascot Vale Road.
Brunswick and Coburg
Brunswick and Coburg are easily reached from
Melbourne's City Centre
by train and by tram. The 19 tram to North Coburg traverses Sydney Rd, from Elizabeth St in the city, and services the busiest parts of both Brunswick and Coburg. The 96 tram (from Bourke St) travels along Nicholson St in the east to East Brunswick, stopping at a few popular cafés and attractions. Trams 1 and 8 follow Lygon St (from Swanston St) before continuing onto the Nicholson St extension in East Coburg and Moreland Station respectively. Tram 55 (from William St) travels through mostly residential areas in the west towards its West Coburg terminus.
The
Upfield railway line
also has a few of stations in Brunswick and Coburg, although operates to a 20-minute frequency, compared to the 6- to 10-minute frequency of the 19 tram which it parallels.
Fairly regular buses traverse the east-west streets of Brunswick and Coburg, connecting the tram lines and creating a public transport grid. A map showing the Moreland area's trains, trams and buses can be viewed
here
.
Northcote and Ivanhoe
The
Hurstbridge Line
is the best way to reach Banyule from the
Melbourne/City Centre
, with the journey to Heidelberg Station taking just under half an hour. Alternatively, neighbouring areas such as
Darebin
and
Manningham
can be reached by bus, including the high-frequency 903 SmartBus from Heidelberg.
By car, Banyule is best reached from the Burke Rd or Bulleen Rd exits on the Eastern Freeway.
See
Moonee Ponds Courthouse Museum

address: Corner Mount Alexander Road and Kellaway Avenue, Moonee Ponds

The former Moonee Ponds Courthouse housed a museum of the local area, run by the Essendon Historical Society. In June 2016, a fire damaged the building and the collection. Restoration is happening, but the museum remains closed until further notice.

phone: +61 3 8325 1750

address: 180 Holmes Rd, Moonee Ponds

Interesting gallery with exhibitions, art history talks, adult art courses, and workshops.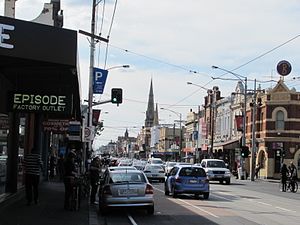 phone: +61 3 9388 0623

address: 8 Glenlyon Road, Brunswick

Brunswick Town Hall and Counihan Gallery

phone: +61 3 9389 8600

address: Corner Sydney Road and Dawson Street, Brunswick

The historic Brunswick Town Hall contains a branch of the Moreland City library, and the Counihan Gallery, a contemporary art space.

Holy Trinity Serbian Orthodox Cathedral

phone: +61 3 9380 2996

address: Corner of Nicholson Street and Glenlyon Road, Brunswick East

Beautiful modern church with a large knotwork cross facing Nicholson Street.

Street Art

address: Corner of Moreland Road and Holmes Street, Brunswick East

Melbourne is full of great street art and graffiti. Just one example is on the side of Worthy Apparel on Moreland Road as the number 8 tram turns left from Holmes Street. Go for a wander or ride the trams around and keep your eyes open for more great aerosol art.

Melbourne Olympic Village

address: Alamein Rd, Heidelberg West

The athletes village of the 1956 Melbourne Olympics resides in Heidelberg West, and has since been converted to public housing, a school, a small shopping centre amongst other uses. The original five-ring symbol of the Olympic Games still hangs over Alamein Rd as a testament to the area's history.

Banyule Homestead

address: 60 Buckingham Rd, Heidelberg

Constructed in 1846, Banyule Homestead is one of the oldest surviving houses in the state, constructed in the Gothic revival style. Note that the house is now privately-owned and visitor entry is not possible.
Parks
address: Corner Mount Alexander Road and Kellaway Road, Moonee Ponds

A place to spend a relaxing day. There's a rose garden, a sunken garden, a lake, a cafe, and a 50-m pool open from November to March ($5.70 pool entry). Monuments include a cenotaph remembering Australia's dead in World War One, and a cairn marking the spot where the doomed Burke and Wills expedition camped on its first night heading out of Melbourne in 1860. There's a children's playground and an island rotunda, and if you follow the website link there's a brochure for a free self-guided local heritage walk starting and ending at the park.

CERES Community Environment Park

phone: +61 3 93890100

address: Corner Roberts and Stewart Streets, Brunswick East

A place for community-based learning and action for environmental benefit, social justice, economic satisfaction, cultural enrichment and spiritual nurturing. Some of its facilities include an organic grocery open 9-5 every day with free live music on Wednesday, Saturday and Sunday mornings, a permaculture nursery and an organic cafe. There's a visitor centre and regular workshops, a nature play area and an energy park displaying ways of harnessing natural power. There's much more: download CERES' "Chook" app from the Apple App Store or Google Play, or visit their website for much more info.

address: 73 Holmes Street, Brunswick

If you've grabbed some cheap takeaway food and want to watch the trams sail by, or maybe if you have some children who need to let off some steam, this small park might be the perfect place. Named after the first Maltese-Australian to serve as Mayor of any Australian city, this park has a playground and an accessible water fountain.

Woodlands Historic ParkImmediately north of Melbourne Airport, contains an 1840s homestead and a nature reserve.
Do
address: McPherson Street, Moonee Ponds

One of Melbourne's Big Three horse racing venues, there are several race meetings a month in the busy season from September to March. The famous Cox Plate weight-for-age race is run here in late October each year

Moonee Ponds Clocktower Centre

phone: +61 3 9243 9191

address: 750 Mount Alexander Road, Moonee Ponds

Performing arts centre including drama, dance, music performances and movie screenings.
Buy
phone: +61 3 9326 1746

address: 639 Mount Alexander Road, Moonee Ponds

Slightly cramped shop, filled with thousands of interesting second-hand books, coins and stamps. Don't expect to be hassled until you ask for help. Definitely worth a tram trip for a relaxing browse.

phone: +61 3 9663 1223

address: 33-37 Stewart Street, Brunswick

RetroStar Vintage has a warehouse sale about once a month, where every item is $10. Follow the News page on their website, or their Facebook page, for details of upcoming sales.
Eat
Cafe 2000

phone: +61 3 9326 1446

address: 633 Mount Alexander Road, Moonee Ponds

There's nothing particularly amazing about the standard cafe meals here, but the prices are incredibly low. Right next to the tram and bus interchange, so definitely worth a look if you're in the area.

address: 151 Union Road

Vegan, egg-free, dairy-free bakery with gluten-free (and many more) options. Five choices of non-dairy milks for coffee and shakes.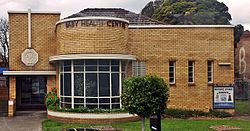 There are some great places for eating in Brunswick and Brunswick East
phone: +61 3 9386 0440

address: 645 Sydney Rd Brunswick

A Sydney Road classic, this place offers all sorts of Lebanese bakery products with pizzas for as little as $2. Cheese pies with halloumi, spinach and feta triangles, felafel or kafta wraps, platters from $6 - $12,

phone: +61 3 9078 0342

address: 313 Lygon Street, Brunswick East

Vegan cafe.

phone: +61 3 9388 8255

address: 116 Lygon Street, Brunswick East

Seriously great Middle Eastern food. Menu changes frequently so difficult to recommend specific dishes.

phone: +61 3 9381 2244

address: 130 Lygon Street, Brunswick East

Fantastic place for breakfast. The bircher museli is excellent. The breakfast plate with homemade hashbrown and feta cheese is sublime. Be prepared to wait for a table on the weekends. But worth the wait.

phone: +61 3 9387 7771

address: 128 Lygon Street, Brunswick East

Tasty South Indian restaurant. The food is excellent and excellent for your wallet. Mains start from $12 and it's BYO (99 cents corkage per person, and there is also a small wine shop across from the restaurant which does nice local wines as well)

phone: +61 3 9380 8383

address: 163A Sydney Road, Brunswick

Pub with vegan-friendly tap beers and a vegan restaurant

The Green Refectory

phone: +61 3 9387 1150

address: 115 Sydney Road, Brunswick

Easy to miss, but better you don't, The Green Refectory serves great value homemade food, and quality Illy coffee to accompany it. I'm a fan of the gourmet salads, especially the tangy couscous salad with pumpkin, snow peas and heaps of mint, and eye off the homemade muffins, famous for their large and irregularly shape, for later. The crowd is eclectic mix of the Brunswick artsy crowd, university students and young professionals pushing prams. I head to the outdoor area for a bit of space and it feels like I've stepped in someone's backyard, complete with garage at the back and outdoor toilet. Despite its non attendance in 'Signage 101' (look for the 'Illy' coffee sign that juts out from the front windows), the difficulty of locating this place hasn't affected its popularity at all

phone: +61 3 9380 4060

address: 163 Lygon Street, Brunswick East

Quaint and lovely cafe. Another place that does a great breakfast. Egg and bacon panini or breakfast pie to start the day off, pies, panini and tarts for lunch and dinner. Cakes for dessert and a range of specialty bread to eat at home, including an olive sourdough loaf, and spelt bread.

phone: +61 3 9380 8425

address: 504 Sydney Road, Brunswick

Tiba's Quality Lebanese food at very cheap prices. You can order a Shwarma plate for $14.80, and you will get rice, salad, bread, dips and meat. Again, this restaurant has large servings. They also have very nice Baklava and do great coffee. The front end of the restaurant is for take-aways, as they also do kebabs. The restaurant is 100% halal and alcohol free, however you can do take away on the food if you really need a beer.
See also the organic cafe at
CERES Community Environment Park
in the See and Do section
Drink
The Alderman

phone: +61 3 9380 9003

address: 134 Lygon Street

Low key, comfortable and cosy bar. Just like Fitzroy bars used to be like. Small courtyard in the back. Food from Rumi (next door) can be ordered and delivered to the Alderman.

phone: +61 3 9381 2413

address: 313 Sydney Road, Brunswick

The best beer garden in Brunswick (and possibly Melbourne), with live music outside on Sunday afternoon. The best place to spend a summers afternoon.
See also the
Cornish Arms
in the Eat section.
phone: +61 3 9043 9227

address: 791 Sydney Rd, Brunswick

Techno/psy-trance club offering two floors, large smokers' area and fantastic Funktion-One speakers. Different events every night.
Sleep
phone: +61 3 9459 1166

address: 459 Lwr Heidelberg Road, Heidelberg

This grand brick building was established in 1848, not long after the city of Melbourne was founded. Two large suites are available which come with a spa bath, mini bar and bath robes. Additionally, the Old England as it's affectionately known is also popular for its restaurant and bar facilities.
Stay safe
Some suburbs in the north have a notorious reputation for crime. You should be careful of your belongings, and avoid travel during the night. There should be no issues during the day. You should exert the most caution in the suburb of Broadmeadows, and around train stations.