Melbourne/St Kilda
St Kilda
is a vibrant beachside suburb of Port Phillip, in south-eastern inner
Melbourne
,
Australia
. St. Kilda is famous for its beach life and the bar and restaurant scene along Fitzroy Street.
Formally known to be seedy and run down, there has been a revival in the 21st century as young professionals and travellers have increased in numbers.
Get in
St Kilda can be reached from the City Centre by public transport; a map of St Kilda and the surrounding area's public transport network is available on the
PTV website
.
By tram
The best way to reach St Kilda from the
city centre
is by tram. The journey takes approximately 25 minutes.
Route 96 from along Bourke Street or Southern Cross Station (towards St Kilda Beach) - the fastest of the three, it functions as a light rail travelling along the former railway, taking about 20 minutes with a 6-10 minute frequency. It operates exclusively with high-capacity, low-floor trams but can be very crowded. Within St Kilda, it travels along Fitzroy Street, the Esplanade and terminates at Acland Street.
Route 16 (also 3a on weekends) from along Swanston Street or Flinders Street Station (towards Kew) - passes along Fitzroy Street, the Esplanade and Carlisle Street. It then travels into the neighbouring suburbs of Balaclava and St Kilda East, before heading onwards to Kew in Boroondara.
Route 12 from along Collins Street (towards St Kilda) - passes through the residential streets of the inner south and St Kilda West before terminating at Fitzroy Street.
The eastern periphery of St Kilda, including St Kilda East, can be reached by
Route 67
(towards Carnegie), or by
Route 3 or Route 3A
(towards East Malvern).
By train
St Kilda does not have a railway station, with the former railway converted to the Route 96 light rail tram. St Kilda East is served by
Balaclava Station
on the
Sandringham Line
.
By bus
Buses are useful for accessing the more residential areas of St Kilda and its surrounds that lack tram services. High-frequency
Route 246
operates along Punt Road and connects St Kilda East to Melbourne's
inner east
. Bus routes 600, 606, 922 and 923 run via Mitford St and Broadway in Elwood, south of St Kilda.
By bike
Melbourne's Blue Bike docked bike scheme extends down as far as St Kilda - and the ride between here and the city centre is very pleasant cycling. Of course, Obikes (dockless) are ubiquitous if you care to pick one up and go for a ride along the beach.
By car
From the City Centre, St Kilda is best reached via
St Kilda Road
, the continuation of Swanston Street in the CBD. At St Kilda Junction, follow the signage for Fitzroy St. The journey takes approximately 25 minutes, depending on traffic.
See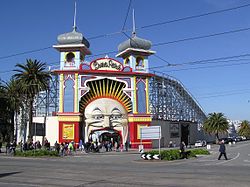 phone: +61 3 8534 3600

address: 26 Alma Rd

An engaging museum that depicts the story of the Jewish community in Melbourne and Australia, in addition to the history of the strong local congregation within St Kilda and Caulfield. Houses a number of artefacts from around the world. Guided tours available on request.

St Kilda Beach

address: 43 Jacka Blvd

One of Melbourne's most famous and popular beaches, it is an enjoyable place to spend an afternoon. Apart from the omnipresent swimming, popular activities include sunbathing, sailing, beach volleyball, sandcastle-building, jetskiing and kitesurfing. The beach is regularly patrolled in the Summer by surf lifesavers.

phone: +61 3 9209 6777

address: Cnr Herbert & Blessington St

St Kilda's own botanical gardens were established in the 1800s and are an oasis of tranquility amongst the area's bustling surrounds. A short five minute walk down a side street from St Kilda's main hub, its features include a large conservatory, glasshouses, a gazebo, playground, a giant chess board and an ornamental lake. Detailed information about the plants and wildlife are available on the council's website.

St Kilda Pier, Breakwater and Kiosk

phone: +61 131 963

address: Pier Rd

The long, wooden pier is a popular spot for walking and fishing. Many of the fishermen along the pier will be happy to show you their catch if politely asked. At the end of the pier sits the historic kiosk, now a restaurant, which was rebuilt to the original plans in 2006 after an earlier arson attack. At the far end of the pier is the St Kilda breakwater, which is home to native water rats and the popular little penguins. The colony has existed since the 1950s, nestled amongst the rocks of the breakwater. As it's not an official tourist development, you can see the penguins for free most days at sunset in the publicly accessible area of the breakwater. Respect the penguins by not touching them, feeding them or using flash photography. Alternatively, boat tours are available through Parks Victoria via their website.
Do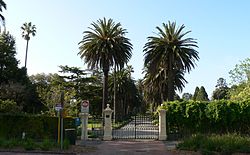 phone: +61 3 9525 5033

address: 18 Lower Esplanade

This St Kilda icon's famous mouth entrance continues to grace Melbourne's postcards and for good reason. Built in 1912, the historic amusement park is free to enter, with a number of rides to keep the young and young at heart entertained. The fabled Scenic Railway is the oldest continually operating wooden-framed rollercoaster in the world, and gives panoramic views over the nearby bay. Other rides include all the usual favourites, such as a Ferris wheel, dodgem cars and a ghost train. A great day out for kids and families. In poor weather, some rides may close, including the historic rollercoaster.

address: 10/18 Jacka Blvd

An old Melbourne institution perched on the St Kilda foreshore, the Sea Baths building now has a variety of different functions, including a gymnasium, a spa, a sea water pool and countless restaurants, bars and cafés.
Events
Visit the flea market on Sundays at the Upper Esplanade. Good variety and prices for innovative and creative souvenirs, bags etc.
Every Sunday evening around sunset, there is a big party at the Espy. Situated on the picturesque Upper Esplanade, this pub has one of the best views in Melbourne. Its a bar with live music, pool tables and a lounge. Not to be missed, but bring extra cash for drinks. $5.30 for 3/4's of a pot of beer, jugs are $23.
Note: the Espy has been closed for the past two years. It's under new ownership and there are talks of reopening.
Buy

address: 125 Grey Street St Kilda

Scout down to Scout house for cool vintage stuff, textiles, lighting and beautiful handmade.
Eat
You are truly spoilt for choice when it comes to eating in St Kilda, with over 100 eating-out venues available. The main streets in this area, Acland and Fitzroy Streets, have every type of take-away and restaurant. On Fitzroy Street, you can really see a contrast with upmarket restaurants with white table cloths rubbing shoulders with fish and chip takeaways. Depending on your budget, you are spoilt for choice. There are many cafes and restaurants favoured by locals hidden away in adjoining streets. Barkly St has Il Forniao - excellent pizza, and Claypots is a fantastic 'roll your sleeves up' type fresh fish restaurant. Acland St is noteworthy for its mouthwatering pastries.
St Kilda locals and Melbournians from neighbouring suburbs all cruise to the many cafes in the area, especially on weekends, for coffee and breakfast which is often served all day. Cafe Racer (Marine Parade) and Leroys (Acland St) have the locals nod midweek, Fringe and Vibe (Acland St) are always busy with weekend visitors and tourists due to their great location for People watching.
Another great location is the Vineyard. If you can put up with the 'too cool for school' attitude and lack of interest from the bar and waiting staff at this venue, you are likely to have an enjoyable afternoon sitting on the terrace when it is sunny. The Vineyard has an enviable location beside a park full or Grand Canaries palm trees beside Luna Park. Sunday evenings are usually packed with the remnants of weekend parties who are partying on to a DJ.
East St Kilda and Caulfield are home to a vibrant Jewish communities, and kosher bakeries and cafes abound.
Budget
The 'Banff' café at 145 Fitzroy Street does delicious, generously-sized pizzas for $5.50 all day on Mondays and Tuesdays, and until 5:30PM the rest of the week. It is also good for happy hour from 3 to 6PM. A great place to sit outside on a warm afternoon. The building was once commandeered by the Americans as barracks for soldiers during WW2. It's an institution and the setting is nice but the coffee is average.
The Spud Bar, tucked into a little arcade of eateries on Blessington Street, just south of the end of Acland Street, does great value baked potatoes with a variety of toppings.
A couple of doors down from the Spud Bar is Lentil As Anything, an incredible vegetarian curry house where there is no price list - you pay what you believe the food to be worth. Worth getting down early for a spot out the back.
La Roche in Acland Street has $5 pizzas and $6 pastas on some nights as well as cheap drinks. Favoured by younger locals and students.
Bala's. Opposite Luna Park, a must for the budget traveller.
Mid-range
Rococo, Acland St - Excellent quality food. Pizza/Pasta. Sit inside near the fire in winter or on Acland St.
Dogs Bar, Acland St- Wine bar packed with locals. Serves an antipasti menu, has an extensive cheese menu and hundreds or Australian wines on offer. tough finding a seat outside on a nice evening or inside on a weekend evening. Always has an atmosphere.
Soul Mama, 10-18 Jacka Boulevard. Nestled between the swimming bath and a cafe, you find a buffet style vegetarian restaurant at the first floor.
Glicks, Carlisle St, East St Kilda. For Kosher food, this outlet includes a bakery, a pizza/pasta sit down (9527 8733) and a fast food take away (9527 9968).
Splurge
Donovans, 40 Jacka Boulevard, opposite the beach and evening sunsets. An Age 2-Hat restaurant. Superb food at a pricey cost.
Stokehouse, 30 Jacka Boulevard, almost next door to Donovans. An Age 1-Hat restaurant. Posh place for chilling and excellent food.
Café di Stasio, 31 Fitzroy Street. Superb elegant Italian food.
Circa the Prince, Fitzroy St. Stylish and expensive.
Mirka, Fitzroy St. In the Tolarno hotel. Italian and French fares under the supervision of renowned chef Guy Grossi. The restaurant takes its name from local artist Mirka Mora who decorated the walls of main dining room decades ago.
Drink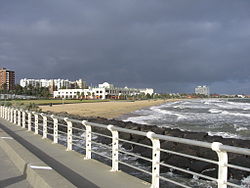 Pub crawling and clubbing along Fitzroy St is very popular with backpackers.
Sleep
Budget
phone: +61 3 9537 3777

address: 333 St Kilda Rd, St Kilda

Habitat HQ was voted the No.1 backpackers hostel in Victoria. Very clean. 24 hour security. Location has very convenient public transport options. Email for group bookings.

phone: +61 3 9525 3501

address: 169 Fitzroy St, St Kilda

Above the Elephant and Wheelbarrow hotel. Free breakfast daily and a great place to stay. You can park in the carpark behind the hotel overnight till 8AM, but you will probably get away with parking there a bit longer.

Base Backpackers

phone: +61 3 8598 6200

address: 17 Carlisle St, St Kilda

Internationally rated as one of the top 10 Hippest Hostels in the world. Base offers a out of the ordinary hostel experience, combining state of the art facilities with a laid back vibe.

Jackson's Manor

phone: +61 9534 1877

address: 53 Jackson St, St Kilda

Olembia Guesthouse

phone: +61 9537 1412

address: 96 Barkly St, St Kilda

Office hours 7AM-1PM, 5-7PM.

address: 38 Grey St, St Kilda

phone: +61 (03) 9534 5283

address: 24 Grey Street, St Kilda

One of Melbourne's largest and most popular backpackers with 4-,6-, 8-, and 10-bed dorms, some ensuite. Free pancake breakfast, large kitchen/comunal lounge area and fun social events every night. Email for group bookings.
Mid-range
St Kilda Stays, A manager/operator of mid-range and luxury short-stay apartments in St Kilda. 23 Apartments are available to accommodate 2-5 guests, with many on, or close to, Acland St and Fitzroy St. Minimum 7-night stay, rates from $84 to $238 per night. Book online at www.stkildastays.com.au, phone 0422 217 744 or e-mail: info@stkildastays.com.au
Splurge
phone: +61 3 9525 5522

address: 16 The Esplanade

The high-end of St Kilda's hotels offers a heated pool, gym, 24-hour room service and rooms with a breathtaking view over the water. A number of different room configurations available, from a queen double to a high-class penthouse with one or two bedrooms.
Connect

There are plenty of internet cafes (many in convenience stores) located on Fitroy street. Rates start from $2 per hour. Some also have cheap international calls.
Princes Internet, Grey street, located next to Peter Pans Travel on Grey Street, has internet, international calls, fax, printing and writing of data to CD