Melrose (Scotland)
Melrose
is a small town in the
Borders
region of southern Scotland. It's nowadays a commuter town for Edinburgh, and service town for the nearby Borders General Hospital. Though small, it's notable for its Abbey, and the nearby Abbotsford House; while a few miles east is Dryburgh Abbey.
This page also describes facilities in nearby
Galashiels
, a transport hub,
St Boswells
the turn-off for Dryburgh, and
Lauder
the village by Thirlestane Castle.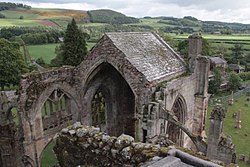 Get in
The transport hub is , which has trains at least hourly along the
Borders Railway
(opened in 2015) from Edinburgh Waverley. Trains continue from Galashiels to where the line ends, in spite of calls to extend it the last three miles into Melrose. But from Tweedbank it's less than a mile's walk to Abbotsford House.
Borders Bus X95
runs hourly Mon-Sat from Carlisle along the A7, via Langholm, Hawick, Selkirk, Galashiels, Stow, Newtongrange and Eskbank to Edinburgh. On Sunday only four buses run between Carlisle and Hawick, but the rest of the route is still hourly. Change at Galashiels for local buses to Melrose.
Bus X62 runs between Edinburgh and Melrose via Galashiels, Innerleithen and Peebles, a roundabout route taking 2 hr 30 mins.
Edinburgh
is 43 miles (69 km) north:
by car or bike
follow A7 for Galashiels, but for Melrose, Dryburgh and Abbotsford A68 is slightly quicker.
Get around

Buses are fairly frequent along the main transport corridor, Galashiels Tweedbank Melrose Newton St Boswells Jedburgh. Cycling is good for the back roads.

See
phone: +44 1896 822562

address: Melrose TD6 9LG

Founded in 1136 as a Cistercian abbey, it grew rich and renowned - and a tempting target for every army that passed through. It fell into ruin after the 16th C Reformation. Several Scots kings and nobles are buried here, and a lead casket buried in the Chapter House contains a heart, believed to be that of King Robert the Bruce.
Priorwood Garden, set in what was the Abbey's walled garden, has three sections: a garden cultivating herbs and flowers for dried-flower displays, an orchard (with over 70 heritage cultivars), and a woodland. It's run by NTS, open daily Apr-Oct 10:00-17:00, and free.
Harmony Garden opposite the abbey and also run by NTS is a more formal affair, with lawns, herbaceous borders, and a veg & herb garden. It surrounds a Georgian House, which can be rented, and the Borders Book Festival is held here in June. Open daily Apr-Oct 10:00-17:00, and free.
Trimontium Museum in Melrose Market Square commemorates Roman Scotland. It's open Apr-Oct 10:30-16:30, adults £2.

phone: +44 1896 752043

address: Melrose TD6 9BQ

The former home & gardens of the great late Georgian novelist Sir Walter Scott. (Gardens only half-price, dogs welcome.) He earned a fortune from writing, but spent an even bigger fortune extending and extending this place into a grand Baronial mansion, all mock-castellations. He was a huge collector of books, armour and other relics - even today they haven't finished cataloguing them all. His descendants lived here till 2004 but the house is now owned by a trust.
Old Melrose: Mailros means "bare peninsula" and refers to the headland 3 miles east of town where the River Tweed makes a tight bend then flows south. Here in the 7th C was the original Melrose monastery and settlement, and St Cuthbert (634-687) who grew up in this area was its prior before moving to Lindisfarne. It was long abandoned by the 12th C when King David sought to re-establish it here, but the monks opted for the site further west of the present Abbey and town. Nothing remains of the first structure but a marker, but there are pleasant woodland riverside walks. Access via Old Melrose Estate which is private property, but you can drive in and park if you're a customer of their tea-room.
Near the A68 north of Melrose is Leaderfoot Viaduct, an impressive 19-arch structure that once carried the Berwickshire Railway. They've blocked off the access path and officially it's closed to the public.
Dryburgh is a tiny farm settlement on a headland further south where the River Tweed makes another tight bend. It's on the east bank with no public transport, but from the main road outside St Boswells you can walk east down a lane to cross the river on a footbridge. (The lane is signposted "Donkey Sanctuary", but let that pass.) By car, take B6404 east from St Boswells, cross the river, then turn north onto B6356. A monument to William Wallace stands ahead of you, and another mile north is Scott's View, a grand westward panorama over Old Melrose and the Eildon Hills. However the reason to come is

address: Dryburgh TD6 6RQ

This was founded in 1150 by the "Premonstratensians", a monastic order similar to the Cistercians. Built in Gothic style, it often struggled financially: its lands weren't as rich as other abbeys, its patrons had other priorities, and English armies found it burned ever so well. It ceased to function by the end of the 16th C and fell into ruin. Sir Walter Scott and Field Marshal Earl Haig are buried here.
Smailholm Tower, a ruined 15th C Peel Tower, is three miles east of Dryburgh off the road to Kelso.

Thirlestane Castle

address: Lauder TD2 6RU

Built from the 16th C but greatly extended in the 17th & 19th, this is a grand mansion set in parkland. (The scraps of the 13th C castle it replaced can be seen a mile away.) Often stages events such as show-jumping, open air theatre and classic car rallies.
Do
Walk: OS Landranger map 73 covers Melrose and west as far as Peebles; map 74 covers St Boswels, Kelso and Jedburgh. Two long-distance trails pass along the valley here.
The Borders Abbeys Way is a circular 68-mile trail. It's usually done in five stages, in no preferred direction or order: Kelso-Jedburgh-Hawick-Selkirk-Melrose-Kelso. It's mostly lowland and easy going, with the highest point at 339 m (1113 ft).
St Cuthbert's Way is a 62-mile trail from Melrose Abbey, where the saint spent much of his life, east via St Boswells and Maxton to Kirk Yetholm, meeting the Pennine Way. Continuing east it crosses into Northumberland in England and runs down to the coast and by tidal footpath to Lindisfarne. It's all lowland in nature.
For a short walk nearby, head into the Eildon Hills.
Watch Rugby Union: Melrose RUFC play in the Scottish Premiership, the top tier of the Championship system. They play at The Greenyards, off High Street, and host the Melrose Sevens tournament in mid-April; the next is on 11 April 2020.
The next Borders Book Festival is 11-14 June 2020, in the Harmony Gardens.
Buy
Stock up on essentials at the supermarkets in Galashiels.
Born in the Borders
is a brewery and gin micro-distillery based at Lanton Mill near
Jedburgh
. They have a cafe and outlet shop at Tweedbank railway station and at Galashiels Interchange. These are open M-F 06:00-18:00, Sat 08:00-16:00 and Sun 10:00-16:00.
Eat
Decent food and drink at the hotels, see "Sleep." In town centre are Provender and Monte Cassino; Indiana has closed.

Seasons

address: Gattonside TD6 9NP

Emphasis on fresh, locally sourced food.
Drink
Tempest Brew is a small brewery on Tweedbank industrial estate just south of the railway station. Their shop is open M-F 10:00-17:00; they don't normally do brewery tours.

Sleep
Melrose has the most accommodation, with a few small hotels and B&Bs; there's less in Galashiels and St Boswells. Lauder has a small hotel, a caravan park, and you can even stay in Thirlestane Castle.
Lilliardsedge is a caravan park and campsite along A68 midway between St Boswells and Jedburgh. Open all year.

phone: +44 1896 822285

address: Market Square, Melrose TD6 9PL

Comfy small hotel, has a restaurant and a bar. They also run Thistledo self-catering cottage.

address: Market Square TD6 9PQ

Small hotel with brasserie and restaurant.

address: St Boswells TD6 0RQ

4-star country house hotel in Victorian building next to Dryburgh Abbey.

phone: +44 1896 822308

address: High St, Melrose TD6 9PD

Small friendly 2-star in town centre. No online booking, enquire by phone or email.
Go next
Within the Borders, see the other abbeys at Jedburgh and Kelso, and the sea cliffs of St Abb's Head.
Roads south lead into
Northumberland
, which is wilder than the bucolic Borders.
Edinburgh
to the north and
Glasgow
to the west are both unmissable.