Memphis
Memphis
is the second largest city in the state of
Tennessee
, after Nashville. The state rests in the southeastern portion of the
United States
. Memphis, with a population of more than 670,000, is also the county seat for Shelby County. The city's claims to fame include Graceland, the mansion Elvis Presley lived in during his later years. Perhaps more importantly, Memphis is considered by many to be the home of blues music.
Understand
Although downtown Memphis has experienced quite a rebirth and renewal in the last few years, the center of the city is older; it is full of new development, teeming with change and coming into its own. In the past few years, the city has emerged to boast one of the largest downtown populations among US cities. Citizens again have a vested interest in making downtown a safe, exciting place to visit and relax in after decades of abandonment.
Memphis is extremely hot in the summertime, and the humidity can make you feel even hotter! Those who have trouble tolerating high heat and humidity may wish to avoid visiting in July and August.

Get in
Memphis is on the southwestern corner of Tennessee, with the
Mississippi River
and the state of
Arkansas
bordering it to the west and the state of
Mississippi
to the south.
By plane
Memphis International AirportMemphis is the primary FedEx distribution center and the world's second busiest cargo airport, making the sky full of planes to make your eBay purchases a glorious reality. Passenger service at Memphis has shrunk as Delta no longer maintains a hub here. Cargo and passengers who have been loaded into FedEx packages can get to anywhere in the world within 24-48 hours.

Allegiant Air: Austin, Fort Lauderdale, Las Vegas, Orlando/Sanford
American Airlines: Charlotte, Chicago-O'Hare, Dallas-Fort Worth, Miami, New York-LaGuardia, Philadelphia, Washington-National.
Delta Air Lines: Atlanta, Cancun, Cincinnati, Detroit, Las Vegas, Los Angeles, Minneapolis/St. Paul, New York-LaGuardia, Orlando, Salt Lake City
Frontier Airlines: Denver, Washington-Dulles
Southern Airways Express: Destin, Florida; Harrison, Arkansas; Jackson, Missouri; and Nashville
Southwest Airlines: Austin, Baltimore, Chicago-Midway, Dallas-Love, Houston-Hobby, Orlando, Tampa.
United Airlines: Chicago-O'Hare, Denver, Houston-Intercontinental, Newark.
By car
Interstate 40 is a good route into town but doesn't go through Memphis; to get to the other side of 40 you take the north loop which is I-40, or the south loop, which is known as I-240 and is Memphis' beltway.
I-55 will take you right into town; just take the Riverside Drive exit from either direction to be at Beale Street in a minute.
Highway 72 Comes from Alabama, through Mississippi, and ends in Memphis.
Parking - Except for downtown, parking is usually free. If you're downtown, try a garage on Union Avenue or Front Street for around $2/hr, $7/day. Expect to hunt for cheaper parking if there's an event going on at the FedEx Forum, Beale Street or AutoZone Park. Parking vendors also appear to charge higher prices during these peak times.
By train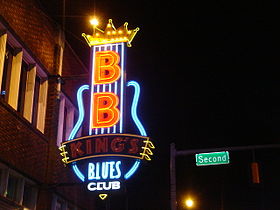 Running along the Mississippi River,
Amtrak's
overnight
City of New Orleans
between
Chicago
and
New Orleans
, serves Memphis once daily. The is on South Main St, which is just south of downtown.
By bus
phone: +1 662 335-2144

address: (Greyhound bus depot) 3033 Airways Blvd

Goes south along US Hwy 278 towards Cleveland, MS via Robinsonville, Shelby, Tunica and Clarksdale. Passengers transfer in Cleveland to continue towards Indianola, Greeneville, Jackson and other places in Mississippi and onwards to Baton Rouge, LA.

phone: +1 901 395-8770

address: (bus depot) 3033 Airways Blvd

Travels primarily on Interstate 22/US Hwy 78 (Memphis - Tupelo - Birmingham AL); I-40 (Oklahoma City - Little Rock - Memphis - Nashville), with some variations of the route diverging from Little Rock to Dallas Ft Worth on I-30); I-55 (St Louis - Memphis and Memphis - Baton Rouge on two separate routes); and I-55/57 (Memphis - Effingham (Illinois) - Chicago). Passengers can transfer buses in Birmingham, Baton Rouge, Chicago, Dallas-Ft Worth, St Louis, Nashville or Oklahoma City to continue to other destinations. MATA bus routes 2 and 4 will take you downtown while route 64 (airport shuttle) takes you to the airport.

address: (bus stop) MATA American Way Transit Center @ 3921 American Way

Low-cost carrier offers service to Memphis from Chicago, St. Louis, Atlanta, Birmingham, Little Rock, and Dallas. Fares start at $1 each way when reserved well in advance. Buses stop at the American Way Transit Center, at the southwest corner of American Way and Getwell Road. This location is several miles southeast of downtown, and public transit service is infrequent; MATA bus routes 36 and 56 will take you downtown while route 64 takes you to the airport.

address: (Bus stop & ticket agency) El Rancherito Market @ 5070 Raleigh LaGrange Rd

I-30/40/55 (Chicago - Memphis - Little Rock - Dallas). Passengers transfer to their other buses in Dallas to continue to other destinations in the US and Mexico.
Get around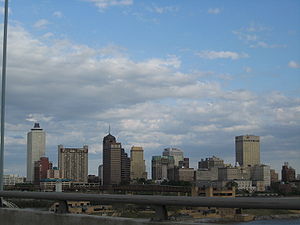 Driving - Travel by car is really the only way to get around Memphis if you want to do anything other than see Downtown.
Public Transit - Bus service provided by the Memphis Area Transit Authority (MATA) is available across the city. Some routes are very poorly served in the evenings. At nights and weekends some buses take a different route than during the day which can be a trap for visitors.
A trolley service used to operate in Downtown and into Midtown, but has been suspended indefinitely following a fire in 2014. Parts of the service have been replaced by buses.
Memphis is laid out in a more or less east/west fashion. Roads primarily go east/west and north/south. The expressway cuts directly through the city.
Downtown is on the west; it sits atop the bluffs, overlooking the mighty Mississippi River. (It is referred to as Downtown, not as West Memphis, which is a town just across the river in Arkansas.) Moving east you'll come to Midtown, a charming part of the city thought by some as the best part of Memphis. Beyond that, you will find East Memphis, and then the suburbs of
Germantown
,
Collierville
,
Cordova
, and
Bartlett
. The area between downtown and Midtown, referred to by locals as "Crosstown," is coming to life slowly but surely. There is a movement to turn it into an artist community. Members of this movement call the area "the Edge". However, most of the "art district" is on South Main.
See
Downtown
Downtown Memphis. Buy a ticket and take the trolley to get a good overview of the area.

Beale Street"Home of the Blues". Dozens of bars and clubs, most of them featuring live music. At night the street is closed to vehicles and you can drink on the street; some bars have "drinks to go" windows where you can get a 32-ounce cup of beer for $5 and go bar-hopping. Many bars have no cover charge. Peabody Place is largely a wasteland, as nearly all the stores inside have closed.

Mississippi River. River tours available most days through a variety of providers. Tom Lee Park is a nice place to view the river.

phone: +1 901 521-9699

address: 450 Mulberry St

The museum was built out of the Lorraine Motel, where Dr. Martin Luther King, Jr. was fatally shot on April 4, 1968, and out of the boarding house across the street, from which came James Earl Ray's shot. The museum features exhibitions on the whole civil rights movement, segregation and slavery in American History from the 1800s to the 1960s including the life and works of Dr. Martin Luther King, Jr. amongst others in the civil rights movements.

Belz Museum of Asian & Judaic Art

phone: +1 901 523 ARTS

address: 119 South Main St

Downstairs from the Center for Southern Folklore, this wonderful museum holds a collection of over 900 Asian and Judaic artifacts.

address: 374 Metal Museum Drive

Displays art jewelry, architectural pieces and sculpture. The grounds are full of permanent installations, and the museum boasts one of the best views overlooking the Mississippi River. They also have a working smithy.

address: 118 Adams Ave

An interactive museum designed to teach children and adults about fire safety. Also features a realistic room to show how much damage a dropped lit cigarette can do.

address: 125 North Front St

The park is accessible by monorail, made famous by a chase scene in the movie The Firm. The park contains a museum of the Mississippi River and a scale model of the river. Visitors are welcome to remove their shoes and wade through the replica mighty Mississippi. The "Gulf of Mexico" is a large pool in which visitors may rent paddle boats. At the tip of the park is an excellent vantage point of the city and the river. The northern end of the island is occupied by HarborTown, a model community. Entry to the park is free. Adult $8 (Mississippi River Museum, Roundtrip Monorail Ride, Guided River Walk Tour).

address: 191 Beale St

A short video is shown at frequent intervals and then you are given a headset so that you can listen to commentary and numerous songs as you walk through the exhibits. Sponsored by the Smithsonian. The museum used to be housed in the Gibson guitar factory across the street, which puts visitors right on the factory floor. Famous musicians periodically visit to pick up custom guitars or to play a set at the Gibson Lounge, in the west end of the building.

address: 540 South Main Street

The oldest restaurant in Memphis, this is one of the most Memphis-cultured places in town. Speros Zepatos founded the diner in 1919 after immigrating from Cephalonia, Greece. Situated at the corner of South Main Street and G.E. Patterson, the restaurant serves tasty food in the heart of downtown.
The Edge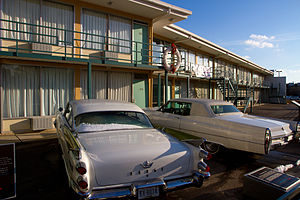 address: 706 Union Ave

Numerous blues, rock 'n' roll, and rockabilly recordings were made here, including Elvis's and Johnny Cash's first recordings. Tours are available, usually given by wallet-chained and mutton-chopped local musicians. Tour tickets are $10 and can be purchased at the cafe and gift shop inside the front door of the studio. Free parking is available in the back of the building.

Sleeping Cat Studio

address: 341½ Monroe.
Midtown
phone: +1 901 333-6500

Pandas and other animals galore - consistently ranked as one of the top zoos in the country. Lots to do for children and adults. Seasonal events include numerous educational events, Zoo Lights in wintertime for all ages, annual Zoo Brews beer-tasting from around the world and Thursdays Unplugged at the Lodge, drinks and music in the Yellowstone-inspired Teton Trek Lodge for adults.

phone: +1 901 636-2362

address: 3050 Central Ave

Built as a private residence by Clarence Saunders, the man who introduced Piggly Wiggly, the world's first self-service grocery store, the Pink Palace Mansion was later taken by the tax man and subsequently turned into a museum. (Saunders never actually lived in the house.) It is a very eclectic place, with everything from shrunken heads to animatronic dinosaurs with a life size copy of the first Piggly Wiggly in between. Also has an IMAX theater and a planetarium. Well worth a visit.

Overton ParkEncompasses the Memphis Zoo, Memphis College of Art (MCA), the Brooks Art Museum, the Overton Park Golf Course, and the largest stand of old growth forest in a US city.

Cooper-YoungThis neighborhood of restored homes is centered around the intersection of Cooper Street and Young Avenue, known by some as "the intersection of Memphis." This intersection has several cool bars and restaurants, as well as numerous shops. Be sure to come for the free annual Cooper-Young festival in September. Also, just north of the Cooper-Young intersection is Black Lodge Video. This rental store in a house, has almost every video imaginable. Be sure to look for the "This is s••tthe worst we could find" section.

Overton SquareOverton Square has undergone many changes over the years but is still the hottest place in midtown Memphis for locals and tourists who are looking for somewhere to eat, shop, or be entertained.
East Memphis
Lichterman Nature CenterPart of the Pink Palace family of museums, its 65-acres of lakes, meadows, and forests feature lush gardens with native wildflowers and trees and provide a home to a wide variety of plants, birds, reptiles, amphibians, and mammals.

Memphis Botanic Gardenwith over 96 acres of natural woodlands and cultivated gardens, is also home to the seasonal outdoor concert series 'Live at the Garden' and the renowned Japanese Garden of Tranquility. New to MBG is 'My Big Backyard", a 2½ acre children's garden with a larger-than-life birdhouse, a tunneling adventure, a teaching pond, "leaping lawn", "critter creek", and many other spaces that cater to children of all ages.

phone: +1 901 222-7275

One of the United States largest urban parks, Shelby Farms is over five times the size of New York's Central Park. Visitors enjoy walking, fishing, mountain biking, horseback riding, sailing, canoeing, paddle-boating, disc-golf, and bird-watching. Its Woodland Discovery Playground includes a large treehouse, sand area, climbing nets and activities for children of all ages. The park is also home to a herd of American Bison.
South Memphis
Stax Museum of American Soul Music

address: 926 E. McLemore Ave

The promotional material says "no backpacks" but this is not so. In any case, they can keep your backpack at the front desk, as with cameras which are not allowed.
Around town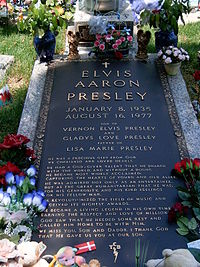 GracelandHome of Elvis Presley, "The King of Rock and Roll". It's no surprise that this is the number one tourist attraction in Memphis. Think "tacky tourist" trap but don't miss it – you might be pleasantly surprised. Although it is not advisable to venture in the suburbs surrounding the site, there is lots and lots of Elvis stuff to see here - the house itself (the upper floor, with Elvis' bedroom and Lisa Marie's nursery, is not open to the public), customized private airplanes, an automobile collection, gold records, costumes, and more. Elvis Week ("Death Week" to the locals) in early August, culminating in the candlelight vigil on the anniversary of Elvis' death, is a big deal, which can be a good thing or a bad thing, depending on your perspective. Check out the bizarre felt-pen scribblings on the fence, some hip-ironic, some of the psycho-lunatic-fan sort. If you happen to be in Memphis during Birth or Death Week – January and August, respectively – sit downtown for a few hours just to watch the Elvis fans. Not just on Halloween, but at any time of year, dress up like the King (or like Priscilla if you're a girl) and you'll instantly be a star in your own right!
Do
Walk to the river and touch the Mississippi's water with your fingers.
Ride a trolley around the downtown area. Loads of fun, these are a great way to go places downtown, but in midtown and further you might want to rent a car. There are busses for you penny pinchers, though.
Check out some live music on Beale Street

phone: +1 901-721-6000

address: 200 Union Ave

Minor League Baseball team that plays at , in the middle of downtown. They are the Triple-A affiliates of the St. Louis Cardinals.

address: 191 Beale Street at Third Stree

FedExForum is the largest public building construction project in Memphis history. Managed and operated by the Memphis Grizzlies, the facility is home to the Memphis Grizzlies of the NBA and the University of Memphis Tigers men's basketball team.

Memphis GrizzliesNBA team.

Memphis TigersTeams representing the University of Memphis, which participate in NCAA competition as members of the American Athletic Conference. The most visible Tigers team by far is the men's basketball team, regularly a conference contender and occasionally a national contender as well. As noted above, the men's basketball team plays at FedExForum (though not the women's team, which plays on campus). The football team also plays off campus at Liberty Bowl Memorial Stadium on the Mid-South Fairgrounds.

phone: +1 901 721-6000

The city's newest sports attraction is this men's soccer team, which begins play in 2019 in the second-level USL Championship. The team will share AutoZone Park with the Redbirds.

Memphis HustleThe Grizzlies' affiliate in the NBA G League, playing at Landers Center on the Mississippi side of the border in Southaven.

Take a carriage ride around downtown and see Beale Street, Court Square, Confederate Park, the Mississippi River, Hernando DeSoto bridge, several movie locations on Front Street, the original and the current Peabody Hotel, all while learning about the great city of Memphis
Fourth of July Fireworks, Tom Lee Park, Mississippi River: These fireworks have improved immensely since two fireworks shows merged into one at the river in 2007. There is also food, music, and other entertainment.

Memphis In May International FestivalMonth-long festival featuring:
Beale Street Music Festival - a showcase of over 40 national, regional, and local artists on multiple stages for three days, occurring the first weekend in May.
World Championship Barbecue Cooking Contest - hundreds of teams compete for over $100,000 in prizes and bragging rights, and visitors can taste the country's best barbecue.
Sunset Symphony, a day of entertainment on the banks of the Mississippi River with local musicians, an air show with vintage and concept aircraft, and as the sun is setting, the Memphis Symphony Orchestra performs. After dark, as the symphony begins their last set, the sky fills with fireworks, thus marking the close of Memphis in May.
phone: +1 901-278-0087

address: 827 S. Main Street

Check out this great beer producer. You can tour the facility for free on any Saturday, but you must make reservations. Tours start at 1PM.,
Buy
address: Picks up at Elvis Presley Plaza on Beale

You can see most of Memphis' historic musical attractions on this fun, funky, educational bus tour. It's the only tour in town to put Memphis' musical heritage in the hands of real musicians, who will combine story, comedy, and live music in a one-of-a-kind show on wheels. Audience participation is encouraged with drums and other percussion pieces provided on the restored 1959 transit bus. Tour is 90 minutes, but if time allows, go for the extended 2½ hour version. Well worth the time and money. Tours sell out, so reserve online in advance.
Downtown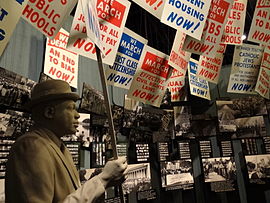 A. Schwab, Beale Street. Dry goods store whose motto is "If we don't have it, you don't need it." It's the place for souvenirs. It's been there forever, and is a breath of fresh air from the bulk of the establishments on Beale St, with live blues of its own during the day. Most family friendly store on Beale.
Midtown
Wizard's A fine gift shop with "smoking supplies" (wink-wink, nudge-nudge).

Overton SquareA small shopping/entertainment district on Madison Avenue, near Cooper.

address: 936 S. Cooper St

One of the oldest independent book stores in the country, Burke's has been selling new, used and rare books since 1875. A popular stop along book signing tours for authors ranging from John Grisham to Archie Manning and Anne Rice, Burke's has also been visited by celebrities such as Benecio Del Toro, Michael Jackson, Gene Hackman, REM and Matt Dillon.
Out East
Collierville Town Center - Catch Poplar Ave. east to the town of Collierville and browse the interesting shops on the square. Very pretty in the holiday season. Small and quaint, this square boasts a setting and some shops that aren't found elsewhere in Memphis. A steam engine and a few private railcars are open to the public.
Graceland
Of all the places in the world one can buy Elvis souvenirs, none is better than Graceland.
Eat
Memphis is one of the cheapest places in the USA to live, and that includes going out to eat. Memphis is famous for two things: music and food. The local BBQ is well-known, and you can sample it "wet" (with spicy, tangy sauce) or "dry" (rubbed with spices before cooking), with
rib tips
being a well-known local specialty. Other options abound across the city, from Southern home cooking to international fare. You won't go wrong with famous names, but the adventurous will find real treasures in modest hole-in-the-wall joints that make up for their shabby appearance with fabulous flavor.
Downtown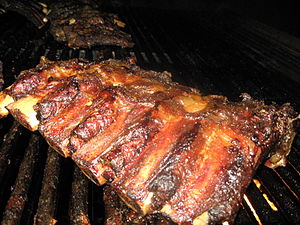 *
phone: +1 901 525 6602

address: 102 N. 2nd St. Memphis TN

Probably the oldest pop-up restaurant in the South. Serving waffles since 1928. The only place you can get Tomato Aspic, Fish Pudding, Boston Cream Pie, or Chicken Hash for lunch.

Earnestine and Hazel's

phone: +1 901 523-9754

address: 531 S. Main St

Eclectic, unique atmosphere, a staff that defines cool and of course the Soul Burger. Visitors can request a special ghost tour upstairs of the one-time brothel and then enjoy the best burger in Memphis. With a jukebox loaded with classic hits and a staff full of colorful stories of its history, even Cameron Crowe couldn't resist including Earnestine and Hazel's in his film Elizabethtown.

Little Tea Shop

phone: +1 901 525-6000

address: 69 Monroe Ave.

Memphis' oldest eatery (1918). Boasts "Healthy Home Cooking." Family-owned; fast, friendly service. Traditional Southern "meat & three" with daily specials. Don't miss dessert! (Featured on the Food Network's Diners, Drive-Ins & Dives.)
Pearl's Oyster House, 299 S. Main (522-9070), 11AM Monday through Saturday. Closed Sundays. Excellent New Orleans/Florida Panhandle-influenced seafood. Variety of oyster styles, po' boys, gumbo, shrimp, crawfish, grouper, and fried pickles. Two bars and a patio out back. Atmosphere is casual. On the trolley line.
Automatic Slims, Adjacent to the Peabody Hotel on 2nd Street. Kind of trendy, but nice wait staff and good food. Expect $25-$35/person.
Blues City Cafe, Beale and 2nd Street. Good ribs. The garlic pan-seared shrimp is tasty, as well. Prices from $6-$18. Jean Paul's Last Call is a small bar attached to Blues City. It attracts server staff crowd after-hours.
Flying Saucer, One 2nd Street. 90 beers on tap and ~120 in the bottle. Best beer selection in town. Serves typical bar food which is decent quality despite the Flying Saucer being a small chain.
Texas De Brazil, adjacent to the Peabody Hotel. Everything you expect in a Brazilian steakhouse. Expect $40-$50 per person for supper, but it's worth it. Lunch is the most economical time. Dressy attire--a dress shirt and slacks for men at the least--is strongly recommended.

The RendezvousA Memphis legend. Excels at Memphis-style BBQ in a no-frills environment where some of the crusty wait staff have logged more than 30 years. Go early--this in-the-basement establishment has quite a following and a long wait is expected nearly every night. Dry-rub ribs are the trademark, but also give the sausage plate and BBQ nachos a try. Pricey given the decor (and the fact that you're eating BBQ). Expect $15-20 per person.

The Arcade Classic old diner. Traditional diner food with the addition of pizza and hummus sandwiches. It's across the street from the train station at 540 South Main Street. Featured in several movies, including Jim Jarmusch's "Mystery Train".
Bluff City Coffee, In South Main's Art District. Try their signature cup "The Real Cappuccino".
Harry's Detour, 106 G.E. Patterson. Lunch Tu-Sa 11:30AM-2PM, Dinner W-Sa 5:30PM-10PM. An eclectic menu of delicious main courses, soups, salads and desserts served in an intimate setting. Private room and patio.
Westy's Bar/grill that occupies the site of the old North End restaurant. The North End was destroyed by arson in 1998, and Westy's took its place. Known for fried pickles, tamales, a wide selection of wild rice dishes and a popular fudge pie. Expect $7-12 pp, open late.
Dyer's, This retro diner is on Beale Street almost directly North of the FedEx Forum and next to Alfred's. It's got great burgers at a reasonable price. The only catch is that they are deep fried. It's definitely worth trying. Another recommendation is their chili cheese fries.

Huey'sBlues, brews & burgers since 1970. Casual tavern with a custom of blowing toothpicks into the ceiling through straws. Burgers any way you can imagine earns it a perennial "best burger" win in local reader polls. Several locations, including 77 S. 2nd. Come on Sundays for jazz afternoons and blues evenings.

address: 73 Monroe Avenue

At Great bar scene with awesome food that is a cut above your average bar grub. It's also a bit cheaper than the touristy places, as you can eat here for under $10 easily.

Gus's World Famous Hot & Spicy Fried Chicken

phone: +1 901 527-4877

address: 310 S Front St

Fried chicken.
Midtown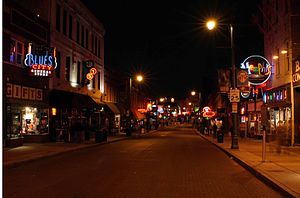 Young Ave. Deli Good place for bar food and/or rock shows. Try the fried dill pickles and of course the sweet potato fries. It's in the Cooper-Young district of Midtown. One of the biggest beer selections in town.
Pho Saigon Super yummy Vietnamese soup less than $10 for a bowl as big as your head.
Molly's La Casita Very good Mexican food priced around $10 per entree, with the best margaritas as voted by Memphis residents.
Pho Hoa Binh, Madison Avenue - Hole-in-the-wall Vietnamese. $5-10. Great tofu and wheat gluten dishes, so don't miss it if you're vegetarian.
Saigon Le, Cleveland Avenue - Another awesome Vietnamese restaurant. $5-10.
Indochina, Cleveland Avenue - Another excellent Vietnamese restaurant. Famous for their homemade egg rolls. $5-$10.
Brother Junipers, U of M area - Open for breakfast and lunch. Great omelettes. Fair-trade coffee. Strange hours. $5-$10. Associated with the Juniper Bakery, all proceeds going to drug rehab.
Bosco's, Overton Square The only locally brewed beer in Memphis (also a national award winner). Great pizza, entrees, etc. Excellent jazz brunch on Sundays. $10-20.
Huey's A Memphis landmark, the original Huey's offers one of the best burgers in town. $6-12.
Dino's, On Mclean near North Parkway intersection - Serves reliable versions of basic "American-style Italian food", being open for breakfast, lunch (offering sandwiches and plate lunches) and dinner six days a week. $6-20.
Corky's - One of the most well known barbecue places in Memphis. 3 or 4 locations within the city; $6-$20 per person. You can purchase their barbeque sauce too and have ribs shipped.
The BBQ Shop - Another of the best barbecue places in Memphis. One location on Madison Ave. Popular barbecue with good service. A sandwich with two sides will run you about $7.
Bayou Bar and Grill, Great Cajun food at moderate prices near Studio on the Square. Tuesday is $3 pint night. The Gumbo and spicy chicken sandwich is great.

Central BBQ

phone: +1 901 272-9377, +1 901 767-4672

address: 2249 Central Ave or 4375 Summer Ave.

This is yet another great BBQ place. There are two locations, but the original on Central Ave. is said to be the best by locals. BBQ nachos and ribs are must-haves.

phone: +1 901 746-9612

address: 2583 Broad Avenue

It's in the historic Broad Avenue Arts District. Jack Magoo's has a full menu and TV's galore to watch the game. 21 and up. Check the website for live music schedule.
East Memphis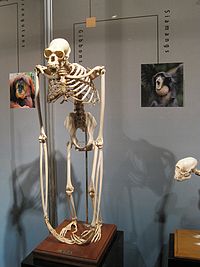 address: 551 South Mendenhall Rd

Consistently voted "Best Steak," by readers of all four major Memphis publications, Folk's Folly pairs fine dining with a cozy, comfortable atmosphere. This Memphis landmark embodies an unwavering commitment to quality by offering corn-fed prime steaks, and fresh seafood.
Belmont Grill, at Poplar and Mendenhall - Hole-in-the-wall bar and restaurant that serves great food. Try the shish kebobs. $10-20.
Germantown Commissary, On Germantown Road between Poplar and Poplar Pike (which is in Germantown) - some of the best ribs Memphis has to offer. $10-20.

The Half ShellGood seafood is hard to come by in Memphis, but Half Shell scores. Extensive menu, with a cajun tilt to most dishes. Fresh gulf oysters, King Crab, Champagne brunch on the weekends, and menu "front page" items that change frequently. The kitchen is open until 2AM (1AM on Sunday). Locations at Mendenhall/Poplar and Winchester/Centennial (near Southwind). There is also an abbreviated menu available at the Rhythms Cafe & Bar in Concourse B, near Gate 35 at the Memphis International Airport. Half Shell is also known for its live music on the weekends and its lively late-night bar crowd. Entrees $9 and up.

Buckley's-- Steakhouse.

Juicy Jim's

phone: +1 38111 901-458-4448

address: 546 S. Highland St

This is a great sandwich place near the University of Memphis on Highland Ave. The food is a bit expensive with sandwiches being about $8-12, but the quality is great and it is well worth it. The best sandwich shop in Memphis and has great pizza too. The shop will be moving across the street to the pizzeria in about 3 months.

Edo

phone: +1 901 767-7096

address: 4792 Summer Ave

Great Japanese home style cooking. This is about as close to real Japanese food as you can get without being in Japan. Expect to pay about $9 or 10 for a very tasty meal. They also have reasonably priced Japanese beers.

Muddy's Bake ShopDelightful neighborhood bakery with delicious baked goods--don't miss the cupcakes, with names as creative as the cupcakes are delicious--and wonderful, welcoming staff. Light lunch served as well, menu changes weekly. Voted best birthday cake in memphis by Nickelodeon Parents Connect. Lunch Items $6 and under. Cupcakes $1.50.

address: 50 Humphreys Center

Best Japanese food in Memphis. Although there are many locations around Memphis, the Humphreys location is the original and still the best. If you're lucky, your waitress will be Japanese, and the head sushi chef is Japanese. Jimmy Ishii, the owner, is also Japanese.
Elsewhere
Jerry's Sno Cones, at the corner of Wells Station and Reed Ave, Jerry's has some of the best Sno Cones you'll find anywhere, with a huge selection of flavors. They also have a hot food menu featuring Burgers, and fried bologna sandwiches. You can get a full meal sandwich, fries, drink, and dessert all for under $10.
Ellen's Soul Food and Bar-B-Q, 601 S. Parkway E. - Expect to hear the menu when you arrive to get down at this old-school soul food dream, though a hand-written paper copy is also available. Fried everything is their specialty, including okra, cornbread, chicken, and catfish that's worth a trip to Memphis by itself. The service is so good that the management will set you straight if you try to eat neck bones with a knife and fork. Entrees $7-9, including two side orders.

address: 1063 S. Parkway E.

One of the oldest restaurants in Memphis, with excellent American-Italian food. Don't miss the barbecue spaghetti or pizza.

Jim Neely's Interstate Barbecue

address: 2265 S. Third Street

No ambiance to speak of, but the barbecue is outstanding even by Memphis's high standards. The Interstate Barbecue in the B terminal of the Memphis airport is just as good. There's always a line, but it's worth it. There will be another plane later.

Tycoon

phone: +1 901 362-8788

address: 3309 Kirby Parkway

This is a great Asian restaurant that specializes in noodles. They offer a variety of Asian cuisine ranging from China to Vietnam to Malaysia. Prices average at about $7-8.

Eat Well

phone: +1 901 388-8178

address: 2965 N Germantown Rd

Called a "modern Japanese buffet," this place has a healthy variety of Japanese, Korean, and Chinese food, perhaps with an emphasis on Japanese. Lunch buffet is $12 with sushi, dinner buffet has sashimi and is $20. They also have great Japanese-style pan-fried gyoza. It's a great and refreshing buffet, and much of the clientele is Asian (Japanese, Chinese, and Korean) at any given time.

Mi Pueblo

phone: +1 901 751-8896

address: 3750 Hacks Cross Road

This is a great Mexican buffet with a nice selection of Mexican food. Clientele is mostly Mexican (so you know it's good), and prices are reasonable ($7-15).
Pizza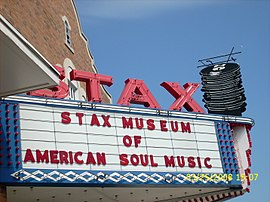 Aldo's Pizza- Midtown at Cooper/Central; Downtown on Main. Big slices, round pies, tender crust; Brooklyn style pizza. "The Memphis" features pulled pork, onions, and coleslaw from nearby Central BBQ. Rooftop seating with fans and shade.
Broadway Pizza- local pizza and beer joint in a classic location on Broad ave.
Exline's - A Memphis chain serving up some big ol' round pizzas cut into square pieces. The toppings are huge (as in large bits). The cheese on the cheese fries is nacho and it comes from a can; super fantastic. ~$10.

Camy'sWant to just hang out in your hotel? Call Camy's for the best pizza delivery in town.

Only delivery.
Memphis Pizza Cafe, Overton Square, also on Park Av., and a couple in the 'burbs - Tasty Pizza (BBQ chicken is good). Cold beer. All you really need. $10-15.
Garibaldi's, U of M area (back behind the YMCA). Great 70s atmosphere, great 70s style pizza. $5-10.
Fox Ridge Pizza, 2 locations: Fox Meadows & Cordova, round pizza, square cut, unique sauce and cheese. Also excellent hamburgers. $10-$20
Mellow Mushroom Brilliant! A real pizza place in Memphis (Germantown). This place also has and extensive craft brew beer menu. $10-30.

Juicy Jim's Pizzeria

phone: +1 901 435-6243

address: 551 S. Highland Street

Owned and run by Juicy Jim across the street from the old sandwich shop of the same name. This place has great pizza and subs at reasonable prices. Expect to spend about $10 - 20 for a nice sized pie with a couple toppings. The sandwiches are equally great and inexpensive considering the quality and size. Also has very reasonable beer prices: around $3 for a pint.
Variations of Quick
Memphis has a tradition of hiding its best food at the back of convenience stores. For instance:
Kwik Check, Madison Ave. near Overton Square. Best deli sandwiches in Memphis. Try the "Cheesy Muff" (vegetarian muffeletta) or "My Bleeding Heart" (spicy spicy hummus pita). $5-10.
901 Grill and Market, Central Ave. and East Parkway - Big huge burgers. Super nice steak fries. Gyros are excellent. They have veggie burgers just as big as the meat ones, but they only have one grill. $4-$6.
Listen
Soul, R&B, and rock 'n' roll have deep roots in Memphis, and destinations abound for good music today.
Beale Street in downtown Memphis makes sense as a first destination. A dozen clubs pipe their music onto the street.
Hi-Tone Cafe, 412-414 N. Cleveland. Featured musical acts could be anybody, from reggae to country-western acts – all of them party bands, to be sure. Make sure you show up ready to move a little, and drink a little.
Wild Bill's Lounge, 1580 Vollintine Ave. It sits unassumingly in a strip mall three miles northeast of Beale Street, where, as if out of an old movie, the boisterous Memphis Soul Survivors, led by the boisterous Miss Nicki, play to a boisterous crowd. Night hours on F-Su. As they pay the $10 cover, patrons are greeted at the door by Wild Bill himself.
Minglewood Hall, 1555 Madison Ave. Memphis' newest music venue, in Midtown at the former location of Strings 'n' Things.
Drink
Wine is sold in grocery stores, and liquor stores.
Beer can be found in grocery stores, liquor stores, and gas stations.
Buster's Wine on Highland at Poplar, near the University of Memphis. Also has a good selection of harder liquor and high-test beer. This place is very popular and always packed on the weekends, but has a fantastic, efficient staff that get you in and out quickly. Open every hour it's legal: M-Sa 8AM-11PM.
Joe's Liquor Speaking of booze, if you need packaged goods and you're in midtown, head to Joe's (Poplar and Belvedere) as much to see Sputnik (the vintage, spinning, twisting neon star) as for the beverages. Go at dusk for maximum effect.
Great Wine And Spirits is out east. Probably has one of more extensive wine stocks in Memphis liquor stores.

phone: +1 901-432-2222

address: Overton Square, 2120 Madison Ave

Brew pub and food. Featured on many "Best Of" lists.
Newby's, Highland Street (called the Highland Strip, near The University of Memphis). "Playboy" magazine rated Newby's the "Best place to party like a Rock Star!"
"The High Point", Madison Avenue. Swing dancing, the best live bands and any libation you crave.
Bluff City Coffee, 505 S. Main. The latest addition to the Art District of Downtown Memphis. Specializing in Italian style espresso based coffee. The coffee shop features comfort and conference style seating for meetings, free wireless internet, and print/copy/scan/fax capabilities to keep you productive throughout your day. Make sure to bring your laptop and stay a while. This coffee shop also feature a collection of Don Newman's vintage black and white photographs from the 30s, 40s, and 50s.
The Buccaneer, Midtown. This bar converted from a house has music of all types every night, with a counterculture twist. A penchant for chaos and tolerance to listen to an hour of feedback while the band fights is a plus. Ramones t-shirt optional.

Otherlands

phone: +1 901-278-4994

address: 641 Cooper St

A social hub for Memphis' art and music community. Espresso by day and beers at night when the coffee shop hosts intimate folk/rock shows.
RP Tracks This is a nice and moderately priced bar/restaurant near the University of Memphis on Walker Ave. It's a good place to start the evening on the Highland strip. They have many types of beer at reasonable prices (about 7 bucks for a pitcher) and have some veggie-friendly selections on their menu.

phone: +1 901-729-6960

address: 663 S Highland St

A great place to come relax and have a cup of coffee and enjoy a nice hookah. This is a private club due to the smoking factor so be prepared to pay a $6 membership fee and to be carded (this is an 18 and up establishment). It's got a very nice, laid back atmosphere and also has free Wi-Fi. It's on South Highland next to McDonald's. This is a coffee shop, and there is no alcohol on premises. A DJ plays there on Saturday nights.

phone: +1 901-524-1886

address: 679 Adams Ave

Victorian mansion-turned-lounge featuring potent drinks and an innovative, varied menu in a chic atmosphere. Explore all the rooms, each unique in theme and decor, full bars upstairs and downstairs, and a piano bar with amazing jazz singer weekend nights. Make sure not to miss the mac 'n' cheese, chocolate brioche sandwiches for dessert and the delightful mojitos.
Sleep
There is limited choice but the city offers some affordable and decent lodging.
Budget
Mid-range
Splurge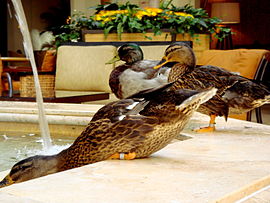 Not categorized by price
Connect
Stay safe
Safety in downtown Memphis has greatly improved in the last few years. Throughout the day, especially at night, there is usually a large police presence downtown, especially in the area around Beale Street. Use common sense when traveling in Memphis, just as you would anywhere else. Leave no valuables in plain sight in your car, and be mindful of where you are, especially at night. It is also wise to stay away from areas in North and South Memphis, as these areas have very high rates of crime.

Stay healthy
Memphis has some of the best hospitals in the region. Methodist, Baptist, and Saint Francis are the main hospitals in the city. The Regional Medical Center at Memphis (The Med), a city owned hospital, has one of the best trauma and burn centers in the Mid-South. There are many clinics in the area as well, many of which are operated by the hospital systems. Some of the hospitals in the city, though, can have long lines in emergency rooms. If you are not seriously injured, it would be best to go to one of the minor medical clinics or to drive to one of the hospitals in the suburbs of Memphis such as Methodist Germantown, Baptist East, or Saint Francis Bartlett. The Saint Jude Children's Research Hospital is world-renowned for its treatment of children's cancers.

Go next