Meppadi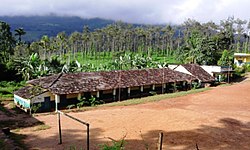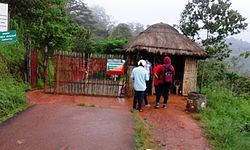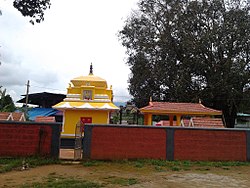 Meppadi
is the most scenic village of the Wayanad District of the
Malabar
region in
Kerala
state,
India
. It has excellent opportunities for hiking and mountaineering. The main attraction of Meppadi are the undulating tea estates.
Understand

Meppadi is an unspoilt and undiscovered tourist spot of Kerala. Not being a tourist trap, you can walk in the tea estates not being disturbed by touts and other visitors.

Get in
Meppadi is 12 km from
Kalpetta
town in the
Wayanad
District. It is 78 km (1.30 hr) from
Kozhikode
(Calicut), 106 km (2h.31m) from
Ooty
, and 281 km (5hr 25m) from Bangalore.
==Get around==
Bus - Plenty of local bus services are available for transportation between the townships.
Autorickshaw - Autorickshaws are cheaper compared to taxis and can be used to reach the interior places from the townships.
Taxi - Local taxis are also available at cheap rates. In Wayanad, the term taxi is mostly in reference with a Jeep style vehicle.
Car - Driving is pleasant as traffic is thin and disciplined unlike other parts of Kerala.
Walk - Many places of attractions are near by the towns so you could walk between them.
See
Chembra PeakStanding tall at 2100 metres, the Chembra Peak is the highest peak in Wayanad, and a favorite trekking spot. It is part of the Western Ghats. The trek to the top can take up to 2 hours. The heart-shaped lake located on the peak forms one of the attractions for the mountain trek here. To do the trek, you need to pay an entrance fee from the entry guard house near Meppadi. Typically, start the trek in the morning as you are not allowed to start the trek after noon. If you are not game for a hectic 2 hour trek, you can still do a flat trek till a nearby viewpoint and visitors center for a nominal fee. The Chembra Peak area has a variety of orchids and other flowering plants, and plenty of bird species, making the trek an enjoyable experience. Good toilets are available near the guard house. The road leading to the entrance was in bad condition as of October 2017.

phone: +91 4936 287000

DM Wayanad Institute of Medical Sciences is the most scenic campus of the entire Kerala state. The road to the campus itself is a spiritual experience if you want to replace Nature for a god. There is nothing to see inside the spectacular hospital building, but their cafeteria on the mezzanine floor is worth a visit. Visitors are allowed inside if you have some excuse like inquiring about medical college admissions. Buses are available to and from the hospital from Meppadi town. The Supreme Court of India has recently issued a warning to the hospital for building in a environmentally sensitive area.

Kanthampara Waterfalls

address: Rippon, Ooty Road

This is beautiful waterfall near the forest and a nice place for relaxing. Sept-Jan is the best time to visit.

Karapuzha DamRelatively small dam, but located at a very scenic site. Mostly unknown and thus unspoilt by a horde of tourists, it is a perfect way to spend a quiet evening during sunset time.

Mariamman Kovil

address: Meppadi junction

A temple complex with many little temples dotted among the tea estates.

Meenmutty WaterfallsVery nice and very good trekking. You need to be fit and carry something to eat. You have to pay the forest entry fee and secure a guide. This waterfall is in 3 steps. You can visit the second step (only in Dec-Apr). It involves a good trek through some difficult terrain, but the end result is breath-taking. Not only is the view of the waterfall amazing but you can get wet too. One has to trek inside the jungle for approx 1.5 km to get a view of waterfalls. It passes through coffee and tea plantation.

St. Joseph Shrine

address: Mooppanad

Built in 1954 this majestic church gives very good view of the hills around.

Soochipara (Sentinel Rock) WaterfallsSpectacular three tiered waterfalls in Vellarimala, surrounded by dense equatorial forest vegetation. Soochipara means 'Needle-like rock'. The 15-20 min drive from Meppadi offers scenic views of some of the best tea estates in Wayanad. The waterfalls are 200 m (656 ft) and offer a cliff face that is ideal for rock climbing. The waterfalls are a bit crowded at times. 32 lady volunteers of the VSS control the visitors. After the entrance, a walkway leads to a beautiful viewpoint. From here, approximately 200 steps lead down to the falls. The trek takes approximately 30 minutes, and sometimes requires negotiating boulder steps. The view of the falls is worth the trek. There is generally a guard posted near the falls. The climb back can be hectic. Soochippara falls is appreciably a plastic-free zone, so the entry guards will ask you to store your plastic bags at the guardhouse and reclaim it when you return. Plenty of eating and souvenir-shopping options are available near the entrance.

Shree Mariamman Temple

address: Nellimunda Junction, Chooralmala Road
Do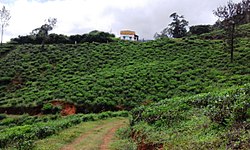 Ambalakkunnu WalkStart from Meppadi junction and take the middle road going to Chooralmala. Walk past Onnam Mile village and proceed through the two S-shaped curves. When you reach Nellimunda busstop, take the first right from the junction. Walk upto Ambalakkunnu Masjidh and Madhrassa. There is a Jaffer tea shop at the end of the hill. If you descend from here, you will reach a little cute Srambia masjidh. Turn right and you will reach the post office road at Meppadi junction. The entire route is very scenic and takes around 40 minutes to walk.

Post Office Road Walk

address: Meppadi

Start from the Meppadi junction and select the third road from the fork. The first junction is called Nalam Number where there is a small cute mosque. Turning right takes you to Patham Number village junction or Mele Kadoor. Elemberi resort road joins here. Another two kilometer walk takes you the Cholamala bridge and finally the Cholamala estate gate. This junction with a flag can be your returning point as you have already walked five kilometers.

Trekking to Chembra PeakStart from the Juma Masjidh junction and go down the Chembra peak road. The entire route is very scenic and you will reach Chembra peak within three kilometres. Going by vehicle is not comfortable as the roads are not in good condition. You will need a four wheel drive jeep.
Buy
Spices and souvenirs are available in the numerous shops of Meppadi town.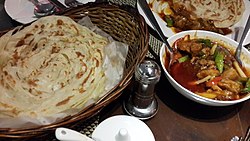 Eat
There are four Indian restaurants in Meppadi town. They all serve Kerala-style food with meat and fish. Breakfast is dosa and porottas and at lunch time delicious vegetarian thali with fish is available. Chappathis and fried rice are offered for dinner.
Coffee Creek Restaurant

phone: +91 9496752506

address: Waterfall Road

Grace Bakery and Restaurant

address: near the post office junction

Upmarket Vegetarian food.

Hotel Paris

address: near the post office junction

Meat and fish.

Metro Hotel

address: near the bus stand

Meat and fish.

Vanitha Hotel

address: inside the bus stand

Run by a cooperative society of waitresses.

Qassim Bakery And Fast Food

phone: +91 99474 37644

address: SH29

Famous for its biryanis more than anything.
Drink
There are no bars in Meppadi. You will get alcohol only in Kalpetta town. Alternatively, you can get intoxicated by drinking the spectacular scenes around you in a Wordsworthian style.

Sleep
City Tourist Home

phone: +91 9495456865,+91 9544234782

address: Bus Stand Building

Clean rooms and good toilets. Dormitories are also available. Rooms with good view.

Coffee County Resort

phone: +91 974 7595 0099

Galaxy Dormitory

phone: +91 9048674446,+91 9600947272

address: KB Road

Holiday Inn

address: Chooralmala Road

K.M.H.Guest House

phone: +91 9544100149,+91 4936283976

address: Opp. Bus station

₹100 onwards. Dark and cosy rooms without windows. Clean floors, dirty bed, cubicle like toilet. Monthly rent only ₹2,250

Malabar Tourist Home

phone: +91 9605802074

address: Near the Juma Masjidh

Meenmutty Heights

address: Ooty Road, Meenmutty

Metro Tourist Home

phone: +91 4936-28 1801,+91 9544446544

address: Near the Bus Stand

Royal Palace

phone: +91 9656322867,+91 9645714777

address: Ooty Road

Welco Hotel

phone: +91 9605515959

address: Meppadi

phone: +91 4936 282 717

address: Chembra Peak Rd

Budget accommodation. Cheap but Wi-Fi is unreliable and the beds aren't particularly comfortable.
Lodges at Vaduvanchal
C.K.Tourist Home

phone: +91 9048470867

address: Meppadi Road.

Grand Tourist Home

address: Cherambady Road.

Megha Residency

phone: +91 9447544501,+91 4936217441

address: Opp. Bus station.

Pearl Residency

address: Cheambady Road.

Wayanad Tourist Home and Dorm.

address: Cherambady Road.
Go next
Soochippara waterfalls. 13 km
Sulthan Bathery, 33 km
Ooty, 106 km
Kalpetta — a small town close to the Wayanad Wildlife Sanctuary that is surrounded by dense coffee plantations and mountains