Merowe
Not to be confused with the archaeological site Meroë much further upriver.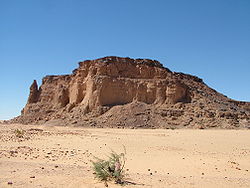 Merowe
is a city in
Northern Sudan
, along the southern banks of the Nile.
Get in
Merowe AirportDoesn't seem to operating at present
See
Gebel BarkalThe name Gebel Barkal specifically refers to a prominent hill used since antiquity for navigation. At the base of the hill lie several ancient temples and palaces, with even more spread out along a 60 km stretch of the Nile, just upriver from Merowe. Together, these sites are inscribed on the UNESCO World Heritage list as Gebel Barkal and the Sites of the Napatan Region

Jebel Barkal MuseumAn archaeological museum on the eastern side of the archeological area of Jebel Barkal.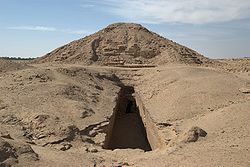 Pyramids and tombs at El-KurruEl-Kurru was one of the royal cemeteries used by the Nubian royal family. Most of the pyramids date to the early part of the Kushite period, from Alara of Nubia (795–752 BC) to King Nastasen (335–315 BC).
Sleep
Al-Nassr hotel

address: Karima

Allright hotel

address: Karima
Go next