Merritt
Merritt
is a city of about 7,000 people (2016) in the Nicola River valley of the
Thompson-Nicola
region of
British Columbia
. There isn't much to see in town, other than a certain vintage Old West flavour, but as a location makes it a convenient place to stop for a rest or to get some food.
Understand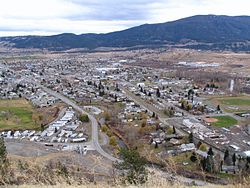 Ranching, farming, forestry, transportation and tourism are the primary industries. Merritt is the nearest large community to the Douglas Lake Cattle Company, Canada's largest working cattle ranch.
The annual Merritt Mountain Music Festival drew as many as 148,000 people at its peak in the summer of 2005. The festival, combined with the development of the Merritt Walk of Stars - a display of bronzed handprints of Mountainfest artists placed around the community - the Mural Project, the Canadian Country Music Hall of Fame, Music in the Square and in the Park along with other tourism development activities have been used to solidify the city's branding as the Country Music Capital of Canada.
Nearby, there are four provincial parks, numerous lakes, and several recreational trails.
phone: +1 250-378-0349

address: 2250 Voght Street
History
For years, the Merritt area was a gathering place for local European colonists and First Nations, as the area was a focus of transportation routes used by early pioneers. The grasslands eventually drew the attention of settlers interested in ranching, and the first ranches were staked in the mid-19th century.
In the 1880s three ranches located at the confluence of the Nicola and Coldwater Rivers, owned by William Voght, Jesus Garcia, and the John Charters Estate, became the focus of a farming community known as "The Forks". With the completion of the Canadian Pacific Railway through British Columbia in 1885, interest increased in the coal deposits south of The Forks.
Part of the ranches owned by Voght, Garcia and Charters were surveyed in 1893 for the townsite of Forksdale, but the name did not catch on with locals. Instead, the name was changed in 1906 to honour William Hamilton Merritt III, a mining engineer and railway promoter. By 1907, the coal mines were in operation and with the completion of the railway from Spences Bridge, government and other offices starting moving from Lower and Upper Nicola to establish Merritt as the major settlement in the Nicola Valley. Other industries developed in the Valley, including ranching, copper, nickel, gold and silver mining, and forestry, and as a result, new business buildings were constructed.
Merritt and the Nicola Valley experienced prosperity until the passage of restrictive trade legislation in the United States in 1930. Because the city had financially backed one of the major sawmills, the loss of lumber markets caused the city to go into receivership from 1933 to 1952.
The next wave of immigrants, primarily Sikh, from the Punjab region of India, arrived in Merritt in the 1950s, but a large influx arrived in the late 1960s and early 1970s to work in the booming Forestry sector of the time and adding to the cultural mosaic of Merritt. Known as Indo-Canadians, they continue to play a crucial part in the economy—Aspen Planers Ltd., a major employer in the city, and many other businesses, restaurants and hotels in Merritt are owned by members of this group.
Get in
Merritt is at the junction of four highways, of which the
Coquihalla
(Hwy 5) and the
Okanagan Connector
(Hwy 97C) are the most important. This makes it easily accessible by car from
Vancouver
(2½-3 hours),
Kamloops
(40-60 minutes) and
Kelowna
(1 hour).
Highway 5, and Highway 97C all intersect at Merritt with Highway 97C East connecting the city to Kelowna and Penticton, Highway 97C Northwest to Logan Lake, Highway 8 to Spences Bridge and Lillooet, Highway 5A South to Princeton, Highway 5A North to Kamloops, Highway 5 South to Hope, and Highway 5 North to Kamloops.
Ebus
connects Merritt to Kamloops, Kelowna, and Vancouver.
Get around
Downtown is definitely small enough to get around on foot, although getting from the downtown center up to the newer developed areas can take up to an hour. Almost anywhere in the city can be reached by an hour on foot. A car or at least a good bike (with a good state of health) is recommended to explore around the city.

See
Nicola Valley Museum & Archives

phone: +1 250-378-4145

address: 1675 Tutill Court

The museum has an extensive collection of Nicola Valley photographs & artifacts on display: rail travel, teams & sports, Nicola Valley General Hospital, pioneer kitchen, ranching equipment & brands, Harry Priest - pioneer photographer, pioneer general store, First Nations & James Teit, transportation, churches, Widow Smith of Spence's Bridge, musical instruments, record players & radios, military uniforms and artifacts, early mining history, Craigmont mine history.
Douglas Lake Ranch Canada's largest working cattle ranch is located to the Northwest of the city.
Walk of Stars A collection of hand imprints and painted murals of various country music stars spread throughout downtown.
Do
Rockin' River MusicfestA four-day country music festival on the first weekend in August. Camping $70 per night for up to four people. Parking $20/day, or $45 for four days.

address: 1000 Midday Valley Road

Early July. Electronic music festival founded and run by women with no sponsors or corporate presence. Sold out for 2018.

Coldwater River Provincial ParkThe park is undergoing reclamation activities for a few years to return the area back to a river valley ecosystem. The area is permanently closed to vehicular traffic – pedestrian traffic is strongly discouraged due to the safety hazards that exist throughout, particularly at the entrance.

Mountain biking A dry climate and many mountains combine to make a great place for more adventurous mountain bikers. Trail maps and information are available in several downtown stores as well as City Hall. A more sedate bike trip can be found by following the abandoned railroad out towards Spences Bridge.
Fishing The Nicola Valley is home to many lakes and rivers and freshwater fishing is popular both during the summer and in the winter. Equipment can be purchased at the Canadian Tire or Powderkeg shop downtown. Nicola and Douglas lake are the most popular locations.
Swimming For people that don't mind the cold water, Nicola Lake is incredibly refreshing on an August day. Monck park operates a small beach on the Northern shore, which is probably the most popular place to swim. Two local swimming holes in the Coldwater river are also worth paying a visit. Ask for directions from a local to reach Little Box and Big Box. Big Box requires a good pair of hiking boots and about 45 minutes of hiking to reach.
On the water Nicola Lake is a very large lake with many summer homes and good winds. As such, during the summer months, motorboats, sailboats and wind-surfers can all be seen out on the water. Kayaking on Nicola or any of the smaller lakes can also be a pleasant way to spend an afternoon, but be warned that there are no rental companies in town.
Camping Several campsites are open year-round in the valley. The most popular campsite is Monck Park, roughly 20 km to the east of Merritt, although it is only open during the summer. Be sure to check the Wildfire Danger Level before going out camping to see if a campfire ban is in effect.
Buy
phone: +1 250-378-5208

address: 860 Coldwater Road

Named Canada's Best Honey in a national survey, this stuff is liquid gold. Usually easy to find, local grocery stores stock it. Also worth trying is the strawberry rhubarb spread.
Eat
phone: +1 250-378-6655

address: 2151 Quilchena Avenue

Soups, sandwiches, bakery.

Mandolin's Bagel & Coffee House

phone: +1 250-315-0007

address: 114 1700 Garcia

Small cafe downtown, this place scratch-bakes the majority of its products. Giant cookies, cinnamon buns and biscotti are all excellent choices. Also does very good sandwiches and home-made soups.

phone: +1 250-378-9112

address: 3561 Voght Street

Garden Sushi Japanese Restaurant

phone: +1 250-378-5504

address: 2701 Nicola Avenue
Drink
Game On Sports Bar and Grill

phone: +1 250-315-1022

address: 3701 Dewolf Way
Sleep
Go next