Mersin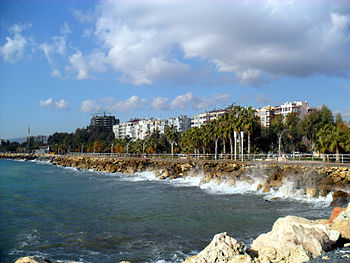 Mersin
is a city in
Turkey
on the Mediterranean coast, on the southwestern edge of
Cilician Plains
.
Mersin has hosted the
XVII Mediterranean Games
in June 2013.
Understand
Once a small fishermen's village, Mersin grew as the export harbour of the surrounding region, as more and more of the wilderness of the
Cilician Plains
was ploughed up to produce cotton, which was in high demand the world around with the start of the industrial revolution in the textile sector. It still hosts the largest port of the country today, with its export articles being diversified.
Get in
By train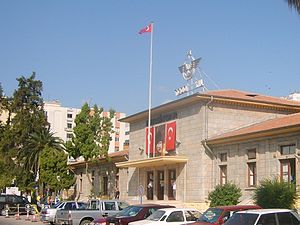 There are fairly modern and air-con trains every hour or more frequently during the rush hours to and from
Adana
and
Tarsus
. The journey time is between 45-80 minutes, depending on the number of stops. The price is 5.50 TL for one way and 9 TL for a roundtrip. There is an option to buy an unlimited card for 110 TL, valid for a month. The price is 80 TL for students. You should buy the ticket before you enter the train, otherwise the price is doubled. Trains from
Ankara
,
Eskisehir
or
Istanbul
requires a quick change at
Yenice
, east of Mersin. However, due to ongoing engineering works a majority of trains are cancelled until at least 2018.
All trains are run by the national operator
TCDD
. The railway station, is situated between the city centre at the port on İstiklal Cd.
By plane
There are flights to and from
Istanbul
and
Ankara
to the closest airport, Adana Sakirpasa Airport. There are shuttles from the airport to Mersin.
By bus
There is a bus station in eastern part of the city. There are city buses running between the city center and the bus station. Usually each bus company has its own shuttles running between city center, western (coastal part) and the bus station.
From the bus station there are buses to almost every city in Turkey, including, among others,
Gaziantep
(5 hours, 25 TL) and to small cities and villages in
Cilician Mountains
(the rest of Mersin Province), such as
Silifke
(2 hours, 10 TL).
By boat
Ferries operated by
Akgunlerdenizcilik
connect Mersin with
Kyrenia
/ "Girne" in North Cyprus. These are fast-cats for foot passengers and only run in summer, taking just 80 min. They run from Mersin Su, Tu & Th at 21:00, and from Kyrenia M, W & F at 23:00. In winter, or with a car, you can only sail to Cyprus from
Taşucu
, 50 km west. The same company also advertises ferries between Mersin and Tartous (Syria) and Tripoli (Lebanon), but no times or fares are shown, and it's unlikely that these are sailing in 2018.
See
Mersin Grand MosqueLocated just off the main shoreside promenade in the Akdeniz district. Built in 1898 (and subsequently labeled New Mosque), it was refurbished in futuristic fashion in the 1970s and renamed. It is a three-story mosque with a capacity of up to 3,000.

Muğdat MosqueBuilt in the 1980s in Yenişehir district of the city. It is named after Miqdad ibn Aswad, one of the early Muslims. Its capacity is up to 5,500, which makes is the largest mosque in the city of Mersin and the third largest built in the Republican era of Turkey. It has a rare six minarets, two of which were only added recently. It lies 300 m from the Mediterranean Sea.

Atatürk ParkA public park, which was used during the 2013 Mediterranean Games held in the city. It lies along the coast from north east to south west and is roughly 4 in size. At the north-east edge is the Congress and Exhibition Centre with several conference venues and a swimming pool.

Catholic Church of MersinBuilt in the 1853 as Mersin began to develop as a port city and become more important to Christians in the area. The church and the accompanying school are still active today despite closure during WWI.

Atatürk MuseumA museum housed inside a beautiful, seven-room villa where Atatürk once stayed when he was visiting the city in 1925. The house was built in 1897 by H. Christman, the German consul to Mersin. Nowadays, the museum's seven original rooms all feature original furnishings.

YümüktepeA tell, or burial mound, in the Toroslar region of the city, which contains evidence of Neolithic settlements continuing up to the Middle Ages. In total, there are 23 levels of occupation from c. 6300 BC until roughly 13th century BC as part of the Hittie Empire - as nearby Soli was flourishing, it was abandoned, plundered by Sea Peoples from Europe and later raided by Assyrians from Upper Mesopotamia.

Flamingo Park

Yenişehir Urban Forest
Do
Walk on the Antic Road, constructed in the Roman Period.
Mounted excursion in an ambient nature setting at the mounted sports club.
Buy
Buy very high quality leather jackets from the bazaar just beside Holly Mosque (local name Ulu Cami). Don't forget to
bargain
, and after bargaining for 15 minutes, you might be able to buy leather jacket for half price. There is an antique store behind the Mersin Hotel specialising in prayer beads. The prices range from 10 TL to over 5000 TL and it is hard to evaluate the price; the 50-100 TL range is adequate for a souvenir. Dösim Store is a trustworthy place to buy a souvenir; the prices are fixed (no bargaining) and often cheaper than other stores. Since it is a public institution, the products are authentic and usually come with a certificate in English. Dösim store is beside the Atatürk's House in Mersin.
Mersin Forum AVM is a large mall in Yenişehir district.
Eat

Tantuni, finely minced fried meat and onion wrap, is one of the most famous food in this region. Don't leave the city without tasting it. In the center of the city, you will see several small local restaurants with this special fantastic food.
Haslets are very common ingredients of the food in Mersin. There are dishes made with intestines, lung, liver, kidneys, stomach, brain. Even though there are restaurants serving this food all through out the day, this type of food can be found easily late at nights. Especially soups with inner organs are drank late at night after consumption of alcohol.
Cezerye is a mix made of carrots and fig and lots of spices may also include nuts depending on where you buy it from.
Kerebic is dessert unique to this area. It is a dough filled with pistachios and served with vegetarian cream on top of it.
Künefe is also another dessert completely unique to the Arabic influenced areas. Its oven baked shredded pastry with salt-free cheese filling in thick syrup. Although its really requires a developed taste, it carries the spirit of the vicinity

Drink
Şalgam
can be found on every street in Mersin even though it is a drink from Adana. Good examples of local brands are Serafressh (with double s) and Turnib (with b, not p). Since the cities in
Çukurova
all have similar cuisines taste of Salgam doesn't differ that much.
In the past there were many
Boyan
(licorice drink) sellers in the city center. Such drink still exists but cannot be found easily.
Kaynar
is another local drink, generally served to celebrate a newborn. It is usually served hot with cinnamon and walnut. The ingredients of kaynar can be found in some stores and can be a cheap exotic gift.
Sleep
There are many hotels in the city, but one of the best ones is Sultasa Hotel. It is kind of in the city center. The entrance fee for this place is 35 TL excluding accommodation. For accommodation, you should pay 80 TL more.
Lamos Hotel & Convention Center

phone: +90 324 522 24 44

address: Atatürk Cd. No:75

Five-star hotel on a peninnsula. Blue flagged sea and a stunning service. Luxury rooms.

The Monard Hotel Spa & Wellness

phone: +90 324 232 22 66

address: İstiklal Cd. No:147

phone: +90 324 238 88 00

address: Üçocak Mahallesi 5429 Sk No:1
Go next
Kizkalesi (Maiden's Castle) and Cennet-Cehennem (Heaven-Hell) are located west of city, about 60 km away, on the Mediterranean shore.
Adam Kayalar — Near Cennet-Cehennem, a few km inland, are many ruins, ancient gravings and human body reliefs carved on rocks.
Tarsus to the east is a historical wonder by richness of religious and biblical entities' mausoleums.