Mersing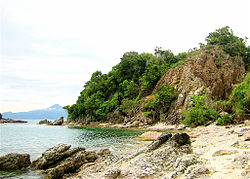 Mersing
town is on the east coast of the peninsular Malaysian state of
Johor
. It is 136 km northeast of the state capital
Johor Bahru
. It is a gateway to nature and traditional culture. But for most outsiders the small semi-tourist town is hardly more than a few-hours rest en route to
Tioman Island
. Mersing town is thus best known for its passenger boat jetty where boats depart daily for numerous offshore islands.
Understand
Despite its estimated population of 21,000, Mersing town should not be viewed as a mere stopover, a transient path to an offshore isle. The town possesses a quiet charm that in many ways represents a fast disappearing small-town culture that once pervaded all of Malaysia. It has yet to see any typical signs of major economic and urban development.
Two main roads run through the town. There only two junctions with traffic lights and only two traffic roundabouts. The two main roads are lined with traditional and modern shop houses that provide a range of modern services. There are traditional fruit sellers, grocers and modern supermarkets, plus a range of local restaurants and fast food outlets, several open 24-hours.
Mersing is a throwback to the small town look and temperament that existed in Malaysia some 20 or 30 years ago. There is little if at all in the way of chic clubs, cafes or shopping malls. The town's appeal lies rather in its out-of-doors, its slow-paced life and natural surroundings such as jungle reserves and unspoiled beaches, rocky coasts and offshore kelongs for pleasure angling. Air Papan and Penyabung beaches are about 15 and 30 minutes drive north of the town respectively. There you can glimpse the remaining vestiges of traditional seaside Malay village life. A must do is to circumambulate the centrally orientated hill that shoots up right behind the Hindu temple, very near to the roundabout, a short walk from the bridge.

Get in
By bus
Several bus companies operate direct services to Mersing, e.g.
Transnasional
from
Kuala Lumpur
,
Melaka
, and
Singapore
, while others that use the east coast highway (e.g.
Johor Bahru
to/from
Kota Bahru
) also call at Mersing.
From Melaka
, take the S&S International from Central Bus Station (it's the only direct bus). Departure times are 8AM, 12:45 and 6:15PM. It takes about 4½ hours to arrive at the Mersing Bus Terminal (15 min walk to the island boats).
From Singapore
, the cheapest way to Mersing is to first take a bus from
Queen Street Bus Terminal
) to
Larkin terminal
in Johor Bahru. It takes about an hour off-peak. But it's important to note that direct onward buses from Larkin to Mersing are limited so get there in time to catch an early bus like 8:30AM, 9AM, 10AM, 11:30AM or 2:30PM (the latter being often too late to take the last ferry to
Tioman
). Buses heading to Kuantan will drop you off in Mersing. There is a direct Transnasional bus from Lavender Street Terminal. It could prove easier but it's three-times the cost. The first bus departs at 9AM and reaches Mersing by 1PM. You will likely need to book a day or more in advance.
When leaving Mersing, if you don't pre-book, the bus may be full. For travel to Johor Bahru (11:30AM) and Singapore (1PM), an alternative is to take the local bus to
Kota Tinggi
(less than 2 hr) and then another local bus to Johor Bahru's Larkin terminal (less than 1 hour), and then onward to Singapore (buses going all the time).
Transnasional Express
Website
Kuantan, Terengganu, Kelantan, Kuala Lumpur, Johor Bahru, Singapore
S&S International Express
Johor Bahru(RM11.70), Kluang, Muar, Melaka, Kuala Lumpur
Tel:07-7992246(Mersing),07-2226246(JB),07-7728246(Kluang),06-2882246(Melaka)
Causeway Link Express
Website
Johor Bahru (RM11.70)
Frequencies:8AM, 11:30AM, 7PM
Tel:07-2242244(JB)
Utama Ekspres
Kuantan, Terengganu, Kota Bharu、Pengkalan Kubor (Nightly 830pm)
Cepat Ekspres
Segamat, Kuantan, Terengganu, Kelantan, Teluk Intan, Lumut
Maju Ekspres
Sepakat Liner Ekspres
Sutera Liner Ekspres
Johora Ekspres
Tenaga Layar Ekspres
Five Stars Express
Mersing Omnibus(local bus)
Kluang Route:100
Endau Route:105
Kota Tinggi Route:103
Felda Nitar
Kem Iskandar
By car
Rental cars are available in the major Malaysian cities and town. There is as yet no reputable brand name car rental company in Mersing. Visitors are advised to make car rental arrangements elsewhere, but there are a few local rental agencies operating from the Mersing Bus Terminal including
Green Matrix Car Rental Mersing Franchise
and
Mersing Car Rental
.
From Johor Bahru
Johor Bahru(Federal route 3) - Ulu Tiram - Kota Tinggi - Jemaluang - Mersing
From Kuala Lumpur/Melaka
North South Highway - Ayer Hitam Toll - Kluang (Federal route 50) - Kahang - Felda Nitar - Mersing
From Kuantan
Federal Route 3 - Pekan - Rompin - Endau - Mersing
By taxi
Taxi transport to and out of Mersing is available from Johor Bahru (2:15) and other Malaysian towns, figure on around RM180 per car at peak hours (F and Su evenings) and as little as RM130 at other times. Taxis (official and unofficial) can be found waiting around the Tioman ferry pier.
There are also Taxis in Mersing to travel within the town and the surrounding areas.
By bicycle
Many cyclists ride to Mersing in the summer months to enjoy the serenity and beauty of the Mersing countryside.
Get around
Mersing town can be navigated easily by foot during the summer period. It is however advisable to travel by motor vehicle as there are many beaches to explore outside of Mersing town.
Mersing Harbour Centre
Officially opened by the Sultan of Johor on September 10 2017,
Mersing Harbour Centre
has assumed a central role with regards to transport in and out of Mersing, both by road and by sea. But apart from bus and ferry counters, the complex also offers a F&B section, a number of retail outlets, as well as a range of useful amenities, including a tourism information desk. In addition, taxis, hotels and trips to nearby Endau can also be booked at Mersing Harbour Centre.
See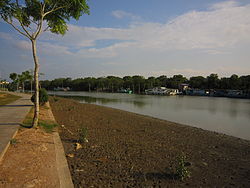 Mersing River and the traditional Malaysian fishing boats can be viewed from the bus terminal complex down river.
A Hindu temple is at the base of the hill near to the central roundabout.
Mersing Mosque is on a hill top 15 mins walk from the center of town. It has excellent views of the town.
Mersing esplanade and marine park is located walking distance from then town and nearing from Mersing Jetty.
The Beaches in the Penyabung area and at Air Papan. These beaches are all relatively isolated and visitors are advised to exercise care and caution.
Mersing Town Forest Park

address: Jalan Masjid, Mersing Kechil, 86800

Park.

Sultan Iskandar Sea Park

address: Jalan Abu Bakar

Park.
Do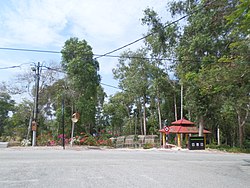 Take a walk through the town and savour traditional Malay "kueh" or confectioneries during the traditional teatime.
Have a picnic on a nearby beach.
Buy fishes and other seafood from Mersing morning market next to the Bus terminal.
Internet: an increasing number of shops, restaurants and hotels offer free wifi to customers, otherwise the standard charge in Mersing is reportedly RM 2 per hour.
You can visit Mersing year round. But it can be wet and windy in December and January. Beaches are best between March to October.
Buy
If you are on a budget, it is best to buy everything you may need before you visit Tioman island or the other islands off Mersing as mainland prices are cheaper.
There is a very small "Giant" Supermarket in Mersing which is well stocked, along with others of a similar stripe. You will also a much larger "Kini" Supermarket only 2 min walk from the Mersing Bus Terminal.
address: Ground Floor, No. 145-148, Jalan Ismail

Supermarket.
Eat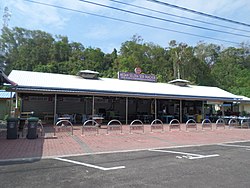 address: 20, Jln. Dato Mohd. Ali, 86800

An alternative to the local cuisine: homemade pizza, pasta, sirloin steak, schnitzel, salmon steak, all prepared by a Swiss chef, at "local" prices. The restaurant does not prepare or sell pork, but you can get a beer! Fantastic food. And a second-hand books exchange.

The PortWestern food.

Warung Ikan BakarBarbequed fish.

Mersing SeafoodChinese seafood Recommended is Chinese Fried Rice, Squid stuffed with Chinese Century Egg, Spinach Soup, Butter prawns, Malay Hot "Kang Kong" vegetable dish.

Loke Tien Yuen 乐天园Chinese seafood. Recommended is the day's catch steamed, sweet and sour pork, yoke lan gai, lin zi ngap, fu gua pai guat, char siew

Vegetarian food StallSmall cost-friendly stall, clean and tidy river view. Lacto-ovo-vegetarian. Fried noodles, eggs, rice and various vegetable, curry and tofu dishes. Take away no problem. Open from early morning till about 10AM. Simple and friendly. English spoken. The only vegetarian place in Mersing.

Viet Taste Restaurant

phone: +60 133491882

Vietnamese coffee, spring roll, vegetable fried rice & noodles, soup and more. Not expensive. Cheerful owner from Vietnam. Vegetarian-friendly.
Drink
The Port(See above)

address: Jalan Endau

Fantastic views of Tioman and the other islands from the cafe and swimming pool.
Sleep
There are numerous hotels and motels in Mersing town.
Early reservation is recommended especially when your visit coincides with Singapore and Malaysia holidays.
Budget
The smaller hotels are most suitable for budget conscious travelers and they are usually run by families. Prices range from RM20 per night for non-aircon rooms to RM50 for air-con.
Air Papan ChaletsGood quiet beach. Two eateries, acceptable standard at local prices. Chalet rooms with air-condition and fan available. Just beside the Sri Mersing Resort chalet, a few meters from the beach.

address: 1C-1, Jalan Abu Bakar

Dormitory accommodations. Cheap, basic, can be noisy.

Embassy Hotel

address: 2 Jalan Ismail

Free wifi, and a good selection of cheap and imported beers in the downstairs restaurant.

Farm Guest House

address: Kampung Tenglu Laut

Hotel Mersing

phone: +60 7-7991004

address: 1 Jalan Dato Timor

Cleanish

Rumah Persinggahan Mersing

address: 490 Jalan Ismail

phone: +60 137006180

address: Lot 114, Kampung Mawar, Teluk Sari

Stargazers, astro-photographers and amateur astronomers flock here between May and August each year to enjoy what is probably the clearest view of the universe.

Sun Dance Holiday'

address: 3 Jalan Ismail

Syuan Koong Hotel

address: 44A Jalan Abu Bakar

Teratak Muara Guest House Mersing

phone: +60 197571007

A big house with four bedrooms, three toilets, BBQ equipment can be provided. Up to 20 person at one time.

phone: +607-7998299

address: No 55-01, Jalan Sulaiman, Mersing

Rooms clean for a comfortable rest and guests get a complimentary breakfast, free wifi, tea and coffee whole day. Comfortable living room where guest can relax, play games or watch movies. RM28.
Mid-range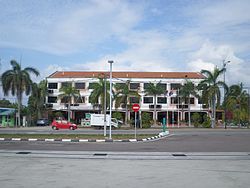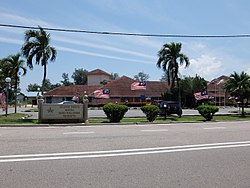 These hotels are suitable for business and family vacation travelers.
phone: +60 7-799-6753

address: Lot 525, Teluk Buih, Air Papan

A secluded resort that offers peace, quiet, and serviced activities. Rates on their website start at US$28.

phone: +60 3-89428888

address: Pulau Besar

Beachfront resort offering 49 fully-furnished villas with amenities such as air-conditioning and a hot/cold shower.

phone: +60 17-7639274

address: Kampung Sawa, Air Papan

Lovely Balinese style place in the middle of the rice fields before Air Papan - the beach is 10 minutes walk away, but the peaceful surroundings more than compensate for that! Pick-up service from Mersing! Rates for a double story room w/aircon around US$28.

R Villa Resort & HotelAffordable and clean accommodation with swimming pool and other facilities from as little as RM115 per night.

Timotel HotelSituated on Jalan Endau road, near the Mersing river and just after the central town roundabout. Beside Caltex Petrol Station.

Havanita HotelAfter Timotel.

White Sand Beach Resort

address: 3 Jalan Ismail

Mersing Inn

phone: +60 7-7991919

address: 38 Jalan Ismail

Affordable and clean accommodation.

address: 641 Jalan Ismail

SukaLayar Sailing Centre, Inn & Cafe

phone: +60 3 4024 6655

Located in Tanjung Resang (Near Mersing) Johor, is an ideal holiday destination for families; those looking for a quiet retreat by the sea and companies looking for a motivational camp site. Aside from relaxing and enjoying the calming sea breeze, guests can also try out the various sea sports activities available at the Inn such as Sailing, tubing, wakeboarding, banana boat riding, bodyboarding, skimboarding, fishing or island hopping.

phone: +6077996888

address: 65, Jalan Endau, Kampong Sri Lalang, 86800

Hotel.
Go next