Mesa
Mesa
, population 460,000, is in Maricopa County. It is
Arizona
's third-largest city, and is part of the
Greater Phoenix
urban complex.
Understand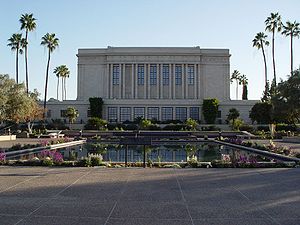 Mesa was founded in January 1878 by Mormon (Latter-day Saint or LDS) pioneers and its population is still roughly one-tenth Mormon. The Church of Jesus Christ of Latter-day Saints operates one of its oldest temples in Mesa (the Mesa Arizona Temple), and the city is a hub for Latter-day Saints residing in the Phoenix Metro area. Mesa is one of the United States' fastest-growing cities, and ranks as the 38th-largest. The city has a larger population than better-known United States cities such as Cincinnati, Cleveland, Miami, Minneapolis, New Orleans, Saint Louis and Saint Paul.
Although it has a large population, Mesa is a "bedroom community." Neighborhoods across the city are diverse — some areas have experienced urban blight, while others contain elaborate custom homes.
Mesa Convention & Visitors Bureau Visitors Center

phone: +1 480 827-4700

address: 120 N Center St

Stop by the Mesa Visitors Center and pick up a Mesa Visitors Guide, which can also be viewed online. The Visitors Center has many publications about Mesa and other destinations around Arizona, including the metro Phoenix area. You'll also find knowledgeable staff and local coupons.
Get in
By car
If you happen to be coming from an "easterly" direction (a.k.a.
New Mexico
), that means you'll probably be taking US-60 (the Superstition Freeway) right through the 17 exits that comprise Mesa, as part of the
Greater Phoenix
metropolitan area.
By plane
Phoenix Sky Harbor International Airport (PHX

) is to the west of Mesa and is the major air hub for all of Arizona and the southwestern United States. Flights arrive and depart to domestic and international destinations. If you're prone to airsickness, try to get flights into this airport that arrive either before noon or after sundown, particularly during late spring and early summer. The high elevation, hot sun, and spring winds combine to produce thermals that can make afternoon arrivals an extremely bumpy proposition.

phone: +1 480 988-7600

This airport offers flights to more than 35 destinations in the United States, by Allegiant Air and a couple of cities in Canada by WestJet. This is a small airport that is being redeveloped into a major regional airport.

address: due east of Phoenix off the Red Mountain Freeway in Maricopa County, just northeast of Mesa, AZ, who owns and operates the airport

Falcon Field is home to the CAE Oxford Aviation Academy, the world's largest flight school, and Boeing operates an AH-64 Apache helicopter factory adjacent to the airport.
By rail
The Valley Metro Light Rail runs through through downtown Mesa (4 new downtown light rail stations opened in Mesa in August 2015) , connecting to
Tempe
and
Downtown
Phoenix. From Sky Harbor Airport, take the free shuttle to the light rail station.
By bus
phone: +1 480 834-3360

address: 1423 N Country Club Dr #7
Get around
Mesa is laid out on a straightforward north-south, east-west grid pattern as regards its major streets. Center Street and Main Street are perpendicular to each other and, as suits their names, intersect in the city center in a manner that provides an excellent reference point and makes city navigation relatively easy.

See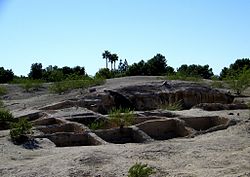 phone: +1 480 835-7358

address: 51 E Main St

This rapidly growing museum, split between two buildings, features displays of the different phases of Mesa's history. The downtown location holds "Play Ball: the Cactus League Experience," an excellent exhibit on the history of spring training baseball in Arizona.
Lehi Campus

address: 2345 N Horne St

An annex for special exhibits.
Do
Outdoor Activities
Annual Events
Buy
Eat
phone: +1 480 800-4811

address: 2051 S Dobson Rd

Camelback area local Cajun cuisine restaurant featuring po boys and, in season, crawfish boils on Wednesday nights.

Costa Vida Fresh Mexican Grill

phone: +1 480 633-8226

address: 1744 S Val Vista Dr

Homemade tortillas, huge burritos, addicting taco salads with spicy avocado ranch dressing. Ahh the sweet pork.

phone: +1 480 655-8646 (Grill), +1 480 964-7881 (Grill and Cantina)

address: Grill: 1105 N Higley Rd; Grill and Cantina: 1033 N. Dobson Rd

The Mexican restaurant on the east side of town since 1953, hosted by the Matta family. The original location on Main street closed in 2008, but in 2002 the family opened a fast/casual-style location called Mattas Mexican Grill, and in 2010 opened Mattas Grill and Cantina, which is closer in style and menu to the original. Nice atmosphere with strolling mariachis in the evening.

phone: +1 480 964-7242

address: 22 S. Mesa Dr

Eight other locations in the Phoenix Valley. Forget the tartar sauce "Pete's special sauce" is to die for. Family owned and operated since 1947. Only cash is accepted.
Ned's or Steve's Krazy Sub, Best subs in Mesa. Can't beat the lunch special. Try the Poorboy.
Ned's: 1927 N Gilbert Rd, +1 480 464-0033.,1356 S. Gilbert Rd. Suite B-1, +1 480 898-8894.
Steves: 1211 N Country Club Dr Mesa, +1 480 835-0330,
*or 6853 E Main Street (Power and Main next to Greenbacks), +1 480 924-SUBS.
Rosa's Mexican Grill

phone: +1 480 964-5451

address: 328 E University Dr

The original Rosa's. Everything on the menu is excellent, a family favorite. Best shrimp tacos anywhere.
Waldo's BBQ

phone: +1 480 807-6475

address: 4500 E. Main St

Located in the eastern portion of town, Waldo's serves up everything you could ask from a BBQ place, all with a great atmosphere.
phone: +1 480 813-5700

address: 1149 East Southern Ave

Organ Stop Pizza is an informal restaurant with a twist: It is home to the world's largest Wurlitzer pipe organ. Each night guests are treated to music from "The Mighty Wurlitzer", played by one of the staff organists who have all received "Organist of the Year" awards by the American Theatre Organ Society. Good pizza, salad, drinks, and a variety of other choices are available at great prices.
phone: +1 480 832-6793

address: 6136 E. Baseline

Old West Cowboy Dinner Show with Old Fashioned BBQ included in the price
phone: +1 480 969-1343

address: 204 E. 1st Ave

Latin American comfort food restaurant located in a midcentury building in downtown Mesa with the largest selection of empanadas in Arizona priced at less than $3 each and Lunch specials for $6.95 or $7.50 M-Sa 11AM-3PM.
Vito's Italian Pizza & Ristorante

phone: +1 480-832-3311

address: 1947 N Lindsay Rd

Italian restaurant, includes a bar, and offers catering and banquet services.
Drink
RT O'Sullivan's Bar and Grill

phone: +1 480 844-1290

address: 1010 W Southern Ave

This is a great place to watch the game but get there early because it fills up.

phone: +1 480 656-2662

address: 150 West Main St

Micro-brewery serving craft beers in downtown Mesa with happy hour from 3PM to 6PM.
Sleep
phone: +1 480 832-3202

address: 425 South Power Rd

30 minutes from Phoenix, it feature a championship golf course, meeting facilities, onsite dining as well as many other amenities.

Mesa Hilton

address: 1011 West Holmes Ave

phone: +1 480 964-2897

address: 1410 S. Country Club Dr

phone: +1 480 807-7760

address: 6347 E. Southern Ave

Westgate Painted Mountain Country Club

address: 6302 E. McKellips Rd

A golf resort near Phoenix, offering family lodging and accommodations with panoramic views & featuring an 18-hole, par 70 championship golf course.

Courtyard Phoenix Mesa

phone: +1 480 461-3000

address: 1221 South Westwood Ave
Camping
phone: +1 480 984-0032

address: 3939 N Usery Pass Rd

Water and electric hookups at all sites, with toilets and hot showers available; maximum RV length 50'. Reservations can be made online ($8 reservation fee).
Stay safe
Mesa has a fairly high crime rate compared to some other American cities, but most of it is property crime of more concern to residents than to visitors.
Newspapers
Go next
"Old Town" Scottsdale in the northeast Phoenix metropolitan area is the single most tourist friendly area in the valley.
Downtown Tempe has a lively night life, being a college town
There are many museums and other cultural venues in Phoenix