Mesquite (Nevada)
Mesquite
is a city in Clark County, in
Southern Nevada
, about northeast of
Las Vegas
. It is immediately on the Nevada-
Arizona
border, near
Utah
. The town is on the north bank of the Virgin River, with the smaller settlement of
Bunkerville
on the south side of the river. Mesquite is a boomtown, attracting tourists and permanent residents. The town's population is about 19,000 (2018). Its biggest industry is tourism.
Get in
By car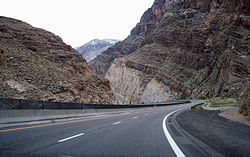 Interstate 15 has two exits (#120 and #122) for Mesquite. The town has built up around the freeway and is a favorite "truck stop" for all sorts of travelers. It is the only significant population center on the freeway between Las Vegas and St. George.
By plane
Commercial travelers are probably better off flying to
McCarran International Airport
(
LAS
) in Las Vegas.

See
Virgin River GorgeWorth a short drive into Utah. Beware of dangerous curves and, at times, low visibility, but when conditions are clear, the drive is amazing. Take Interstate 15 north through a small sliver of Arizona, then into Utah for more of nature's wonder.

phone: +1 702 346-5295
Do
phone: +1 702-346-6363

address: 1024 Normandy Ln
Gambling
If you win...
Chances are that, if you win it big in Mesquite and you are not a U.S. citizen your winnings will be subject to a
30% withholding tax
from the Internal Revenue Service. That $10,000 slot winning can dwindle quite quickly if that is taken off the top. Not to worry though you can reclaim your gambling winnings tax through a 1042-S form. You should get this from the casino so don't lose it: it is your starting ticket to getting your gambling winnings back.
Mesquite has a few gambling opportunities.
address: 950 W Mesquite Blvd

Casino part of the CasaBlanca hotel resort.

Eureka CasinoCasino part of the Eureka hotel resort. Has traditional table games, slots, bookmaking and bingo.

Virgin River CasinoCasino part of the Virgin River hotel resort.
Eat

Because of its longtime function as a highway stop, fast food is very common in Mesquite. All varieties are available, including McDonald's, Del Taco, Dairy Queen, Jack In The Box, and KFC.
Mesquite has become less of a "stop" and more of a destination in recent years, so more fine dining establishments should become available in the years to come. Most casinos offer a typical Vegas-style low-cost buffet.

Sleep
There are several major resort casinos in Mesquite. The first of these was the Peppermill, now known as
Oasis
. Now closed due to economic pressures, and mostly demolished.
phone: +1 877-438-2929

address: 950 W Mesquite Blvd

480-room hotel-casino built by Merv Griffin. Has a RV park.

phone: +1 877-438-2929

address: 100 E Pioneer Blvd

Has the town's local movie theater and a bowling alley.

phone: +1 702-346-4600

address: 275 Mesa Blvd
Go next
St. George - 30 miles northeast of Mesquite. Traveling to St. George via Interstate 15 offers some spectacular scenery in the Virgin River Gorge.
Las Vegas - 80 miles southwest of Mesquite.
Zion National Park - Zion, Bryce Canyon, and other natural wonders are within easy reach of Mesquite.