Mestre
Mestre
corresponds to the mainland area of
Venice
, in
Italy
. Although administratively it is part of Venice, from a traveller's perspective it can be considered to be a distinct area. Officially the name "Mestre" corresponds to only one of the boroughs that forms Venice's mainland, but travellers typically consider Mestre as the entire Venice mainland.
Understand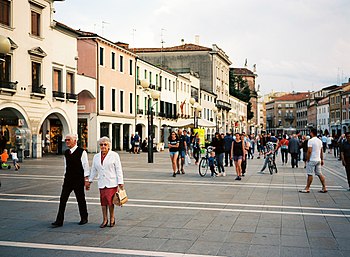 Visitors to
Venice
are often perplexed to see so many tourists and very few locals, and wonder where do the Venetians do live. In fact, most Venetians, including many who work in Venice lagoon's cafes, restaurants, shops and even gondeliers, live in Venice's mainland, Mestre. For most part, Mestre is a normal, modern
Italian
city with all the conveniences and problems, but not enough to make it a destination on its own. Due to the cheaper accommodation (especially for hotels with 3 stars and above), cheaper parking facilities, and better access to Marco Polo airport, Mestre is often used as a base to explore Venice.
Whether it is a good idea to stay in Mestre when the intention is to visit central Venice is a matter of taste and convenience. Note that while it's possible to save some money by staying in Mestre instead of Venice, at least some money saved will be rather spent on transportation, public toilets and "sit-in" charges for cafes and snackbars in Venice (a traveller that stays in Venice instead may save money by taking away food and drinks back to his or her hotel instead of sitting in). Besides, due to frequent overcrowding, the San Marco and Rialto areas of Venice are often better explored during early morning or late evening, which will not be possible for those staying in Mestre. Finally, while the buses and trains from Mestre to Venice typically only take from 10 to 20 minutes, one that arrives in Venice still needs to go from either Piazzale Roma or Venezia Santa Lucia station to their final sightseeing spot, which might be either a long walk or an expensive
vaporetto
ride.
The opposite question is whether it makes sense for someone staying in central Venice to visit Mestre. For someone staying for 3 days or less, probably the answer is no. Those staying longer, however, may enjoy going to Mestre to have a break from tourist crowds, shop and eat at non-inflated prices, go to bars and nightclubs open until late, ride a car or a bicycle, or simple have a feeling of being in a "normal" city with normal people, rather than in a theme park or a "city of vacation homes" which Venice is increasingly turning to.
Get in
By plane
To travel to Mestre you can fly to two different airports. Marco Polo in
Venice
is the closest, about 20 minutes from the train station in Mestre and you can take the ATVO flybus or line 5 every 10 minutes or so.
Treviso
airport is also nearby, approximately 50 minutes by bus.
By train
There are two train stations: and .
Get around
Mestre's town center is pedestrianised and is therefore difficult to navigate in a car. There are bus links to all the local attractions and everything is within walking distance.
There are many well maintained bike lanes throughout Mestre.
Mestre also has two
tram lines
T1 and T2.
See
Mestre is a very charming city, with its canal snaking across the center. There are plenty of gorgeous little streets to explore along the way.
Mestre has several sights in the main piazza, Piazza Ferretto. There is a watchtower at the top of the piazza, and be sure to check out Teatro Toniolo, which is a beautiful theater.
Piazza FerrettoA typically Italian piazza, with a modern water feature at the center and lots of different eateries with outside seating. It is also full of top end designer stores.

Parco San GiulianoA local park worth visiting. It is often used for outdoor concerts in the summer. It also has a remarkable and unique view of Venice lagoon as it borders the Ponte della Liberta, which joins the Venetian islands with the mainland.

Parco BissuolaAnother local park worth visiting. It offers good sport facilities and an outdoor pool.
Do

Stretch your legs at the two main parks, Parco San Giulliano and Parco Bissuola. Each has good sport facilities, such as outdoor pools, basketball courts, skate rinks and running tracks.
For those with children, there are play parks dotted around the city. There is also a mini train for children near the Le Barche shopping center.

Buy
Mestre has various different markets throughout the week, including ones specialising in fresh fruit and vegetables, clothes and even art.
Max out your credit card at one of the many designer stores in Mestre.
Le BarcheA very modern shopping center.
Eat
There are lots of different restaurants and cafes throughout Mestre which have guaranteed good meals out.
Mestre is full of small family owned pasticcerie. In Piazza Ferretto, you can buy little miniature deserts, called
mignon
, which are delicious.
Tramezzini
— similar to sandwiches — are also very popular. There are places where you can chose from more than 30 different types.
Brioche
, with your morning espresso, is another staple found in Mestre. The
pizza
is typically Italian, thin and delicious. Being on the coast,
fish
is another important part of Mestre cuisine and there are always plenty to choose from in any restaurant (beware they sell fish by the weight, so in the menu if it says €5 for bass then that may mean for 100 grams, and end up costing near €30!).
address: Via Miranese 186/H

A 30-year-old patisserie. Specialities: Hazelnut cakes, ice creams and Easter eggs.

phone: +39 349 781 2505

address: Via Casona 23, 30173, Mestre - Venezia
Drink
Aperol
is the liquor of choice. Orange-flavored, it is very popular in the form of a spritz, with prosecco and sparkling water added. Also
coffee
is typically Italian, strong and delicious.
In Mestre there are some night clubs:
MolocinqueThe most popular night club (and, obviously the most expensive).

CieloAnother night club that warrants a visit.
Sleep
Budget
phone: +39 041 5470543

address: Via Moranzani, 93, Fusina

Camping at the mouth of Brenta River. 20 min away by ferry from historic Venice (ferry 16 Fusina - Zattere). The drawback is you can't stay too long in Venice proper, last ferry back is (in summer season) around 22.30.

phone: +39 041 5312828

address: Via Orlanda, 8/c

Renovated in 2011, 100m from bus stop to Venice proper, bus every 15 minutes (lines 5 and 19) till around midnight. They advertise as "the nearest camping to Venice" (it's debatable).

phone: +39 041 5420295

address: Via Orlanda 16

Pizzeria, WiFi.
Venice Lagoon House Via Tenda 11, Venezia (village Tessera). Just 1 km from Venice Airport - Info: Four-bed dorms from €25 per person.

phone: +39 41 920632

address: Via Trieste 2/H

phone: +39 41 5496711

C.so del Popolo 211. 4 star hotel with 126 rooms.

phone: +39 41 611088

Via dell'essicatoio, 38. Free car parking. Double rooms starting from €70.

phone: +39 41 913803

Via Miranese, 169.

phone: +39 41 900033

Via Bagaron 1. Campalto. (On the road from Mestre to Venice airport).

Hotel Casa a ColoriVia dei Frati 1, Dolo. An ancient monastery now a cosy hotel. Simple and elegant accommodation for any type of travellers. Gardens, peace, private free car parking, welcoming staff, close to the Brenta River and the Venetian Villas. Single rooms from €40, doubles from €62, including taxes and buffet breakfast.
Mid-range
phone: +39 041 5840700

Via Moglianese 37, Scorzè, 30037. Doubles starting from €75. An ancient mill on the river in the countryside.

phone: +39 041 5318288

address: Via Forte Marghera 193/c

The Hotel Alexander is in the most modern part of Mestre, near the city's new business center. Doubles starting from €90.
Hotel Altieri, Via Altinia 51, 30030 Favaro Veneto, ph +39 041 5010651 fax +39 041 631504 . In Mestre, 3 miles from the airport. Double room rates range from €110.

phone: +39 041 951385

P.zza Ferretto 73, 50127. It is an elegant hotel located in the Ferretto's Square. Double room rates range from €89.
Hotel Ducale, Via Triestina n° 5, 30030 Favaro Veneto, ph +39 041 631444 fax +39 041 631393 . Located 3 km from Venice Airport. Single rooms from €60, doubles from €70 and triples from €90 including taxes and breakfast.

phone: +39 041 5330740

Via Forte Marghera 119. In the center of Mestre. Easily reached from the train station and from the Venice airport. Single rooms from €45, doubles from €60 (depending on the season).

phone: +39 041 5349362

V.le Garibaldi 24. Single room from €60, Double from €75.

phone: +39 041 926037

address: Viale Venezia 11

La Residenza Bed and Breakfast

phone: +39 335 5475910

address: Calle del Sale 33/a

Bed & breakfast in the heart of Mestre, with its modest and friendly atmosphere, is a vacation location with the added convenience of arriving at your hotel by car.

phone: +39 041 929355

address: Via Sernaglia 21

Just a stroll from Mestre Station. Single from €40, double from €80.

phone: +39 041 929462

address: Via Trento 2

In front of Venice-Mestre railway station, completely renovated, with careful attention to detail. Single rooms from €50, doubles from €80.

phone: +39 041 5349236

address: Via Francesco Crispi 20

Single rooms from €70, doubles from €80 including taxes and breakfast.
Go next
Around the Venetian lagoon are other smaller islands, which have since been deserted but are worth a visit. There is also the Lido, which is a long narrow island with more modern buildings, hosting a youth hostel and a hotel.