Metro Batangas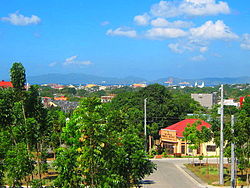 Metro Batangas
is a minor metropolitan area of the Philippines, in
Batangas
province. The area contains 23% of the provincial population, and is a commercial, industrial and educational center. The area is entirely coastal, and houses Batangas Port, an important entry point to the rest of the Philippine archipelago.
Cities and towns
The metropolitan area is centered on its three major settlements, all covered as one city with good public transport links.
- Provincial, educational and cultural capital, and major seaport.
- Industrial and residential suburb, the entry point to Mabini.
- Another suburb, housing Caltex's main refinery, a landmark of this town.
To the west of Batangas City:
- Commonly called Anilao by tourists, it is the birthplace of scuba diving in the Philippines.
- Little island town with some off-the-beaten track attractions.
To the east of Batangas City:
- Coastal town surrounded by the mountains and the sea, with some beaches. Its prominent destinations are the Malabrigo lighthouse and some seaside resorts overlooking the Verde Island Passage
Understand
Metro Batangas houses many major industries, shopping centers and higher education institutions. It was once considered one of the nine recognized metropolitan areas of the Philippines, until it was reduced to the four major areas,
Metro Manila
,
Metro Cebu
,
Metro Iloilo–Guimaras
and
Metro Davao
. The area has significant growth enough to become a large metro area, but it is not certain whether Metro Batangas will be recognized again. Developments in the area remains horizontal, and it is yet to grow a skyline complemented by a mountainous backdrop, but it is found in the regional long-term plan.
The metropolitan area has over 625,378 people, the total population of constituent areas according to the 2015 Philippine census. Residents are mostly Tagalog and Visayan, with a Filipino Chinese minority. The area has a small expat community formed by ethnic Chinese, some Nigerians, and a few whites, but foreign tourists, primarily
East Asia
, can be encountered in the tourist areas.
This region administratively corresponds to the 2nd district and 5th districts of Batangas by law (the area corresponded to the 2nd district until 2016).
Travel between Manila and the southern Philippines by land and sea will entail travel through Metro Batangas, thanks to the completed expressway connection. There is a sufficient number of hotels to spend a layover before travelling onward on either direction. This area houses the second largest interinsular and international seaport in the Philippines and peak seasons (Holy Week, All Saints' Day, Christmas and New Year) can be the worst time to travel by ferry, so plan accordingly.
Get in
By sea
Batangas Port
is the major point of entry by sea; RoRo (roll-on/roll-off)ferries, interisland ships, and motorboats serve this port. This is the sea transport hub to other areas outside CALABARZON.
By bus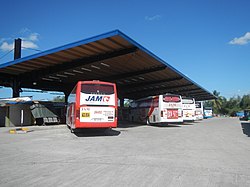 There are two major bus terminals, all in Batangas City. Numerous bus routes from Metro Manila serve Batangas City;
Jam
,
DLTB
and
Alps
provide most service. Other bus operators are
Southern Carrier
(rebranded provincial service of RRCG, operates from Alabang),
N Dela Rosa
(from Alabang, some from Cubao or Taft/Buendia) and
Supreme Transport
(from
Lucena
via San Juan). Buses from
Mindoro
or
Visayas
also serve the area; those buses take numerous RoRo ferries on their route.
By car
The region is reachable by road from any corner of Batangas, except Tingloy. The
STAR Tollway
runs from Santo Tomas through Lipa and ends at the roundabout in Balagtas.
Jose P. Laurel Highway
(Route 4) spurs off from Maharlika Highway in Santo Tomas and passes through Tanauan and Lipa and ends at the Poblacion of Batangas City; it is the toll-free alternative to STAR.
Palico-Balayan-Batangas
Road (Route 436) runs from
western Batangas
and ends at the same point where Jose P. Laurel Highway terminates.
Batangas-Quezon Road
(Route 435) runs from
Tiaong
,
Quezon
through eastern Batangas, and terminates at N4 in Balagtas. Only STAR Tollway is a wide divided highway; all others are undivided roads passing through residential areas.
Get around
The area is well served by public transport; jeepneys and tricycles are the modes of choice. Practically everywhere in the region is served by all of these local public transport.
Taxis do not serve Metro Batangas, but some taxis from
Metro Manila
reach this area, yet, rates are more expensive than taking a bus or a UV Express van.
By jeepney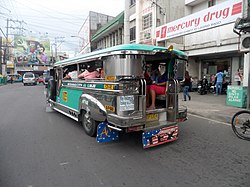 Jeepney
are the cheapest mode, but are cramped; there is also the risk of
pickpockets
. You can catch a jeepney from the bus terminals in Batangas City and practically bring you anywhere in the metro. Just look at the painted signs in the front and sides of the vehicle for their routes.
Street addresses
are mostly not used to indicate a destination; instead, ask a local or a driver for the nearest landmark on your destination.
To reduce crowding on jeepney pickup areas, the city government of Batangas has implemented a queue system along Batangas city proper's main street, P. Burgos. The system is rather similar to the one implemented in some locations in Metro Manila.
By tricycle
Tricycle
s serves as the only mode of transport nearest to a taxi, and the only way to reach the other corners of the metro not served by jeepneys. In practice, they are a kind of share taxi, and you will ride with many passengers in the same route. The tricycle around Batangas City and area has a sidecar for two persons, but is not intended for large-build foreigners, so riding behind the driver is the best option if you are tall. Fares are very cheap, starting at , and can be expensive when used for long distances, so
bargain
with the driver before setting out. Also beware of
scam
; some drivers, especially after sunset, may overcharge you.
By car
You can travel around Metro Batangas with you car, but it can be the worst way to get around, even if you are going to destinations outside the noisy city. Traffic jams are commonplace in the suburbs, driving habits tend to be aggressive, and parking downtown is difficult. The local governments are making solutions to address the traffic woes, including the construction of two bypass roads to the north and east of the metro, but traffic remains awful.
Eat
All major hotels have restaurants, and most malls have a bunch of them. The region also has lots of restaurants specialized in local cuisine like lomi (rice and egg noodles, akin to lar mee). Many local restaurants are clustered around the Pallocan and Diversion Road areas in Batangas City.

Sleep
Batangas City has a significant number of hotels of almost all classes, from basic backpacker inns to splurge hotels having almost all the frills you may find in Western ones, except they are far cheaper than back home. Mabini and Lobo has a good number of beach resorts; Batangas City has a few seaside ones and almost lack them, but there are numerous inland resorts off the beaten path.

Stay safe
The region has relatively few traveller hassles, but watch out for pickpockets and beggars in the city. Tricycles drivers are notorious for overcharging unwary travellers, so haggle for an agreeable fare.

Go next
Most points on
Batangas
is reachable from the metro. If you are coming from the south, there are buses that will take you to
Metro Manila
or
Lucena
. You can hop into a jeepney to other major destinations of the province. Travelling on your own by car or motorbike is rather for the adventurous, with traffic jams, narrow roads, and aggressive drivers, but the surrounding regions are well connected by road.
To the south,
Puerto Galera
and
Mindoro
is reachable by RoRo ferry, fast craft or motorboat.
Boracay
, though closed for six months during 2018, can be reached by ship or by bus-and-ferry combinations via Mindoro (
Calapan
and
Roxas
).