Metz
Metz
is in the
Grand-Est
region of
France
and in the
Moselle
departement that borders
Luxembourg
and
Germany
.
Understand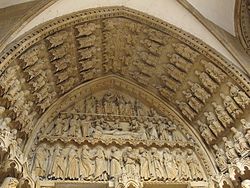 Due to its German heritage and military tradition, Metz has yet to earn much respect in the eyes of the French. Most of the criticism about Metz is clichéd and unwarranted; in fact, Strasbourg has stronger German heritage yet has been overwhelmingly embraced by the French and visitors alike.
Metz and the rest of the region offer much to view of historical interest, as well as a well-rounded shopping scene, ranging from the low- to high-end and including a great Saturday farmers' market.
History and name
This location has been inhabited from the days of early man, and was subsequently settled and fought over too many times to name. The first known permanent setters in the area were a Celtic tribe known as the Mediomatrici. They found that the area was rich in resources, and supposed it easier to defend, as the confluence of the Seille and Moselle rivers created several islands at this spot. The area became known as the Oppidum of the Medioatrici until the Greco-Roman times, when the city was incorporated into the
Roman Empire
and become known as
Divodurum Mediomatricum
, meaning the "Holy Fortress of the Mediomatric". Later, the name evolved to Mediometrix. In the 5th century the name evolved into 'Mettis', which ultimately evolved into 'Metz'.
Metz was the birthplace of the Carolingian Dynasty before becoming the capital of the burgeoning Kingdom of Lotharingia (855-958 AD); then it was the capital of the Duchy of Upper Lorraine (959-1233), before breaking away to form an independent city state during the high Middle Ages (1234-1552). As such, Metz was one of the most powerful cities in feudal Europe, and this rich cultural history can still be seen, particularly in its grand Cathedral and its beautiful old town built using the "pierre de Jaumont", a local yellow-colored limestone.
Talk
Although Metz is close to Luxembourg and Germany, locals are not fluent in German and speak French as in any other French city. The local dialect (Platt) is spoken in some parts of northern and eastern Moselle but spoken in Metz infrequently.

Get in
By car
Metz lies along the A31, north of
Nancy
and south of
Luxembourg
. From
Paris
or
Strasbourg
, take the A4 to the A31; Metz is just to the south.
By plane
A
shuttle bus
is also available from
Frankfurt
-Hahn airport.
=== By train ===
Railway StationBuilt in 1908, its imperial area built during the German occupation. It has connections to Paris, Luxembourg, and Strasbourg, including TGV.
If you have a Eurail pass you will probably not be able to leave for a few weeks (you must make reservations way in advance).
The train from Luxembourg costs €16.50.
Get around
By car
Driving in the centre of town is not recommended. Park in one of the parking areas (well-marked from the main roads in) and walk or use public transport.
Be aware of immigrant beggars in parking areas offering to watch your car and approaching you at ticket machines when your wallet is in your hand. Local police refuse to prevent this activity even though they accept it is illegal and keeps visitors away.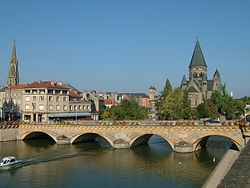 On foot
This is an easy city to navigate on foot as most any-place is a short walk and it takes less time to walk than to spend time looking for parking.
Take a downtown map if you do not know your way around, however, you will find it easy to learn the layout and will very soon be comfortable on your own.
Take your time and enjoy the varied sights and sounds of this city. Its buildings are varied in design, style and age with fun and fanciful details you will miss if you are not looking.
Everything in the city centre is easily accessible on foot, and much of the main downtown/shopping area is pedestrian. There are a few hills, though!
By bicycle
Bikes are also a great way to get around, though the same comment about hills applies here too.
If the weather is nice, rent a bike and head south along the river Moselle in the direction of Nancy or Thionville. Paths are well-marked, well-maintained, and mostly flat. Bikes are available next to the train station or across the street from the cathedral. Cost is €10 per day (but requires a credit card number or cash deposit of €100 per bike).
See
Landmarks
Cathedrale St-Etienne

address: place d'Armes

The Cathedral is a truly impressive structure, overlooking the river and the city. Inside, both its height (the third-tallest nave in France) and its stained glass windows, reportedly the largest surface area in France, with several by Marc Chagall, will impress visitors.

Place d'ArmesThis square is notable for the four buildings that surround it. They were specifically designed to show the balance between the various local powers: religion (the cathedral), the military (now converted to the tourist office), civil government (the town hall) and justice (the court building). Place d'Armes also hosts a regular market for produce and other local goods. The tourist office is along one side of Place d'Armes.

address: 15 Rue d'Estrées

Historically it was the bishops' palace, today it hosts stalls selling meats, cheeses, and other regional specialities.

Opera-ThéâtreTheatre and opera house, built between 1732 and 1752 and the oldest in France.

Place Saint-JacquesFormerly the main crossroads of Divodurum (rue Taison and En Fournirue), it's correspondent with the placement of the ancient Roman Forum. Today the square is known for its numerous coffeehouses and restaurants, with outdoor seating whenever the weather is fine.

Basilica of Saint-Pierre-aux-NonnainsIt was built in 380 AD as a Roman bath, and in the 7th century, it was converted into a chapel of a Benedictine nunnery. A new nave was constructed in the 11th century with further interior renovations. In the 16th century, it became a warehouse, and remained so until the 1970s, when it was restored and opened for concerts and exhibitions.
Museums and galleries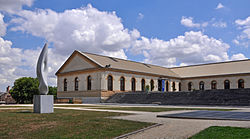 Centre Pompidou-MetzA modern art gallery in Metz.

phone: +33 3 87 20 13 20

address: 2, rue du Haut Poirier

Built over the remains of Divodurum's Roman baths. There are also Gallo-Roman collections, sculpture, European paintings, etc.

phone: +33 6 34 52 22 34

address: 2 rue Haute-Pierre, 57000 Metz

Covers the 19th-century poet's Lorraine origins, his life and career in Metz and Paris, his meeting with Arthur Rimbaud, his works, and his posthumous fame.
Do
In December, Christmas markets can be found in many places. They are the best places to drink hot mulled wine (vin chaud).
Drive down Foch street and check out the apartment and homes built by the former weathier inhabits of the city.
Attend a performance of The Metz Philharmonic Orchastrata\ra.
Visit the Metz TI center
Take "The Little White Train" city tour (Starts in front of the TI Center)
If you want to see sport games, professional teams includes: FC Metz (football), H2ML (women's handball), SMEC (men's handball and table tennis), RC Metz (rugby). If you want to see ice hockey games, you can drive to Amneville which is home of the "Amneville Galaxians".
The Box Escape Game, 6 rue Clovis, +33 3 68 38 53 00. Very fun English-speaking experience in Metz. Game masters are great!
Buy
A book at the TI Center for the kids that illustrates the story of the St. Clement and the dragon.
Eat
Le Bouche a Oreille

address: 46 place St

Louis. Open middays and evenings except Su and Sa/M midday. Specialises in dishes containing cheese in some form or other: omelettes, meats with cheese sauces, crepes/galesins, etc. The food is very good quality and very reasonably priced, served in a clean comfortable setting.
Soupes a la Soup's inside the food market hear the Cathedral. Made homemade 3 special soups everyday as well as other items. Woderful crepes too!

Da Luigi

address: 39 Rue Jardins

Decent Italian restaurant which specializes in pizza. Less than 5 minutes by foot from Place d'Armes.

phone: +33 3 87 74 06 51

address: 27 Rue Roches

Cuisine "gastronomique traditionnelle." One of the nicer restaurants in Metz. With two menus, one at €35 and the other at €50, it's not the cheapest option in Metz, but the price matches the service and quality. Full wine menu.

Le Serpenoise

address: 18 Avenue Robert Schuman

Kebab shop and hookah lounge just next to Place de la Republique. Better than average kebab in a very convenient location.

Crêperie Le Saint Malo

address: 14 Rue Clercs

Classic Bretagne creperie. Large selection of both savory and sweet crepes. Friendly atmosphere and reasonable prices. Don't forget to have cider with dinner!

Lexis Alanya Snack

address: 6 Rue Paul Bezanson

Fast food restaurant in the heart of the old city. Great kebab and great location. Grab a kebab and bring it back to one of the fine drinking establishments surrounding the shop.
Drink
Irish PubThe, 3 Place de Chambre. That bar may have French owners, it has all the elements of a typical Irish pub.

La Chenille Bleue

address: 9 rue Mazelle

A nice hookah lounge in what looks like an old wine cellar with neat arched ceilings. Can get a liter of Stella Artois for €7, or they have a great international beer selection.

Comédie Café

phone: +33 3 87 36 56 97

address: 2 Rue du Pont des Roches

One of the cheapest bars in Metz. Happy hour every night until 20:00. €2 pints and €10 50 pitchers of Amos, a local brew. Young and lively crowd. Trivia every Tuesday.

address: Place St Louis

Old-style pub with decor not that unlike a medieval watering hole. Good selection of alcohol at reasonable prices. Enjoy a beer on the plaza in the warmer months or duck inside in the winter and warm up with an Irish coffee.

address: 24 Rue du Palais

Bar specializing in Belgian brews. Enormous selection of Belgian beers on tap and bottled. Great atmosphere, though crowded during happy hour. Mixed, but generally young crowd. Drinks are mid-priced, which is why everyone packs in during happy hour in order to enjoy a Trappist beer without burning a hole in their pocket.
Sleep
address: 5, place du General de Gaulle

Convenient (opposite train station), clean. 72 rooms. There is a back landing near the kitchen where bicycles can be stored.
Stay safe

Metz is quite a safe town. Even so, it might be a good idea to avoid suburbs like Borny or St Eloy, and the old town's small alleys by night.
In the centre, some people are likely to ask you to give them some money or a cigarette. Feel free to say no.
Don't walk from Lafayette to Resam (Résidence Arts & Métiers de Metz-Technopôle) late at night.

Go next
Amnéville, small town 10 km north of Metz, that features an indoor skiing hall, a casino, two thermal centers, a zoo, a large swimming pool, an ice-rink and the largest arena in eastern France, all in the same area.
World War II Lorraine American Cemetery and Memorial: Take Highway N-3 about 45 kilometers (28 miles) east to Saint-Avold then go north on Highway N-33 for 1.2 kilometers (3/4 mile). Open daily except for December 25 and January 1; 09:00-17:00. The cemetery is the second largest American cemetery in Europe and is the final resting place for 10,489 American military dead lost during the drive to push the Germans from France. A monument is inscribed with the names of 444 Americans whose remains were never found or identified. The memorial contains mosaic maps of World War II campaigns. Free. The largest American Cemetery and Memorial is in Meuse-Argonne France, which covers 130.5 acres, rest the largest number of American military dead in Europe, a total of 14,246. Most of those buried here lost their lives during the Meuse-Argonne Offensive of World War I. It is one hour and 15 minutes away from Metz.
Thionville, 30 km north of Metz, is Moselle's second largest town.