Mexico City/Zona Rosa
Zona Rosa
is a business and entertainment district located in a portion of Colonia Juárez, near the center of
Mexico City
. It is one of the city's most touristy areas, filled with hotels, dance clubs, restaurants, bars and live bands. Demographically, it boasts a healthy gay population as well as a relatively high concentration of Korean immigrants. Mexico City's financial heart is also here, with the Mexican Stock Exchange building and the recently built 35-story HSBC building next to the
Angel de la Independencía
, amongst other banks with offices in this area. It is clearly defined by Avenida Insurgentes to the east, Avenida Chapultepec to the south, Paseo de la Reforma to the north, and Calle Sevilla to the west. Though not considered part of Zona Rosa, a lot of its characteristic style spills northward across the Paseo de la Reforma.
Zona Rosa (which means "pink zone", not to be confused with
zona roja,
a red light district) was
the
place to go for nightlife in the city, but recently other areas, most notably Condesa, have since surpassed it in trendiness. Nevertheless, there is still heavy tourist traffic, and you will easily find yourself accosted by people in the streets selling goods and services, be it dance and strip club promoters, tourist information from police officers, tours from taxi drivers, plus the usual crowd of street vendors, lottery vendors and beggars. If you're not interested, just ignore them.
Get in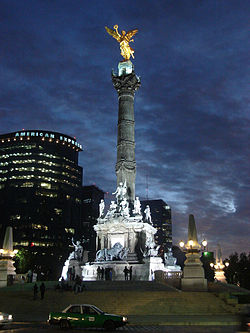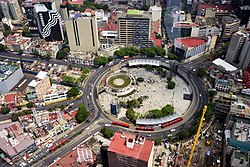 Glorieta de Insurgentes
, the plaza-and-traffic circle at the intersection of Avenida Insurgentes and Avenida Chapultepec, is a transportation hub for the Metro and Metrobus and is an excellent stopping-off point.
By metro
You can hop off at (Line 1, pink). The station exits in the plaza at the center of
Glorieta de Insurgentes
, where good people-watching opportunities abound.
By bus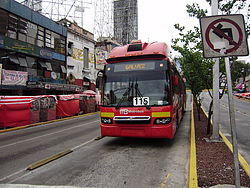 If you are riding on Chapultepec Avenue, ask the driver to drop you at Florencia Avenue. Keep in mind though, that the MetroBus is usually packed.
By car
You can access the area using
Avenida Niza
,
Avenida Reforma
or
Avenida Insurgentes
. There are several parking lots charging around $14 MXN an hour. Several restaurants have their own valet parking, charging between $30-45 MXN. There are also parking meters charging $10 MXN an hour. Make sure you pay enough when using meters, as unlike other countries where the police will just leave a ticket on the dashboard, in Mexico City, they will put a wheel lock to violators and paying fines is a very expensive and troublesome process. Meters are off on Saturdays and Sundays.
By turibus
The double-decker hop-on and hop-off tourist bus that runs along
Paseo de la Reforma
, and throughout many other areas of the city. You can depart Zona Rosa at the Angel de Independencia for connections to the pyramids, the south of the city and the normal tourist route. Be sure to check the schedule at the tourist information booth a few steps from the stop.
Get around

Walking is the best way to move around. The area has a few pedestrian-only streets, being Genova the main street where many restaurants and shops are located.

See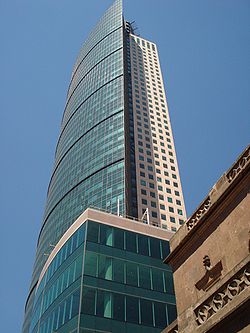 Paseo de la ReformaBe sure to check out the Paseo de la Reforma, a long avenue with fine examples of architecture, numerous banks and offices, and older residential areas now transformed into fashionable venues and spectacular monuments.
Monumento a CuauhtémocBust of Cuauhtémoc, the Aztec ruler of Tenochtitlan from 1520 to 1521 is displayed proudly at the intersection of Paseo de la Reforma and Avenida de los Insurgentes.

Monumento a la IndependenciaA victory column located on a roundabout over Paseo de la Reforma in downtown Mexico City. El Ángel was built to commemorate the centennial of the beginning of Mexico's War of Independence, celebrated in 1910.

Fuente de la Diana CazadoraThis fountain by Fernando Olaquibel was originally known as 'The Archer'. It depicts the beautiful Diana Cazadora aiming her arrow at infinity.

phone: +52 55 5283 8000

address: Av Paseo De La Reforma 505

The Torre Mayor stands on Paseo de la Reforma and soars 225 meters above the ground with 29 high speed elevators.
Do

Zona Rosa is probably the only area in Mexico City that really never sleeps. It's a great place to start and end your night. Mexico´s Zona Rosa is also known as a meeting point for the gay community.

Buy
Plaza del Ángel

address: Calle Hamburgo and Amberes

This complex houses several antique shops and on Saturdays and Sundays, there are more informal dealers selling vintage stuff. Arrive early as dealers close around 16:00.

Plaza La Rosa

address: Calle Amberes and Genova

Shopping precinct that has over 72 prestigious shops and boutiques, including Mango, Furor, Iker and others.

Jardín del Arte

address: Rio Nevada

Colorful market on Sundays with more than 100 artists exhibiting and selling their paintings and sculptures.

phone: +52 55 5525 0602

address: Paseo de la Reforma 222

This shopping complex designed by Mexican architect Teodoro González de León has a number of international chain stores, restaurants, and a cinema.
Eat
If you're looking for fast food chain restaurants or internet cafes, they're practically on every corner in Zona Rosa.
Pancho's Bar

address: Av. Chapultepec

This restaurant is a lot bigger than it looks, but on this crowded sidewalk of Avenida Chapultepec just west of the station you might almost miss it. They tape a photocopy of their menu above every table, but don't let that fool youthe staff are professional and the food is great, especially at these prices. It's Mexican cuisine with a creative streak. The house tortilla chips and salsa are excellent, and can fill you right up before your meal even arrives! On the cheap end, quesadillas are $14, flautas (chicken or beef) are $10, and you can get a very large and very satisfying torta (there are a few varieties) with fries for $30; most other meals start with soup and rice before getting to the main dish and go for an average $50, though there are a few dishes that are as high as $180.

Dragón

address: Calle Hamburgo

Mid-priced Peking style Chinese food, semi-formal atmosphere. The Peking duck is the specialty, also try the beef in orange peel sauce.

Zampano's

address: Calle Nápoles, Col. Juárez

Owned by expats from the US and Australia, this is an excellent and cheap pizza place. The clientele is a mix of expatriates and Mexicans. Try the mariposa salad or the mexigarita pizza (a ot black sauce and tomatoes), then the Ruca Suprema (with everything) or the Ary's Pollito (chicken, corn, and avocado). Beer is 2 for one during happy hour. The music is vibey and if you get inside when it is cold or raining, the oven gives a nice warmth.

Beatricita

phone: +52 55 5511 4213

address: Calle Londres 190-D

The best tacos in the city. Established by Beatriz Muciño Reyes, who decided to immigrate into the city in 1887 alongside her brother Claudio, hoping for a better life. In the morning, you may enjoy a complete breakfast for $42, which includes: juice, coffee and the pastry of your choice; 2 tacos or eggs in any way you may think of, chilaquiles with eggs or chicken or pork rinds in green salsa. For lunch, there's a menu which includes: soup, rice, and the plate of your choice among 9 typical Mexican dishes, a soda and dessert for just $47. Don't forget to drop by on Viernes Pozolero(Fridays). On weekends, you cannot miss the Pancita en Cascabel (cow guts cooked in cascabel chili sauce) or a mushroom soup.

Fonda del Refugio

address: Calle Liverpool

Typical Mexican cuisine specializing in sauces and fussy dishes. Great desserts and excellent service. One of the highest rated Mexican restaurants in Mexico City. Founded by a Mexican food critic in the early 1950s, this is the restaurant for Mexican celebrities (Maria Felix) during lunch, and foreign ones during dinner.

Tokyo

address: Calle Londres

Excellent food at reasonable prices. Don't miss the $60 set menu (M-F only).

Cafe Ventura

address: corner of calles Hamburgo and Genova

A nice place to have breakfast or lunch. You can sit inside or on the patio. They have great meal specials for about 50 pesos. For breakfast try the chicken chilaquiles, or you can just get pancakes.

La cicciolina

phone: +52 55149553

address: Rio Nilo 90

La cicciolina, is a Bistro, Café and Gourmet Shop just one block from "El Angel" at the heart of México opened by a German/Argentinien couple, they make personalized Pizza, they way you tell them and have everyday a special menu. Also nice place to have a coffee and little talk, don't miss their Illy coffee and offers gourmet.
Drink
Bar Milan

address: Calle Milan, Col. Juárez

Popular with a bohemian crowd, Bar Milan has a very relaxed and unpretentious atmosphere. It has a tendency to get overcrowded however. Plays electronic music and rock We-Th, more Spanish language rock and Latin music Fr-Sa. The mojito is the specialty cocktail. Note: Cash needs to be changed into milagros, the in-bar currency, before use, bartenders and waiters don't accept cash. Larger-denomination milagro bills can be changed back when leaving.

El Colmillo

address: Calle Versailles, Col. Juárez

Run by British expatriates, this is one of the best electronic music clubs in the city. Relatively large dancefloor and lots of places to sit downstairs, lounge upstairs. Theme nights, upstairs often plays hip hop, reggae, funk, downstairs tends to be psychedelic trance or house. Often very few people before 1AM or so.
Dance
In Amberes street, there are a few places to go and let loose on the dance floor, including:
phone: +52 5514-4920

address: Amberes 1 (cnr Paseo de la Reforma)

This nightclub is one of the hottest in the gay community. It has a 1st floor and a terrace, it has lots of screens on which you can see the videos of the song that's played.
Gay-friendly
The Zona Rosa is also a very gay-friendly area. In the information kiosks you'll find many guides with gay places to visit in the zone. A good first stop is the BGay cafe on Amberes (a street which also has several other gay bars and clubs).
Sleep
Some of Mexico City's most renowned hotels are located in Zona Rosa.
Hostels
Hostelling International Zona Rosa

address: Cerrada de Hamburgo # 156, building 5, Col. Juárez

Awesome location, very nice staff, within walking distance to the Metro at Insugentes and many other area attractions. hi
Mid-range
phone: +52 55 9149 3000

address: Amberes 78, Col. Juárez

A bit pricey if booked direct. Two in-house restaurants, as well as penthouse poolside bar. Standard room sizes, very clean, with TV, desk, and minibar (fee for minibar use). Free wi-fi throughout the hotel. Since the hotel is a 17-storey tower, and the rooms are on floors 5 and up (ground-4th fl.: parking garage), street noise is not an issue.

phone: +52 5566 6422

address: Calle Viena, 8

Excellent value for $50 USD – must book on the website for this deal. It will cost over $100 USD if you walk up. Just print your receipt and present it at the front desk. Rooms and restaurant are clean and in new condition. Bell hop (Mauricio) is very helpful with anything you need.

phone: +52 55 5080 0800, +52 55 5080 0831

address: Londres 130, Col. Juárez

This top end hotel is in the heart of Zona Rosa, making it a prestigious address to stay in. While the hotel has been around since 1907, constant renovations maintain its luxurious interior with dark wood paneling and corkscrew Solomonic columns.

phone: +52 55 9150 5900

address: Paseo de la Reforma 208

Inexpensive but surprisingly good value with clean rooms, friendly staff and a great location, just across the street from the WTC. Price includes a free continental breakfast.

Hotel NH

address: Liverpool 155, Col. Juárez

Modern hotel with a great location. First rate service and the staff are very professional. Hotel has an outdoor heated swimming pool, fitness center and wireless internet access.

phone: +52 55 5705 0836

address: C/ Madrid 15

70s Sheik Hotel. Free wi-fi in the lobby. Excellent breakfast buffet and full bar until 23:00.
Splurge
Embassy Suites Mexico City - Reforma

phone: +52 55 5061 3050

address: Paseo de la Reforma 69, Col. Tabacalera

Recently opened, the Embassy Suite offers up a desirable stay. The suites are larger than average, with 2 large flat panel TVs in each room, and a spectacular view from the 17th floor. The building contains an indoor pool and the free breakfast is mouthwatering and delicious, with the cook preparing fresh and local treats. Price also includes 2 hours of free cocktails with light snacks every night.

phone: +52 55 5242 5555

address: Paseo de la Reforma 325, Col. Cuauhtémoc

Decent, but not impressive 4 star hotel located in the heart of Zona Rosa, next to the HSBC tower and facing "El Ángel" (Monumento a la Independencia) in the heart of the banking district. The bedrooms are of a good size and it has a good gym and pool.