Miami/Little Havana
Little Havana
is located just west of
Downtown Miami
. Also known as the Latin Quarter, it received its name by being a Cuban neighborhood from the 1970s until the 1990s, but now consists of many Central and South Americans. Its main drag is along 8th St or
Calle Ocho
, where authentic Latin shops and restaurants abound and the majority of the population speak entirely in Spanish. Each year, the neighborhood hosts the annual Calle Ocho parade, the largest street festival in the world. Although the area is far less dangerous today than in its past, don't wander into the neighborhoods late at night, particularly East Little Havana (east of 17th Ave) where high crime rates and gang activity is still a concern.
Understand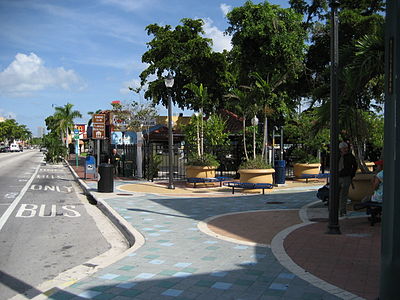 Get in
The easiest and most convenient way of getting to Little Havana is by car, where street parking is plentiful and affordable. However, public transit options also exist. MetroRail does not go through Little Havana, but there are a handful of bus routes that do.
By bus
You can take the #6, #7, #8, #11, #207, or #208 buses from
Downtown Miami
. The #11, #207, and #208 can be picked up at the Government Center MetroRail/MetroMover station, and the #6 and #8 can be picked up near the Brickell MetroRail/MetroMover station. The #7 bus comes from
Downtown Miami
, stopping at the College North MetroMover station and the Overtown MetroRail station.
See
this map
for more information.
The #37 and #42 buses come from
Miami International Airport
.
See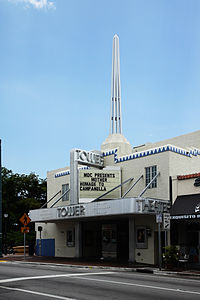 Tower Theater

phone: +1 305 642-1264

address: 1508 SW 8th St

A prominent Art Deco landmark on Calle Ocho, airing movies subtitled in Spanish.

Gomez Park

address: Calle Ocho and 15th Ave

A small park at the intersection of Calle Ocho and SW 15th Ave, named in honor of Maximo Gomez, the commander of the Cuban troops during its War of Independence in the late 19th century. 15th Ave between Calle Ocho and 9th St is paved with a beautiful wavy brick pattern with images of dominoes, and there are domino motifs throughout the design of the park, which owe its influence to the large crowd of 55-year-old-and-up men who gather here every day to play this and other tabletop games. In case you're wondering: yes, they do card. Visitors, of course, are welcome to observe the greatest center of public street life in Little Havana.

Cuban Memorial Boulevard

address: Calle Ocho and SW 13th Ave.

The median along this boulevard is home to many statues and monuments, including an eternal flame burning in memory of the Bay of Pigs Invasion in 1961, a statue commemorating Bay of Pigs brigade member Nestor 'Tony' Izquierdo, a large relief map of Cuba with a quote by Cuban independence leader José Martí, and many others. If you look carefully at the massive ceiba tree located here, with its large, above-ground roots, you might see piles or bags of chicken bones, which are ritual sacrifices by practitioners of the Afro-Cuban religion of Santeria.
Do
address: 501 Marlins Way

One of the newer stadiums in Major League Baseball, Marlins Park opened in April 2012 at the former site of the Orange Bowl as the new home of the renamed Miami Marlins. The futuristic, retractable-roof park broke new ground in ballpark architecture; at the insistence of the team's then-owner Jeffrey Loria, it is designed to reflect the culture of 21st-century Miami. Check website or call the toll-free number for tickets to Marlins games.

Little Havana Food Tourin Little Havana, a lively, family-friendly neighborhood, and begin a guided edible journey through one of Miami's oldest neighborhoods. Learn about traditional, rustic Cuban cuisine by tasting your way through the must-visit street in the area — Calle Ocho.
Buy
La Casa de las Guayaberas

phone: +1 305 266-9683

address: 5840 Southwest 8th St

A store where you can find guayaberas (a Cuban shirt that has buttons but a loose fit and pleats) for men and women. Ronald Reagan came to this store himself to buy a guayabera. Shirts can be bought off the rack or custom-tailored.

phone: +1 305 856-0536

address: 1260 SW 8th St

Touted as Miami's most complete Latin music stores, this is one of five locations in Miami but the only one in Little Havana. The collection is large; it is a good place to find salsa music or a nice set of bongos.

Back In Style Vintage & Designer Clothing & Accessories

address: 2209 SW 10 St

Back In Style is a vintage & designer clothing & accessories showroom that is open select hours, or by appointment. Please call ahead. Named one of the top 5 vintage websites in the world by Vogue Russia, over the past 10 years Back In Style has supplied clothing to celebrities, magazines, television, and couture fashion houses. Their pieces have been featured in international publications such as Vogue, Lucky Magazine, UK Grazia, Daily Candy, Marie Claire, Supermodels Unlimited, & Six Degrees, and their gowns have been worn on the red carpet at the Oscars, Emmys, Golden Globes and People's Choice Awards. Clients include Chloe Sevigny, Daisy Fuentes, Tila Tequila, Julia Roberts, and James Scott. Back-in-Style.com has a wide variety of items as old as the 1940s, and as current as today, ranging from hard to find couture designers, to unique novelty items and period pieces.
Eat
Sedanos market is the place to go for dining needs. Also try Tamiami Inn's homemade style meatball chowder.
Versailles Restaurant and Bakery

phone: +1 305 441-2500

address: 3501 SW 8th St

A prominent gathering place and political forum for the Cuban-American community. The desserts here are delicious.

phone: +1 305 381-0369

address: 1503 SW 8th St

This "only in Miami" scoop shop, creates artisanal gourmet ice creams and tropical fruit sorbets in Cuban and Latin American inspired flavors. Flavors include Guava, Mamey, Mango and Key Lime Pie ice creams. Signature Miami flavors such as Abuela Maria (vanilla, guava, cream cheese and Maria cookies) and Cuban Rum Cake (vanilla, rum cake and walnuts) are local favs.

phone: +1 305-649-0203

address: 1643 SW 1st St

Nicaraguan. Has a take-away area and a sit-down restaurant decorated in Nicaraguan style.
Drink
Los Pinareños Fruteria

phone: +1 305 285-1135

address: 1334 SW 8th St

An authentic Latin American open-air fruit market that sells fruit smoothies and coffee, but they are best known for their sugar cane juice.

Cubaocho

address: 1465 SW 8th St

Extensive rum collection and art work.
Sleep
Hostel Brazilian

phone: +55 84 9498-6477 (WhatsApp)

address: 133 Southwest 17th Court

Beds in 6-room dorms.

phone: +1 305-778-2713

address: 528 SW 9th Ave

Built in the 1920s it is one of few "grand hotels" in Little Havana.

phone: +1 786-780-2502

address: 118 SW South River Dr

Built in 1908 as a Victorian boardinghouse it is the longest operating hotel in Miami. Located next to the Miami river.