Miami (Oklahoma)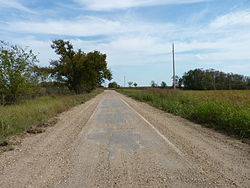 Miami
is a city of 13570 people in the
Green Country
region of
Oklahoma
on old US
Route 66
.
Understand
The town is named for the Miami Tribe of Oklahoma (the traditional name Myaamia, plural Myaamiaki, comes from an older native term meaning 'downstream people'). In a typical Oklahoman fashion, "Miami" is pronounced mia-muh by the locals. Miami is the capital of the Miami Tribe of Oklahoma, Modoc Tribe of Oklahoma, Ottawa Tribe of Oklahoma, Peoria Tribe of Indians, Seneca-Cayuga Tribe, and Shawnee Tribe; there are various native-owned businesses, including casinos, in the area.

Get in
By car, Miami may be reached by old US 66, US Route 69 or Interstate 44.

Get around
B & B Cab

phone: +1 918 542-1233

address: 128 C St NE, Miami 74354

Local taxi service.

phone: +1 918 783-5791

address: 333 Oak Street, Big Cabin OK 74332-0302

Rural bus transportation over a wide area from Tulsa northeast to the state boundary.
See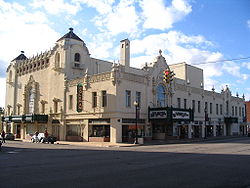 Do
phone: +1 918 542-7140

address: 1000 Buffalo Run (off Hwy 69A)

phone: +1 918 542-3805

address: 10275 South 600 Rd

18 hole, par 72, slope 127, rating 74.1.

phone: +1 918 542-7884

address: 530 H St
Eat
Budget
Charlie's Chicken & BBQ

phone: +1 918 542-8210

address: 1527 North Main St

Hadley's Route 66 Café

phone: +1 918 542-3955

address: 1 North Main St

phone: +1 918 325-8538

address: 725 North Main, North Miami

Route 66 burger bar, established Nov 2016 on the site of a short-lived vintage 1960s miniature golf course. Build your own burgers with ⅓ lb fresh beef patties, condiments and fresh vegetables. Hand-cut fries with homemade dipping sauce, frozen custard, Italian ice, chicken strips, BLT sandwiches, chili, 100% beef hot dogs and foot-long corndogs. The restored mini-golf course (18 holes, $2/ball) is planned to re-open in Spring 2017.

Waylan's Ku-Ku Burger

phone: +1 918 542-1696

address: 915 N Main St

Popular Route 66 retro burger joint, the last location of what was a once-popular 200-store Midwest fast food chain in the 1960s. Food is made-to-order (owner Eugene Waylan usually mans the grill personally) and takes a bit longer to prepare than standard fast-food fare. Ask to hold the ice for fountain drinks, as there is a tendency to put too much ice in and a charge (about $0.27) for refills.
Mid-range
Golden Gate

phone: +1 918 542-8223

address: 2019 N Main St

Chinese.

Milagro's Mexican Restaurant

phone: +1 918 542-1954

address: 103 East Central St

Sonic Larco

phone: +1 918 542-1605

address: 2111 Denver Harner Dr

Townsman Restaurant

phone: +1 918 542-5733

address: 910 E Steve Owens Blvd
Splurge
Drink
Joses Blue Room Lounge

phone: +1 918 542-5085

address: 815 E Central Av

Bar and tavern.

R & B Country

phone: +1 918 540-0023

address: 111 S Treaty Rd

Music.
Sleep
phone: +1 918 542-2900

address: 1366 N. Highway 69A

Includes Internet, coffee maker, refrigerator and microwave, breakfast. Business facilities and ten-seat executive boardroom, exercise room, indoor pool. Adjacent to namesake casino and restaurants (Joe's Outback Casino, Coleman House Restaurant, Joe's Grill).

Deluxe Inn & Suites

phone: +1 918 542-5600

address: 1307 East Steve Owens Blvd.

Microtel Inn & Suites

phone: +1 918 540-3333

address: 2015 East Steve Owens Blvd

Super 8

phone: +1 918 542-3382

address: 2120 East Steve Owens Blvd

phone: +1 918 542-6631

address: 900 East Steve Owens Blvd.

Seventy rooms. Includes continental breakfast, wi-fi, local calls, outdoor pool, microwave, refrigerators, coffee maker. Pet-friendly hotel (extra fees apply).
Nearby
Commerce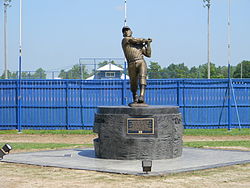 Mickey Mantle Field

address: Commerce High School, 420 East D Street, Commerce OK 74339

A nine foot tall, 900 pound statue on a 5-foot-tall pedestal commemorates local son and baseball legend Mickey Mantle.
Picher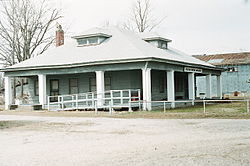 Founded 1913 after lead and zinc deposits were discovered on leased Quapaw land, Pitcher was once a city of 15,000 (on US 69, bordering Treece, Kansas) which produced lead for bullets for two world wars. Mining ended in 1957; population declined 80-90% in the following decade. 14,000 abandoned mine shafts, 70 million tons of mine tailings, and 36 million tons of mill sand and sludge were left behind, undermining 85% of the city's buildings and contaminating potable water supplies with lead. A 2006 state-sponsored buyout and permanent evacuation were already well underway when, on May 10, 2008, an EF4 tornado killed eight people and cut a mile-wide swath through town. The tornado-damaged structures were never rebuilt.
The 1,000 maps, 500 photos and various artifacts from the Picher Mining Field Museum (N Connell Ave, in the 1926 Tri-State Zinc and Lead Ore Producers Association office) were moved to the
Baxter Springs
Historical Society Museum in 2008. The city hall was closed and its archives turned over to the Northeastern Oklahoma A&M College in Miami in 2010. Most buildings were torn down in 2011. The town disincorporated and disappeared from maps in 2013. In 2014, six residents remained. An arsonist burned the empty, abandoned mining museum to the ground on April 14, 2015. Old Miner's Pharmacy, the last remaining business, died when its proprietor Gary Linderman (Sept. 8, 1954-June 6, 2015) gave up the ghost after a sudden illness.
While most buildings were demolished, a few still stand - mostly as ruins. An abandoned Catholic church, a ruined pool hall, an auction house, a building where mining equipment was sold and a small collection of homes are all slowly deteriorating.
Go next