Miami International Airport

Miami International Airport
(
MIA
) is just west of the city of Miami in an unincorporated suburban area at 2100 NW 42nd Ave, Miami (). It is one of the largest airports in the world, and an important hub for traffic between North America, the Caribbean and Latin America. As a result, Spanish is just as likely to be understood as English. The international traffic makes MIA a large and congested place. Be sure to allow extra time when departing MIA, particularly if flying internationally, as you may face an hour-long line just to check your bags. Curbside check-in is an excellent idea.

Understand
Miami International Airport is the busiest airport in Florida. It's a gateway to the
Caribbean
and
South America
, while serving as a hub for many major American airlines. MIA also has routes to major European cities, such as
London
,
Moscow
, and
Madrid
.
Flights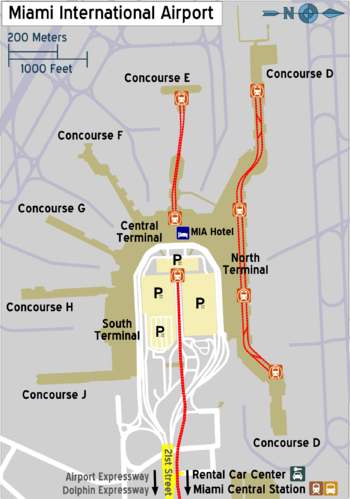 The predominant carrier at MIA is
American Airlines
, which has direct flights to most other countries in the Americas; nearly every major airport in Latin America and the Caribbean; as well as most major cities in the US, Western Europe and Canada. Additionally, most Latin American airlines serve Miami from their hub (
LATAM
serves MIA from 7 Brazilian airports, Avianca from 10 South/Central American cities) and the airport is served by all major US and Canadian airlines (most small and budget carriers operate from Ft. Lauderdale International Airport).
In addition to extensive service to the Americas and the Caribbean, MIA also has non-stop flights to 14 European airports served by American Airlines and several European carriers. Qatar Airways operates the only flight to the Middle East, with 4 flights weekly to
Doha
. The airport has no non-stop service to East or South Asia, Africa, or Oceania. The recent construction of two new terminals at MIA has helped with the airport's passenger capacities as well as the efficiency in going through customs and baggage claim.
Concourse D: American Airlines
Central Terminal
Concourse E: American Airlines, British Airways, Iberia, Interjet, Qatar
Concourse F: Aer Lingus, Aeroflot, Air Europa, Boliviana de Aviacion, Cayman Airways, Eurowings, Finnair, Miami Air, SBA Airlines, Surinam Airways, Swift Air, TAP Portugal, TUI fly, Virgin Atlantic, Volaris, WestJet, World Atlantic, Xtra Airways
Concourse G: Aruba Airlines, Bahamasair, Frontier Airlines, Sun Country, United Airlines
South Terminal
Concourse H: Aerolíneas Argentinas, Aeroméxico, Air France, Delta Air Lines, KLM, Turkish Airlines
Concourse J: Air Canada, Alitalia, Austrian Airlines, Avianca, Caribbean Airlines, Copa Airlines, El Al, LATAM, Lufthansa, Scandinavian Airlines, Swiss International, Viva Colombia
Arrival
Departure
Connecting flights
If you arrive from an international location and need to transfer, be aware that you always have to go through immigration and customs before you can board your connecting flight. This can take up to three hours. Most nationalities also need a transit visa or travel authorization even if they are entering the US solely for transit.
Ground transportation
The cheapest way to get to Miami is by public transport. "Miami Central Station" is right next to the car rental center at the airport. Metrorail and comfortable buses take you to town. However, if you are going to somewhere that's not on these lines, you're probably best off getting a taxi or renting a car.
By car
Your best option is to take a taxi from the airport, use a ride-sharing app, or rent a car, depending on what your stay involves (if you need to get around parts of Miami with no nearby Metrorail stations). MIA has a centralized Rental Car Center at 3900 NW 25th Street, connected to the terminal by the free MIA Mover train. Taxis pick up from in front of the 1st Level of each terminal.
Two freeways link the airport with I-95 and Downtown Miami to the east: the Airport Expressway (Florida State Road 112) and the Dolphin Expressway (Florida State Road 836), both of which charge tolls. If you are approaching or leaving MIA via the Airport Expressway, beware of the at-grade railroad crossing on the ramps connecting the Expressway to the airport terminals. Normally such crossings are grade-separated, but this one sits directly east of one of the runways. Thus, be prepared for the possibility of a 10-15 minute delay if a train happens to be there at the same time as you.
By public transportation
Miami Central Station
, adjacent to the Rental Car Center and connected to the airport terminal by the free MIA Mover train, is a transit hub with public transportation connections to MIA, including the
Metrorail
Orange Line and several
Metrobus
routes, including the
Miami Beach Airport Flyer
express bus to Miami Beach. See the
Miami#Get around
section for detailed fare information.
Miami Central Station is also slated to be the future southern terminus for the
Tri-Rail
commuter rail line to Fort Lauderdale and West Palm Beach, with Amtrak service to eventually follow. While construction on the Tri-Rail station continues, a shuttle bus (Metrobus Route 133) connects the airport terminal (picking up from in front of the 1st Level of the Central and South Terminals) to the Hialeah Market Tri-Rail station, the current southern terminus of the line.
Get around
The MIA Mover is an elevated train that connects the main terminal to the Rental Car Center and Miami Central Station outside the airport. The airport station is between the two main parking garages, accessible from the 3rd floor of the Central Terminal.
There is a system of moving walkways on the 3rd floor of the terminals, called the "Skyride Connector", that connects the terminals and the MIA Mover station, but only landside. There's virtually no airside transportation between the terminals, so if you have to change between terminals to make a connection, you will have to go through security again. The only exceptions are a people mover post-security (the "Skytrain", operating 4AM–11:45PM) that allows for quick connections between gates in Concourse D, stopping at Gates D17, D24, D29 and D46, a walkway that connects terminals D and E, and Concourse E also has a people mover post-security on the 4th Level that connects the terminal with the satellite building.

Wait
There are a few small art galleries in and around the walkway connecting concourses D and E.
Plane FunAn aviation-themed educational children's play area, made by the Miami Children's Museum.
Lounges
American Airlines Lounges
address: Across from D15

Closed for removations.

Flagship LoungeAvailable for American First Class passengers as well as Concierge Key, AAdvantage Executive Platinum, and Oneworld Emerald cardholders.
American Expression Centurion Lounge
Military Hospitality Lounge

address: Concourse E, Level 2

US and Allied active duty and retired military travelers and their authorized dependents gain entry after showing their government-issued military ID and evidence of same day travel.
Executive Conference Center
Premium Lounge
Consular LoungeSpecial lounge for visiting diplomats.
Club America F
Delta Sky Club
The VIP Lounge
The Avianca Lounge
Eat and drink
MIA has several restaurants ranging from local chains such as La Carreta to national chains such as Dunkin' Donuts, Burger King and Starbucks.
phone: +1 305 876-0890

"Build your own burger" restaurant—pick a type of burger, bun, and toppings.
Buy
MIA has several retail stores, including several magazine stands and bookstores. Other retail stores include Brookstone and Ron Jon Surf Shop.

Connect
Wireless internet
is available from
Boingo
. It's free for 45 minutes (after you watch an ad), and you can pay for more. It only works in some parts of the terminals.
Cope
Left luggage services are available in the Central Terminal, Concourse E, 2nd level. Open 5PM-9PM. Daily storage fees range from $4-17 depending on size, and the maximum storage time is 60 days.
A non-denominational chapel is in the North Terminal, 4th level.
Lost and found is in the North Terminal, 4th level. Open 8AM-6PM.
There are eight freestanding lactation pods for nursing mothers, providing privacy and security in a 4-foot by 8-foot booth. There's one in each concourse (two each in Concourse D and Concourse E).
Sleep
There is only one hotel in the airport, though there are numerous hotels in the vicinity; hotel shuttles pick up from in front of the 2nd Level of each terminal.
phone: +1 305 871-4100

address: Central Terminal, Concourse E, Level 2

The only hotel on-site at the airport.
Nearby

The town of Brownsville is close to the airport and easily accessible by Metrorail, but it's pretty unsafe—better to take Metrorail all the way to Miami if you're looking to spend a few hours outside the airport.