Micronesia
Micronesia
, in northwest
Oceania
, is the home of tropical and subtropical islands in the Pacific Ocean.
Countries and territories
Cities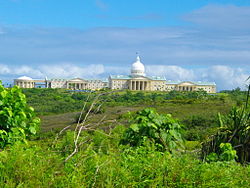 , Guam
, Federated States of Micronesia
, Palau
, Marshall Islands
, Palau
, Kiribati
Other destinations
— a ruined city, sometimes called the Venice of the Pacific, in Pohnpei, Federated States of Micronesia
— in Guam, some of the best preserved WWII sights in the Pacific can be found here
Understand

Micronesia is a vast area that mainly consists of water. Transport can be a major issue because of the lack of an organized highway or byway, found in larger and more vast countries. Due to the lack of space on the islands, most activities are nautical, scuba diving etc.

Talk
English is an official language of all countries and territories here. Indigenous languages such as
Chamorro
,
Palauan
and
Marshallese
are also official in their respective countries and territories.
Get in
Palau
and
Guam
have the best connections from outside Micronesia. The US territories, insomuch that civilians are allowed to enter, are connected to the US. As the airports often aren't large enough to accommodate large airplanes, expect flights to be of the island-to-island type which often means several landings and takeoffs before you're at your destination.
See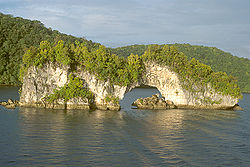 There are three
world heritage sites
in Micronesia:
Cope

Micronesia does not host many foreign embassies.

Go next