Mid-Atlantic
The bright lights of the big city; the tranquil beauty of the rolling countryside; the bustling boardwalks of the seashore; and the soaring heights of the unspoiled wilderness—everything that people love about the eastern
United States
can be found in the heartland of the East Coast, the
Mid-Atlantic
.
This region of the U.S.A. comprises five states and a federal district in the northeastern part of the country. While the region is dominated by the enormous megalopolis running from
Washington, D.C.
, to
New York City
, the large areas of more rural character to the north and west also possess their share of the east's most spectacular sights.
It's in the Mid-Atlantic where you'll find the unfathomable urban landscape of New York City, the indescribable power of
Niagara Falls
, the unspeakable gravity of the
Gettysburg
battlefield, and the uncompromising resolve of the nation's capital. The region's diverse cities are filled with cultural attractions, and the rural highways lead to undiscovered gems of scenic beauty and country living.
States
Cities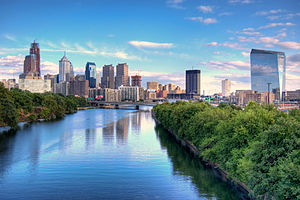 — a small and charming colonial port city known as the "sailing capital of the U.S."
— the "Las Vegas of the East", with 7 casinos, nightlife, and beaches to boot
— a large port city with a thriving arts scene, edgy character, and some great Italian food
— the largest city in upstate New York, gateway to Niagara Falls, and home of the Buffalo wing
— one of the world's greatest cities, the financial and artistic center of the U.S.
— the nation's birthplace, with countless historic buildings and the rowdiest sports fans in the country
— the Steel City, full of magnificent bridges over the Three Rivers, interesting neighborhoods, and great food
— an old industrial city with a rich history of innovation and progress, home to several universities and film and jazz festivals
— the capital of the United States, with the country's most important museums and monuments nestled in the center of a diverse and vibrant city
Other destinations
The — a mountain range in upstate New York and the biggest protected parkland in the country, with countless outdoor recreation opportunities
— most famous for its wild ponies, but deserves equal fame for outstanding natural beauty and great beach camping
— an old canal, turned into a park popular with runners and joggers, as well as admirers of the awesome Great Falls on the Potomac River
The — dotted with popular resort towns, the 30-mile (48 km) stretch of sandy coastline between Cape Henlopen and the state line is Delaware's main tourist destination
The — the East Coast answer to California's Napa Valley, with a hundred vineyards overlooking eleven long, thin lakes
— a powerful and awe-inspiring set of waterfalls on the Canadian border, and the "honeymoon capital of the world"
— the site of the most important battle ever fought on American soil, very well maintained and exhibited
— a popular Pennsylvania mountain "get-away-from-it-all" destination, home to some of the largest ski resorts in the Mid-Atlantic
— see where the rich and famous vacationed decades ago, along this chain of picturesque islands on the Canadian border
Understand
The Mid-Atlantic as a cultural region is largely a blending of the best of the cultural regions it borders:
New England
, the
Midwest
, the
South
, and the Canadian provinces of
Ontario
and
Québec
. Accordingly, individual states and especially cities have strong individual identities and locals are more likely to identify with a major subregion like the New York City tri-state area, the D.C. metropolitan area, rural Pennsylvania, Downstate New Jersey, etc., than to identify with the Mid-Atlantic as a whole.
Because of the Mid-Atlantic region's significance and large urban centers that draw not only upon the regional populations, but across the nation as well, there is a higher population density (see the
Get around
section). Three of the nation's top ten metropolitan areas are located here:
New York
,
Philadelphia
, and
Washington, D.C.
, spaced apart from each other by only about one and a half hour drives. These metro areas consist of immense urban sprawl radiating out from the city centers, covering a significant fraction of the region's land area. Their huge populations ensure that the roads remain congested, beaches well attended, and paths well-beaten.
This is a real East Coast region, with all the associated stereotypes of huge immigrant communities from all over the world, leftist politics aplenty, good food, and a vaguely arrogant (and ignorant) attitude towards the rest of the country, especially the "fly-over" states in the middle. The long Atlantic Coast also means that the region has strong ties, in terms of travel, culture, and commerce, with
Europe
.
The areas outside these megacities are far less frequently visited by international tourists, but there is nonetheless much more to be seen: the
Chesapeake Bay
is a true world treasure and should not be missed by anyone interested in ecology, sailing, or seafood; the beautiful and wild
Adirondacks
comprise the largest park area in the continental U.S., and include some of the most important Civil War battlegrounds like
Gettysburg
and
Antietam
;
Niagara Falls
is one of the great natural wonders of the world; and the
Appalachian Trail
is a hiker's dream.
Talk
As with the majority of the United States, all official signs in the Mid-Atlantic are in
English
and travelers speaking English should have little difficulty communicating their needs wherever they go.
Spanish
is widely spoken, mostly by immigrants from
Latin America
and their families, although many of the native-born population are also taught Spanish in school (but not necessarily well).
Yiddish
is widely spoken among Chasidic Jews, while
Pennsylvania Dutch
is the primary language in Amish communities.
Because these five states lie on the East Coast, they were the initial point of entry for most English-speaking immigrants and as such, have retained a much greater degree of diversity in terms of regional accents than the rest of the country (accents tended to converge as settlers went west). While you are likely to just encounter General American Pronunciation pretty much wherever you go, you may be treated to a New Yorker accent in
Brooklyn
,
Long Island
, or northern
New Jersey
; the Inland North dialect (think the "Da Bears" guys from
Saturday Night Live
) in Upstate New York from
Buffalo
east to
Syracuse
and
Binghamton
, "Bawlmorese" in
Baltimore
, the baffling-to-linguists "
Picksburg
" accent that just keeps diverging ever farther from surrounding accents, a
South Philly
accent, or southern accents on
Maryland
's
Eastern Shore
. People from the Appalachian Mountains in
Pennsylvania
and
New York state
speak with an accent that is similar to a
Southern
accent. You can even find 17th century
English
accents if you look for them among the isolated island communities of the
Chesapeake Bay
! That said, most of these accents are gradually dying out, and most younger middle to upper class locals speak with a general American accent.
Get in
By plane
The principal points of entry are the region's airports, and the super hubs are in the
New York
and
Baltimore
-
Washington
metro areas. The former is served primarily by
John F. Kennedy International Airport
(
JFK
), Newark Liberty International Airport (EWR), and LaGuardia Airport (LGA), while the latter is served by Washington Dulles International Airport (IAD), Reagan Washington National Airport (DCA), and Baltimore Washington International Airport (BWI). Philadelphia is served mainly by just one airport, Philadelphia International Airport (PHL), which is accordingly the largest in the area. Other cities in the area will often have their own airports, but direct flights may be harder to come by.

By train
Amtrak runs several routes in and out of this region including the popular Acela express that goes from Boston to DC via New York. Unlike other parts of the country, Amtrak is often the fastest and best way to get somewhere, owing to higher train speeds along the Boston-Washington Northeast Corridor as well as congestion on roads and airports. Prices tend to reflect that, so shop around what best fits your time and financial needs. Even travelers from Japan whose trains tend to be much more expensive than in Europe tend to be flabbergasted at the high prices of the Acela and even the Northeast Regional - a slightly slower service with more stops - is more expensive than some European high speed rail services.

By boat
New York City is still served by a regular ocean liner run by Cunard Lines.

Get around
By bus
Greyhound
is unfortunately the main intercity bus operator, unfortunately because it is an inefficient and expensive way of getting around. Fortunately it is seeing low-cost competition from a peculiar set of
Chinatown bus
routes. These no frills point A to point B services arose organically from the needs of Chinese-Americans to visit their relatives in the various Chinatowns across the region. The service caught on when the general public realized they could travel round trip from D.C. to New York for $30. There is no central internet site for these services, so you are best off doing a general internet search. Be aware that the Chinatown buses do occasionally terminate and originate in unsavory urban neighborhoods.
A new wave in intercity coach transportation is large corporations trying to emulate Chinatown buses but with better services.
Megabus
was the first to embrace the new business model, offering heavily discounted fares from its New York hub to Boston, Toronto, Buffalo, Philadelphia, Baltimore, Atlantic City and Washington.
Bolt Bus
is a division of Greyhound but is significantly cheaper and more comfortable than their regular services, they provide newer coaches with more legroom, electric sockets at every seat and free wireless internet. Bolt Bus provides journeys within the northeast corridor, almost identical to Megabus.
By train
While train service is very limited in the rest of the United States, the Northeast has by far the best rail service in the country. The high-speed Acela express runs frequently along the Washington-Philadelphia-New York-Boston corridor. Amtrak also serves upstate NY, and western PA. Unfortunately, Amtrak is a very expensive option, often more so even than flying or renting a car!
In addition to frequent Amtrak service, there are a number of much cheaper regional (commuter) rail lines including:
MTA Metro North
and
Long Island Railroad
around
New York City
,
NJ Transit
in
New Jersey
,
Shore Line
(for
Connecticut
), SEPTA for the
Philadelphia
area (also connecting to
Wilmington
and
Newark
in
Delaware
), and MARC for
Maryland
(especially the
Baltimore
-
Washington, D.C.
corridor).
It is possible to travel much of the coast using only regional rail, and although it will probably be slower than the Amtrak or Acela Express, it will also cost a fraction of the price, and may take you through towns you might not otherwise see. Making the trip from New York City to D.C. is relatively straightforward, with only one rail gap between Philadelphia and Baltimore: take New Jersey Transit from Penn Station to Trenton Amtrak Station, connect to SEPTA R7 Regional Rail to Philly's 30th Street Station, get from Philly to Baltimore by other means (Greyhound bus or car rental being the most simple way), then connect to the Marc Train at
Baltimore
's Penn Station to D.C.'s Union Station. Note, though, Marc Train service may be limited to fewer lines and times during the weekend.
By thumb
All states in this region maintain convenient service plazas along the major highways, which are probably your best bet for hitchhiking as the freeway itself is closed to pedestrians.
By car
When in Rome, do as the Romans do; drive in the USA. Driving is the only practical way to tour the Mid-Atlantic if you intend to visit anything beyond the major cities. That said, the Mid-Atlantic is the least pleasant place to drive in the entire country.
Traffic
, both inter-city and intra-city, can be horrendous—the D.C. area regularly tops the lists of the nation's most congested cities, and
Metro New York
is never far behind. But above all,
Mid-Atlantic drivers are rude
. Aggressive and often puzzling driving is commonplace along the interstates and in more populous areas.
I-95
is the coastal super highway, at times encompassing a whopping eighteen lanes, and connects D.C. to New York through Baltimore, Philadelphia (optional), and pretty much everything in between in New Jersey and Delaware. It is the fastest way to drive between these cities, but it is unpleasant and ridden with expensive tolls (especially in Delaware!) and very bad traffic on weekends and around local rush hours. Avoiding I-95 requires a bit of creativity and slightly longer trips through Pennsylvania west of Philadelphia, but such trips can be rewarding in terms of scenery, no tolls, little traffic, and just easier traveling generally.
Upstate New York and rural Pennsylvania can be home to unmaintained roads, so be wary of where the GPS is taking you. In Upstate New York and Pennsylvania as well, snowfall is not always dealt with immediately. Many regions will not plow secondary roads unless several inches of snow fall. Driving can be treacherous in winter storm conditions, so it is best to avoid it all together.
Finally, a direct warning is in order: Driving into D.C. and New York is really not advisable. Doable, certainly; fun, not likely. According to a popular (but alas untrue) urban legend, Washington D.C.'s street layout was designed to
confuse invading armies
. New York is extremely congested, and its drivers are the
most aggressive
in all of
North America
(though
Boston
may dispute that claim). Philadelphia is also filled with extremely reckless and fast-drivers, but at least the city is laid out in a grid. If you are driving into D.C., get good directions and don't do it anywhere around rush hour. If driving into New York, save yourself by parking in a less congested borough (like
Queens
or
Brooklyn
), where you might actually find free on-street parking, and take a subway line from there into
Manhattan
. Overall, it is almost always better to take a train in and use mass transit (Mid-Atlantic cities have some of the best systems in North America) than to drive in and pay astronomical parking expenses.
By contrast, navigating urban traffic in the more off-the-beaten-path areas of the Mid-Atlantic, such as Upstate New York, can be a breeze: the populations of many cities such as
Buffalo
and
Rochester
have shrunk considerably since the 1950s, when their highway systems were constructed. This means that roads are uncongested the vast majority of the time—it's even relatively easy going at rush hour.
By plane
Although there are lots of budget flight options between cities on the Mid-Atlantic, due to the hassles and delays associated with increased security precautions, especially in the New York City area, short flights are usually best avoided. All major cities are connected by regional and commuter rail options with stations in the central business districts of these destinations. Moreover, most inter-city planes travel between suburban airports fairly far out from the city center. When the distances are long enough, though, flights can indeed be cheap and convenient, from, say,
Washington, D.C.
to
Albany
, or
New York
to rather far-flung
Pittsburgh
.
A rule of thumb is that flying is not worth it time-wise if you would spend less than three and a half to four hours on your alternative transport mode (car, train or bus) from city center to city center.
See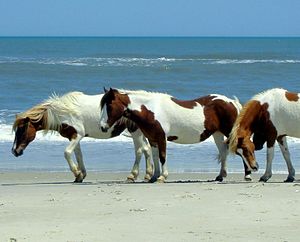 Itineraries
If visiting the Mid-Atlantic, you may want to take a look at the following itineraries:
Do
Much of the Mid-Atlantic is afflicted by so much suburban sprawl that there isn't much to do other than go to the movies. But peer a bit further into the region, and there are magnificent outdoor opportunities in the west and north. For hikers, the
longest trail in the world
runs from
Georgia
to
Maine
, passing through
Maryland
,
Pennsylvania
, and
New York
. Pennsylvania between
Pittsburgh
and
Philadelphia
, is beautiful and largely wild. Drives through pastoral Amish country or hikes through thickly forested hills are a great way to get away from the huge urban centers of the region. Way up in the northern section of
New York
is the enormous
Adirondack State Park
—the largest state park in the country, spanning an area larger than next door
Vermont
. Possibilities there for kayaking, boating, hiking, camping, hunting, and fishing are pretty much endless. The most popular escapes, however, are to the region's beaches in the summer, in the
Jersey Shore
and in
Delaware
and
Ocean City, Maryland
, where you can get a good tan, go swimming, gamble in some places, and eat boardwalk fries to your heart's content.
Sporting events are another huge draw to the region, with at least one major national team in each major city for each major league as well as several large universities with enormous sports programs.. The region also hosts minor league teams, such as the
Lehigh Valley IronPigs
, the AAA-level Philadelphia Phillies team, based in
Allentown
. Several
tourist railroads
and preservation groups offer (in season)
Santa Train Rides
and
Easter Bunny Train Rides
.
Eat
If you know where to go, the Mid-Atlantic is a food-lovers paradise.
New York City
has
the world's best upmarket dining scene
hands down. The
D.C.
area has an unlimited supply of cheap, delicious, immigrant-run restaurants featuring
cuisines from every corner of the world
.
Philadelphia
takes its fast food seriously and is an excellent place to try American street food including, of course, the
Philly Cheeseteak
.
New Jersey
's
diners
are iconic,
Baltimore
's are funky as they come. And the coastal areas of
Delaware
and
Maryland
are rightly famous for their magnificent
crab feasts
.
Drink
Few parts of the world can boast the nightlife to be found in the urban areas of the Mid-Atlantic.
New York City's
nightlife probably needs no introduction. From the diviest dives to the swankiest wine bars, as well as the best jazz in the world, New York's really got it all in this category.
Philadelphia
,
Allentown
, and
Baltimore
offer quirky, rougher-edged, and less accessible, but very lively bar and clubbing scenes.
Pittsburgh
defies post-industrial-city expectations with a lively and surprisingly classy nightlife scene.
Washington, D.C.
would at first glance seem the exception, with its reputation for bland, poorly dressed staidness and early closing times. The early closing times are a bummer on weekdays, but weekends have become hot for clubbers in the last 5–10 years.
Local drinks are many, mostly in the beer category. One of the most notable is
Yuengling
brand (pronounced ying-ling), America's oldest brewery. In most of Pennsylvania, ordering a 'lager' will net you a Yuengling lager.
Stay safe
As is true for much of the United States, crime is a problem in the inner cities, while city outskirts, suburbs, and the countryside are almost always quite safe.
Washington, D.C.
,
Philadelphia
, and
Baltimore
are particularly risky for travelers—they all are worth visiting, but have rough neighborhoods near many popular tourist sites, so it is best to do your research ahead of time and avoid straying off the beaten path.
New York
, despite what you may have seen in the movies, is actually one of the safest big cities in the country, and you may rest easy knowing that violent crime has become rare in areas frequented by tourists. The main cities of
New Jersey
are less of a concern, as they are not at all major travel destinations. Bear in mind, however, that
Newark
,
Camden
and
Trenton
are all non-destinations
because
of their high levels of violent crime.
Mid-Atlantic cities all have their share of gang and drug-related crime. Gangs have moved away from cities like
New York City
and
Philadelphia
to mid-sized
New Jersey
and
Pennsylvania
cities like
Allentown
,
Reading
,
York
,
Lancaster
,
Harrisburg
,
Chester
,
Camden
,
Trenton
,
Atlantic City
, and
Newark
. Just be sure to know what neighborhood you're in and be cautious of suspicious activity.
The climate in the Mid-Atlantic part of the United States is not as extreme as in some other parts of the country, but does present perils depending on the time of year. Wintertime can bring ice and snow to inland areas, but only for short periods of time. Summers are often quite humid and steamy, especially in and around the
Washington, D.C.
area. Fall can bring the occasional hurricane or tropical storm, but these are rare and plenty of advance notice is given.
The upside to staying safe in the Mid-Atlantic is that there is no better place on Earth to develop a brain tumor, get knived, or crash your car—it is home to the best hospitals in the world in Baltimore (Johns Hopkins), and the
New York City
,
Philadelphia
and
Washington, D.C.
metro areas. Indeed, the hospitals get visits from the elite of the world, ranging from third world dictators to jet-setting millionaires. If they can't repair you, nobody can, though if you don't have insurance that covers this care, expect to be charged a tremendous price for any hospital visit.