Middle Franconia
Middle Franconia
(
Mittelfranken
) is the southernmost, central and most urbanized part of
Franconia
in Germany. Its heart is the urbanized area around Nuremberg Fürth and Erlangen but there are also delightful
Bierkeller
or natural attractions in its rural parts.
Cities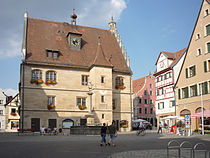 (German: Nürnberg) the biggest city in the region and notable as one of the preeminent Reichsstädte during much of the Middle Ages
university town with a big presence by Siemens and a cosmopolitan feeling to it unusual in a town of only 100,000
the administrative center and former residence of the margraves of Ansbach-Bayreuth
Nuremberg's neighbor and most important rival with a rich Jewish history
- world-famous as the city of Adidas and Puma, this place offers superb outlet shopping as well as an underapreciated old town
— famous for its intact medieval Altstadt encircled by 13th century town walls.
- a smaller city with nice half-timber buildings, two old town gates and a castle, about 18 km from Nuremberg at the Pegnitz river
- a small city near Nuremberg, home to the world-famous "Faber-Castell" pencils with a quite some impressive buildings related to the factory and family
a stop along the Romantic Road renowned for its largely preserved medieval old town
Other destinations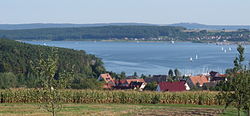 Get in
By plane
The only airport with scheduled flights in this area is in Nuremberg (
NUE
). If you arrive from further away, you will most likely have to change planes in Frankfurt (FRA).

By car
The Autobahns A3, A9 and A73 run through this area

By train
The main hub is Nuremberg. From there S-Bahn or Regional trains connect to (almost) all points with a train station in the region and some beyond

By bus
Some Intercity buses in Germany stop in some places, again most of them in Nuremberg

Get around
Practically all of Middle Franconia is served by the
VGN
with a fairly extensive network of buses and trains
See
Itineraries
Depending on which part of Middle Franconia you are interested in most, you would want to cover more than this administrative region. E.g. many interesting cities around are in Upper Franconia (e.g.
Bamberg
).
Do
Deuthshes national Museum (Nürnberg)
Spielzueg Museum (Nürnberg)
Eat
Drink
Go next
Franconian Switzerland - a region with steep hills, great castles, loved by climbers do to its rocks and an incredible density of breweries. It "touches" the north of Middle Franconia, but is not really in it (it lies in Upper Franconia)