Middlesbrough
Middlesbrough
(population 150,000) is a large town in the North East of England. It's always been industrial, and grew rapidly in the 19th C.
From 1974 to 1996 it was part of a new county, Cleveland; this was then abolished and Middlesbrough was re-assigned to
North Yorkshire
. The difference is nominal since Middlesbrough is a "unitary authority" and not governed by a County Council.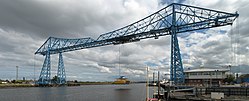 Get in
By plane
Manchester Airport
(
MAN
) has excellent world-wide connections, competitive prices, and an hourly direct train taking 2 hours 45 min.
Newcastle Airport (NCL) and Leeds Bradford Airport (LBA) have good European connections and are within 90 mins drive.
Durham Tees Valley Airport (MME, formerly "Teesside") is just 12 miles west of town. But it only has 2 or 3 flghts a day, to Aberdeen and Amsterdam, it lacks public transport, and they slap a £6 "facility fee" on departing passengers.

By car

Middlesbrough is at the intersection of the A19 and A66, and is within an hour's drive of Newcastle, Sunderland and York. It is also accessible from the A1, by taking the A19 turn-off.

By cycle
Middlesbrough is on the National Cycle Network. National Cycle Route 1 (Inverness to Dover) runs for 25 km through the town

By bus/coach
The town has several bus services including Stagecoach and Arriva. They are frequent and usually travel regularly all over the Teesside area including Darlington, Durham, Newcastle, Whitby, Scarborough, Bishop Auckland, Hartlepool and Stockton-on-Tees. The buses are reliable and reasonably priced.
The town is a key point on the National Express coach network, with services linking with London, Heathrow, Luton and Gatwick Airports. The coaches also travel to Leeds, Manchester, Liverpool, Birmingham, Bristol, Glasgow, York and other key towns and cities across the country.

By train
Trains run north from London Kings Cross every 30 mins, change at Darlington or Northallerton for Middlesbrough, journey time 3 hours 15 mins.
Trains run hourly north along the coast to Hartlepool, Sunderland, Newcastle and Hexham.
They run hourly west via Darlington, York and Leeds to Manchester Piccadilly and Airport.

Middlesbrough railway station is at the north end of town centre just beyond the A66.

By boat
The nearest ferry ports are North Shields downriver from Newcastle (for IJmuiden near Amsterdam) and Hull (for Rotterdam and Zeebrugge). Both have a connecting shuttle bus from their main railway station.

Get around
Parking
The NCP car park below the Dundas Mall is a large car park, generally with free spaces. However, the car park is privately owned by NCP, so charges are high!
Short stay parking is also available at Captain Cook Square Car Park, Middlesbrough Leisure Park (near the Cineworld cinema), the Cleveland Centre (be careful though, it's now a pay-on-foot system and there's a lot of works going on there, parking is limited and they'll charge you just for driving round the car park), and a small car park on Burton Street.
Long stay parking is available at the Zetland Multi Story Car Park, Cannon Park, the Captain Cook Square Car Park, and a few other small car parks.
On days of Middlesbrough FC home matches, it's advisable to go to the town before noon or fans will take the spaces.
Public transit
The town does not have a Metro system, nor does the train service sufficiently cover the town. The best way to get around the town using public transport is by Arriva or Stagecoach bus services.
Traveline can assist in planning
. The bus station has an entrance in Captain Cook Square, as well as one on Newport Road. There are services to surrounding towns and villages, as well as Sunderland, Durham and Newcastle. There are also National buses.
The train station is located at the top (north) end of Linthorpe Road. There are direct services to Newcastle, Hexham, Sunderland, Saltburn, Redcar, Whitby, York, Darlington, Leeds and Manchester. Teesside Airport has a station on the route to Darlington, but for no reason anyone can think of, trains never stop there.
See
Parks
Middlesbrough has two large parks: Albert Park and Stewart Park.
Albert ParkAlbert Park is a classic Victorian landscaped park about 1 mile south of the town centre off Linthorpe Road, the main shopping street. The main entrance is at the Cenotaph, which is located in a square bounded by the park, the Dorman Museum, Linthorpe Road, and Park Road North. The other boundaries of the park are Park Road South and Park Vale Road. The park is divided into four quadrants by wide paved pathways running north-south and east-west. The east-west path runs past well-kept flower beds. The northeast quadrant of the park has bowling greens and tennis courts. The southwest quadrant has children's play areas and a boating lake. The southeast quadrant has a large open area suitable for ball games. The northeast quadrant also has open areas, as well as an old roller rink. In the centre of the park, at the intersection of the main paths, is a bronze statue of Middlesbrough's most famous resident, star football player and controversial football team manager Brian Clough.

Stewart ParkStewart Park is more rural, created on what was once the edge of the town at the intersection of Marton Road and Ladgate Lane. It resembles more a botanical garden than an urban park, with long pathways meandering through woods, over wooden bridges, etc. It is now best known as the site of the Captain Cook Birthplace Museum. The northern half of the park features an open-air zoo of sorts with mostly small animals and birds, sometimes including kiwis. An open grassy area may be used for picnics.
Museums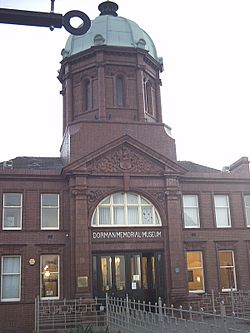 Middlesbrough has two museums: the Dorman Museum and Captain Cook Birthplace Museum.
Middlesbrough Institute of Modern Art

phone: +44 1642 726720

address: Center Square

The cafe is very nice and the outside balcony gives a great view of the town and is an oasis on a nice day. Free admission.

phone: +44 1642 813781

address: Linthorpe Road

A museum founded in 1904, it is near Albert Park. It has been renovated and extended to make it more accessible to the younger generation.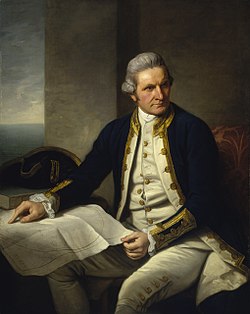 Captain Cook Birthplace Museum

phone: +44 1642 311211

address: Stewart Park, Marton

A museum built in 1978 and refurbished in 1998. It is about the life of local born explorer, Captain Cook, who was born on the site of the museum in 1728

Transporter Bridge Visitor CentreTransporter Bridge, Middlesbrough. A visitor centre to the adjacent gondola bridge which spans the River Tees.

phone: +44 1642 324188

address: Ladgate Lane, Ormesby, TS3 0SR

A Georgian mansion with formal Victorian gardens and occasional events. The mansion houses several permanent model train exhibitions, including an interactive Thomas the Tank-Engine exhibit for kids.
Learn
Teesside University, . A public university with approximately 20,000 students.
Middlesbrough College, . Offers A levels, BTECs etc.
Cleveland College of Art and Design,
Do
Cinemas
There are multiplex cinemas in both Middlesbrough and Teesside Park. In Middlesbrough, there is a
Cineworld cinema
(Middlesbrough Leisure Park, Marton Road), and at Teesside Leisure Park (between Middlesbrough and Stockton) there is a Showcase Cinema .
The Cineworld cinema is cheaper and newer, though there are not as many shows.
Also, there is a single screen cinema in Redcar, the
Regent Cinema
, though it is very old. (The Esplanade, Redcar.
+44
1642 482094.)
Theatres
phone: +44 1642 815181

address: The Avenue, Linthorpe, TS5 6SA

phone: +44 1325 486555

address: Parkgate, Darlington, DL1 1RR

phone: +44 1642 551389

address: Queensway, Billingham, TS23 2LJ
Concerts, live music and culture
Middlesbrough hosts musical and cultural events during the year, including receiving national fame as a host city for the BBC Proms in the Park "Last Night of the Proms" in September 2007.
Middlesbrough's top multi-cultural event,
Middlesbrough Mela
, attracts more than 25,000 and is held annually in Albert Park. Website:
phone: +44 1642 729729 (box office)

address: Albert Rd, TS1 2QJ

Hosts concerts and other performances of all kinds. You can download the brochure of their international classical concert series on their website (top right in the pink box).
Local musical groups
such as the Cleveland Philharmonic Choir, Cleveland Philharmonic Orchestra, Teesside Symphony Orchestra, Apollo Male Voice Choir, and the nationally acclaimed
Tees Valley Youth Choir
give regular concerts in the area. Many details are available through Tees Music on their website:
Sports
Watch football (soccer) at

phone: +44 1642 929420

address: Riverside Stadium, TS3 6RS

Middlesbrough play in the Championship, the second tier of English football. Their home ground is the 34,000 capacity Riverside Stadium, half a mile east of the railway station, a 10-minute walk. Tickets can be bought from the ticket office at the stadium.
Walking and rambling
Situated on the northern edge of the
North Yorks Moors National Park
, Middlesbrough is an ideal and handy base for walking and rambling activities in this area - and in the
Northumberland National Park
. Middlesbrough is also within 'striking distance' of the
Cleveland Way
- a long distance walk (109 miles) that goes from
Helmsley
(SE 612 838) to Filey (TA 114 806). Further details about this walk can be found on the
National Trails
web site
. People who complete the route can claim a certificate. It is also possible to purchase a woven, cloth ruck-sack badge from the
National Park Centre at Sutton Bank
(tel: +44 1845 597426).
Middlesbrough hosts a local group of the
Long Distance Walkers Association
. This group organises regular walking events. Details of these can be found on the Cleveland Group's Web page. There is also a local group of the
Ramblers' Association
. The chairperson of the Cleveland section of the RA can be contacted by phone on +44 1642 474864.
There are many local walking groups and rambling clubs in the area. One of the most popular and successful of these is
Stockton Rambling Club
(SRC). The SRC runs its own
weblog
where details of its mid-week and week-end walks are posted; details of its social events are also posted here.
Useful walking maps (1:25000 scale) for this area are Explorer 306 and Outdoor Leisure sheets 26 and 27. These are available in local shops and can also be obtained from the UK's
Ordnance Survey
office. Electronic maps for use with computers and GPS satellite navigation systems can be purchased from
Anquet Maps Ltd
. Anquet has lots of UK walking routes (for use with a GPS) on its Web site.
Buy
Middlesbrough has many different types of shops, and four shopping centres. The majority of these are in, or connected to, the town's shopping district.
Shopping centres
phone: +44 1642 221873

address: 16 Newport Crecent, TS1 5UA

An outdoor shopping centre containing various shops. The shops include Waterstones, JJB Sports, Wilkinson's, and the official Middlesbrough Football Club store. Also, it includes two discount department stores: TK Maxx and TJ Hughes.

phone: +44 1642 244682

address: 85 Grange Rd, TS1 2LS

An indoor shopping centre comprising of many high street shops, such as WH Smiths, Top Shop, Boots and HMV, and department stores, such as Debenhams. It is also near the Binns department store.

Dundas Shopping Centre & Indoor Market

phone: +44 1642 232552

address: Dundas St, TS1 1HR

An indoor shopping centre mainly containing lesser-known shops. The centre's selection of shops isn't very good.

phone: +44 1642 211123

address: TS1 1SU

An indoor shopping centre mainly containing high street shops such as Argos and Marks and Spencer.
Also, there are shopping centres in nearby Stockton and Hartlepool, as well as the Teesside Retail Park located on the bordary line of Middlesbrough borough and Stockton-on-Tees borough.
Eat
The
Parmo
is a local delicacy comprised of breaded chicken (or less often pork) topped with cheese and béchamel sauce, along with other toppings on request. It's classic post-pub food in these parts.
Budget
The main drag for cheap eats is along Linthorpe Road.
Fast food outlets include Burger King, KFC, four branches of McDonald's, Pizza Hut, and Dixy Chicken.
Akbar's, 192-194 Linthorpe Rd, +44 1642 244566. Website. Popular Indian restaurant. Their "family size naans" are an impressive sight.
Hot Wok, 140 Linthorpe Rd, +44 1642 231286. Serving authentic Szechuan-style Chinese food.
Manjaro's, 186 Linthorpe Rd, +44 1642 605060. Website. African/Caribbean cuisine. One of the many establishments which serve parmos.
Europa Restaurant, 10 Borough Rd. +44 1642 247925.
Sasser's Continental Café, 193-19 Linthorpe Rd. +44 1642 218600
Eliano's Brasserie, 20-22 Fairbridge St. +44 1642 868566
Flemming's, 208 Linthorpe Rd. +44 1642 814597
Nando's, Middlesborough Leisure Park, North Ormesby Rd. +44'1642 250007. Website
Mid-range
Vegetarian: Goodbody's Cafe, 58 Albert Rd. +44 1642 253503
The Purple Onion (top of Corporation Road in town centre) is a good Bistro and has a downstairs live music venue.

phone: +44 1642 261166

address: Windward Way, Middlesbrough

Brasserie Hudson Quay has been designed specifically on the lines of the Grand European Cafes of France, Spain and Italy, providing a unique dining experience in a luxurious setting.
Splurge
Top-end fine dining usually means a drive out of town.
Chapter's, 27 High St, Stokesley. +44 1642 711888. Chapter's serves continental cuisine and has been named to numerous good food guides thanks to its consistently excellent menu. It is roughly a 9 mile road journey from Middlesbrough.

Fellini's Restaurant

address: 325 Linthorpe Rd

Award winning restaurant is a Middlesbrough institution. Unpretentious neighbourhood restaurant has fantastic fresh fish. Children eat free.
Great Ayton, Yarm and Norton are scenic villages with good restaurants.
Drink
The town has many pubs and bars. These are both in the town's centre and in residential districts. Many Yorkshire towns and villages (within driving distance), such as
Great Ayton
, also have pubs. Many of these feel
authentic
pubs.
phone: +44 1642 260650

address: 19 Newport Crescent, TS1 5UA

phone: +44 1642 239060

address: 228 Linthorpe Rd, TS1 3QW
Sleep
phone: +44 1642 232000

address: Fry Street

132 room hotel
Premier Travel Inn, Whitewater Way, Stockton-on-Tees. +44 1642 671464. Located between Stockton-on-Tees and Middlesbrough

phone: +44 1642 224111

address: 250 Marton Rd

Premier Travel Inn

address: Marton Road.
Stay safe
The town centre is very safe during the day, all areas are usually vibrant and busy. You should generally be safe walking through the centre at night, as there is likely to be many people still around.

Police
Cleveland Police operates a police station, Middlesbrough Police HQ, in Bridge Street West, Middlehaven, Middlesbrough. The police can be reached in an emergency by phoning 999 or 112; for non-emergencies, they can be contacted at +44 1642 326326.
British Transport Police also run a station in the town. It is in the railway station. They handle railway-related crime.
The Harbour Police police Teesport. They can be contacted at +44 1642 277202.

Connect
Area code: 01642
Post town: Middlesbrough
Postal codes: TS1, TS2, TS3, TS4, TS5, TS6-Eston, TS7, TS8, TS9-Stokesley, Gt.Ayton
Go next