Midland (Ontario)
Midland
is a town in
Simcoe County
,
Ontario
on the shores of Georgian Bay. A beautiful area for a vacation by the water, it draws many tourists, particularly in summertime.
As of the 2016 census, its population was 17,000.
Understand
Historically, Midland was an English-speaking community while neighbouring
Penetanguishene
had a large French-speaking population. The communities reflect the heritage of both founding peoples; Midland has a rich history dating back to the first settlers in Ontario, who came and lived among the Huron aboriginal people in the 1600s.
History
As early as AD 800, the Huron settled in semi-permanent villages in the area. The young French translator, Étienne Brûlé, was the first European to set foot in the area, some time between 1610 and 1614.
In 1793, John Graves Simcoe, the first Lieutenant Governor of Upper Canada, visited the area and saw its potential as a naval base. He wanted to use the bay to shelter warships to protect British interests on lakes Huron, Erie and Michigan. Beginning in 1814, the British-Canadians built the Penetanguishene Road to provide the area a land route to Barrie and Toronto, as it was previously accessible only by water transport along the rivers or across Georgian Bay.
The town of Midland was founded in 1871 when the Midland Railway selected the sparsely populated community of Mundy's Bay as its new terminus. At that time the railway ran from Port Hope to Beaverton. The line to the town was completed by 1879. Settlers, attracted by the convenience of rail service, soon began to move into the area. The village thrived based on Georgian Bay shipping and the lumber and grain trade. Light industrial companies have established themselves in the area and tourism in the southern Georgian Bay area also contributes to the economy.
Climate
The climate is nearly the same as much of Southern Ontario and has balmy summers and chilly winters. Thunderstorms, hailstorms, snowstorm, lake effect snow, and freezing rain are also commonplace for this city.
Get in
Midland is about a 30-minute drive north of
Wasaga Beach
and about 145 km (1.5 hour) drive north of
Toronto
.
By bus
Ontario NorthlandOne bus a day from Toronto to Port Severn (2 hr 20 min, $30-40), then a 25-min taxi ride ($55-70) to Penetanguishene.

Greyhound CanadaOne bus a day from Toronto to Elmvale (2 hr 15 min, $16-45), then a 25-min taxi ride ($50-65) to Penetanguishene.
Get around
See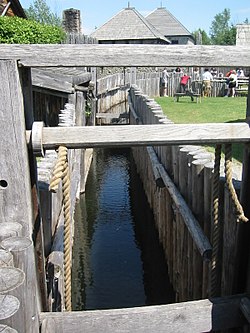 address: 16164 Highway 12 East

A recreated 17th-century French Jesuit mission headquarters, the site of the first European settlement in Ontario. It is now a living museum depicting missionary life in the 17th century. Leashed pets permitted.
Martyr's Shrine, 16163 Highway 12 West, the only national shrine outside of Quebec. It is a Roman Catholic church commemorating the Canadian Martyrs, eight missionaries from Sainte-Marie who were martyred during the Huron-Iroquois wars; it also operates as the Huronia museum. Pope John Paul II held a pastoral meeting at this site in September 1984.
Fred Lenz murals, various locations including King Street, Midland. Most of the murals were painted by now deceased artist Fred Lenz. The largest, depicting a meeting between a local native and Jesuit Missionary Jean de Brebeuf, is on the silos overlooking the main harbour. This work was completed by Lenz's sons following his death in 2001.

Huronia Museum & Ouendat Village

address: 549 Little Lake Park

It features a replica of a "pre-contact" Huron/Ouendat village, including a lookout tower, wigwam and a full-size longhouse. The museum also features an exhibit gallery featuring tens of thousands of historic artifacts ranging from photographs, native archaeology and art by members of the Group of Seven, and others.
Do
address: 177 King Street

The Miss Midland winds through islands, giving tourists some views of nature along the way. Departs from Midland and Parry Sound. May to October.

address: 16160 Highway 12 East

Year-round interpretive centre with trails (including cross-country ski trails). The huge marsh habitat provides cover for many trumpeter swans, black terns, least bitterns, beaver, porcupine, mink and river otter. The trumpeter swan is considered a symbol of Midland and a large statue of one has been erected by the harbour.
The Butter Tart Festival is held annually in early June. The day after the Butter tart festival is the Butter Tart Trot, a 5-km fun run for older people and a 2.5-km run for children under 5 years old.
Power and sail boating is very popular, and there are marinas and a sailing club based in the town. The town has easy access to the relatively sheltered waters of south eastern Georgian Bay. Among the marinas nearby are Bay Port Yachting Centre on the northwest side of the bay, and Wye Heritage Marina along the southeast shore. There is also good fishing.

Castle Village Enchanted Kingdom

address: 701 Balm Beach Rd E

Miniature village, escape rooms, kids' zip linr. Appears to be closed for renovations in 2018.
Buy
phone: +1 705-245-7927

address: 640 Balm Beach Rd E

20 vendors. Antiques and collectibles, vintage records, comics, die cast, toys, retro treasures.
Eat
phone: +1 705-527-9199

address: 345 King St.

Beautiful restaurant owned by explorers.

phone: +1 705-245-0410

address: 290 King St

Bakery, cafe, restaurant, 12 fresh Ontario craft beers on tap.

phone: +1 705-527-0700

Steaks, schnitzels, prime rib, pastas, fishes.
Drink
phone: +1 705-526-8223

address: 337 King Street

Many beers on tap, pub food.

phone: +1 705-355-4782

address: 96 Main Street

Classic Irish fare, food & drink specials, live music, pub quiz, dart league, and pints.
Sleep
1875 A Charters Inn Bed and Breakfast

phone: +1 705-527-1572

address: 290 Second St.

Victorian inn, bilingual francophone, Wi-Fi, parking, veranda and patio.

address: 1144 Hugel Ave.

Limited-service hotel, breakfast included, indoor sport pool, hot tub and fitness room.

Midland Inn & Suites

phone: +1 705-245-1166

address: 720 Prospect Blvd,

Free hot breakfast, free hotel-wide Wi-Fi, free parking, microwave and fridge

phone: +1 705-526-7851

address: 955 Yonge St

Free Wi-Fi with every room, coffee maker in rooms, fridge and microwave, smoking & non-smoking rooms available, air conditioning, BBQ, playground.
Go next
Awenda Provincial Park is one of most beautiful parts of Georgian Bay shore, with sand, cobble and boulder beaches in sheltered Methodist Point Bay. They are signs of a glaciated past.