Milano Malpensa Airport
Milan Malpensa Airport
(
Milano Malpensa
;
MXP
) is the main airport for the city of Milan and the Lombardy, Piedmont and Liguria regions of northern Italy. It is the country's second-busiest airport, and one of its two intercontinental hubs, the other being Fiumicino Airport at Rome. It is located 40 km north-west of Milan, near the towns of Gallarate and Busto Arsizio. It is not Milan's only airport nor the closest to the city centre – the smaller Linate Airport on the east side of Milan is 8 km from the city centre.

Understand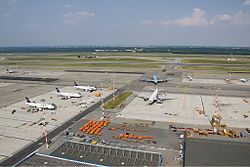 Malpensa has two runways, and two terminals that are 4 km apart by road. The newer and larger Terminal 1 opened in 1998 on the western side of the airport. The older Terminal 2 is at the northern end of the runways and is used only by Easyjet.
Flights
Pretty much every major
European
,
Middle Eastern
and
North African
carrier has flights to Malpensa. Delta, United, American and Air Canada fly to
North American
destinations; Air China, Cathay Pacific, Korean, Singapore Airlines and Thai connect Malpensa to
East
and
Southeast Asia
, and Alitalia also has a couple of intercontinental flights; and TAM flies from
Sao Paulo
. Several budget and charter airlines also fly there.
Ground transportation
Malpensa is at least an hour and a half from central Milan by any mode of transport. There two station: one in Terminal 1 and in Terminal 2.
Malpensa Express
. Trenord runs these trains from the Malpensa Aeroporto railway station at Terminal 1and Terminal 2 to central Milan. It runs every 15 minutes with on train for Milano Cadorna and one to Milano Centrale. A one-way ticket to the city center costs €13. A family (or group) ticket for up to 2 adults + 2 children (under 18 years old) is available for one-way trips for €25. Your ticket must be bought and validated in the station before boarding. You can no longer buy tickets on board. The only option for a passenger without a ticket is to contact a ticket inspector when boarding or immediately after boarding (a surcharge of €5 will be added to the cost of a full rate single ticket) . Tickets can be booked online. You can buy a return ticket online for €20 (to be carried out during the day if purchased at the ticket office, vending and in kiosks affiliated distributors; within 30 days if purchased online or via App Trenord). You need to select specific train dates and times, but you can take a later train within 4 hours of the selected ones . Online tickets do
not
need to be stamped or printed. You can show the ticket inspector your online ticket on your smartphone.
To Milano Cadorna – the easiest and fastest connection if you travel between Terminal 1 and the city centre, though it may be crowded at rush hours. Trains leave every 30 minutes, arriving at Cadorna after less than 40 minutes (the Cadorna station is connected to Milan's subway network, at the intersection of the red M1 and green M2 lines). All trains stop at somme intermediate stations (Busto Arsizio, Saronno, Milano Bovisa). For full timetable see here . The last train departs at about 11:20PM, so if you arrive on a late flight or are delayed then you will need to take a bus or taxi. After the last train there are buses that connect to Cadorna station and ones that connect to Centrale station (for bus to Centrale station see below).
To Milano Centrale – these trains stop at Milano Bovisa, Milano Porta Garibaldi and Milano Centrale; some also stop at Busto Arsizio and Saronno, and some also stop at intermediate stations(Ferno-Lonate-Pozzzolo and Rescaldina). There are 1 or 2 trains each hour and they usually take either 46 or 52 minutes. For full timetable see this website . The trains arrive and depart on platform 1/2/3 in the Centrale station, where there are self-service ticket machines.
TiLo
operates the
S30
train service from the Malpensa Aeroporto station up the eastern side of
Lake Maggiore
terminating at
Cadenazzo
or
Bellinzona
in
Switzerland
. The first departure is at 07:50; then from 11:50 to 19:50 there are departures every two hours. It stops at both of the stations at
Busto Arsizio
, and
Gallarate
.
For other destinations, check the
Trenord timetable service
. This also includes short-distance buses that run from outside the Malpensa Aeroporto station to
Busto Arsizio
(RFI/FS) station (taking 38 minutes), where you can catch
Trenitalia
trains.
These buses are long-term train replacements while track construction is underway and they also stop at
Ferno
and
Busto Arsizio Nord
(Ferrovienord/FNM) stations. A bus departs every two hours between 06:46 and 18:46, with an extra departure at 09:46. The return buses depart
Busto Arsizio FS
for the airport every two hours between 8:39 and 20:39, with an extra one at 11:39. You can also get a bus timetable in PDF at
Muoversi in Lombardia
by entering the line name "Malpensa Aeroporto - Busto Arsizio Fs (56)" or "Busto Arsizio Fs - Malpensa Aeroporto (271)".
By bus
To Milan Centrale Station
Buses leave approximately every 20 minutes for Milan Centrale Station, costing about €8-10. Travel can take between 40 minutes (weekends) and 1 hour or more (weekday mornings):
Buses are better than the train for Terminal 2 – since you would need to take the slow inter-terminal shuttle bus to get to the train station at Terminal 1, you might as well take a bus directly to Milan. There is always a bus waiting, and they usually wait until the bus is completely full before departing.
To Linate airport
Other destinations
phone: +39 0323-552172

A seasonal (Apr-Oct) service that runs from both terminals to the western side of Lake Maggiore with stops in Arona - Meina - Solcio - Lesa - Belgirate - Stresa - Baveno - Feriolo - Fondotoce - Verbania Suna - Verbania Pallanza and Verbania Intra. Services are 2–3 hours apart. Book by 11am the day before departure (by 11am Sa for Monday trips), choosing from the timetable. Buy tickets on board, cash only.
SADEM for Turin
Check also
Malpensa by coach
and
Autostradale
for other services and schedules.
By taxi
Taking a taxi to the city center is expensive: €90 (fixed fee for a City-Airport trip, without further stops). Only taxis registered in Milan itself have signed up to the fixed fee agreement - taxis from outlying cities (which you will also find at Malpensa) have not signed on to the agreement, and will take you to Milan, but will charge you the meter reading (generally €80+ in light traffic).
If on entering a taxi you do not see a card on the window or rear of the driver/passenger seats, then you are in a non-Milanese taxi. You can request the fixed fee, and if the driver refuses, then take the next taxi in the rank.
You may find that if you take the fixed fee from a non-Milanese taxi then they take a slower non-toll road rather than the toll paying motorway (tolls are ALWAYS paid by the driver so are included in the meter or fixed fee).
Fixed fee are inclusive of all surcharges, night and holidays surcharge, but can only be applied if the journey has no intermediate stops. Otherwise the total price indicated by taximeter will be applied.
Other destinations:
To/from Exhibit area (Fiera di Milano / Rho) - €60
To/from Linate Airport – €100
To/from Varese – €65
For more information about taxi fares, see
this document
(in Italian, the fixed fares between airports and the city are in the bottom part of the page).
Taxi ranks are at Arrival area, ground floor. Gate #6 for Terminal 1 and gate #4 for Terminal 2.
Airport radio taxis are available by calling:
Radiotaxi 6969 - Tel: +39 02 6969
Radio Taxi Freccia - Tel: +39 02 4000
Taxi Blu - Tel: +39 02 4040
Radio Taxi La Martesana - Tel: +39 02 2181
Taxi 8585 Autoradiotassi - Tel: +39 02 8585
ICTM Consorzio Taxi Malpensa - Tel: +39 0331 231312 e 800911333
Private transfers
If you travel with a family or a party greater than 4 people, or if you wish to travel in a premium vehicle, it is worth booking a private transfer. Private transfers are more expensive then taxis but they include a meet & greet service (the driver waits for group at arrival lounge showing a sign) and usually run medium or high range cars.
Some companies covering Malpensa are:
Car sharing
Another option for people travelling frequently to Milan is car sharing through E-vai. First you must join the car sharing program at the
E-vai website
. Once registered you choose between two formulas:
Gold: Frequent users; has a fixed subscription fee and lower rate per rental.
Silver: occasional users; has no fixed subscription fee but each rental costs €5 more than for Gold subscribers.
Subscriptions are for one year and require an ID card. The service is active 24 hours a day and you have to book the vehicle at least 20 minutes before your arrival. More information and fares at
Malpensa airport website
.
Get around
The two terminals are connected by a
free shuttle bus service
(Linea A) that takes about 10 minutes. According to the sign at the bus stop at Terminal 1, this service runs every 7 minutes between 05:46 and 22:34, then every 30 minutes between 23:07 and 05:37. These times should only be considered a rough guideline – expect some waiting time. The shuttles are very small and the frequency is inadequate: long queues tend to form, which prompts several taxi drivers to station right next to the stop and pick up those passengers who don't want to wait. It is not uncommon for passengers to wait up to 40–45 minutes for the transfers: most shuttles are packed full, forcing passengers to wait for the next one.
You can also take this free shuttle if you need to go to one of the hotels in the small village between Terminal 1 and 2. Just get off at stop
Case Nuove
, which is the second stop starting from Terminal 1 right after the stop called
Handling
.
Check-in
Terminal 1: The check-in counters are located at the 3rd floor, the gates at the 2nd floor.
Terminal 2: Check-in desks and Arrivals are on the ground floor. The departure gates are on the first floor.
Cope
Lost & Found counter

phone: +39 02 74868490

Free WiFiThere is free WiFi (ViaMilano) in the airport and you can use it without registration. The speed is limited to 512 Kbps, but there is no time limit.
Sleep
phone: +39 0331 261011

address: Via al Campo, 10, Cardano al Campo

A 4-star hotel specifically designed to accommodate business and early-flight travelers near the airport.

phone: +39 02 94757100

address: Milan Malpensa Airport, Terminal 2, Somma Lombardo, Varese 21010

A trendy 3-star budget hotel adjacent to Terminal 2.

Sheraton Milan Malpensa Airport Hotel & Conference Center

phone: +39 02 2335 1

address: Malpensa Airport, Terminal 1, 21010 Ferno (VA)

A 4-star hotel directly connected to Terminal 1.
Nearby