Milies
Milies, Vizitza, Pinakates
(Greek: Μηλιές, Βυζίτσα, Πινακάτες) are villages in municipality of South Pelion on
Mount Pelion
in Greece. Since these villages are close to each other, they are considered as a single travel destination. As a tourist destination belongs to
Northwest Pelion
. It is a traditional Greek mountain village, at a height of 400 m. It is 28 km from
Volos
, the capital city of the prefecture of
Magnesia
. Milies is connected with the GR-34A (Volos -
Promiri
) It has traditional stone houses, cobbled roads, good restaurants and accommodation in abundance. Milies is also notable for being the terminus of the narrow gauge (60 cm) Pelion Railway, built by the Italian engineer, Evaristo de Chirico, (father of the famous painter) between 1895 and 1903. This proved to be of considerable economic advantage to the region. The village commands striking views across the
Pagasitikos Gulf
and benefits from the many streams and water sources that
Mount Pelion
is renowned for. These result in rich vegetation and cool, forested mountain slopes.
Get in
By bus from
Volos
Interurban Bus Terminal ("Yperastiko KTEL") (
KTEL Volou
), Details on buses,
can be found online here
During the summer months one can also use the local small wooden-wagon train departing twice a day on weekends from Ano Lechonia, near Volos, in a very picturesque journey.
See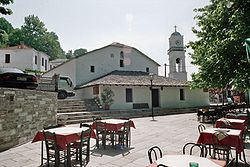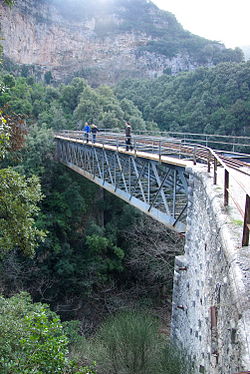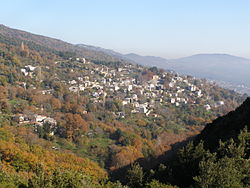 Old LibraryVisit the old library, founded by Anthimos Gazis.

Milies MuseumTake a look at the museum of the village
Do
Light a candle in the church on the central square.
Explore the forested hills along the numerous very old paths around the village. Running waters, springs, brooks, watermills, stone bridges, two caves, numerous species of wildlife.
Take the Old Smudger train for a journey.
Hike along some of the Calderama (old hiking trails) across the local landscape. A few hours heading down will bring you to the beach at
Kala Nera
.
phone: +30 6981176160

An adventurous way to discover the Pelion's nature and beauty is to go on a tour by horse. The guides of IFOM Milies have spent years riding the back roads and trails by horse and want to take you on an adventurous horseback riding tour to discover the Mountain of the Centaurs from a whole different perspective.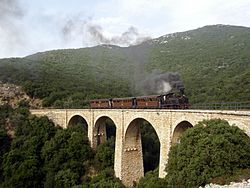 Buy
Local produce shop

address: Vyzitsas

A cooperative grocery/gift shop, with local women producing a range of snacks, preserves and food. The local spinach and cheese pies are fantastic, and ready to be thrown into an oven when you get home.
Eat
Many family owned restaurants on the village.
Some well known are
Liostasi

Aigli

Palios Stathmosat a very picturesque setting with a very good collection of plates

To Salkimion the main road, just before the central square

I Drosia

address: Main square, Pinakates
Drink
The tap water is drinkable and restaurants will serve glasses of ice water upon request. Local drinks include Mythos (beer) and Ouzo.
Erodios

phone: +30 6972317313

address: just off the main square, Vyzitsa

A nice coffee shop just off the main square in Vyzitsa. Good views over the landscape from the outdoor terrace.
Sleep
phone: +30 24230-86765

address: Visitsa

Santikos Mansion is situated in the Centre of the Mainland of Greece at the mountain of Pelion with a dominant view of Visitsa, one of the most picturesque villages in Greece. A panoramic uninterrupted view of Mediterranean sea follows the glittering stone roofs of the village houses.

phone: +30 2423086777

address: Milies

Family-run hotel built in the traditional Pelioritic architectural style, with distinctive decorations of stone and wood. Rooms with and without fire place.
Stay safe
Milies is a generally safe destination.
The summer sun tends to get very strong. You should not take the risk of dehydration, sunburns or even heat strokes lightly. Wear appropriate clothes, maybe with a hat and sunglasses; use sunscreen; bring enough water on excursions and know when to stop exhausting yourself and seek the shade of a tree.