Mill Valley
Mill Valley
is a city in
Marin County
, in the
North Bay
region of the
Bay Area
of
California
. The city begins in the canyons and ridges at the base of
Mount Tamalpais
and extends into a broad valley that reaches the
Richardson Bay
portion of the
San Francisco Bay
.
Get in
By car
Mill Valley is easiest to see by car. From
Highway 101
take the Mill Valley/Tiburon Blvd exit or the Mill Valley/Stinson Beach exit.
By bus
Buses
from
San Francisco
drop off along the highway. Commuter buses run into downtown as well as to and from the
ferry
in nearby
Tiburon
.
Mill Valley is served by
Golden Gate Transit route 4
, a commuter route to San Francisco, and by
Marin Transit route 17
. Note that (as of September 2019) Google Maps displays stops on both sides of the street as a single stop — make sure you are at the correct side for your destination.
Get around

While downtown is nice to see on foot, the parks and woods are best reached by car. Mountain bikes were invented near here, and remain a popular way to get around.

See
Mill Valley MillNot much remains of the original structure, but it's a pretty spot in a redwood lined riverbed. A railroad car from the Old Railroad Grade—the main route up Mt. Tamalpais for sightseers in the early-1900s—stands opposite the mill.
Muir Woods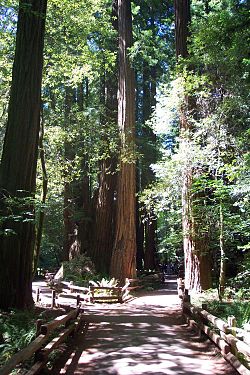 is home to 560 acres (2.2 km 2 ) of unlogged stands of old-growth redwood trees (
Sequoia sempervirens
), and is one of the few remaining places where these trees (the tallest living things on the planet) can be seen in their full glory. Many of the redwoods are over 200 feet (60 m) tall and over 600 years old. The woodland is served by a number of trails which weave between the redwoods - wheelchair-accessible boardwalks as well as hiking trails. The sunlight filtering through the redwood canopy to the valley below is incredibly beautiful and peaceful. In fact, when the UN was being founded in 1945, the delegates were taken to Muir Woods in order to inspire them with the peaceful ideal which the UN was intended to have.
Park entry costs $10. Address: Frank Valley (Muir Woods) Road, Phone: +1-415-388-2596. Hours: 8AM-sunset every day.
Despite being close to the San Francisco Bay Area, access can be difficult. There are several options, ordered from best to worse (when available):
Muir Woods Shuttle (Marin Transit route #66 and #66F) is the cheapest option at $3 round-trip, but tickets must be bought in advance online or by phone: 1-800-410-2419. Route 66 serves the Pohono Park & Ride just off the Highway 101 exit for Highway 1/Mill Valley/Stinson Beach, while route 66F serves the Sausalito ferry terminal. Be aware that the shuttle only runs on limited dates. On weekends and holidays, both #66 and #66F run year round. Weekday service only runs from June to August, and only on route #66F. Be sure to check your exact date very carefully to make sure the shuttle is available. The public transportation options for reaching routes 66/66F are themselves scenic: Golden Gate Transit #4 connects downtown San Francisco to Pohono Park & Ride over the Golden Gate Bridge (you will travel in the reverse commute direction, so check the schedule ahead of time). Ferries to Sausalito operate from San Francisco (Ferry Building or Fisherman's Wharf) and have a beautiful view of the bay, the surrounding hills, the San Francisco skyline, and the Golden Gate Bridge.
A number of tour companies run organized tours to Muir Woods. See list.
Driving to Muir Woods is possible all year round, but parking is extremely limited, costs $8, and requires a reservation online or by phone: 1-800-410-2419 (using the same system as for shuttle tickets). You are recommended to carpool, and to come at the beginning or end of the day.
There is no cell phone service in and near Muir Woods. You can order an Uber/Lyft to take you to Muir Woods, but you won't be able to order one back, unless arranged ahead of time. Sometimes there are taxis waiting in the Muir Woods parking lot, but don't assume this will be the case. The park office can call a taxi for you, but it might take a long time to come. Taxi fare to Sausalito Ferry is about $40.
From the park entrance, you can hike about 2 miles, mostly uphill, to Panoramic Highway where the bus 61 runs - just 4 times a day in each direction.
Do
Buy
Depot BookstoreA famously nice spot with a cafe and excellent selection of books.

Two NeatNovelty products shop, along with movies, CDs and cards.
Eat
For a small town, Mill Valley has a wide range of excellent restaurants from cozy local joints to upscale eateries.
phone: +1-415-326-5159

address: 31 Sunnyside Ave

For great breakfast foods where the locals eat.

Piazza D'Angelo

address: 22 Miller Av

A Marin institution, D'Angelo's is no simple pizza place. Casual-dressy Italian food. Reservations recommended on weekends or holidays.

La Ginestra

address: 127 Throckmorton Av

Great family-style Italian food including pizza and ravioli.

Joe's Taco Lounge

address: 382 Miller Av

Healthy Californian-Mexican. Seafood tacos and burritos are their specialty, but the decor is worth the trip. $5–10

El Paseo Restaurant

address: 17 Throckmorton Ave

For a delicious, and rather expensive, dinner out, try this upscale Italian/California cuisine restaurant and Mill Valley institution.

Pearls Phat Burger

phone: +1-415-381-6010

address: 8 E Blithedale

Great burgers.

Sol FoodPuerto Rican food that's very popular with the locals.
Drink
phone: +1-415-388-3850

address: 19 Corte Madera Ave

Local bar and music venue with a surprisingly Big Name shows.

The 2AM Club

Buckeye Roadhouse

phone: +1-415-331-2600

address: 15 Shoreline Hwy
Sleep
Budget options (a relative word in Marin County) can be found along Highway 101 the further north you go, the more reasonable they will be. Other, more romantic options are scattered on the mountain behind town. There are a lot of Vacation Rentals by Home Owner (VRBO) and Home Away options available in this community as well, if one is interested in a more 'local' experience, people actually rent away their actual houses. There are great places usually very central to town and have great prices for weeks and nights.
phone: +1-415-381-9000

address: 810 Panoramic Hwy

Alpine Lodge

address: 730 Panoramic Hwy

And Echo Summit Lodge. Located on Mt. Tamalpais are open to California Alpine Club Members and their guests, Alpine Lodge is open as a hostel-style B&B on some weekends in July and August.

phone: +1-415-383-8716

address: 508 Shasta Way

phone: +1-415-332-5700

address: 160 Shoreline Hwy

phone: +1-415-380-0400

address: 555 Redwood Hwy

Part of the Joie de Vivre Hotels collection of boutique hotels. Easy highway access and rooms with a view of Richardson Bay.

phone: +1-415-389-6608

address: 165 Throckmorton Ave

An intimate, small hotel tucked away in a redwood grove at the foot of Mt. Tamalpais, just steps away from the bustling town plaza.

phone: +1-415-332-5700

address: 160 Shoreline Highway

Located in Marin County and recently remodeled, this hotel offers complimentary trail bicycles, S'mores kits and have free fanny packs for your hike.
Stay safe
Mill Valley has a very low crime rate, thanks to high property values and insulation by other exclusive towns like Tiburon, Larkspur, and Corte Madera. Prevalence of dangerous crimes is low enough to actually induce stricter enforcement of traffic infractions, since the police would not have much to do otherwise.
Common sense should prevail, though. Do not hike alone when rambling across the trails in Mill Valley and Mt. Tamalpais. The likelihood of having a negative encounter during a hike is minimal, but you will benefit greatly with the aid of another person should you meet an unsavory character—animal or human—along the way.

Go next