Milton (Ontario)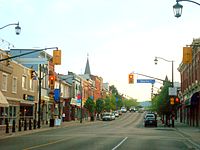 Milton
is a town of 110,000 people (2016) in Southern Ontario, approximately 40 km (25 mi) west of Toronto. Once a small rural town, it is now a major suburban area of the GTA and is one of the fastest growing communities in Canada. It is home to a picturesque downtown area with many local restaurants and shops.
Understand
History

The town took root out of a settlement by Jasper Martin along the Sixteen Mile Creek; Martin immigrated from Newcastle upon Tyne, England with his wife Sarah and two sons in 1818. Martin was granted 100 acres (40 ha) of land, from the Crown in 1820. Martin built a grist mill along the creek and created a pond, known as Mill Pond, to power his mill. The mill became the centre of settlement for others as they settled in the region. In 1837 the area had a population of approximately 100 people and was named after the English poet John Milton.

Get in
By car
Milton is easily accessible by road, located at the intersection of highway 401 and RR 25, and close to the intersection of highways 401 and 407. Highway 401 exits 312, 320 and 324 serve Milton, with direct access to downtown Milton via exit 320 to Martin St.
By train and bus
Access to and from downtown Toronto, and other points in the GTA, is available by commuter train on the
GO Transit
's Milton Line, and by the GO Bus service.
Milton Line trains depart and arrive at the Milton GO station.
GO buses can be boarded at the Milton GO station and at the Milton GO stop at the intersection of Maine St. and Martin St., which is in downtown Milton.
By plane
The nearest airport to Milton is the Burlington Airpark in neighboring Burlington. It is a general-aviation field, but does not have any regular commercial passenger flight service.
Pearson International Airport, Canada's largest passenger-volume airport, is 37 km to the east.
Get around
Milton TransitMilton Transit provides local buses on mine routes, and Milton access+ (paratransit) service. It operates on weekdays and Saturdays, with connections to routes and GO Transit services at the Milton GO Station.
See
Main St. Downtown Milton - This is the historical heart of Milton, home to many of the town's oldest buildings. Numerous locally owned shops and restaurants line the street, and various festivals and events are held here throughout the year.
Milton Mill Pond - a picturesque pond near downtown partially surrounded by a small forest. It includes walking trails and a waterfront gazebo. It is surrounded by three downtown parks: Centennial Park on the Martin St. side; Livingston Park, accessible via Margaret St.; Rotary Park, accessible via Garden Lane and two pathway bridges that connect the park to the Mill Pond trails.
Milton Farmers Market - a large outdoor farmer's market held every Saturday morning from 7AM to noon. It takes place on Main St. in downtown Milton from spring to fall.

address: 13629 Guelph Line

A working museum of electric streetcars (trams, other railway vehicles, trolleybuses and buses. Admission includes unlimited rides on 3 different historic streetcars on 2 km of scenic track, which stops at an ice cream shop (approximately a 20-minute ride), access to the grounds, display barns and historic Rockwood Station. No admission is required to the goofy shop here guests can find railway-inspired gifts and snacks. Parking is free. The first ride leaves at 11AM and the last ride leaves 30 minutes before closing.
Do
address: 5234 Kelso Rd

Camping, picnicking, mountain biking, a ski hill, stand-up paddle boards, swimming, and movies under the stars.

Rattlesnake Point

address: 7200 Appleby Line

You'll see the turkey vultures soaring over the escarpment from Buffalo Crag look-out point, and interesting ecological rarities like the thousand-year-old cedars. Camp under the stars; find the constellations. Rock climbing on a cliff face. Nassagaweya Canyon Trail: day hike between Rattlesnake Point and Crawford Lake; round trip hike between the parks will take 4-5 hours.

phone: +1 888-675-7223

address: 9430 Guelph Line

A harness racing track in Campbellville. Mohawk also has a large slot machine parlour.

Hilton Falls Conservation Area

address: 4985 Campbellville Road

A 645 hectare forest with nearly 34 kilometres of mountain biking and hiking trails. The park has a prominent waterfall, the ruins of a old watermill, and several species of birds.
Eat
La Toscana

address: 165 Main St E

Offers a relaxed atmosphere accompanied by a fine wine from the restaurant's extensive cellars. http://www.latoscana.ca

phone: +1 905-876-4899

address: 201 Main St E

Located on the beautiful Main Street in downtown Milton, Ivy Arms offers a fantastic selection of menu items and a large outdoor ivy covered patio.

Sushi-Ya Japan

address: 8 Martin Street

A popular Japanese sushi restaurants that offers a wide variety of sushi and Japanese dishes. Also has a take-out option.

phone: +1 289 8512000

address: 150 Mill Street
Drink
phone: +1 289-270-1680

address: 32 Steeles Ave. East, Unit #1

Tastings in their taproom: $7 for a flight of four samples of 4oz (120 ml) each.
Sleep
phone: +1 905-876-4955

address: 2750 Highpoint Dr

address: 161 Chisholm Drive