Milwaukee

Milwaukee
is the largest city in the state of
Wisconsin
,
United States
. The city's population is 594,833 with an estimated total of 2,025,898 in the Milwaukee metropolitan area (2010). It is the 30th largest city in the U.S. and is in the southeastern portion of the state on the western shore of
Lake Michigan
.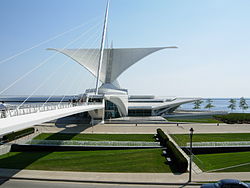 Understand
History and culture
Milwaukee's human history begins with American Indian people who lived near the confluence of Milwaukee's three rivers into Lake Michigan for centuries. Tribes who inhabited the area that is now Milwaukee included Menominee, Fox, Mascouten, Sauk, and Potawatomi. With the arrival of Europeans and an increasing population, large and often violent divides become more prominent. These settlers built three dueling settlements (Juneautown, Kilbourntown, and Walker's Point) around what is now Downtown. The two former communities were extremely competitive and created two non-aligning street grids. This is why 1st Street is west of the Milwaukee River and the reason that many of the city's bridges cross the river diagonally (connecting the two grids).
Milwaukee has historically been a major immigrant city. During the early 20th Century, German and Polish immigrants tended to dominate, and the city still strongly identifies with its German and, to a slightly lesser extent, Polish heritage. For part of the early 20th century German was even the main language of the city, and German names are still very common.
As waves of immigrants arrived in Milwaukee they tended (and tend) to form communities in specific areas. The different areas of the city are still identified with the ethnic groups that originally populated them. The Near North and Northwest sides were originally German, but are now mainly African American with Hmong enclaves. The Near South side was originally Polish but is now mainly Hispanic. Juneautown was originally mainly populated by English immigrants as well as people from the eastern United States.
The city experienced 'white flight' during the 1960s and 70's, creating a large socio-economic divide between the inner city and suburbs. Today the city remains highly segregated with low rates of social and economic mobility within the inner city.
Milwaukee is home to some instantly recognized corporations such as
Miller Brewing
and
Harley Davidson
. Harley holds an enormous celebration on every fifth anniversary attracting riders (and celebrity riders such as Jay Leno) by the thousands to Milwaukee each time. The 110th anniversary was held in 2013.
Milwaukee was once the home to four of the world's largest breweries (Schlitz, Blatz, Pabst, and Miller), making it the number one beer producing city in the world for many years. Despite the decline in its position as the world's leading beer producer through the loss of three of those breweries, its one remaining major brewery, Miller Brewing Company is a key employer. Miller employs over 2,200 people on Milwaukee's west side. All this beer brewing has earned the city the nickname "Brew City" and its identification with and fondness for beer remains strong as ever.
Milwaukee has advertised itself as the "City of Festivals," especially emphasizing an annual summer party along the lakefront called
Summerfest
. Listed in the Guinness Book of World Records as "the largest music festival in the world", Summerfest attracts about a million visitors a year to its twelve stages. Smaller ethnic festivals throughout the summer celebrate many of Milwaukee's ethnic groups.
Geography
Milwaukee is in the northern Midwest, along the shores of Lake Michigan. It is approximately 90 mi north of Chicago, and 330 mi southeast of Minneapolis/Saint Paul.
Film
Milwaukee is probably best known from TV as the settings of the 1970s sitcoms
Laverne and Shirley
and
Happy Days
. It has also served as the backdrop for numerous Hollywood films. The films
Bridesmaids
,
Transformers 3
,
Mr. 3000
and
Milwaukee, Minnesota
were set in the area.
Milwaukee, Minnesota
gives a good winter portrait of the city and was largely filmed in the Bay View neighborhood.
Climate
Weather patterns in Milwaukee can fluctuate daily, often with little consistency in temperature or conditions. In the summer, the temperatures can range from as low as and as high as . In the winter, the temperature can drop below regularly but can get as high as . In general, six months of the year are cold, overcast, and wet. Milwaukee is the second coldest major city in the country; winter is very long and cold! Spring is often very wet and sometimes cold and miserable. It is not unheard of to get snowfall in early April. Winter visitor may quickly get an idea why there are so many bars, bowling alleys and festivals in Milwaukee. The best time to visit is by far in the summer or the early fall during Indian Summer when the whole place comes to life and everybody is outside.
Get in
There is an array of almost every transportation mode thinkable to get to Milwaukee. The cheapest way is by bus, but many travelers prefer the comfort and convenience of air, boat, car, or train travel.
Chicago
, a massive transportation hub, is less than 100 miles (161 km) away.
By plane
Milwaukee Mitchell International Airport
Milwaukee is served by
Milwaukee Mitchell International Airport
(
MKE
). Southeast of the city.
The airport has service with the following airlines from its 2 concourses.

Direct international flights are offered a few times daily from Canada, and seasonally from Mexico, the Dominican Republic and Jamaica. Other international travelers will have to connect or fly to Chicago and take ground transportation.
Ground transportation:
Milwaukee County Transit System (MCTS) buses run frequent airport service from roughly 4AM to 2AM. The fare is $2.25 (exact change required). The GreenLine express bus goes from Mitchell Airport to the North Shore via Bay View, the Third Ward, the eastern edge of Downtown and the East Side. Route 80 goes from Mitchell through the South Side into the middle of Downtown and continues north to Villard Ave. (Both lines cross the main Wisconsin Ave. transit corridor, and have stops a couple blocks from the Intermodal Station.)
Go Airport Shuttle shared taxi-van shuttle. Approximately $12 to Downtown.
Taxi approximately $30 to downtown.
Coach bus or train is an alternative, but only faster if you are lucky with timing and need to go to or near the Intermodal Station. Several bus lines (Badger, Wisconsin Coach USA, Lamers) and the Amtrak Hiawatha Train go downtown en route as part of incoming or outbound onward services. Buses (and the shuttle to the Airport Rail Station) all leave from just outside the baggage claim, if you're lucky there'll be one waiting (on average there are 1-2 per hour). $4-6.
Alternative airports
Chicago's main airports—O'Hare International Airport (ORD) or Midway Airport (MDW)—can be cheaper or easier alternatives, especially for destinations not served from Milwaukee. There is an hourly direct shuttle from Chicago O'Hare Airport to Milwaukee Intermodal Station and Milwaukee Mitchell Airport run by Wisconsin Coach Lines. $26.
It is possible take a CTA 'L' train from either of the Chicago airports to Chicago Union Station ($2.25 from Midway, $5 from O'Hare) and then go on to Milwaukee with either bus or Amtrak saving time or money in some cases. With ideal timing you can make it from Midway to Downtown Milwaukee via rail in under 3 hours from landing. However, many flights arrive at Chicago after or near the time that shuttle or rail service end for the day. Greyhound does offer late runs to Milwaukee from their Downtown depot, in case of a late arrival in Chicago, but is not for the faint of heart. Greyhound also has a few buses each day from the Cumberland CTA Blue Line station, just two stops outside of O'Hare on the CTA blue line 'L'.

By train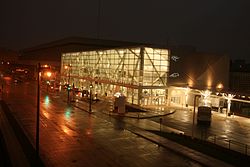 Amtrak serves downtown and an airport station. The remodeled , 433 W St Paul Ave, offers connectivity to inter-city bus services and is downtown a short distance from many attractions and hotels.
The Hiawatha has 7 daily round trips to Chicago. It offers the quickest travel time to Chicago, power outlets at your seat, a quiet car, and snack & beverage service. It runs between Milwaukee Downtown Intermodal Station, stops at Milwaukee Mitchell Airport, Sturtevant (Racine), Glenview, and arrives downtown Chicago Union Station. $25.
The Empire Builder has 1 daily round trip from Chicago through Milwaukee to Seattle/Portland, via Central Wisconsin, Minneapolis, Fargo, Spokane and many other smaller cities. The Empire Builder only stops at the Milwaukee Intermodal Station. Passengers wishing to reach Mitchell Airport must change trains to the Hiawatha at Milwaukee Intermodal Station. 'Weekly Special' Internet fares can be found for $120 to Portland and $40 from the Twin Cities.

By car
I-94 comes in from Madison to the west, and continues to Chicago to the south.
I-43 will get you to the city from Green Bay from the north, and continues southwest to Beloit.
I-41 approaches the Milwaukee area from Fond du Lac and other Fox Valley cities to the north.

By boat
Lake Express high-speed ferry operates several daily trips across Lake Michigan to Muskegon, Michigan. The ferry docks on the south side of the port near Bayview. No winter service.

By bus
Milwaukee is served by several interstate bus lines daily, there is competition on most routes as well as onward connections. Book a few weeks ahead online for the best prices. Most buses stop at or across the street from the Milwaukee Intermodal Station (where all trains stop as well) on St Paul Street on the south edge of Downtown Milwaukee. Chartered tours of Milwaukee are also arranged from cities in the region, and there are casino charters from across the Midwest.

address: 635 N James Lovell St

Operates 6 scheduled services from Madison daily and 4x weekly from Minneapolis, with a few local stops in between.

phone: +1 414 272-2156

Greyhound makes additional stops on request at 84 and O'Connor, Milwaukee Mitchell Airport, and some suburban locations. Greyhound mostly operates "Express" branded services to Milwaukee, featuring wifi, extra legroom, and 110 V outlets. Tickets from $1 online. 11 of 15 daily buses from Chicago offer "Express" amenities.

Indian TrailsDaily service from Milwaukee to Michigan's Upper Peninsula. Onward connections are available. Buses have wifi and power outlets.

Jefferson LinesOperates daytime scheduled service between Milwaukee and Minneapolis (via Green Bay), with interim stops across Wisconsin. Jefferson prides itself on its 'eco-friendly' new coaches. Connections are available at Minneapolis.

LamersOperates daytime scheduled service between Milwaukee and Wausau, among other cities, with interim stops across Wisconsin. Also stops at the Badger Bus Depot and at the airport.

MegabusMegabus offers three times daily round trip service to Chicago, Madison, and Minneapolis-Saint Paul. Buses have wifi and often 110 V power outlets. No walk-up tickets sold, only via internet or phone, same-day prices vary.

address: 1017 S 16th St

Twice daily service from Dallas via West Memphis and Chicago.

address: 4th St just N of St Paul Ave

Wisconsin Coach offers 14 buses daily, departing every hour to O'Hare Airport starting at around 4AM. There are several pickup points including the Intermodal Station, 4960 S 13th St, and Mitchell Airport. You can get directly on the bus and pay the driver with cash or card.
Get around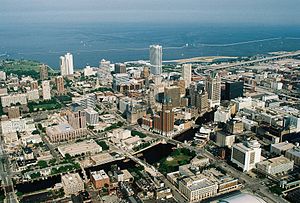 Getting around in Milwaukee is easy. Block numbers are consistent across the city, including most of the suburbs, starting roughly where the Milwaukee and Menominee rivers meet. All numbered streets run north-south, increasing in number as you head west from 1st Street. Most named streets go east-west, with the notable exception of streets east of 1st St. Standard blocks are 1/8th of a mile long north to south, and 1/16th of a mile east to west.
By public transit
Milwaukee County Transit System (MCTS)
Milwaukee's bus system,
MCTS
, has an extensive coverage area (85% of Milwaukee County) and core routes with very frequent service. Outlying suburbs have shorter hours, slower and less-frequent service. Express buses called "Freeway Flyers" provide excellent service from park and ride lots across the county to Downtown as well as to Brewers games and festivals saving you the hassle of traffic, parking and worries of drunk driving. Express buses called "UBuses" offer service to the University of Wisconsin-Milwaukee. MCTS also serves Mitchell International Airport with both a local bus and a new, more express route; see
Get In
for details. Most routes run from about 5AM until at least midnight.
Fares
:
MCTS has a contactless smart card known as
M•CARD
that allows you to load stored value and passes. There is a one-time fee of $2 to purchase an M•CARD, which can be purchased online or at 100 sales outlets in Milwaukee County; they are not sold by bus drivers. If you are going to be using public transit a lot while in Milwaukee, it would be a good idea to acquire an M•CARD since paper transfers for cash fares have been eliminated.
Single rides: $2.25 cash (no transfers) or $2 stored value on M•CARD (includes unlimited transfers within 90 minutes)
1-day pass on M•CARD: $4 if purchased at a sales outlet or purchased on a bus with stored value, $5 if paying cash on a bus to load a day pass on to a card (good from first use until 4:59AM the following morning)
7-day pass on M•CARD: $19.50 (good from first use until the end of service on the 7th day)
31-day pass on M•CARD: $64 (good from first use until the end of service on the 31st day)
Drivers only accept exact fare for those paying with cash. If you do not have exact change, you will not have any choice but to pay extra (although you can get a refund later, it's not worth the effort).
There are no audio-visual stop announcements. If you need any information don't hesitate to ask the bus operator for help. Most drivers know the city well and will be happy to give you directions or call your stop.
Tourist Trolley
Trolley Loop
is a frequent scheduled tour bus loop (themed as a trolley) sponsored by local businesses. Rides are $1 though service is seasonal.
Regional services
Ozaukee County is served by the Ozaukee County Express from Downtown Milwaukee (some service also to Milwaukee's South Side) via the I-43 corridor. Ozaukee County Transit also offers shared-ride taxi services.
Wisconsin Coach Lines offer service from Racine and Kenosha in the south to Downtown Milwaukee, and from Waukesha and Mukwonago in the west to Downtown Milwaukee and to the University of Wisconsin-Milwaukee.
By bicycle
Milwaukee was awarded bronze status from the League of American Bicyclists in 2004 and again in 2009. A bike map is available from the city or for sale at local shops. Weather permitting, Milwaukee is a very pleasant place to
bicycle
. There are several separated bike lanes and network of leisurely trails called the Oak Leaf Trail. Some are even limited access paths (think: bike freeway) as well as 65 mi (105 km) of on-street bike lanes and 75 mi (121 km) of signed bike routes (the city aims to raise that number to several hundred miles of on-street bike lanes as streets are re-paved).
Bikeshare
Bublr Bikes
is Milwaukee's bikeshare system. Bike stations are mostly concentrated in the greater downtown area and the East Side. Single rides cost $3 for 30 minutes and can be paid for with a credit card at any bike station. Bublr also sells 30-day passes online for $15, which allows for unlimited free rides in 60-minute increments; you can avoid additional charges by returning a bike within that time frame and hopping on a new one.
Bicycle rentals and tours
Bicycle Shops
are also often willing to do rentals, and also sell high-quality products that are often locally made:
It is fairly easy to find a used bike in good working condition at local thrift stores, which is much cheaper than renting if you are going to be staying in the city for any length of time.
All MCTS buses have bicycle racks which are free to use with bus fare, so if you get tired, lost, the weather turns bad or whatever you can hop on the bus.
By taxi
While there are plenty of taxis to meet demand, do not expect to simply flag one down. With the notable exceptions of queues at larger hotels, the airport, train- and bus stations, largely attended events and most of the downtown area, you should call for one. Even going from the Upper East Side to Downtown can cost $20. The number one company is Yellow Cab (+1 414 271-1800).
In the warmer (and occasionally the colder) months there are alternative ways of getting point to point.
Horse-drawn carriages are available downtown and sometimes on the East Side, and often outside public events.
By car
While it is possible to use the bus to go to many suburbs, some tourists prefer driving. You can pick up a rental car at the Milwaukee General Mitchell Field Airport. There are several rental car agencies on site that can help you get around town whether you are visiting the area or a local driving a temporary vehicle.
Parking Downtown and in some business districts (on the East Side, in some suburbs) costs money. Keep an eye out for electronic meters: there will be a number on a post at each space, and you need it to pay at a machine down the block (cards accepted). Visitors parking overnight on city streets should call the City at +1 414 286-8300 by 1AM to request parking permission. Overnight parking can also be registered for free (up to 3 nights) online at
the DPW's night parking site
.
Parking outside the Downtown/East Side is overall a non-issue. Traffic conditions vary.
See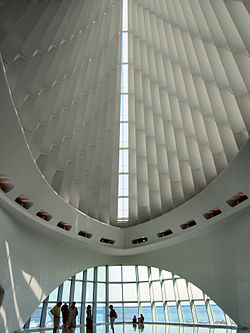 US Bank Center

phone: +1 414 765-4460

address: 777 E Wisconsin Ave

Built in 1973, is the tallest building in the state at 42 stories. Bud Selig, the commissioner of Major League Baseball and former owner of the Brewers has an office inside.

Hoan Bridge

address: I-794

The Hoan Bridge is one of the most recognizable Milwaukee landmarks. It is a tied arch bridge suspended over the port of Milwaukee on the Milwaukee River. It's part of I-794 that leads into downtown.

Pabst Brewery ComplexThe former brewery sits on the north east side of downtown, adjacent to the Milwaukee County Courthouse and overlooking I-43. It contains many wonderful "old world" style buildings. Though the brewery is no longer in operation it remains an icon of the city. It is being renovated and re-developed for condos, offices, and restaurants.

phone: +1 414 931-0808

address: 2000 W Wisconsin Ave

In 1892, the Flemish Renaissance Revival Mansion of Captain Frederick Pabst, world famous beer baron, accomplished sea captain, real estate developer, philanthropist and patron of the arts, was completed. From the day the house was inhabited, it was considered the jewel of Milwaukee's famous avenue of mansions called Grand Avenue and represented the epitome of America's Gilded Age Splendor in Milwaukee.

address: Mitchell Park

One of the city's most recognizable landmarks. The three huge glass domes serve as the city's horticultural gardens, and house a desert habitat, rainforest, and varying themed exhibits.

phone: +1 414 224-3200

address: 700 Art Museum Dr

Santiago Calatrava-designed addition is another of Milwaukee's most recognizable landmark, and the bird-like wings of the building's Quadracci Pavilion open and close several times each day, depending on the weather. The War Memorial which the museum is connected to was designed by the architect Eero Saarinen.

address: 200 E Wells St

Possibly city's most important landmark before the completion of the Calatrava addition to the museum. The architecture is heavily German influenced, and is a symbol of Milwaukee's large German immigrant population at the turn of the century.

phone: +1 414 645-5623

address: 2333 S 6th St

On the city's south side, it was built by the city's Polish community from the dismantled materials of the Old Chicago Customs House and Post Office. Each block was carefully measured and numbered for a best fit in the new design so that hardly any stone was re-cut or went to waste. In the end, even the original ornamental bronze railings, lighting fixtures, and doorknobs of the customs house were used for furnishings. Opulently decorated and designed, it is perhaps one of the finest examples of the so called "Polish Cathedral" style of church architecture in North America.

Allen-Bradley Clocktower

address: S 2nd St between Scott St and Greenfield Ave

Underneath it sits the home of Rockwell Automation. It is instantly recognizable from I-43 between downtown and the south side of Milwaukee. It was the largest four-sided clock in the world, until Saudi Arabia built the largest in 2010, Al Bait Towers, a.k.a. Mecca Royal Clock Hotel Tower. These clocks are about 140 feet in diameter. Allen Bradley's are 40.2 feet. Milwaukee's clock is nicknamed the "Polish moon."

phone: +1 414 278-2728

address: 800 W Wells St

On downtown's west side, it's excellent for children and adults alike, containing exhibits on numerous topics including large historical dioramas, an IMAX theater, and the largest planetarium in the state. Well-known permanent exhibits include a "Butterflies Alive" garden and the Streets of Old Milwaukee which feature the world's oldest continually functioning gas streetlight system.

Discovery World Museum at Pier Wisconsin

phone: +1 414 765-9966

address: 500 N Harbor Dr

Features in depth interactive exhibits about the Great Lakes and local natural science.

phone: +1 414 390-5437

address: 929 E Wisconsin Ave

Large children's museum connected to the MAM via a pedestrian bridge.

phone: +1 414 278-8295

address: 1801 N Prospect Ave

19th-century French and American art, Chinese and Japanese porcelains, Renaissance bronzes, and antique furnishings. The collection is housed in a Tudor-style mansion that was designed with the intention of turning it into a museum.

Villa Terrace Decorative Arts Museum

phone: +1 414 271-3656

address: 2200 N Terrace Ave

Fine and decorative arts from the 15th to 18th centuries. The museum is in an Italian Renaissance-style villa built in 1923. Don't miss the Renaissance Garden in back.

phone: +1 414 256-5412

address: 10001 W Bluemound Rd

One of the best zoos in the US. Features 2500 animals representing 300 species on 200 acres (81 ha). Besides animal showcases, the zoo also features train tours, sea lion shows, and a dairy farm. Check with zoo schedules for fun special events like sleepovers at the zoo or trick-or-treating at the zoo on Halloween.

phone: +1 414 287-2789

address: 400 W Canal St

Walk through a variety of exhibits that tell the stories of the extraordinary people, products, history and culture of Harley-Davidson. In addition to the fantastic motorcycle collection, stories are told through a variety of media - including photographs, videos, apparel, rare documents and other fascinating artifacts. Peek into a portion of the Archives, never before open to the public, and home base to more than 450 motorcycles, and hundreds of thousands of artifacts that the Archives team can pull from for Museum exhibits.

phone: +1 414 276-5140

address: 2230 N Farwell Ave

A very beautiful theatre on the East Side that maintains a lot of character unlike modern cinemas. The amazing artwork and decoration within the theatre will take your breath away once you see this gem. Most of the films shown here cater to the independent, arthouse, and foreign film crowd (a reflection of the neighborhood the theatre is in); however, they do bring in a few of the Hollywood hits. They also show Rocky Horror Picture Show the second Saturday of every month at midnight.

phone: +1 414 645-2632

address: 2405 W Forest Home Ave

Take a historical walking tour and see where many famous Milwaukeeans have been laid to rest; including the graves of Jacob Best, Fredrick Pabst, General William Mitchell, Valentin Blatz, George Walker, Byron Kilbourn, and the Davidsons.
Do
Breweries
Prohibition and Al Capone
The Brew City was hit hard by prohibition, a huge section of the local economy was shut down and thirsty Milwaukeans couldn't drink their sorrows away. In the 1920s Chicago gangster activity came north to Milwaukee during the Prohibition era.
Al Capone
, noted Chicago mobster, owned a home in the Milwaukee suburb Brookfield, where moonshine was made. The house still stands on a street named after Capone.
Breweries are integral to Milwaukee's image. Although the number of large scale operations has dwindled in the last decade, the nickname "the Brew City" still rings true, and microbreweries are booming. In several spots around the city, the smell of yeast from the beer factories is quite strong. Milwaukee was once the home to four of the world's largest breweries: Schlitz, Blatz, Pabst, and Miller. For many years it was the number one beer producing city in the world. Of those four only Miller remains.
Miller-Coors Brewing Company offers excellent tours and also has a visitor's center at its gigantic brewing complex on Milwaukee's west side. Miller and Coors have merged operate the brewery jointly but the tour is still based around the historic Miller operation. The tour begins with a short video of famous Miller commercials, continues to the original brewery to demonstrate the growth and progress of the company, and finishes at a pub for a little beer-tasting. To set up a tour call +1 800-944-LITE or go to .
Best Place at the Historic Pabst Brewery While the company is long gone, a new tavern, reserveable hall, and a giftshop are open on the site. Best Place at the Historic Pabst Brewery, the former Pabst Corporate Offices & Visitor's Center, is a Certified Historic Structure on the National Register of Historic Places. Gift Shop: Th-Su noon-6PM. Tours: F-Su 1PM & 3PM, $7 ($2 discount for Military Personnel)

Sprecher BreweryA well-respected local brewery on the North Side. Known for making the largest variety of beers of any local brewery. They offer tours, tastings included. The sodas are popular as well: the kids and non-alcoholics will get plenty out of this tour. Make sure to look for their root beer at local businesses.

Lakefront BreweryAnother small, locally-owned microbrewery specializing in handmade beers in the tradition of early Milwaukee brewers. Along the Milwaukee River just north of downtown, at the foot of Brewers' Hill. Offers tours on Friday nights along with a fish fry

Milwaukee Brewing CompanyOffers tours (on Friday and Saturday) of their growing operation in the Fifth Ward.

Buffalo Water Brewing Co. Makers of Bison Blonde at the intersection its named after, Buffalo & Water Streets, adjacent to downtown Milwaukee.

Great Lakes DistilleryIt's not a brewery, but they make premium "Rehorst" vodkas and gin. It was the first distillery to open in Wisconsin since prohibition. They also brew a seasonal pumpkin ale, and make a type of absinthe. They offer tours on Fridays and Saturdays where you can taste all of their spirits for $6. Near the Walker's Point neighborhood just south of downtown and a short walk from the Harley Davidison Museum.
Brew pubs
Stonefly Brewing Co. a brew-pub/restaurant on Center Street in Riverwest. Won the 2010 Firkin Award, they make good stuff. Have an eclectic food menu as well.

Milwaukee Ale HouseA brew-pub/restaurant founded by local home brewers on 17 October 1997, serves up live music, fresh beer and great food to the good people of Wisconsin and travelers from all over the world. In a brick and timber warehouse building downtown in the Historic Third Ward, they offer indoor and outdoor dining, six or more hand crafted beers, lunch and dinner everyday with late night food on the weekends.

Water Street BreweryOn Milwaukee's infamous Water Street, it is both a brew-pub/restaurant with a second location in Delafield, west of the city.

Horny Goat Brewing Company although it's local, this place is not Milwaukean. Beautiful building but otherwise it has all the makings of a tasteless Canadian frat party.

Rock Bottom BreweryAlthough it's not a Milwaukee original, but rather a national chain based out of Colorado, they couldn't resist opening a location among the beer elite. Milwaukee RiverWalk, 740 N Plankinton Ave. Save it for another town!

Delafield Brewhouse is another microbrewery and restaurant, 20 mi (32 km) west of Milwaukee.
Saint Francis Brewery Brewmaster Scott Hettig has built upon a foundation of five beers: Kolsch, Amber Ale, Nut Brown Ale, Weiss and Oatmeal Stout to feature a Bohemian Pilsner, Double Red Ale, Belgian Triple and many more. On Milwaukee's south side, near the airport.
Festivals
Henry Maier Festival ParkOften referred to as "the Summerfest grounds", this is an enclosed park just south of the Milwaukee Art Museum and Downtown, along the lakefront. Milwaukee used to be promoted as "The City of Festivals." To this day, there is a festival almost every weekend during the summer at the Henry Maier Festival Park, including various ethnic festivals and Summerfest.
SummerfestSince 1999, Summerfest has held the Guinness World Records title as the "World's Biggest Music Festival", attracting over 700 bands each year. The fest started in Milwaukee in 1968. Summerfest is held for 11 days every summer beginning at the end of June continuing into July.

Black Arts Fest Annual festival that honors African and African American culture, creating a positive atmosphere that unifies all ages.
Festa Italiana
German Fest One of the more popular fests. Lots of beer-drinking and cliche Bavarian garb, music, dancing and food.

Indian SummerLater in the season, a rare representation of the local American Indian culture.

Irish Fest A very popular event, many locals take Irish Dancing lessons and these dancers are central to the fest.
Labor Fest An actual celebration of organized labor on Labor Day! Its a free way to celebrate and respect the meaning of the day.
Polish Fest
PrideFest
Firkin Craft Beer FestivalHeld in Cathedral Square Park in mid-May, all-you-can-sample-goodness with Milwaukee, Wisconsin, and Midwest brewers offering up their best.
Milwaukee Highland GamesA full-fledged Scottish celebration. Early June.
Lakefront Kite FestivalsA series of several events put together by a kite shop (Gift of Wings) on the lake just north of the Milwaukee Art Museum in Veterans Park, and by Kite Society of Wisconsin & Illinois.
Jazz in the ParkHeld in Cathedral Square Park every Thursday evening June–September, it's a great free event to sit and have a drink on the lawn with friends at.
Locust Street FestivalA neighborhood festival featering games, live music, a beer run, and all sorts of vendors. On Locust Street in Riverwest.
Juneteenth Day celebrates the anniversary of the end of slavery. Held every year on June 19th, the event is very popular, and draws a huge police presence due to violence at past events.
Bastille DaysHeld in Cathedral Square Park on or around July 14, celebrates the storming of the Bastille and all things French.
Wisconsin State Fair West Allis, a Milwaukee suburb, is home to the state fair grounds. Held in early August.
Venues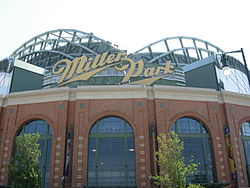 There is a wide spectrum of theater and concert venues in Milwaukee.
Miller ParkBaseball stadium on Milwaukee's west side. It is home to the Milwaukee Brewers and hosts small number of concerts annually.

address: 901 N 4th St

Multipurpose arena in downtown Milwaukee. The NBA's Milwaukee Bucks and the Marquette Golden Eagles men's basketball team (representing Marquette University in NCAA Division I) started playing in the new arena in their respective 2018–19 seasons after moving from the BMO Harris Bradley Center, now being demolished, across the street.

phone: +1 414 908-6000

address: 400 W Kilbourn Ave

The city's main indoor venue before Bradley Center (and later Fiserv Forum) opened, it still hosts many sports events and concerts. Most notably, it's home to the Milwaukee Panthers men's basketball team, representing the University of Wisconsin–Milwaukee, and to the Milwaukee Admirals of the NHL's top minor league, the American Hockey League. The arena also hosts other major UWM events, most notably graduation ceremonies.

Marcus Center for the Performing Arts

phone: +1 414 273-7121

address: 929 N Water St

Mainstream touring theater, the local symphony and a ballet company.

phone: +1 414 224-9490

address: 108 E Wells St

A good local professional theater.

phone: +1 414 908-6001

address: 500 W Kilbourn Ave

phone: +1 412 286-3663

address: 144 E Wells St

Touring theater, concerts.

Milwaukee RiverwalkThe Milwaukee RiverWalk covers 3 miles along the Milwaukee River through the city's downtown and the Historic Third Ward. Because of its creation, the Milwaukee River has become a prominent downtown development area with a mix of high-end residential, commercial and recreational uses. Also visit the "Bronze Fonz" a statue dedicated to Happy Days character, Fonzy.

address: Water St

Head over to the library and dig up any old city directory. If you flip to the page listing businesses on Water Street, you'll find that this main downtown artery has always been home to dozens on taverns and, often, rowdy and raucous nightlife. If you think Water Street is crazy these days, you should have seen it under the administration of Mayor Rose.

phone: +1 414 266-0100

A renowned Olympic training center. It has a full ice-racing track and two hockey rinks. Public skate hours vary, but are usually in the evening. Skate rentals are available for a good price.
Comedy Sportz Fun for all ages. Began in Milwaukee and has spread across the nation. A ComedySportz match features two teams of comedy actletes competing for laughs and points, with a referee keeping things moving and calling fouls. An average of seven to twelve games are played during a match, drawn from a repertoire of over a hundred improv games. In "Shakespeare" a team will improvise a scene inspired by an audience suggestion in Shakespearian style. In "Forward/Reverse" the referee sends the scene back and forth at will, as though scanning a scene in a DVD, sending the actletes into a frenzy. Every show is different, with different players, different games, and different audiences supplying new suggestions. The fans judge the scenes and games, and decide the winners and losers. Near Walker's Point.
Sports
Milwaukee has memorable moments in sports history, with the Brewers and Bucks most likely to interest travelers. Home run slugger Hank Aaron hit most of his home runs in Milwaukee (mostly as a member of the Braves, who have since moved to Atlanta, though he finished his career with the Brewers). The Bucks are the youngest team to ever win an NBA title.
Milwaukee BrewersMilwaukee's Major League Baseball franchise plays at Miller Park just outside downtown. The Brewers used to be owned by Bud Selig, who retired as commissioner of MLB in January 2015.

Milwaukee BucksNBA member, with games at the new Fiserv Forum, which opened for the 2018–19 season across the street from the team's former home of the Bradley Center.

Milwaukee AdmiralsAHL hockey franchise, formerly a member of the IHL, and playing in UW–Milwaukee Panther Arena.

Milwaukee WaveNorth America's longest continuously operating professional soccer club. They complete in the Major Indoor Soccer League and play home games at UW–Milwaukee Panther Arena.

The Milwaukee Mile Its premier distinction is as the oldest operating motor speedway in the world, hosting at least one auto race every year since 1903. The track is at the grounds for the Wisconsin State Fair. The track has held events sanctioned by major sanctioning bodies, such as the American Automobile Association, USAC, CART/Champ Car World Series, NASCAR, and the IndyCar Series. There have also been many races in regional series such as ARTGO.
College basketball - The city has two NCAA Division I college basketball teams—the Marquette Golden Eagles of the Big East Conference, and the Milwaukee Panthers of the Horizon League. Marquette's men's team plays at Fiserv Forum, while Milwaukee's men play at UW–Milwaukee Panther Arena (the women's teams of both schools play on their respective campuses).
Milwaukee Mustangs Indoor arena football.
Neighborhood visits
Downtown - Downtown Milwaukee consists of two neighborhoods which sit across the Milwaukee River from each other.
Juneautown (or Eastown), between the lake and the river, is the financial heart of the city, as well as the place where Milwaukee was born. The city's tallest building, the 601-foot USBank Tower, is here along the lake, as are some of the other architecturally significant buildings, including the Cathedral of St. John and Milwaukee's City Hall. There are a number of coffee shops and restaurants, but except for around Cathedral Square and Milwaukee Street area mostly closes down after business hours.
Across the river, Kilbourntown (or Westown) serves as the city's entertainment center. Here you will find attractions such as the Wisconsin Center, Milwaukee's primary convention center. Nearby are the Grand Avenue Mall, the Milwaukee Theater, and the Bradley Center. Many of the city's hotels are here as well, as are some excellent restaurants and clubs. Further to the west is Milwaukee's gigantic neo-classical Courthouse, the Milwaukee Public Museum, and the ornate Milwaukee Central Library. While none of the city's tall buildings have public observatories, you can get a fantastic view from
Polaris
, the revolving restaurant perched atop the Hyatt Regency in the heart of Kilbourntown.
The Riverwalk lines both sides of the Milwaukee River through the downtown area, and is home to a number of pieces of public art, as well as some of the city's most popular restaurants.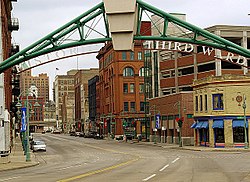 Historic Third Ward - This small district, directly to the south of Juneautown, is Milwaukee's version of the trendy urban "warehouse district." The streets of the Third Ward are lined with 19th and early 20th-century warehouse buildings which have been converted into lofts and offices. At street level, chic shops and restaurants are commonplace. The area is also an entertainment hub. The Eisner Museum of Advertising and Design is at 208 N Water St, blocks from the Broadway Theater Center, home of the Skylight Opera. On the ward's southern boundary -the Milwaukee River - one can find the Milwaukee Institute of Art and Design (or just MIAD), which is the centerpiece of the city's art scene. On Gallery Night, which occurs once every three months, the Third Ward hums with activity, as it is home to the city's largest collection of art galleries. The Third Ward is also home to the newest section of the Riverwalk, which offers some fantastic views of the downtown skyline. The Third Ward is within walking distance of downtown.
Fifth Ward/Walker's Point Founded by George Walker in June of 1835 as a fur trading post, Walker's settlement was combined with Juneautown and Kilbourntown to become the City of Milwaukee in 1846. Walker also contributed to the building of the city's first streetcar line in 1859. Walker's Point is south of the Third Ward, and is served by the #18, 15, and 19 buses from Downtown. The northern part of the neighborhood (especially north of National Avenue) is a rapidly re-developing warehouse district, home to many popular restaurants, cafes, clubs, and bars, while the southern and western parts are mainly Hispanic. The neighborhood is also the center of Milwaukee's gay scene.
Avenues West/Marquette is the neighborhood immediately west of Downtown. Home to Marquette University, the area has a large student population, and consists mainly of mid-rise apartments and walk-ups as well as many of the city's social services institutions. The neighborhood is relatively seedy the further away you get from the university, although its not particularly dangerous. The Pabst Mansion and Rave/Eagle's Ballroom (music venue) are in the neighborhood, along Wisconsin Avenue.
Martin Luther King Drive - A period of urban renewal has revitalized this neighborhood with brand new restaurants, coffee houses and jazz, blues and neo-soul lounges. It is known as the epicenter of African-American commerce in Wisconsin. From downtown, simply continue north on Old World 3rd Street which turns into Martin Luther King Drive. The #19 bus runs the entire length of the street.

The East SideThis neighborhood stretches from downtown to the University of Wisconsin - Milwaukee. Sandwiched between the Milwaukee River and Lake Michigan, it is home to high-rises, elegant mansions, college students, and everything in between. The areas around Brady Street and North Avenue are particularly lively, with many different local shops, restaurants and bars. The number 30 bus runs from Downtown down Farwell/Prospect every few minutes during the day, and the #15 runs down Water, Brady, and Oakland. At Brady, Ogden, and Lafayette there are steps down to the parks and beaches along the lake.

Riverwest - An older working-class neighborhood bordered by the Milwaukee River or the south and east and Holton Street on the west. Riverwest is one of the most racially integrated in the city. As the East Side and Downtown have gentrified, Riverwest has become an increasingly diverse neighborhood, and is also home to much of the hipster and alternative scenes in Milwaukee. Amongst the many hipsters, one can still find plenty of Puerto Rican families and grandmothers. Center Street and Clarke Street are the main commercial ares of the neighborhood. The buses 10 (Humboldt Ave) and 14 (Holton St) stop at both streets on their way north from Downtown.
Bay View - A vibrant area on the city's south shore with lots of neighborhood bars and restaurants. Number 15 bus south from downtown. Kinnickinnic Avenue is the neighborhood's main street and is lined with shops, bar, restaurants, and cafes.
Historic Mitchell Street - This once Polish center is now home to some of Milwaukee's most vibrant Hispanic culture. The busiest area of the street is between 6th and 13th Streets. The #54 bus runs down Mitchell, and the 80, 19, and 14 connect the neighborhood to Downtown.
Parks
Milwaukee has one of the best public parks systems in the country. The area of parkland and beaches along the lake is the crown jewel of the system, and gets very busy during good weather.
Cathedral Square Park - This park is a square in the center of the city, bordered by Kilbourn on the North, Wells on the South, Jackson on the East and Jefferson on the West. It is most notable for Jazz In the Park, free outdoor Jazz concerts on Thursday evenings during the summer .
Veteran's Park - This park is by the lakefront, just north of the Art Museum and War Memorial. Veteran's Park includes a lagoon where you can rent a paddle boat, a kite store, and bike rentals.
McKinley Marina and Beach - McKinley Park is a great place for people who want to fish or relax on the beach. Many people also love to stroll out on the giant breakwater that goes out into Lake Michigan. During the summer, there are plenty of fishermen here as well. An easy way to get to McKinley Park is to take the Brady Street pedestrian bridge over Lincoln Memorial Drive (from the Brady Street area), or just walk North from Veteran's Park.
Bradford Beach - This is one of the larger beaches in the Milwaukee area, and has seen an influx of money which has led to significant improvements, including the renovation of the beautiful art deco beach house.
Lake Park - Lake Park was designed and built by Frederick Law Olmsted, the same man who built Central Park in New York. It is one of Milwaukee's most beautiful parks and can be found by going up the hill (West) on the North end of Bradford Beach.
Tours
Boat tours
There are several Lake Michigan and Milwaukee River tourboat operators.
The Edelweiss I and IIOffer elegant dinner cruises, as well as late night party cruises on the Milwaukee river, departing from the 3rd St and Highland intersection.

Milwaukee Boat LineOffer frequent cruises during the summer aboard Vista King. These sightseeing tours are narrated and travel through Milwaukee River, Harbor and Lake Michigan. Daily at 12PM, 2PM and 4PM. In addition to their Historical Cruises they offer Happy Hour Cruises Tues-Sat and Concert Cruises every Friday.

Sea Dog Sailing offers sailing trips out of McKinley Marina.
Learn
A January 2000 study from McGill University in Montreal ranked Milwaukee 6th in a list of U.S. and Canadian cities with the highest number of college students per 100 residents.
The largest university is the University of Wisconsin–Milwaukee with around 30,000 students. Other schools include Marquette University, Alverno College, Cardinal Stritch University, Medical College of Wisconsin, Milwaukee Area Technical College, Milwaukee Institute of Art and Design, Milwaukee School of Engineering, Mount Mary College, Wisconsin Lutheran College, Concordia University Wisconsin, Lakeland College, and Wisconsin School of Professional Psychology.

Work
Milwaukee is home to several Fortune 500 companies; in fact, the metropolitan region (defined as the Milwaukee-West Allis-Waukesha area) was "ranked number five in the nation when measuring the number of Fortune 500 companies as a share of the population - just behind the number four Minneapolis-St. Paul region in Minnesota" . The area has a wide employment base, with companies ranging from high-tech and specialty manufacturing firms (GE Medical, Harley Davidson) to retail and finance corporations (Kohl's, Northwestern Mutual).
The Milwaukee-Racine metropolitan area was also rated one of the Top 20 Hot Cities for Entrepreneurs in 2005 .

Buy
Alternative Economies
The Cream City had a socialist city government for several decades, the only city in the United States to have had this political leaning. The city has a strong labor union network, organized due to poor treatment of the massive amount of industry workers. Today, unions remain very controversial and are constantly given as a reason businesses outsource or move production out of state. Collectivism has gained some new steam. Collectives include the artists of Borg Ward, designers at Sparrow Collective, Brewing Grounds for Change Coffee, as well as several food-coops like the Riverwest Coop.
Milwaukee is one of the best places to get products made in Wisconsin. From fine food to Harley Davidson Motorcycles, Milwaukee offers amazing variety and quality for very reasonable prices.
Several shopping malls are outside of the city. There are a few shopping areas including the Third Ward and the East Side around Prospect and North or Brady St as well as other shops of assorted types across the city.
Downtown/Third Ward
phone: +1 414 224-0655

address: 275 W Wisconsin Ave

This Downtown mall is worth a visit. It features and eclectic array of shops that sell clothing and handy trinkets that easily fit in your luggage. There is also plenty of Milwaukee-related stuff for sale, especially at Brew City.
The Bookshop

phone: +1 414 224-0206

A much, much smaller reincarnation of Renaissance Books, which was a legendary used bookstore in a warehouse on Plankinton Avenue that had 5 floors filled with a half-million used books. The place was dingy, many of the aisles were blocked with boxes of used books, half the windows were boarded up, and eventually the city shut it down due to "structural concerns." The replacement location inside the mall is much cleaner, if also lacking in the character the old warehouse had.
Bayview
phone: +1 414 483-2585

address: 2501 S Howell Ave

A skateshop in Bayview with a changing selection of Milwaukee-related gear and attire.

phone: +1 414 747-9229

address: 2224 S Kinnickinnic Ave

Formerly Fasten Collective offered local designers an outlet for their work, now its been remade and is called Sparrow Collective, but still offers up Milwaukee- and Mid-west-made jewelry and clothing.

phone: +1 414 481-6040

address: 2635 S Kinnickinnic Ave

One of the best remaining record stores in the city, in Bayview. The folks there know their stuff and know what's going on in Milwaukee, as well.
East Side
phone: +1 414 332-1181

address: 2559 N Downer Ave

A professional independent bookshop with a great selection and especially good recommendations.

phone: +1 414 906-5304

address: 2427 N Murray Ave

A sleaze-free sex shop that is all about everyone being comfortable and well understood.
Riverwest
phone: +1 414 263-5001

address: 720 E Locust St

A nice bookstore specializing in poetry and local authors.

phone: +1 414 263-1991

address: 2445 N Holton St

A nice variety of useful and gift items.
Food
Many visitors enjoying taking some food or other consumables with them when they leave. Wisconsin cheese, locally roasted coffee especially from Colectivo or Anodyne, and micro-brews are the most popular treasures. Ginseng and even El Rey Mexican products are common souvenirs.
Locally made
Harley Davidson motorcycles of course have several plants in and around Milwaukee, and many more retail stores. Notables include the House of Harley on Layton Ave in Greenfield, Hal's Harley in New Berlin, Wisconsin Harley in Oconomowoc, and many other dealers.
Bicycles from Milwaukee Bicycle, Trek, Schwinn, and other local builders are available in huge selection and often cheaper than elsewhere.

phone: +1 414 964-5000

address: 4129 N Port Washington Rd

Although they aren't only made in Milwaukee anymore, Koss is still headquartered here, along with the small original manufacturing plant. They have an odd little outlet store and customer service center (bring in your broken Koss headphones for a free replacement, they're all under lifetime warranty).
Art
phone: +1 414 271-8525

address: 450 E Mason

At DeLind Gallery of Fine Art you'll find a continually changing collection of outstanding art, from the best local and regional talents to the internationally and historically known greats. On occasion, you may find original drawings by Henri Toulouse-Lautrec, paintings and drawings by the Pissarro family, a pastel by Childe Hassam, lithographs and etchings by Pablo Picasso and James A.M. Whistler, drawings and posters by Jules Cheret and a large collection of vintage posters, Barbizon, Plein Air and Post Impressionist paintings, lithographs and etchings by Matisse, Cezanne, Rembrandt, Bonnard and Renoir and sculpture by Frederick Hart, Dennis Heimbach and the ever popular "Beasties" by Dennis Pearson.
Eat
With its immigrant heritage, Milwaukee is a major restaurant city. Good local restaurants serve almost every kind of food imaginable, usually quite cheaply. Different neighborhoods have different specialities when it comes to food.
Old World Third St along (and just west of) the Milwaukee River provides a richer variety of restaurants and also many of the more upscale restaurants (and clubs) in town. Traditional Germanic and Mediterranean foods are the highlights.
Milwaukee St, between Wisconsin and Wells Sts., offers many trendy and top rated restaurants in the city as well as an upscale nightlife for the after dinner drink.
The east side also has many nice restaurants, bakeries, and cafes. Most places are clustered on Farwell, North, or Brady Streets.
The Fifth Ward and South Side contain many different authentic and cheap Mexican and Latin American restaurants.
Bay View has a variety of different kinds of places, especially with regards to "hip" comfort food.
Budget
phone: +1 414 272-2233

address: 1310 E Brady St

Serves authentic Greek food the whole family can enjoy. A variety of healthy yet tasty food, it'll make you wonder why these sorts of food aren't more popular.

Conejito's PlaceThe best place to eat Mexican food on a budget in Milwaukee is here. Food and drinks are cheap and the atmosphere is one of the best in the city as far as Mexican restaurants go.

Zaffiro's

address: 1724 N Farwell

Great old-fashioned pizza place that hasn't been changed in decades. Has a bar, too.

George Webb'sA scuzzy, cheap local diner chain, known for the two clocks next to each other in each restaurant (usually unsynchronized). The food isn't great, but its unbelieveably cheap and the mix of people is usually an experience in itself. The greenish chicken-flavored soup is strangely popular.
Mid-range
The majority of mid-range, non-chain places in Downtown are on Milwaukee Street or near Cathedral Square east of the river.
On the East Side, you can head over to the intersection of North and Farwell Avenues, where you'll find local favorites like
Beans & Barley
(healthy/organic),
Pizza Man
(burned to the ground in early 2010),
Von Trier's
(German), the
BBC
(bar & grill), and the
Twisted Fork
(pasta). Louisa's is also a great Italian restaurant.
A bit farther up Oakland Ave, near Locust Street (near the UW-Milwaukee Campus), you'll find an exciting variety of restaurants including the
Oakland Trattoria
(Mediterranean),
Sharazad
(Middle Eastern),
Lula's Cafe
(East African),
Thai Kitchen
, and
Oakland Gyros
(Greek).
The Third Ward has many places, some with river-side seating in the summer (such as the
Milwaukee Ale House
on Water Street).
Coquette Cafe
, on Milwaukee Street, is the owned by the same chef as the critically acclaimed Sanford.
Kinnickinnic Avenue in Bay View is also lined with different places, including local favorite
Lulu
(at Howell), and
Honeypie
(Midwestern comfort food with locally sourced ingredients).
National Avenue around 6th Street has several Mexican restaurants, although they can also be found throughout the entire south side.
Splurge
Bakeries
Part of Milwaukee's food culture is high expectations and hard-set habits when it comes to bread and sweets. Eat your way through Milwaukee immigrant history, without even having a meal.
phone: +1 414 272-4623

address: 1101 E Brady St

A Milwaukee classic for Italian bread and macaroons. Also check out the Italian grocery Glorioso's, kitty-corner.

phone: +1 414 486-7747

address: 1100 E Oklahoma Ave

A relic of one of Milwaukee's original Italian neighborhoods. This was the sort of place the Italian communists and anarchists probably fought over, back in the day.

phone: +1 414 672-1830

address: 1100 W Historic Mitchell St

Mexican bakery.
Custard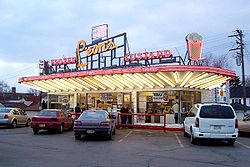 Of course the largest city in America's Dairyland has perfected its own style of turning milk into frozen enjoyment. Custard is not-your-daddy's soft-serve. Its thick- made fresh with egg yolks and lots of cream so there are only a few flavor choices: vanilla, flavor of the day, and maybe chocolate. Oh, and don't call it ice cream.
There are a handful of other places to get custard in and around the city. Most people have a favorite but will settle for anything, its hard to go wrong.
phone: +1 414 988-2521

address: 205 S. 2nd Street, Milwaukee, WI 53204

A super-premium, hand-crafted artisan ice cream parlor with many unique and interesting flavors. They often have collaboration flavors with ingredients from other local businesses.
Drink
Cafes
Milwaukee has a strong culture with a large number of unique local places despite the onslaught of Starbucks. Some are open late, until Midnight or so.

Roasters

Nightlife
There's no shortage of night life in the Brew City. Milwaukeeans spend more (per capita) on entertainment than the citizenry of any other major American city, and you can bet that a good percentage of that entertainment is served in liquid form. Despite the amount of money spent on it, drinking is still very cheap. Expect to pay $4 for a decent local beer or import, $2 for a Pabst, Hamm's, Old Style or Schlitz. Read the specials boards, there are often great deals, for instance, a pint of a dark local micro-brew for $2 several places on Thursday and many places have $1 PBR or Old Style. Cover is only charged at some places with live music, bigger clubs, or if there is a special very cheap drink night. Every bar can serve you mixed drinks, but wine is less popular. Closing time is an early 2AM during the week and 2:30AM on Friday and Saturday. All retail alcohol sales stop at 9PM.
With 957 licensed taverns its hard to go thirsty. There is a corner bar at least every few blocks, no matter where you are in Milwaukee. Plus there are several handfuls of licensed dance halls (what kids call clubs and venues these days), if you want to get your groove on. Other popular nighttime activities include bowling (black-light bowling at midnight), movies, concerts, and theater.
Many of the main places to go out in Milwaukee are concentrated in a few different areas, which are easy to walk around and bar-hop within. Cabs are also easy to hail Downtown and on the East Side.
Downtown the biggest bar street is Water St with a heavy drinking scene. Across the river to the west is Old World 3rd St with some German-inspired taverns and sports bars (it's near the Bradley Center arena). Back across the river and up the hill to the east is Milwaukee Street, hosting a wide range of classier, more upscale small bars.
The East Side has two of the city's main bar areas: on Brady Street and on North Ave between Oakland and Prospect.
Brady Street is full of people outside during the summer and has a mix of different bars, cafes, and restaurants.
North Avenue is a few blocks north of Brady and is a very popular bar street, especially with the college crowd. There are a number of bars within a few blocks of each other on North and side streets.

Riverwest houses several bars and venues reaching across the neighborhood. Its a mix of DIYers, hippies, and hipsters. A great place to easily experience the Milwaukee neighborhood atmosphere.
The Third Ward has a number of places in old warehouses right on the river, several blocks south on Water Street from the main bar area, as well as on Broadway one block east. Places here tend to be a little more upscale and draw a yuppie and middle aged clientele.
The Fifth Ward/Walker's Point, just across the river and a few more blocks south, is the hub of gay nightlife but has some straight bars and Latin-themed places too. There are a number of places, mainly along S 2nd St and National Ave. There are also a few places south of the Allen Bradley Plant (with the huge clocktower) on 2nd and 1st Streets.

Bay View to the South has many bars scattered throughout the neighborhood. Kinnickinnic Ave is lined with bars between Bay and the Lake Parkway, and there's another cluster near the lake at Russell and Superior. There are lots of really old-school places here. If you're not staying here and are drinking, plan how to get back, as the last buses run at 2AM and taxis are expensive if you are going further than Downtown.


Sleep
Visitors to Milwaukee find it easiest to stay in or near downtown, where most of the city's hotels are. Milwaukee does have a new hostel which recently opened and the city has an array of hotels to meet most budgets. There is a small
bed and breakfast
district on the Westside.
Cheap hotels can be found on the Near South Side as well as the North Side, the quality of these tends to reflect the average quality of life in the areas these are in, hence may not be up to the standards of relatively affluent travelers.
More generic cheaper hotels are outside the urban city. For instance, there is a strip of budget hotels on College Ave near Mitchell International Airport. Near most interstates you can also find chain hotels.
Bed and Breakfast
There are several B&Bs in the Concordia Historic District on Milwaukee's West Side and near Marquette University. These are great and historic late 19th-century mansions that have been converted to outstanding Bed and Breakfast Inns:
phone: +1 414 931-7597

address: 3026 W Wells St

On the Westside next to Downtown in the Bed and Breakfast district.

phone: +1 414 342-3210

address: 3209 W Wells St

On the Westside next to Downtown in the Bed and Breakfast district.

phone: +1 414 342-9767

address: 3046 W Wisconsin Ave

On the Westside next to Downtown in the Bed and Breakfast district.
There are also some B&Bs elsewhere:
phone: +1 414 483-1512

address: 346 E Wilson St

In Bayview.
Budget
phone: +1 414 510-2181

address: 500 E. Center Street

New hostel in Riverwest neighborhood. Dorm room with bunk beds with limited number of private rooms available. A kitchen is on premises if you wish to cook your own food.
Downtown
phone: +1 414 933-6000

address: 725 N 22nd St

West of Downtown. Known to be far less than perfect in security, cleanliness, etc.

phone: +1 414 265-5629

address: 1840 N 6th St

North of Downtown surrounded by transitional neighborhoods and well-established and intriguing public housing projects. Discover concierge service and high speed internet.
North Side
There are a few family-run motels along Appleton Avenue to the Northwest:
American Inn Motel

phone: +1 414 444-2360

address: 6798 W Appleton Ave

A family-run motel on the north side.

Park Manor Hotel

phone: +1 414 461-4587

address: 7730 W Appleton Ave

A family-run motel on the north side.

SJP Motel

phone: +1 414 461-8050

address: 7021 W Appleton Ave

A family-run motel on the north side.
South Side
National Avenue Hotel

phone: +1 414 643-9088

address: 1700 W National Ave

Rough.
Airport
Mid-range
Splurge
Stay safe
Milwaukee, like all major American cities, has a relatively high crime rate. Since most crime is concentrated in specific poorer areas, the majority of the city is perfectly safe. Though virtually all tourist destinations in and around Milwaukee are safe and accessible during the day and night, common sense should always apply. Like anywhere else, it helps to be aware of your surroundings. As in most American cities, dangerous neighborhoods tend to be very run down.
The areas of Milwaukee along the lakeshore (also where most attractions are) tend to be the safest.
The west and south sides of Milwaukee also offer interesting tourist opportunities that include Milwaukee's famous Basilica and Frank Lloyd Wright's Greek Orthodox church. Crime can happen anywhere; don't let geographic stereotypes dictate your travels.
The area bounded by I-43 on the east, Capitol Dr on the north, North Ave on the south and Sherman Blvd on the west contains some of the poorest areas of the city and is especially dangerous. The Near South Side also has serious gang-related crime problems but is fine during the day, especially along the main commercial streets.

Connect
Newspapers
Many community and neighborhood oriented weekly papers are offered for free in cafes and coffee shops.
Cope
Also, the suburbs of Ozaukee, Waukesha, and Racine Counties have a reputation for being politically and socially conservative. It's your best bet just to go with the flow here. If you are an LGBT visitor, displays of affection will turn heads in these areas. Some suburbs are even more conservative than the rural parts of the state. Milwaukee is not as socially liberal as
Madison
, although people in Milwaukee are overall tolerant of each other, even if many of the assorted social and ethnic groups tend to avoid each other. Clique culture is big in the region and many people grew up together so don't be surprised to get an unfriendly reception from some people you meet being an outsider. Dressing in a non-conservative manner here (keeping up with fashion trends, v-necks, high fashion, etc.) is generally frowned upon in southeast Wisconsin and will get you some funny looks from locals so if this kind of attention bothers you then pack accordingly. The city is becoming more and more laid back.
Consulates
phone: +1 414 847-6154

address: 330 East Kilbourn Ave., Suite 1100 Tower 1
Go next
phone: +1 262 968-4110

address: S43 W31575 Depot Rd, Genesee Depot

Ten Chimneys is the estate lovingly created by Broadway legends Alfred Lunt and Lynn Fontanne. With no ropes and nothing under glass, guests are treated to a VIP guided tour of a National Historic Landmark replete with original furnishings and overflowing with the romance of the 1930s and '40s.
Cedarburg
is a well-known small town 20 miles north of downtown Milwaukee in Ozaukee County. Its downtown is listed on the National Register of Historic Places and is the location of many popular festivals throughout the year. Take I-43 to well-marked Cedarburg exits.