Minō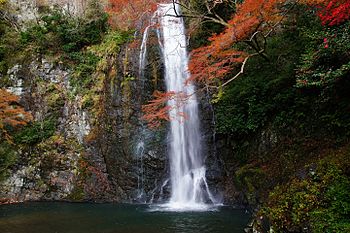 Minō
() is a city in
Osaka (prefecture)
.
Get in

Take the Hankyu Takarazuka line to Ishibashi and change to the Minoh Line. Railway buffs take note: this was among the first pieces of the Hankyu railway system.
You can also take the Subway Midosuji (Red) line to Senri-Chuo station and then at bus stop 11 you can catch either the 19 or 20 bus to Minoo Station (箕面駅). The 19 takes you past a hospital and takes about 10 minutes longer than the 20. The bus ride takes 15 to 25 min depending on traffic.
Buses run from Senri-Chuo every 15 minutes until about 22:00.
There is a flat fare of 210 yen for adults.
You can also take a taxi. Taxi's generally cost about ¥1,400. It varies depending on the time and day. Weekends are usually more expensive.

Get around

The main sights in Minō Park can be reached on foot.
If you want to visit Minoo VISOLA, a large shopping mall with many fun shops and a movie theater with one of the only IMAX screens in Japan, you can take the 19 or 20 bus from Minoo Station to Kayano-chuo bus stop. If you leave from Senri-Chuo station, there is a loop bus that runs every fifteen minutes from the same bus stop as the 19 & 20 buses. You can also take the 19 or 20 buses and get off at Kayano-chuo Gakko Mae stop.

See
Minō Koen 箕面公園 (follow the signposts and hikers from the train station). Quiet, secluded, heavily wooded Minō Park is a great place to get away from the concrete and bustle of the big city. Easy walking paths follow a burbling brook up to a 33-m-tall waterfall, where wild monkeys spend time when they see fit. You may also see deer.
The park features cedars and momiji (Japanese red maple). The best time of year to visit Mino Park is late November. During the fall, it is the arguably the best place in
Osaka
to see the changing leaves.
Along the path that leads to the waterfall, which is about 3 km long, (and uphill for the last half) there are a number of cute little shops that sell souvenirs (omiyage) and serve Momiji-tempura. Momiji-tempura is breaded & fried maple leaves. They are sweet and surprisingly delicious. They are only found in Minoo.
There's also a small insect museum about 20 min up the path.
Minoh beer is a tasty microbrew that you can buy from shops on the walk between the station and the entrance to the park.
There are also a number of small cafes mixed in with the shops. They generally serve traditional Japanese fare such as soba or udon. Many of these places are seasonal & some are not open in winter.
About half way between the train station and the waterfall you will pass Ryuanji Temple. It is part of the Shugendo mountain worship religious sect and has a number of interesting buildings, some of which you can enter.
The park also has a number of other hiking trails for more serious hikers. Most of them lead to scenic overviews or into the hills beyond the waterfall.
Do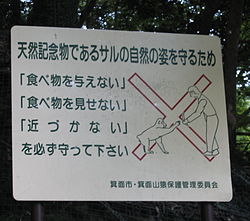 There are a number of things to do in Minoo.
The most popular place to go is up into Mino Park to visit the waterfall.
In 2011 an Ashiyu (foot onsen) opened next to Minoo Station. It is lovely.
There are also a number of regular hot springs you can visit as well.
On the path up to the waterfall you pass Minoh hotel - it features a large run-down and expensive onsen (hot-spring) resort. There are many, much better onsens in the area. If you do decide to go, get ready to be nickel and dimed for everything. The elevator up to the resort is ¥100 per person (but the view is worth it). To use the Onsen, its ¥1300 for adults, ¥900 for kids. Next, get ready to pay ¥50 for the locker for your shoes, then ¥100 for your clothing locker. Then you get down to take the bath, and for all your money, there is no soap or shampoo! Yep, you guessed it, get ready to shell out another ¥300 for soap. Probably the biggest waste of money for taking an onsen in the entire Kansai region, if not the whole of western Japan. The men's onsen requires walking down two flights of slippery stairs (while butt naked). If you have disabilities that hinders movement you should avoid this onsen entirely.
Mino is also known for having the first Mister Doughnut shop. It is located in Minoo Station area and well worth a visit.
You can also take the 19 or 20 bus to Minoo VISOLA, a large and beautiful shopping mall. There is also a loop bus from the same stop.
Buy

There are small shops along the path to Minō Waterfall, with most of the usual souvenirs - albeit with a few more plastic bugs than usual, owing to the insect museum. The other main themes in the shops are owls, monkeys & momiji.
You can also see a number of shops featuring red & white pottery that is only found in this area.

Eat

The local snack and souvenir specialty is small maple leaves slowly deep fried in batter. They are sweet and crunchy. They are usually sold in small bags or cups & generally more delicious when warm.
The area close to the waterfall has several shops selling a variety of food. If you are not interested in soba, udon or fish you should bring a sandwich or a picnic with you. Don't worry about bringing drinks... there are many vending machines along the path.
There are also two convenience stores in Minoo station. You can buy drinks, sandwiches & a number of other things to take with you. Beware though: the monkeys love plastic bags! If they're in the area they might come down and try to steal your lunch.

Drink

Minoh beer is produced by microbreweries in Minoh. You will find it for sale at most of the shops on the street between the station and the entrance to the park.
You can buy beer and other drinks from the shops near the waterfall, but these are about twice the price you could buy them for at the convenience store near the station.

Sleep

Travelers may wish to look for accommodations elsewhere, as several major cities are within easy reach (see below).

Go next