Minas
Minas
is the capital of Lavalleja Department, located in the rolling hills of the
central interior
of
Uruguay
.
Understand
The name of Minas is derived from its former meaning as a mining town. What is left is a large concrete production plant and mine to the west of the city.

Get in
Buses are available from
Montevideo
as well as from various cities in eastern Uruguay.
See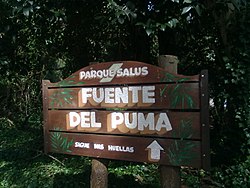 In the city
Casa de la CulturaLocation of several museums. This was the original home of Juan Antonio Lavalleja, who participated in the Uruguayan war of independence against the Empire of Brazil. Also includes exhibits on the musicians Eduardo Fabini and Juan José Morosoli, on the first inhabitants of the city in the 18th and 19th centuries, and on gauchos (South American cowboys, an important part of Uruguayan national identity), among others.

Catedral de la Inmaculada Concepción de MinasThe headquarters of the Diocese of Minas. The current neoclassical building opened in 1892. It was preceded by two others, the first opened in the late 1700s and the other in 1845. It is located on a wide street, across from the main plaza.

Museo de Réplicas en Miniaturas

phone: +598 44423464, +598 99432405

address: Carabajal 320, Minas

A miniature museum of a local artist with even a miniature model of the local museum building (and its tower) at Juan Farina street.

Plaza LibertadIn the middle of the plaza is a monument to General Juan Antonio Lavalleja, a bronze equestrian statue unveiled in 1902.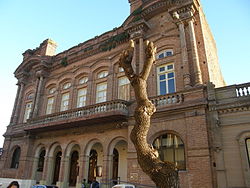 Teatro LavallejaOpened in 1909 and built in an eclectic style with a bare brick front by the architect Cayetano Buigas y Monravá. In 1992 it became the location of the Museum of Humor and Comics (Museo del Humor y la Historieta), and since 1995 it has been the venue for the annual Morosoli Prize.
Nearby
Cerro ArequitaA famous hill with caves. Nearby is the Isla de Ombues which is the largest group of giant Ombu trees in the world.

Salus ReserveA nature reserve belonging to the bottled water company Salus. It comprises 1300 hectares of hills, forest, scrubland, and meadows, including the famous Fuente del Puma. Includes numerous wild species of native flora and fauna.

Valle del Hilo de la VidaAnother nearby attraction with precolumbian tumuli.

Virgen Del VerdunA beautiful and very sacred place with an impressive monument at the top of a 325 m high hill. In addition, great views of Minas and the surrounding area. Busiest on April 19th, for the Patron of Uruguay.
Eat

The Minas area is famous for alfajores, sandwich cookies with dulce de leche filling. You can find alfajores anywhere in Uruguay, but the ones made around here are said to be the best. They're very very sweet.

Sleep
Hostel De La Rivera

phone: +59892167246

address: 380, Ituzaingó

Decent hostel with dorms and doubles, and including breakfast for an unbeatable rate, when reserved directly. Lockers, living area, AC, though no stoves but just a microwave and water heater.