Mindanao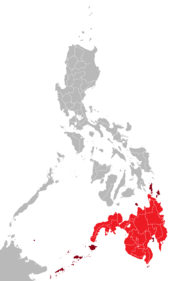 Mindanao
is an island in the
Philippines
, the southernmost major island in the country and the second largest, after
Luzon
.
Regions
For administrative purposes, the Philippine government divides the country into three main regions —
Luzon
,
Visayas
and Mindanao. The Mindanao region includes Mindanao island (shown in red on the map) plus a number of smaller ones nearby (in maroon); the
Sulu Islands
are off to the southwest, Dinagat and
Siargao
are to the northeast, and the small island province of
Camiguin
is in the strait between Mindanao and
Bohol
.
Mindanao is divided into 5 regions administratively. This guide uses the regions the same as those used in administrative terms:
Cities
or CDO, the most important city on the north coast
, toward the southeast, the largest city on the island and 3rd in the country
, on the south coast
, northeast of CDO
, in the middle of Mindanao
, in the southwest at the tip of the Zamboanga Peninsula
east of Ozamiz.
north of General Santos.
north of General Santos.
Other destinations
- Waterfalls, lakes and Lumad (T'boli) culture
– The highest mountain in the Philippines, and also, Mindanao.
, a UNESCO World Heritage site
– Surfing destination off the northeast Pacific coast
Understand
How dangerous is Mindanao?
Western governments all advise caution
anywhere on Mindanao, and all agree that travellers should avoid
Bangsamoro
,
SOCCSKSARGEN
and
Zamboanga Peninsula
; see the warnings in those articles. Most suggest avoiding much of the rest of Mindanao as well. The Philippine government says many of the advisories are overstated or cover a broader area than needed.
See these advisories:
Australia
Canada
Ireland
NZ
UK
US
See also our article on
War zone safety
if you plan to travel in high-risk areas.
If you travel anywhere in the Mindanao region, most insurers will not pay out if you make a claim.
There are some western travellers in parts of eastern or northern Mindanao, like
Camiguin
or the surfing destination
Siargao
, and cities like
Davao
and
Cagayan de Oro
have quite a few foreign residents. Most of these people have encountered few problems and feel reasonably safe.
However, some tourists were kidnapped near Davao in late 2015 and later murdered, a bomb was set off in a busy Davao market in September 2016, causing many deaths, and in May 2017 radical Islamists more-or-less took over the town of
Marawi
and the national government declared martial law in all of Mindanao.
There is quite obviously some risk anywhere in the region.
History
Mindanao has a long, complex and remarkably colorful history. To settlers, it is commonly called
Lupang Pangako
, or the "Promised Land", with its wealth of resources that remain untapped. Much of the region's history circles on a long, ongoing ethno-religious conflict between Christian migrants and native Muslims; religious clashes have been going on since the arrival of the Spaniards on the island in the late 1500s.
Until the late 19th century, almost the entire northern coast of Borneo and parts of the Philippines — more-or-less everything from
Sarawak
to Mindanao — was heavily infested with
pirates
, and most of the area was ruled by pirate kings. The Sultanate of Sulu ruled all of the Sulu Islands and
Palawan
plus parts of Borneo and mainland Mindanao, and its capital
Jolo
(on Sulu) had a great slave market. The Spanish, the British, the Sultan of
Brunei
, the White Rajas of Sarawak, and later the Americans fought wars against the pirate kingdoms and eventually shut them down, but it was quite a struggle.
Pirates from Mindanao often raided towns in other parts of the Philippines. Towns like
Altavas
and
Bolinao
were built inland to avoid them, while others had fortifications or a warning system like the
Dumaguete bell tower
. This may not be entirely ended; in 2001 a group based in
Basilan
grabbed 20 hostages near
Puerto Princesa
in
Palawan
and in 2015 another bunch grabbed four near Davao. In both cases the raiders arrived by boat and some hostages were eventually murdered.
The Moros vigorously resisted Spanish, American and Japanese rule for several reasons: Moro nationalism, anti-colonialism, Islam, and piracy. Today some are still resisting the Philippine government. The
Autonomous Region in Muslim Mindanao
(ARMM) was established in 1989 to give them partial independence, and a peace deal between the government and the largest Moro militia group (Moro Islamic Liberation Front or MILF) was signed in 2012. However there are still armed rebel groups in some areas and a substantial Philippine military presence to suppress them; the two sides reportedly have ties to Al Qaeda and the CIA respectively. On January 2019, ARMM was replaced by the
Bangsamoro
region after a successful plebiscite.
Moros still talk about a battle at Bud Dajo on Sulu in 1906 where, according to Moro accounts and American critics of the war such as Mark Twain, American forces massacred almost 1000 people, mostly women and children. Some draw parallels with current events; naval guns were used at Bud Dajo to kill at a distance, much as drones are used today. In official American accounts it was a justified counter-insurgency action with some collateral damage, many of the women were armed and some of the children were being used as human shields.
Geography
Mindanao occupies about , or about 33% of the of the Philippines' territorial area, making it larger than countries such as the Netherlands, South Korea, and Austria, to mention a few.
Mindanao has the greatest variety of terrain, having ten mountain ranges, two plateau areas, and many swampy lowlands. Most of the island have scattered mountain ranges, but the central and eastern parts has the most mountains, and sprawling plains between them, especially in the
SOCCSKSARGEN
region.
Most of Mindanao are covered with rainforest and some peat swamps, but they have been mostly cleared out for farmland and a few oil palm plantations.
Off the southwest end of Mindanao are the
Sulu Islands
, a chain leading almost all the way to
Sabah
, which is the easternmost province of
Malaysia
, located on the island of
Borneo
.
People
Mindanao's population has been diverse since the Spaniards established outposts in the northern parts of the island and the Americans occupied the region after the Spanish left. With a population of over 28,000,000 (2015 figures: over 22% of the Philippines' total), it is the second most populous island of the Philippines and the eighth in the world.
Most of Mindanao's non-indigenous people are of Visayan, and occasionally Ilocano and Tagalog heritage, mostly migrants brought by American-era resettlement programs in the 1930s. They form over 50-60% of the population.
The southwestern portion of Mindanao, from the Sulu Archipelago to Maguindanao and the Lanao provinces, is the homeland of the
Moro
(Filipino Muslim) people, which are rather a grouping of ethnic groups which practiced Islam long before the Spaniards arrived.
A predominantly Muslim group called
Badjao
or "Sea Gypsies" live mostly on boats and are found in the Philippines, Malaysia and
Indonesia
. There has always been extensive trade between Mindanao and Borneo, and the Badjao do much of that trading. They are also found in most other parts of the Philippines, and are often stereotyped as beggars and vagrants due to their nomadic lifestyle.
The rest of Mindanao are traditional lands by
Lumads
, an animistic people, rather an umbrella term for all the non-Muslim indigenous peoples of Mindanao. The Lumads lived in the rainforest, until Christian immigrants, primarily Cebuano, Hiligaynon, and Ilocano under American-era resettlement drove them into the mountains. The situation of the Lumads is uncertain; Lumad communities are suspected to harbor communist insurgents hiding in the forest and are threatened to be bombed by the armed forces. Fortunately, the Lumad culture remains alive, and festivals presenting their culture are held in many cities.
Climate
| City | Average temperature in January | Average temperature in May | Average annual rainfall |
| --- | --- | --- | --- |
| High | Low | High | Low |
| Davao | | | |
| Butuan | | | |
| Cagayan de Oro | | | |
| Cotabato | | | |
| General Santos | | | |
| Surigao | | | |
| Zamboanga | | | |
Being 10 degrees north of the equator, most of Mindanao have a tropical climate, with just two seasons, though it really rains at any time for each season. In reality though, the climate is far from uniform, with the northern and eastern parts of the island which faces the Pacific generally wet all year, and the southern and western parts mostly hot and dry.
Mindanao can be said to be outside the typhoon belt, but it can be struck by typhoons during the final months of the year.
Get in
By plane
Francisco Bangoy International Airport
in Davao City (
DVO
) is the main port of entry by plane, and there are international flights from Singapore (on Silk Air), Hong Kong (on Cathay Dragon), Doha (on Qatar Airways) and Quanzhou (on XiamenAir). Laguindingan Airport (CGY) is the second most important airport, but only receives domestic flights and has a short runway which cannot accommodate larger aircraft.
The other airports with regular flights are:
Zamboanga, Pagadian, Dipolog, Cotabato, General Santos, and Butuan, can accommodate flights using jet aircraft, but the others are only capable of accommodating turboprop planes.

By ferry
Ferries connect Mindanao with Luzon and Visayas, and internationally from Malaysia (Sandakan) and Indonesia (Bitung).


By bus
Philtranco has buses from Davao, Cagayan de Oro, Butuan, Tandag, Bislig, Tagum and Surigao going to/from Manila via Tacloban, Calbayog, Legazpi City, Naga and Lucena.
There are Ceres buses from Dumaguete to Zamboanga, starting with a Dumaguete-Dipolog ferry.

Get around
By bus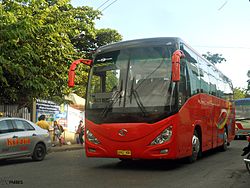 Mindanao's long-haul bus services are dominated by the
Bacolod
-based
Yanson Group of Bus Companies
(YCBC), which operates under three brands,
Bachelor Express
in eastern Mindanao,
Rural Transit
in western Mindanao, and
Mindanao Star
in the northern and central regions. The other major bus lines in Mindanao island are
Super Five
,
Yellow Bus Lines
and
Davao Metro Shuttle
.
Most cities and towns in Mindanao have one centralized bus station, generally outside dowtown. The hub cities, Davao, General Santos and Cagayan de Oro, have one central terminal providing easy transfers between bus lines, though Cagayan de Oro is an exception, with two separate terminals, which means you have to take local public transport to reach the other terminal. For example, if transferring from a bus coming from anywhere in western Mindanao to a bus headed for Davao, you must take a jeepney or a taxi to the terminal for trips to eastern Mindanao.
By plane
Flying is a possible alternative to the slower provincial buses for long distances in Mindanao, and are the only way to get between the mainland and Sulu Archipelago aside from the ferries.
Cebu Pacific
and
Cebgo
flies to Cagayan de Oro and Zamboanga from their Davao hub and to Cotabato City and Tawi-tawi from Zamboanga, while
PAL Express
flies to Zamboanga and Siargao from Davao and to Tawi-tawi via Zamboanga.
Talk
Most Mindanao residents speak
Visayan languages
like
Cebuano
(often called Bisaya by the speakers themselves) and
Hiligaynon
as their first language, reflecting the Visayan background of most of its migrant population.
Ilocano
can be encountered as well, especially in inland Cotabato where some Ilocos residents settled back in the 1930s. English and Filipino is spoken and understood as well for their official status.
Languages native to Mindanao are numerous; among the notable of them are
Surigaonon
in the Surigao provinces of
Caraga
,
Maguindanaoan
in
Maguindanao
,
Maranao
in the Lanao provinces, and
Tausug
in Sulu. The animist, jungle-dwelling Lumad also speak their own languages but are less useful as they can speak in Cebuano, Hiligaynon, or the lingua franca of their area.
The Spanish-based creole language
Chavacano
, is spoken and understood as a first language in Zamboanga City and Basilan.
Stay safe
See the information box in the
Understand
section.