Mine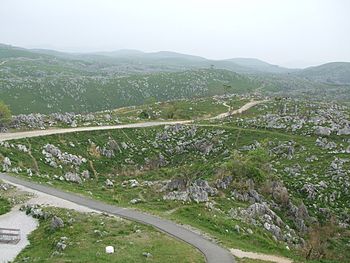 Mine
(美祢市
Mine-shi
, pron.
mee-neh
not like English "mine") is a city in
Yamaguchi Prefecture
. It has about 26,000 residents (as of 2016).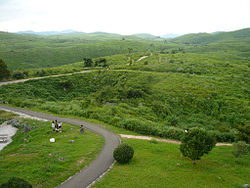 Understand
The name literally means "beautiful ancestral shrine", although the name may also have come from the city being surrounded by mountain peaks, or mine (峰) in Japanese. It's probably a coincidence that there was mining at the nearby Yamato Mine (previously called Ofuku Mine) during the 20th century.
Akiyoshi is made of limestone, which is believed to have developed from coral reefs back in the Paleozoic era. Trees said to have appeared in the area for the first time 500,000 years ago. Many fossils from ancient Japanese rhinoceroses, tigers, and elephants have been escavated from the plateau, giving scientists some idea of what sorts of creatures first inhabited the region. Because the area is made of limestone, Akiyoshi Cave, the largest cave in Japan, formed over a span of 300,000 years. Today the cave is estimated to be 420,000 m³.
Akiyoshidai is largely covered with grass. Its grassland is the second largest in Japan and is kept by burning off dead grass in February. You can see thousands of limestone rocks all around Akiyoshidai, as is characteristic of karst.

See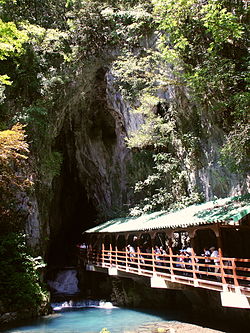 phone: +81 837-62-0304

Towards the southern end of Akiyoshidai is the Akiyoshido cave, named by Emperor Hirohito in 1926 when he was crown prince. This cave is up to 100 m wide and has almost 9 km of passages, making it the longest in Japan and one of the longest in Asia. An approximately 1 km-long section of the cave is open to the public as a sightseeing course, with a walkway and bridge system, entering at the cave's lowest point and exiting by an artificial elevator. This portion of the cave is also well decorated with a variety of large and colorful speleothems. Akiyoshi Cave and the main observatory can be reached on foot, but cars or "karst taxis" are necessary to reach other caves. A one-day taxi pass costs ¥800.

Akiyoshidai Quasi-National Parkincludes the Akiyoshidai (秋吉台, Akiyoshi plateau) and Japan's longest cave, the Akiyoshido (秋芳洞), the latter of which is designated a Special Natural Monument. Akiyoshidai is served by a natural history museum, visitor center, rest house, youth hostel and park headquarters building, and is traversed by a scenic roadway and several walking trails. Events include a fireworks festival in July, a "Karst Walk" in November, and an annual burning off of dry grasses in February called Yamayaki. Akiyoshidai is a part of the largest karst topography in Japan. The park is best reached by direct bus from Shin-Yamaguchi Station, though there is also service from JR Yamaguchi Station, Hagi, and Shimonoseki.
Go next