Minneapolis/Downtown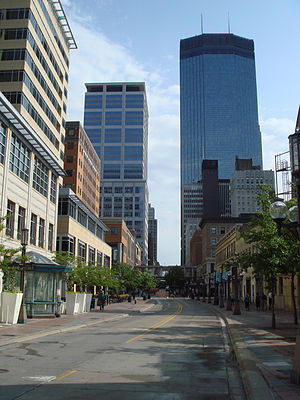 Downtown
is the central business district of
Minneapolis
. It is sprinkled with architecturally interesting skyscrapers, most of which are interconnected, mainly on the second level above the street level, by a growing web of skyways, now approaching eight miles in total length. Nicollet Mall is the main semi-pedestrianized shopping street in downtown Minneapolis. Downtown proper is anchored by the Downtown East, Elliot Park, Loring Park, and North Loop neighborhoods.
Get in
By METRO Light Rail
The
Blue Line
and
Green Line
run on 5th Street through Downtown Minneapolis. The Blue Line links to
South Minneapolis
, the airport, and the Mall of America in
Bloomington
, while the Green Line links to the
University of Minnesota
and
Saint Paul
. The METRO is probably the easiest way to get into Downtown if you are coming from any of those areas.
By commuter rail
The
Northstar Line
runs from the northwest suburbs and terminates in Downtown Minneapolis at
Target Field Station
, which is also a transfer point to the light rail. However, service hours are limited and geared more towards weekday commuters than average visitors. Trains mostly run inbound during weekday mornings and outbound during weekday afternoons. There is also some limited service on weekends and special service timed around Twins and Vikings games.
By bus
Numerous buses serve Downtown Minneapolis, far too many to name individually. Local buses from
Southwest
or
Northeast Minneapolis
generally run along Hennepin Avenue or Nicollet Mall (a pedestrian/transit mall). Buses from the
University of Minnesota
and
Saint Paul
mostly run along 4th Street. Buses from
North
and
South Minneapolis
are less predictable, and may run along 4th, 6th, 7th, 8th, or 9th Streets depending on the route and the direction it is traveling in.
By car
Interstate 35W from the south suburbs or the northeast suburbs.
Interstate 94 from Saint Paul and the east suburbs or the northwest suburbs.
Interstate 394 from the west suburbs. I-394 directly connects to some parking garages along the western edge of downtown.
Hiawatha Avenue (Minnesota State Highway 55) from the airport and the southeast suburbs.
Get around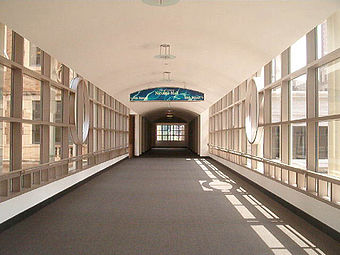 Although most of the city's grid is along a strict north-south/east-west layout, the area near downtown on both sides of the river lies at an angle to the rest of the city's grid to better align with the river. Here streets run parallel to the river, and avenues run perpendicular (except for Washington Avenue, which parallels the river). Downtown contains mostly numbered streets and avenues, although a few important ones are named. Most of Downtown is within South Minneapolis, although the Warehouse District extends into North Minneapolis. This is the only part of town, other than the West Bank, where you will encounter streets as well avenues designated "South". The intersection of S 2nd Ave and S 5th St is many blocks from the intersection of S 2nd St and S 5th Ave!
Much of downtown uses a series of
Skyways
to connect downtown shops and businesses. Navigating the skyway system can be confusing since one often has to take a curcuitous route to reach their destination. However, it's often a welcome alternative to walking outside in Minneapolis' harsh winter cold. For example, one could walk from the Convention Center in Minneapolis to Washington Avenue (a block before the Mississippi) without going outside, and without stopping at a pedestrian traffic light. Interstate 394 feeds into heated parking garages, so that a Wayzatan suburbanite could enter her vehicle, drive the length of 394 to the heated lot, go to work, shop at Target or Neiman-Marcus, see a movie, have dinner, and return home - all without having to wear a coat or change clothes, even in weather.
If you get tired of walking, Metro Transit buses are only $0.50 per ride within the
Downtown Zone
; keep in mind that no transfers are issued when paying the downtown fare. You can also ride a light-rail train between Target Field and U.S. Bank Stadium stations for this same fare. In addition, certain buses on the Nicollet Mall are marked "Free Ride"; specifically, they are the northbound Route 18 and southbound Route 10 buses. You can board these buses without paying a fare.
See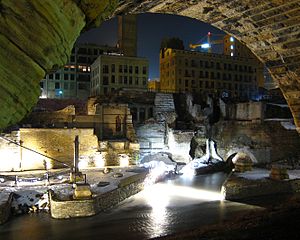 Music Wall

address: 94 S 10th St

Giant five-story mural on the side of the old Schmitt Music Building, considered a landmark of the Minneapolis music scene.
Parks and gardens
Museums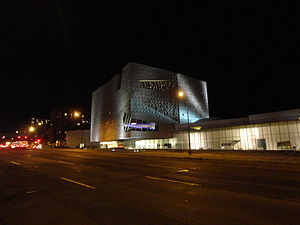 phone: +1 612 215-3783

address: 821 Marquette Ave

Museum of the Foshay Tower, the former tallest building in Minneapolis from 1929-1971. The art deco tower was modeled after the Washington Monument. Outdoor observation deck on the 31st floor offers spectacular views of Minneapolis landmarks.

phone: +1 612 341-7555

address: 704 S 2nd St

This interactive museum, an arm of the Minnesota Historical Society, recounts Minneapolis' history as the flour milling capital of the world. The eight-story "Flour Tower" ride describes life in the mills, and leads to an observation deck atop the Washburn A Mill, formerly the world's largest flour mill.

phone: +1 612 375-7600

address: 1750 Hennepin Ave

One of the "big five" modern art museums in the United States, which underwent expansion in 2005.
Architecture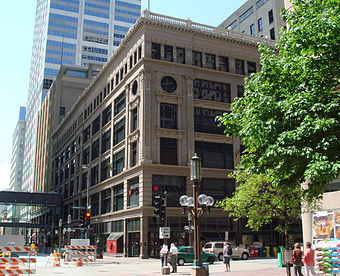 address: 700 Nicollet Mall

This building was once the flagship store of Dayton's, a highly-renowned Minneapolis institution that was the dominant department store chain of Minnesota, and also had some presence in surrounding states. That all ended when it was rebranded as Marshall Field's in 2001; five years later the Marshall Field's brand would also become a thing of the past when the chain was bought by Macy's. The store floundered under Macy's ownership and was closed in March 2017. The building is vacant but is being redeveloped for offices and retail, and is expected to open in 2020.

phone: +1 612 333-1381

address: 88 N 17th St

Opened in 1914 as a pro-cathedral, Pope Pius XI lifted its rank to that of minor basilica in 1926, making it the first basilica in the United States. It serves as co-cathedral for the Archdiocese of Saint Paul and Minneapolis along with the Cathedral of St. Paul.
Do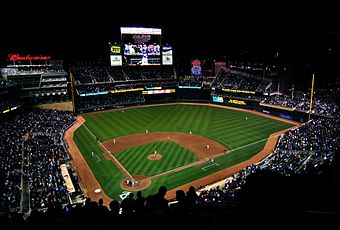 Theater and performing arts
Professional sports
address: 3rd Ave N between 5th and 7th Sts

Opened in 2010, this outdoor stadium is home to Major League Baseball's Minnesota Twins, who moved in after a 28-year-long stint at the since-demolished indoor Metrodome.

address: 600 1st Ave N

Home of the NBA Minnesota Timberwolves and the WNBA Minnesota Lynx basketball teams.

address: 900 S 5th St

New home of the NFL's Minnesota Vikings; also hosts a few early-season Minnesota Golden Gophers (University of Minnesota) baseball games. Fixed-roof stadium built on the site of the Vikings' and Twins' former home of the Metrodome.
Tours
phone: +1 952 888-9200

address: 125 Main Street SE

Ride a Segway as you enjoy the history of the Minneapolis Riverfront area from 10,000 BC to present. Tour goes for 5-7 miles on a beautiful historic route. The tour lasts around three hours and includes a stop for refreshments at the Mill City Museum.

phone: +1 612 338-7777

address: 1300 Nicollet Mall

Tour downtown Minneapolis in a horse-drawn carriage with the Hitching Company. Carriages accommodate up to four people.
Buy
The
Skyways
boast an excellent variety of retailers, and one can find almost anything, though the distances between stores can be very inconvenient. That said, it's like a mall for the agoraphobic or claustrophobic. The best times to find what you want are between 10AM and 2PM, as many excellent food shops are opened just to handle lunch hour.
Nicollet Mall
Nicollet Mall is not an enclosed shopping mall but rather the downtown portion of Nicollet Avenue, one of the major streets in Minneapolis, running more or less north-south. The Mall is a two-lane busway with wide sidewalks that stretches from Washington Avenue to Grant Street, about one mile, and private automobiles are prohibited from it, except for the southernmost block between Rainville Place and Grant Street. Retail is heaviest on the wavy portion of Nicollet Mall, between 5th and 10th Streets. Many national chains such as
Banana Republic
and
Target
all call Nicollet Mall home. The Skyways cross Nicollet Mall in only three places and integrate the indoor malls with Nicollet. Buses running frequently through the Nicollet Mall, the Light Rail running along 5th Street, and numerous parking decks connected to the Skyways combine to provide good access to downtown.
phone: +1 612 339-9200

address: 747 Nicollet Mall

Men's clothing store with in-house tailor. They have been in Downtown Minneapolis (in a couple different locations) since 1936 and started out in Saint Paul in 1916.

phone: +1 612 372-1230

address: 651 Nicollet Mall

A shopping center divided between two adjacent buildings on Nicollet Mall. Gaviidae I and II house exclusive department stores, specialty retailers, and delicious restaurants. Below is a small selection of stores located in Gaviidae Common.
phone: +1 612 333-1091

address: Gaviidae Common I

A floral and small gift store.
City Center

address: 40 S 7th St

A brutalist monstrosity of a shopping center from the early 1980s. It went through rough times at the end of the 1990s and through the 2000s; only now are retailers trickling back in.
Other areas
Eat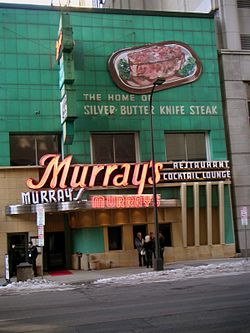 Budget
Mid-range
Splurge
address: 825 Marquette Ave

Voted favorite steakhouse by Mpls.St.Paul magazine.

Murray's Restaurant and Cocktail

phone: +1 612 339-0909

address: 24 S 6th St

Murray's opened in 1946 and could be considered to be the best white tablecloth restaurant in Minneapolis, with prices to match. If on a budget, consider eating during lunch when you can enjoy the atmosphere without worrying about breaking the bank. Or go all out and get the 4-pound golden butter knife steak at over $100 and share it with the entire family.
Drink
Hennepin Avenue
is probably the single best-known street for drinking and clubbing in Minneapolis. The street is lined with late-night bars, dance clubs, and music venues. Similairly
1st Avenue
which is the next street directly west of Hennepin Avenue, is also lined with late night destinations. There is also a good cluster of bars and nightclubs in the
Warehouse District
, which is just north-west of Hennepin Avenue and very much within walking distance.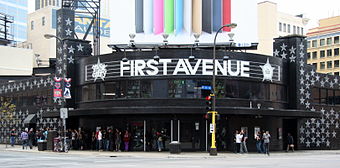 phone: +1 612 332-1775

address: 701 1st Ave N

Probably the oldest and most legendary club in town. Dance nights of various flavors (house, salsa, etc.) are hosted as are local and national bands and the occasional weird event such as pro-wrestling and the roller derby league. Housed in the former Minneapolis Greyhound station, the club is at the corner of 1st Avenue and 7th Street, and can be easily identified by its black exterior decorated with silver stars of all the noteworthy artists who've played there. First Avenue gained national notoriety in the mid-1980s as the club where Prince played out his rivalry with Morris Day and The Time in Purple Rain. The club is divided into two main parts. The Mainroom is where the dance nights are held and national touring acts perform. The Mainroom is regarded as one of the premier sites for live music in the country. Often compared to Chicago's Metro, or San Francisco's Filmore. it offers nightly drink specials and a limited kitchen. The 7th Street Entry is a smaller room off to the side where one is more likely to see local bands or lesser known national touring acts. Don't be put off by the small size. Hundreds of touring bands have graduated from the Entry to become major touring acts. Son Volt, Wilco, The Replacements and Jane's Addiction are among the list of bands that played first in the Entry before moving on to the Mainroom, much bigger venues and even arenas.

phone: +1 612 338-8100

address: 318 1st Ave N

A smaller-sized music club on 1st Avenue, the Fine Line features national and local acts. The main level provides a close proximity to the acts, while the mezzanine offers meals and seating for a more expensive price.

phone: +1 612 332-1010

address: 1010 Nicollet Mall

Upscale jazz club.

phone: +1 612 338-8188

address: 761 Washington Ave N

phone: +1 612 317-8896

address: 700 1st Ave N

A rather small-looking pub with a big inside, this is a good place to go for a pint. They have a nice variety of drinks on tap, from cider to stout to both ("Poor Man's Black Velvet"), and some authentic Irish food in case that isn't thick enough. The help can range from decent to good, and the regulars may even be rather welcoming as well. Fair prices, good beers, and even better food.

phone: +1 612 338-9491

address: 101 Glenwood Ave N

phone: +1 612 333-8800

address: 411 2nd Ave N

Jeans are allowed inside the club, but the following attire is not: No white tennis shoes, baseball hats, athletic apparel, badly ripped jeans, baggy clothing, or white t-shirts.

phone: +1 612 597-2413

address: 821 Marquette Ave

Upscale bar on the 27th floor of the Foshay Tower.

phone: +1 612 333-7755

address: 408 Hennepin Ave

Historically a gay nightclub, these days the straight patrons often outnumber the gay patrons (sometimes to the chagrin of the latter). Six bars contained inside. Large dance floor with live DJ. Drag shows nightly.

phone: +1 612 232-3232

address: 400 1st Ave N

18+ bar and dance club with a live DJ. Generally very loud and very crowded.

19 Bar

phone: +1 612 871-5553

address: 19 W 15th St

This casual gay dive bar is also the oldest gay bar in town. Features pool, darts, an outdoor patio, and cheap beer.
Sleep
Connect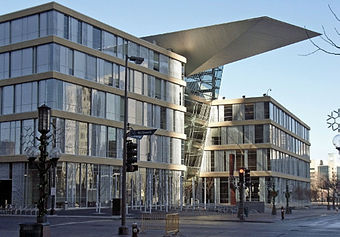 phone: +1 612 543-8000

address: 300 Nicollet Mall

It was designed by Cesar Pelli and opened in 2006, and replaced a hideous 1950s structure that had housed the library. Plenty of computers are available here, and there are plenty of tables on each floor equipped with electrical outlets to plug in your laptop computers if you want to use the free wi-fi.