Minneapolis/Southwest
Southwest Minneapolis
is a district in
Minneapolis
. It includes Uptown, Lyn-Lake, the Wedge, Eat Street, Linden Hills, the popular Chain of Lakes, and other areas. Part of the 50th and France commercial district bleeds into the Fulton neighborhood, but most of it lies in
Edina
.
Get in
Streets run east/west and generally have numbers that increase as you go further south. Nicollet Avenue divides the streets. Append the direction at the end of streets such as W 27th Street to indicate west of Nicollet. Avenues run alphabetically west from Lyndale (Aldrich, Bryant, Colfax) far into the suburban surrounding communities. When the alphabet reaches Z, it starts again at A. Avenues are named in no particular order in a small half-mile band between Lyndale and Nicollet, then numbered east from Nicollet Avenue heading towards
South Minneapolis
, where the numbered avenues continue until you reach
Saint Paul
. The first part of addresses on the avenues are based on the nearest cross street. For example, 4000 France Avenue South is at the corner of France Avenue and 40th Street.
By public transit
Route 2 begins at Hennepin and Franklin and travels east along Franklin Avenue through the Wedge and Whittier neighborhoods before continuing on to Phillips, Seward, the West Bank, and the University of Minnesota.
Route 4 travels along Lyndale Avenue from downtown to 31st Street (passing through Lyn-Lake), and then jogs over two blocks west to Bryant Avenue, which it travels on from 31st Street to 46th Street. At this point, the route splits into two branches, with one going back to Lyndale Avenue and the other continuing on Bryant until 50th Street, where it goes west to Penn Avenue, and then going south from there.
Route 6 travels along Hennepin Avenue from downtown to its end at 36th Street (passing though Uptown), turns west, and skirts the southeastern edge of Lake Calhoun. The route splits in two at 39th Street and Sheridan Avenue; one continues west on 39th Street to France Avenue, then travels south from there (passing through the 50th & France commercial district), and the other travels south on Sheridan Avenue, which merges onto Upton Avenue (passing though the Linden Hills commercial district), turns west on 44th Street, and then continues south on Xerxes Avenue.
Route 11 begins in Columbia Heights and runs through Northeast Minneapolis and Downtown. In the Whittier neighborhood it runs along 3rd Avenue, passing by the Minneapolis Institute of Arts, the Hennepin History Museum, and the Minneapolis College of Art and Design. At 28th Street it jogs over to 4th Avenue in Phillips and continues through western Powderhorn and Nokomis before terminating in the Kingfield neighborhood at 46th Street and Nicollet Avenue.
Route 12 enters Minneapolis along Excelsior Boulevard, which soon ends and merges onto Lake Street. The route continues until its end at the Uptown Transit Station; during rush hours it will continue travelling along Hennepin Avenue into downtown.
Route 17 travels along Nicollet Avenue from downtown to 24th Street, turns west, then turns south on Hennepin Avenue. Past the Uptown Transit Station, it will turn west on Lagoon Avenue, which then merges onto Lake Street, and continue from there into the west suburbs.
Route 18 travels along Nicollet Avenue through the entirety of Southwest Minneapolis, passing through Eat Street along the way.
Route 21 travels along Lake Street from neighborhoods to the east until its end at Uptown Transit Station, passing through Lyn-Lake along the way.
Route 23 travels along 38th Street to Bryant Avenue, jogs two blocks north to 36th Street, then travels west to Hennepin Avenue, continuing north from there until its end at the Uptown Transit Station
Route 46 travels along 46th Street to 34th Avenue, jogs four blocks north to 42nd Street, then travels west to Cedar Avenue, jogs four blocks south to 46th Street, continuing west from there until either Nicollet Avenue or Bryant Avenue, jogs four blocks south to 50th Street and continues from there into the west suburbs.
Route 53 is a limited stop route travelling on Lake Street alongside the 21 (see above); stops are located at Uptown Transit Center, Lake & Girard, Lake & Lyndale, Lake & Nicollet, and Lake & 1st. This service only operates during rush hours, eastbound in the morning and westbound in the afternoon and evening.
By bike
Midtown Greenway is a bike path (grade-separated east of Hennepin) that runs east-west one block north of Lake Street. It continues east into South Minneapolis, and the west end the of the Greenway links to the Southwest LRT Trail that head to St. Louis Park, Hopkins, and beyond.
Kenilworth Trail runs roughly north-south between Cedar Lake and Lake of the Isles. It acts as a connector between the Cedar Lake Trail to the north (a commuter trail running between Downtown and the west suburbs) and the Midtown Greenway/Southwest LRT Trail to the south.
By car
Interstate 35W is along the eastern edge of the district, with exits at Lake Street/31st Street (northbound exit/southbound entrance only), 35th Street/36th Street, 46th Street, Diamond Lake Road, and 60th Street. For northbound travellers, the 31st/Lake exit will be useful for getting to Lyn-Lake and Uptown areas, just travel westbound on either street. Southbound I-35W travellers wanting to get to those two areas should exit onto westbound I-94 (see below).
Interstate 94 is to the northeast of the district. The Lyndale Avenue/Hennepin Avenue exit is useful for getting into the area. Follow Lyndale southbound to get to Lyn-Lake or Hennepin southbound to get to Uptown.
Interstate 394 is along the northern edge of the district.
See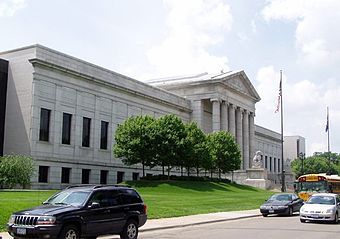 Museums
Parks
phone: +1 612 822-2171

address: entrance along 36th St at the foot of Hennepin Ave

address: 1300 W 42nd St

Home to an arboretum, rose gardens, perennial gardens, peace gardens, and a bird sanctuary.

address: 4525 Upton Ave S

Along the west side of Lake Harriet. Contains a picnic area with a large picnic structure, a playground, and tennis courts.
Do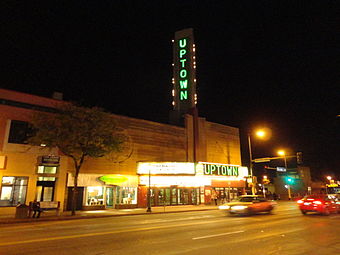 Film
Head to Uptown for some independent film:
phone: +1 612 823-3005

address: 2906 Hennepin Ave

One screen. Films often run for a week or two. Afterwards they sometimes move down to the multi-screen Lagoon Cinema. In addition to the usual concessions, the Uptown Theatre also serves alcoholic beverages in the upstairs bar.

phone: +1 612 825-6006

address: 1320 Lagoon Ave

Five screens.
Lakes
Cedar LakeCedar Lake has a shady public swimming beach.

Lake of the IslesLake of the Isles has bird sanctuaries on its (officially off-limits) islands, and a public skating rink (with warming house) are groomed in the winter months. Check the newspaper; you may get lucky and catch a world-class speed-skating competition here. Its shores also feature some of the best climbing trees in the city, particularly for those who carry a short rope ladder in their pack.

Bde Maka SkaBde Maka Ska has three public beaches and boat rentals (and lessons), and a snack bar that resembles a real restaurant more every summer.

Lake HarrietLake Harriet also has boat rentals near its bandshell.
Theater
phone: +1 612 822-7063

address: 2951 Lyndale Ave S

phone: +1 612 825-8949

address: 810 W Lake St

Vintage bowling alley with a small theater attached, hosting various small-scale theater, improv, and music events. The BLB is also a decent dining and drinking option.
Other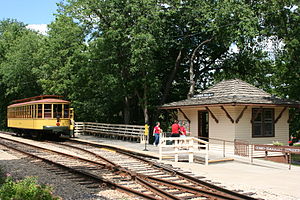 address: W 42nd St and Queen Ave S

Heritage streetcar line running along a one-mile track between Lake Harriet and Bde Maka Ska (Lake Calhoun), which used to be part of a much longer streetcar line that ran all the way to Lake Como in Saint Paul, hence the name. It is operated by the Minnesota Streetcar Museum, which also operates a heritage streetcar line in Excelsior, near Lake Minnetonka. Its fleet includes two streetcars from the 1900s built by the Twin City Rapid Transit Company and one PCC streetcar from the 1940s built by the St. Louis Car Company. Streetcars begin and end their journey at Linden Hills Station located at 42nd and Queen on the west side of Lake Harriet. There is also a second much less used stop on near the east side of Bde Maka Ska (Lake Calhoun) at 36th Street and Richfield Road.
Buy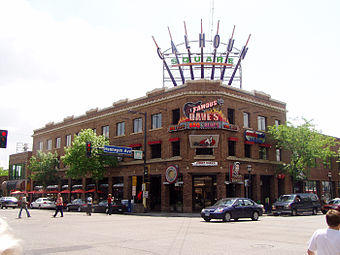 Asian markets
Bookstores
Clothes
Record stores
Eat
Eat Street
Lyn-Lake
Uptown
The Wedge
Other areas
Drink
Alcohol
phone: +1 612 874-7226

address: 2600 Lyndale Ave S

A cheap and popular punk/alternative hangout, a favorite of the Replacements and the setting for their song "Here Comes a Regular."

phone: +1 612 874-8877

address: 2116 Lyndale Ave S

Nominally a restaurant serving unremarkable grease-bomb Chinese food, the Red Dragon is more noted for its alcohol menu. That menu includes the infamous Wondrous Punch, a mixture of four different kinds of rum with a bit of grenadine and fruit juice; one order of punch is plenty for most people.
Coffee
Sleep
There aren't many lodging options in Southwest Minneapolis, but the
Downtown
hotels aren't too far from the Uptown, Lyn-Lake, and Eat Street areas.
Minneapolis International Hostel

phone: +1 612 522-5000

address: 2400 Stevens Ave

This is the only backpackers' hostel in the Twin Cities. Quick walking distance to the Minneapolis College of Art and Design, the Minneapolis Institute of Arts, and Eat Street. A 15 minute walk or short bus ride to Downtown, and a short bus ride to Uptown. A credit card number is required to be on file for every party staying with them.

phone: +1 612 822-5020

address: 1121 W Lake St

A boutique hotel from the Marriott chain that's mostly oriented to a younger crowd. The guest rooms are modern but on the smaller side. There is a bar and lots of common space on the ground floor. The hotel attracts a party crowd and might not be the best option for those seeking peace and quiet.
Connect
phone: +1 612 543-6825

address: 2900 W 43rd St

phone: +1 612 543-8400

address: 2880 Hennepin Ave

phone: +1 612 543-8375

address: 5244 Lyndale Ave S
Go next
Much of the artist community that has been priced out of Uptown moved to Northeast.
If you're still hungry for more Southeast Asian food after eating your way through Eat Street, there's another large concentration in the Frogtown neighborhood of Saint Paul.
If you keep heading north along the trails near Cedar Lake you'll eventually find yourself in Theodore Wirth Park.