Minot
Minot
is a city in the
Lakes and Gardens
region of
North Dakota
with an estimated 48,000 in 2017. Known as the
Magic City
, it's a significant rail hub (for freight, anyway). However, its location deep within
North America
and off the Interstate System generally means you don't see Minot if you don't plan on it.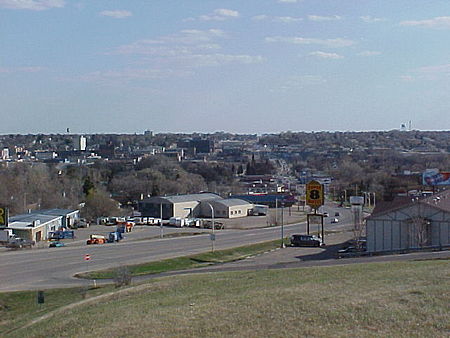 Understand
The Souris River goes through the middle of town, carving a valley in the middle of flat prairie. The town arose in 1880s as a stop along the Great Northern railway. During Prohibition the city became a nexus for alcohol smuggling. After World War II the city settled down into quiet suburbanation. There's a US Air Force base north of town. You can drive to
Canada
in just over an hour.
Minot is a rather unusual city, though possessing levels of services similar to much larger cities, it struggles between small-town and cosmopolitan attitudes. Civic growth is not greatly helped by the climate. T-shirts available at the airport have this motto: "Why not Minot? Freezin's the reason!"
Climate
While North Dakota is typically associated with a cold climate, the weather actually has its extremes, and Minot reaches temperatures of 90s F (sometimes even 100s) in the summer months.
Get in
By plane
By car
Minot's location towards the center of the continent places it well off the beaten path for travelers. Most commonly, visitors are passing by. Often they are taking the scenic route west through
Montana
(or coming from that direction). Also, many Canadian tour buses bound for points east (
Minneapolis
,
Chicago
, etc.) will cross into the US through Portal, and stop in Minot for fuel and a quick bite.
The major routes through the city are US 2 (east-west), US 83 (north-south), and US 52 (northwest-southeast). US 2 intersects with Interstate 29 in
Grand Forks
, US 83 intersects with Interstate 94 in
Bismarck
, and US 52 intersects with Interstate 94 in
Jamestown
. Successors to 83 and 52 also intersect with the
Trans-Canada Highway
.
By train
The city is served by
Amtrak
and its once-daily
Empire Builder
which runs between
Chicago
and
Seattle
/
Portland
. Westbound trains pass through about 9AM while eastbound trains pass through about 9PM, but delays are quite common on this route.
By bus
Minot Bus Depot, 300 18th Ave SW, phone +1 701 852-2477
A local company provides road transportation to and from
Grand Forks
($45.05) and
Bismarck
($25.80) every day except Wednesdays and Saturdays, and also to New Town ($13) on weekdays.
Primary interstate carrier
Greyhound Lines
serves none of these cities; though from Grand Forks,
Jefferson Lines
connects to Greyhound in
Winnipeg
,
Fargo
, and
Billings
.
Get around
Unless you've brought a bicycle and happen to be in good shape, you aren't getting anywhere in Minot without a car. Some public transit is available at certain times, but for visitors it's more trouble than it's worth.
Car rental
Avis (+1 701 838-7665), Hertz (+1 701 852-0104), and National (+1 701 852-5115) are at the airport. There is a Rent-a-Wreck (838-0098) at a Sinclair gas station three (hilly) blocks south of the Amtrak station. There is an Enterprise location (+1 701 838-3800) on the south end of town. Enterprise and Rent-a-Wreck will pick you up; Avis, Hertz, and National are oriented primarily towards airline travelers.
Taxi
Taxi service is also available. Central Cab. +1 701-852-8000
By public transit
Minot City Transit
provides service. There is no bus stop at the Amtrak station. Also, there is no common transfer stop between routes. Buses run every hour between 9AM and 5PM, Monday through Friday. Two trips run between 6:55AM to 8:30AM on school days and again between 2:55PM and 4:30PM
Fare is $1.25. Children under 6 pay no fare. Monthly passes for adults are $34.00. Monthly passes for senior citizens and disabled are $26.00.
See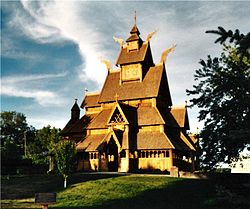 phone: +1 701 852-7091

address: 19 1st St NE

The museum, has provided its guests with a glimpse at the fascinating history of the westward railroad expansion since its opening in 1986.

Riverwalk of MinotA 2.5-mile walking and biking trail along the Souris River, which is accessible from a number of Minot attractions including the Railroad Museum and Roosevelt Park.

phone: +1 701 857-4166

address: 1219 Burdick Expressway East

Roosevelt Park is the city's largest park. Features include a zoo, a swimming pool, and a 2/5ths scale railroad you can take a ride on around the park, in addition to gardens, walking paths, picnic shelters, tennis courts, and a band shell. Be sure to check out the sundial near the train station and the statue of Theodore Roosevelt in the southwest part of the park.

phone: +1 701 852-9161

address: 1020 S. Broadway

A 14-acre park highlighting the Scandinavian roots of the region. Feature of the park include a 230-year-old house from Norway and a stave church.
Do
address: 2005 Burdick Expressway East

The North Dakota State Fair is one of the biggest entertainment events of the year, bringing big name concerts, carnival rides, and fairway fare. The fair runs 9 days, from the second-to-last Friday in July to the last Saturday in July.

address: 2005 Burdick Expressy East

The Norsk Høstfest is North America's largest Scandinavian heritage festival, running more than 25 years. The Høstfest, like the State Fair, brings in big-name entertainers to Minot, along with a lot of other folks! The Norsk Høstfest runs 4 days, starting the first Wednesday in October to the following Saturday.

Lillian and Coleman Taube Museum of Art

phone: +1 701 838-4445

address: 2 N. Main St.

This venue has over 1600 square feet of gallery space, for emerging and established talent locally, regionally, and internationally. Showcase guest artists and member's work, as well as maintaining a permanent collection. The gallery's Museum Gift Shop sells ND artists' work. Tours are welcome anytime.
Buy
Shopping opportunities are ample in Minot. Souvenirs are available at the airport.
Downtown Minot, northeast of the intersection of Burdick Expressway and Broadway, has small shops and restaurants, particularly along Main Street and Central Avenue.

address: 16th Street SW

Target, Sears, Herbergers, J C Penney, and Scheels Sports. Numerous specialty shops. The mall is in the middle of a shopping district that grew around it, including Hobby Lobby, Super Wal-Mart, and Best Buy.

Town and Country Center

address: Broadway

A strip mall. Much of it is office space but there is a drugstore, a variety store, and a travel agency.

Arrowhead MallA strip mall on 16th Street SW quite a bit north of the mall. There's a drugstore, a supermarket, some restaurants, and some offices.

Budget Music and Video

phone: +1 701 852-5321

address: 1944 S. Broadway

A locally owned record shop with a large collection of new and used CDs, body jewelry, incense, lighters, posters, and paintings amongst other odds and ends.
Eat
Food is pretty cheap in Minot. You're looking at $10 tops per person in most cases, maybe $20 at some of the nicer sit-down restaurants. If you really want to pull out on the stops, it is theoretically possible to spend $50 a plate at a handful of places in town... if you care to.
You will not need a reservation for any restaurant in town. Some restaurants do have private rooms that can be reserved, which are generally for business or political meetings.
Budget
Charlie's Main Street Cafe

phone: +1 701 839-5900

address: 113 South Main St

American fare.
Mid-range
Behm's Backroad Bar & Cafe

phone: +1 701 838-4029

address: 3800 2/52 Bypass West

Daily specials for breakfast, lunch and dinner. Two homemade soups daily. All desserts are baked fresh in the kitchen. Hot Stuff Pizza is also served in the bar and restaurant. Restaurant hours are 5AM-11PM daily. Call ahead for takeout orders too.

Homesteader's Restaurant

phone: +1 701 838-2274

address: 2501 2/52 Bypass West

Downhome cooking.

China Star

phone: +1 701 838-3833

address: 1631 S Broadway

Chinese buffet and Mongolian barbecue. Open lunch and dinner. Local delivery.

Planet Pizza

phone: +1 701 852-1700

address: 220 South Broadway

Pizza and video games! The place to take your children. Party room available. Local delivery.

Sammy's Pizza

phone: +1 852-4486

address: 400 North Broadway

Italian cuisine. Local delivery.

Bad Lands Grill and Saloon

address: 2300 15th St SW

A franchise operated by Apple Corp., owners of the Applebee's chain. Focus is on seafood and steak prepared in a southern style with family friendly atmostsphere. Open 10AM to 10PM, bar open until 11PM. Full bar and wine list similar to other chain restaurants. Call ahead for a private room reservation (large parties only).

phone: +1 701 837-1001

address: 1408 2nd Ave SW

Traditional lattes in Minot with an experience to remember. Including classic rock memorabilia with a free reservation room. Best place to grab lunch and a latte in town.
Splurge
Primo

phone: +1 701 852-3161

address: 1505 North Broadway

Italian and American cuisine. Biggest list of wines, scotches, and cognacs in town. If there is a place to wine and dine in Minot, this is it. Open 24 hours. Private rooms available. This restaurant does not take reservations.

Ten North Main

phone: +1 701 837-1010

address: 10 N. Main St

An upscale restaurant located across the street from an old train depot. Co-owned by actor Josh Duhamel, a Minot native. Private rooms available. Wi-Fi hotspot. This restaurant does take reservations.
Drink
The Blue Rider

phone: +1 701 852-9050

address: 118 1st Ave SE

phone: +1 701 340-7216

address: 23 South Main Street
Sleep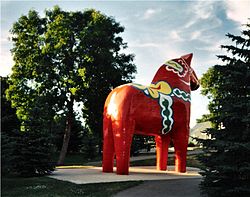 Accommodations are easy to find in Minot except during the State Fair and Høstfest. Be sure to reserve your rooms well in advance if you're planning to stay during late July and early October.
Budget
Super 8 Motel

phone: +1 701 852-1817

address: 1315 N Broadway

phone: +1 701 852-3411

address: 225 22nd Ave NW

Accepts Canadian dollars at par.
Mid-range
Comfort Inn

phone: +1 701 852-2201

address: 1515 22nd Ave SW

Fairfield Inn by Marriott

phone: +1 701 838-2424

address: 900 24th Ave SW

Days Inn

address: 2100 4th Street SW

Dakota Inn

phone: +1-800-862-5003

address: 2401 2/52 Bypass West

Best Western Kelly Inn

address: 1510 26th Ave SW
Splurge
Grand International

address: 1505 North Broadway

The Grand International rivals the Holiday Inn as the best in town.

Holiday Inn Riverside

address: 2200 Burdick Expressway East

The Holiday Inn is widely regarded as the best hotel in town. Almost immediately across Burdick Expressway from the fairgrounds.
Stay safe
There is little crime in Minot. Most residents do lock their doors, but in wintertime many people leave their cars running in parking lots as they run their errands.
Probably the most significant danger comes from city traffic. Pedestrians should yield to oncoming traffic -- most people will not stop to let you by, even at crosswalks. Also, drunk and exhibition driving is a risk late on weekends. Stay alert on the roads at those times.

Connect
The telephone area code for Minot is 701.
Minot has excellent telecommunications infrastructure; the telephone system is modern, internet access is ubiquitous, and cellular coverage within the city is excellent. Analog and digital PCS, CDMA and GSM networks are available. Coverage in the city and along the roads is excellent. Coverage gaps deep in rural territory are quickly being filled. Local telephone provider
SRT
is a partner with Sprint and Verizon Wireless, among others. Alltel Wireless also maintains infrastructure in the area; while its native service is based on CDMA technology, it offers a parallel GSM network that some carriers such as T-Mobile US use for roaming. AT&T Wireless now offers limited coverage in the city but not in the surrounding rural areas.
Minot has a
web cafe
, Broadway Bean & Bagel, on South Broadway. Public Internet access is also available at the Public Library (next to the Amtrak station) and Minot State University (North Broadway).
Free WiFi access
is available in pockets downtown and around MSU.
Go next
Rugby (70 miles E) is the geographical center of North America. From Minot, take US 2 east and drive for about one hour.
The International Peace Garden (120 miles NE) is on the Canadian border near Dunseith. From Minot, take US 2 to Rugby and turn north on ND 3, park is on left at border crossing.
Lake Sakakawea (40 miles S) provides ample water recreational opportunities. From Minot, take US 83 south and drive about half an hour, US 83 crosses the lake. The cities of Garrison and New Town have boater services.
4 Bears Casino near New Town (60 miles SW) has a wide variety of entertainment. From Minot, take US 83 south about 15 minutes, then turn west at ND 23 and drive about 40 minutes.