Miquelon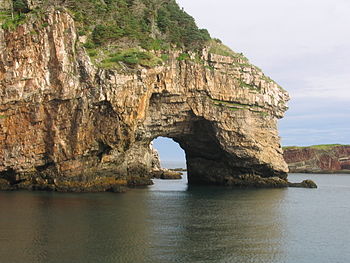 Miquelon
is an island and village in
Saint-Pierre and Miquelon
.
Understand
Although it is much larger than
Saint-Pierre
, it is much less populated. The residents are primarily of Basque and Acadian heritage.
Geologically, Miquelon is
three
islands, connected by isthmuses formed from drifting sand:
at the north, location of the village of Miquelon (pop. 600).
proper (Grande Miquelon). The name comes from the Basque version of Michael, which was the name of several fishermen who settled here.
(Petite Miquelon), which has no permanent inhabitants but is a popular vacation spot. The name is a corruption of the French l'île à l'Anglais or Englishman's Island.
Get in
Get around
Eat
Restaurant Brian and Brasserie Michael

phone: +508 41 64 89

address: 18, rue Anne-Claire du Pont de Renon

Traditional cuisine, seafood, snacks.

Snack Bar à Choix

phone: +508 41 62 00

address: 2, rue Sourdeval Miquelon

seafood crepe, roasted chicken, baked apple crepe, traditional cooking

Mayou'naise
Sleep
Hôtel L'Escale

phone: +508 41 61 24 or +508 41 64 89

address: 30, rue Victor Briand

6 rooms

Chez Marlène

phone: +508 55 01 32

address: Anse du Gouvernement (Langlade)

2 rooms