Miri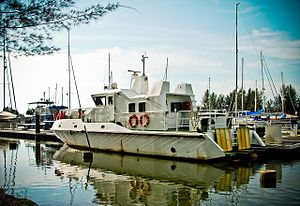 Miri
, the second largest city in
Sarawak
(with a population of about 300,000), is on its northern coast near the border with
Brunei
. Known by its nickname "Oil Town", Miri is the birthplace of the Malaysian petroleum industry, as the city was founded in 1910 when the first oil well was drilled by Royal Dutch Shell. Petroleum has continued to drive the city's economy and development ever since.
Miri is the main tourist gateway to various national parks, which makes it a favourite ecotourism destination and can be arguably called the "Resort City".
Understand
The Sarawak Shell Berhad and Petronas Carigali are headquartered here. As a result, Miri has a cosmopolitan whiff as it hosts expatriates from all over the world. These expats work in many of the multinational oil and gas giants that are headquartered in Miri.
Visitors stop for transit here to change planes before heading onward to
Gunung Mulu National Park
or the famous Kelabit Highlands.
Miri boasts a diverse population, which consists of Chinese, Malay, Iban, Bidayuh, Melanau, Kelabit, Lun Bawang and many other ethnic groups. International students from a foreign university campus based here and expatriates from international corporations add much spice to Miri as well.
Almost all locals speak a tiny smattering of English, along with
Mandarin
. The main language is Bahasa Sarawak, which is a local Sarawakian language; it is similar to
Malay
but with local slang.
Miri celebrated its fifth city status anniversary on 20th May 2010.
Visitor information
The people are quite helpful when it comes to directions or any help needed. A visitor's information centre is available downtown for any further enquiries:
Visitors' Information Centre

address: Jalan Melayu and Jalan Padang
Get in
By plane
From Kuala Lumpur: Malaysia Airlines flies four times daily between Kuala Lumpur and Miri, with two stopping over at Kuching. AirAsia also flies direct non-stop three times daily.
From Johor Bahru: AirAsia flies on Monday, Wednesday, Friday and Sunday.
From Kuching: Malaysia Airlines flies three flights daily and AirAsia has one flight daily.
From Kota Kinabalu: Malaysia Airline and AirAsia each have two flights daily. MASWings also puts on a Fokker flight on Tuesdays, Wednesdays and Saturdays.
From Singapore: AirAsia has one flight on Monday, Wednesday, Friday, and Sunday.
MASWings, which took over operations of the rural air service from FlyAsian Express on October 1, 2007, operates a web of flights to remote destinations in the interior, most notably Gunung Mulu National Park and Bario in the Kelabit Highlands. MASWings also links Miri with Limbang, Lawas and Labuan which will enable you to by-pass expensive Brunei. Go to their website to book flights on-line and check schedules.
By bus
, also called Pujut bus terminal, is located approx. 4km north from the city centre. There are frequent city bus service (from 5am to 9pm, takes 20-30 min) to nearby Boulevard Shopping Mall. The bus stop is at the pedestrian overpass and about 5 minutes walk from bus terminal. The taxi will cost RM20-30.
From other Sarawak cities: Numerous bus companies such as Biaramas, Suria Bus Express and Borneo Highway Express link Miri with other Sarawak cities such as Kuching, Sibu and Bintulu. Most express buses depart from the Express Bus Terminal. From Bintulu the bus jouney takes approximately 4 hours and cost MYR 27. From Sibu it takes about 7 hours and costs MYR50 (2019).
From Brunei: As of early 2019, there are two direct services between Bandar Seri Begawan and Miri. PHLS Express operates a dedicated BSB-Miri service, leaving BSB at 07:00 and 13:00. In Miri buses leave from the long distance bus station at 08:15 and 15:45. Fare is B$22 or RM50 and purchased at the Banting Jaya counter (RM65 online via Easybook) ; B$12 or RM25 for children 3–10 (2019); tickets can be bought at the bus station or online. The bus will also stop in Seria, Tutong, or Kuala Belait if you buy a ticket to or from one of those towns. There is no longer local bus service between Miri and Kuala Belait in Brunei. The only bus connection between two cities is the above mentioned express service.
To/From Kota Kinabalu, Sabah: Bintang Jaya Express opened a new route from Miri to Kota Kinabalu (KK) and return in November 2008. The route originates from Pontianak in Indonesia to Kuching, Miri, Limbang, Lawas ending in KK Wawasan Bus Terminal. Bus departs Miri at 8.00AM on Mondays, Wednesdays and Fridays. The journey takes approximately 10 hours without changing buses. From KK the bus departs at 7.30AM on Tuesdays, Thursday and Saturdays.
To/From Niah Caves: Bas Suria departs from the Miri Express Bus Terminal to Batu Niah town regularly. The journey takes over an hour. From Batu Niah, you can either take a speedboat or walk to the Niah National Park headquarters at Pengkalan Batu.
Get around
Bus services are available.
24-hour taxi service is also available and can be reached at . Fare surcharge applies after 12AM.
A car can be hired for a day for as low as MYR 80 + MYR 30 (delivery charges). Remember to purchase some parking tickets, which cost MYR 0.5 each.

See
Grand Old Lady and the Petroleum Museum

Taman Selera

Tamu Muhibah
Do
Esplanade BeachLocal's favourite beach front located at Luak Bay. Miri's beaches are nothing to shout about, but if you really want to go to the beach, this would be your best bet.

San Ching Tian TempleLargest Taoist temple in South East Asia.
Canada Hill, Go for an extreme hike on the jungle treks of Canada Hill. Every evening a group of trekkers or anyone else would go there for hike. It's a test of endurance but yet a healthy activity since you will be burning a lot of calories for that. However, slopes can get slippery during the rainy season, so always be careful and be prepared.

Dive near MiriDive in the unspoiled coral gardens near Miri. CO.CO.DIVE (Miri trusted dive operator) and Red Monkey Divers (The always cheerful Steve) organizes day trips from the Miri Marina.

Eastwood Valley Golf & Country Club

phone: +6 (085) 421010

address: Lot 1379, Block 17, Jalan Miri By Pass

Latest Golf attraction in Sarawak. TeeTimes Malaysia's Top 10 Golf Courses.
Lambir Hills National Park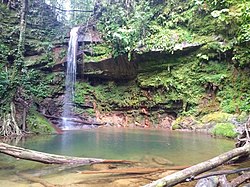 is some 30km south of Miri. Enjoy the wonders of nature and take a hike in the park. There are plenty of impressive tall trees, interesting bird songs, and several big and small picturesque
waterfalls
in the part so enjoy the scenery of the waterfalls where you can swim as well. If you have keen eyes you may also spot frogs, lizards, and other wildlife. The park is popular at weekends when people from Miri travel there for a day visit. For longer stays, visitors can book one of several chalets. At the park headquarters there's a shop with snacks, drinks, and simple MYR5 hot meals.
There are several
hiking trails
for visitors to explore. These range from short and fairly flat walks to the long, challenging, and steep trek to the summit of Bukit Lambir, the tallest point in the park. If heading towards the peak, bring plenty of water, and turn back if it starts to rain, because the streams can flood dangerously.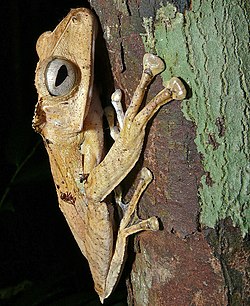 Cost to enter the park is MYR 20/person (MYR 7 for children 7–18, free for 6 and under; prices updated 2019). Bring your
passport
or a photocopy—you need it to enter the park. The trails are open 8AM–4PM, but arrive as close to 8AM as you can to beat the midday heat for a short hike or to have enough time for a long hike—you have to be back at headquarters by 4PM.
Getting to the park takes 30 minutes by car or an hour by bus—buses en route to Bintulu may drop you at the park entrance gate however may charge full fare MYR 25. It's also easy enough to take a taxi or a Grab to the park, but getting back can be tricky, as you won't find any taxis hanging around to pick you up. So either arrange a specific time for the taxi to come back and get you, or plan to take a bus back. The buses run once an hour, more or less; you can wait at the bus stop at the side of the road and flag one down to get back to Miri for MYR 10. Alternatively you can take the bus the other direction to head to
Bintulu
or Niah National Park.
Bring more water than you think you'll need. It's humid!
Buy
There are three major shopping malls to shop around in Miri City, During the weekends Bruneians and Sarawakians from Bintulu, Bekenu, Niah would come down for shopping.
Boulevard Shopping Complex

phone: +60 85432999

address: Lot 2528, Jalan Boulevard Utama, Boulevard Commercial Centre

The Imperial Mall

phone: +60 85431133

address: Jalan Pos

Bintang Plaza
Miri Heritage Centre, a place where you get a memorable souvenir of a local made handicrafts.
Eat
For a fabulous gastronomical experience, Miri is
the
place to try out all sorts of food. Depending on your budget, there is a variety of eateries around.
Cafenika & Catering

phone: +60 8-5424600

address: 437 G Jln Bendahara

Serves local Halal Malaysian dishes, and various types of Western cuisine. Must try: Chicken Chop, Nasi Briyani, Nasi Lemak, Mee Kolok. They also provide catering services for weddings and other occasions.
Chinese Hawker Center - Located in the hub of the city center next to the Chinese wet market. You can get the best local food here day and night. For breakfast, the milk tea is the best, particularly at some stalls. The curry rice, fried rice noodles, dried noodles and laksa (spicy rice noodles) are dishes that you should not miss. Moreover, at night, the porridge and dried noodles with steamed chicken are the must-eat.
Chen Kee Hainan Chicken Rice- Miri famous Chinese dishes, traditional steamed Chicken rice, located at krokop 10, Tokyo Restaurant. It's delicious, Fresh, Cheap.
Siamese Secrets - Serves Western, Chinese, Thai, Mexican, and local cuisines. Portions are huge.
Double Star - Serves Chinese, Western, Local and fusion cuisines.
Cafe Miri - Serves Western food and is undoubtedly Miri's most famous place for quality Western food.
2020 Cafe - This restaurant is always packed on Sunday mornings. Famous for their dim sum. Be sure to get there extra early to secure a seat.
Ming Cafe - Good Indian, Malaysian, Chinese and sea food. Serves Tiger Beer which is quite expensive at local prices but served cold in an ice cold glass. Good service. Try Laksa in Ming Cafe which is very delicious and is comparable to the Laksa in Kuching. Also highly recommended is the Roti!
Naga Liar - Serves a local Malaysian delicacy, Nasi Lemak together other local favourites as well

phone: +60 85-418 659

address: 751-752 Jalan Merpati

Serves varieties of Asian and some Western food, coffee and beer.
Fratini's - Serves Italian food and is located near the Boulevard Shopping Complex.
Pete's Deli - A cozy Australian-styled deli with authentic Western food. Their oxtail stew, lamb shank and pies are bestsellers. Located opposite SMK Chung Hua.
Marina Bay Seafood Restaurant - A new restaurant with intricate architecture and an amazing view of the sea. Pick your seafood fresh from the tanks. Open for lunch and dinner. Located at the Marina Bay, next to an gigantic, iconic seahorse statue.
Sun City - Good selection of food and drink, indoor and outdoor seating, nice furnishings and great outdoor feel but fully covered with canvas with huge fans.

Shiki Japanese Restaurant

phone: +60 84-422323

address: Boulevard Commercial Centre

The place where you can get the most authentic Japanese Cuisine, at the most affordable price and great atmosphere. Call today for reservations.
Kent's Garden - A bistro area for great ambience to dine and drink. Located at Lutong Baru.
Drink
Tourists are encouraged to try the Sarawakian authentic rice wine known as 'tuak'. 'Tuak' is usually served during festive seasons, especially during Gawai (the Harvest Festival celebrated by the Ibans). Apart from that, if one is looking for a place for drinks and some entertainment, there are few places to go.
Passion Corner

phone: +60 85-423213

address: 856,Jalan Permaisuri

nice environment, Chinese style, place for relaxing and gathering..
Sleep
Budget
address: Lot 1160, Jalan Sri Dagang, Miri Waterfront Commercial Centre

Perfect for families, or a backpackers lounge, as is cheap, clean, brand new and safe accommodation / hotel with new fittings and furnishings! A friendly family run business. Amenities: Free Wi-Fi. Hot shower. Air conditioning. Late check out allowed, they are very flexible!

phone: +60 13-828 6656

address: Sub Lot 10634, 1st Floor, Airport Commercial Centre

Backpacker accommodation

Next Room Homestay

phone: +60 85411422

address: Lot 637, 1st & 2nd Floor, North Yu Seng Road

Hostel with air conditioning and free wifi. Free breakfast prepared by the staff: coffee or tea and two pieces of toast with butter and jam. Only has squat toilets.
Mid-range
Eastwood Valley Golf & Country Club

phone: +60 85-421010

address: Lot 1379, Block 17, Jalan Miri By-Pass

Offering an integrated resort lifestyle, the Club provides chalets with 120-room accommodation located within the golf course area. Built with natural timber, the chalets spread around a beautiful and lush landscape surrounding are complemented with a well-equipped fitness centre with wwimming pool, gymnasium, steambath, sauna and Jacuzzi.

Million Inn

phone: +60 85415077

address: No 6, Jln Yu Seng Selatan

Miri Hotel

phone: +60 85421212

address: No 47, Jln Brooke

Pacific Orient Hotel

phone: +60 85413333

address: No 49, Jln Brooke

Park Hotel

phone: +60 85414555

address: Jln Raja

Metro Inn

phone: +60 85411663

address: Lot 762. Parent Lot 529, Block 9, 1st Floor, Jln Merpati

Kingwood Inn Miri

phone: +60 85415888

address: Lot 826, Jln Yu Seng Selatan

Cosy Inn

phone: +60 85415522

address: Lot 545 - 547, Jln Yu Seng Selatan

Brooke Inn

phone: +60 85-412881

address: 14 Brooke RD

Central location, Wi-Fi, clean, tv.
Splurge
phone: +60 85421121

address: Lot 779 Jalan Temenggong Datuk Oyong

5-star full-service spa resort located at the coast, 2 km from city center and 8 km from airport. Lovely gardens, nice pool, pool bar, food can be ordered from the pool and eaten at the bar. Basic but sandy beach, meals are quite expensive but good quality, although there is a nice food court just a 2-minute walk from the Marriott.

phone: +60 85431133

address: Jalan Pos
Cope
Laundry
Laundromats are scattered around downtown.
TALLY Laundry Services

address: on Jalan Merbau between Jalan Brooke and Jalan South Yu Seng

RM 10-15 to wash and dry a load (2019); detergent is included.
Go next
Bintulu and nearby Niah National Park