Mirik
Mirik
is a hill station in
Darjeeling district
in the northern part of
West Bengal
,
India
.
Understand
The name Mirik comes from the Lepcha words Mir-Yok meaning "place burnt by fire".
Mirik has become a tourist destination for its climate, natural beauty and accessibility. The centre of all attraction is the Sumendu lake made by surrounded by a garden on one side and pine trees on the other, linked together by an arching footbridge called Indreni Pull (Rainbow Bridge). A 3½-km-long road encircles the lake and is used for walks with the view of Kangchenjunga on the far horizon. Boating on the quaint shikaras and pony riding are available.

Get in
Mirik is 52 km northwest of Siliguri city and 49 km (30 mi) south- southwest of Darjeeling town.
Bagdogra 52 km south of Mirik is the nearest airport and New Jalpaiguri adjacent to Siliguri is the nearest railway station.
Few buses ply from Mirik to Siliguri and Darjeeling. Shared taxis operate from Mirik to Siliguri. One can hire a taxi at a cost of ₹800-1200. Shared taxis also operate from Darjeeling Motor Stand to Krishnanagar, Mirik (just beside the Mirik Lake) and the fare is the same. It is operated by Mirik Tour & Travels. Shared taxis are available for internal transportation within Mirik to travel from Mirik Lake to Mirik Bazar at ₹5 per head.

Get around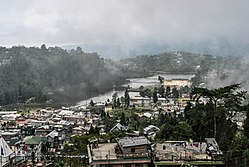 See
Bokar Monastery - It is located on the way to Rameetay Dara and is famous as a Buddhist meditation center.
Bunkulung (Jayanti Nagar) - Ecotourism is being promoted here and home-stay facilities are available here. Rangbhang Homestay, Mirik Busty also promotes eco-tourism.
Debisthan - A temple of a Hindu goddess located on a hillock near the Sumendu lake.
Mirik Church - It is located near Don Bosco School.One of the most beautiful and one of the bigger catholic church of Darjeeling district.
Orange Orchards - Mirik is famous for its high-quality oranges. These are grown in Mirik Busty, Murmah and Soureni Busty.
Orchids - Mirik has one of the best climate for a typical orchid called Cymbidium orchids, which fetches one of the highest prices in the world flower markets. One such Cymbidium orchid garden is Darjeeling Gardens Pvt. Ltd. located in Rato Mate in Mirik.
Pasupati Nagar - This border market with Nepal is a commercial center for trade in clothes, electronic and household goods.
Rai Dhap - Source of drinking water for Mirik and a picnic spot.
Rameetay Dara - A viewpoint near the town from where one can see the surrounding mountains and the vast plains below.

SilimbongA hamlet situated in one of the most beautiful hill forests in the Darjeeling district. Situated in the densest of forests, it is far from the madding crowd The light of civilisation is yet to touch and spoil the nature here, though hospitality from the 4-5 families that reside here is overwhelming and natural. The result of a forestation project by West Bengal Forest Development Corporation. Roaming in the jungles here reveals how much effort has been put in to give back Earth one of its lost possessions, the forest. Among the dense forest, a very small portion of land has been cleared to accommodate visitors.

Sumendu Lake - It is the heart of Mirik. There is an 80 ft (24 m) long footbridge over the lake. One can boat in the lake or take a horse ride around the lake.
Sunrise Point - Scenic views of the sun rising in the east and its reflection on Kanchanjunga in the north. The plains of North Bengal can also be seen from here.
Swiss Cottage (also known as Motel) - an exotic lodging at the highest altitude of Mirik, far from the crowds of the town.
Tea Gardens - A number of tea gardens producing the famous Darjeeling tea are located in and around Mirik.
Tingling View Point - A panaromic view of the tea gardens can been seen from here.
Sleep
The majority of the hotels and restaurants are in the Krishnanagar area of Mirik. DGHC, (a government agency), operates a motel at a hilltop near the helipad at Allay and a tourist lodge located very near the lake. There are other good hotels in Krishnanagar such as Jagjeet, Sadbhavna, Ratnagiri, Mhelung, The Park Hotel, Viraz, Parijat and Blue Lagoon. There are some hotels in Mirik Bazar such as Boudi Hotel and Hotel Payal. There are many lodges and private guest houses such as Nigha, Ashirvad and Buddha. There is a beautiful Forest Rest House in Mirik that can be booked from the District Forest Office, Kurseong. There is also a PWD (Public Works Department) Inspection Bungalow near the lake that can be booked from Siliguri PWD office. Rangbhang Homestay is the first homestay in the Mirik Valley and offers one of a kind experience.
phone: +91 9832913617

address: Mirik Busty, School Dara 734214