Misasa
Misasa
is a town of about 7,000 in the
Tottori
region, known for its radium rich hot springs.
Understand
The content of radioactive element radon, a gaseous decay daughter of radium, is exceptionally high in Misasa spring water, one of the highest in natural waters worldwide. The locals are very proud of special properties of their springs, and attribute the water healing powers as an effect or radiation hormesis. Each August the town organizes festivals in honour of Marie Curie, the discoverer of radium.

Get in
There are no train stations in Misasa however, it is easily reachable via bus from
Kurayoshi
. Buses depart for Misasa Onsen from Kurayoshi Station. From Misasa Onsen there are buses to Mitokusan. Some buses go directly to Mitokusan from Kurayoshi Station.
There are a few buses that depart for Misasa Onsen from
Osaka
(Bentencho and Shin-Osaka) and
Kobe
(Sannomiya Bus Terminal).
See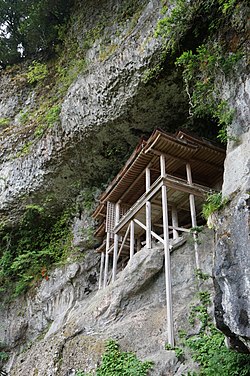 Sanbutsu-jiSanbutsu-ji is a mountain temple complex that's famous building, Mitokusan Nageiredo, is built into the side of a cliff. The building is a National Treasure and a unique site in Japan. Visitors wishing to make the trek to the Nageiredo (or to visit any part of the complex) should be aware that you must travel in a group of 3. Single visitors are not permitted to ascend. If you arrive as a single traveler, you will be denied entry and forced to wait for another single traveler (or group willing to take you in) to be paired with.

Statue of Marie Curie
Do
Make a visit to one of many onsens open for day visitors for a hot spring bath.
Take a bath in the free rotenburo in the river or have a footbath in the riverside bath.
Drink the spring water in Kabuyu spring.
Appreciate Genji Fireflies along the Masasa river banks (early to mid June).
Stroke a statue of the Kajika Frog (known as a frog of marriage) at the Koitani Bridge, which is believed to bring you a spouse.
Go next