Mishima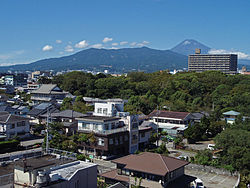 Mishima
() is a city in
Shizuoka
in
Japan
.
Understand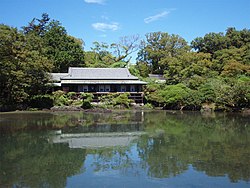 Mishima city is locally called the "City of Water" due to its enviable position of being at the base of a peninsula, surrounded by the sea and also being directly south of Mt Fuji, historically collecting much of its annual meltwater runoff. In line with this claim, water features feature proiminantly around the station front area to symbolise it. However, the harsh reality is that throughout the modernisation of the country, more and more industrial facilities have been placed upstream and their insatiable need for water has resulted in less and less actually reaching Mishima. Today, Mishima's prized park with its beautiful landscaped lake,
Rakujuen
(楽寿園), is little more than a sad, dry bed of craggy basalt. Water does still flow throughout certain parts of town, but not without heavy application of the hand of mankind.
Get in
By train
Mishima StationMishima is located both on the Tōkaidō Shinkansen and Tōkaidō Main Line. All Kodama and some Hikari services from Tokyo stop at Mishima, taking about 60 and 45 minutes, respectively. Both cost ¥4,200 for a reserved seat or ¥3,890 for an unreserved seat. Local train services on the Tōkaidō Main Line require a transfer at Atami and take two hours, but only cost ¥2,210.
All services mentioned above are fully covered by the Japan Rail Pass.
Get around
The Izu-Hakone Sunzu Line travels further into the
Izu Peninsula
to
Izu
, with several local stops in Mishima.
See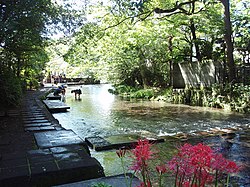 Mishima is near Suruga Bay, with
Numazu
as a nearby port city. Being close to Mt. Fuji, the view of it can be very good, depending on the weather.
address: 2-1-5 Ōmiyachō

This shrine dates its history from the Nara Period (710-794), and became famous when Minamoto no Yoritomo became shogun during the Kamakura Period (1185-1333) and rebuilt the shrine.

address: 19-3 Ichibanchō

This garden dates from the Meiji era (1868-1912), and contains a lake "fed" by meltwater from Mt. Fuji. In the same area, there is also a small amusement park, a small zoo, and a city museum.

Genpei riverThe Genpei is a little stream right in the middle of Mishima city made of the springwater of Mount Fuji. It's shallow, clear and cold so children often play in it. Some Japanese killifish (めだか), minnow (ハヤ), crabs (沢ガニ), pond snails (タニシ) and fireflies(蛍) inhabit the stream. The city has restored parts of its waterways with stepping stones, waterwheels, little models and other such stuff to try and evoke a nostalgic feel.
Do

Many people visit Mishima Shrine on New Year's Day for hatsumōde (初詣), the first shrine visit of the new year.

Buy
phone: +81 55 975-8818

address: 3-16-13 Ōmiyachō

This shop sells many different kinds of delicious Japanese sweets. One option is Fujisanchō (富士山頂), a custard-filled cake shaped like Mount Fuji. Try this delicious option, or try others to find your favorite!
Eat
Cherry shrimp (桜海老 sakura ebi), a tiny variety caught in Suruga Bay.
Eel (鰻 unagi). Try the traditional bowl of rice and broiled eel.
Wasabi-zuke (わさび漬け), a mix of grated wasabi and sake lees.
Uogashi zushi (魚がし鮨) Shizuoka mishima city hagi 41-1 (静岡市三島市萩41-1) TEL:+81 55-987-9383 Uogashi is a very popular sushi shop that can get quite crowded at dinner time.
Drink
Green tea (緑茶 ryokucha). The first tea of the season is very good.
Sleep
phone: +81 55 972-7171

address: Ichibanchō 11-14

A convenient business hotel near the station. Wireless Internet access and Japanese-style rooms are available.

address: 12-21 Ichiban-cho, Mishima-shi, Shizuoka 411-0036, Japan

Rates are reasonable yet they care about the quality of the interior.

Hotel Dormy Inn

address: 3-12-33 Omiyacho, 411-0035 Mishima

A 12-storey business hotel that features a hot spa (onsen) and open bath (rotenburo) on the top floor with views to Mount Fuji.
Go next
Mishima is located at the intersection between the Tokaido line and a private line running down the guts of the
Izu Peninsula
and thus acts as the natural gateway to the Izu interior and
Izu
via train and western Izu regions via road.
Other locations: