Missoula
Missoula
is a medium size city in Western
Montana
with a population of about 70,000. The hub of five valleys in the northwest region of the state, or
Glacier Country
, the town boasts the University of Montana, the
Rattlesnake Wilderness Area
, and a multitude of recreational opportunities, along with an active and colorful downtown.
Understand
Though it's physically part of the
Rocky Mountains
region, culturally Missoula identifies closely with the
Pacific Northwest
. Home to the
University of Montana
and often considered by residents as the most liberal city in Montana, it's an interesting mix of ranchers, cowboys, hippies, yuppies, students, artists, athletes and recreationalists. Graduates from the University of Montana frequently remain in Missoula, creating a large over-qualified work force. A local barista or cook may have, at the very least, a Bachelor's degree. Tip well; they have loans to pay off!
Get in
By plane
Missoula International AirportThe following airlines offer year-round service: * Alaska Airlines (Portland, Seattle) * Allegiant (Las Vegas and Phoenix/Mesa; Seasonally from Oakland ) * Delta and Skywest as Delta Connection (Minneapolis-St Paul and Salt Lake City; Seasonally from Atlanta) * GoJet and Skywest for United Express (Denver) The following airlines come seasonally or part of the year: * Frontier (Denver) * Additional seasonal flights from Denver and Chicago O'Hare on United Airlines.
There are taxis, rideshare and hotel shuttles to bring you into town locally. There are also car rental available from the airport which is the preferred method for greater flexibility in getting around to the surrounding areas. See this
Link
for a list of providers an a map indicating pick-up locations. The
#11 bus
connects the airport with the downtown Lewis & Clark Transit Center.
By car
There are five exits from
Interstate 90 (I-90)
, Airways Blvd (Exit #99); the Grant Creek Blvd exit (Exit #101); Orange St (Exit #104); Van Buren St (Exit #105); , and East Missoula (Exit #307). The Van Buren St exit is the closest exit to access downtown and the University of Montana campus while the Airways Blvd is the closest to the airport.
Missoula is west of
Butte
(Jct I-15 with I-90); west of
Bozeman
; east of
Coeur d'Alene
, Idaho and Spokane, WA another west of Coeur d'Alene all along I-90.
By bus
phone: +1 406 549-2339

address: (bus depot) 1660 W Broadway

Travels primarily on Interstate 90 between Spokane and Billings (via Coeur d'Alene, Kellogg, St Regis, Missoula, Butte, Belgrade/Bozeman and Livingston). There's also an additional route north along US Hwy 93 towards Whitefish via multiple towns along the way. Passengers transfer in Butte, Billings, Bozeman and Spokane to get to additional destinations.

address: (Jefferson Lines/Greyhound bus depot) 1660 W Broadway

Bus operated by the Confederated Salish & Kootnai Tribes with the help of Montana Department of Transportation in partnership with Greyhound Lines (as booking agent) for travel up to Whitefish through Avaro, Arlee, Ravalli, St Ignatius, Pablo, Paulson, Lakeside and Kalispell along US Hwy 93.
The
#11 bus
and the
#2 bus
connect the bus station with the downtown Lewis & Clark Transit Center. Only the #11 (northbound on Broadway) goes up to the airport.
Get around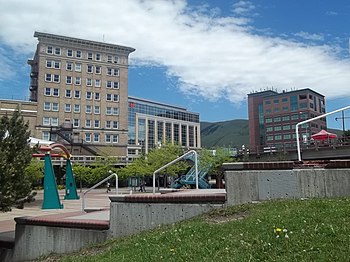 Visitors to Missoula often remark that the city is hard to get around in by car, a fact Missoulians famously owe to conflicting city engineers at the turn of the century. The confusing roadways make the
Mountain Line city bus
system a great way to get around but with a little orienting, the city can be much more easily navigated.
Higgins Avenue runs from downtown in the northern end of town through the outskirts of the tree-lined streets of the university district until it takes a sharp curve to the west in the south end of town, leading mainly to residential areas.
Broadway Street runs east to west, mostly along the Clark Fork river, from Van Buren, entrance to the Rattlesnake Recreation Area and the hippest place to live in town, through downtown before bisecting with Highway 93 and continuing on to the airport and I-90.
Orange Street runs through downtown and another treed residential area before intersecting with Brooks Street.
Brooks Street begins as Highway 93 from Lolo to the south of Missoula before turning into Brooks Street, a major shopping area populated with strip malls, fast food restaurants and the like, before dead ending into Higgins in a particularly confusing no-right-turn intersection.
Russell Street runs north - south from Broadway to 39th, through residential, industrial and business districts, but is a main roadway for motorists.
Reserve Street runs from I-90 to 39th from the north - south, crossing Broadway, 3rd Street, South Avenue and Brooks Street before dead ending. Major box stores, such as Target and Wal-Mart, as well as movie theaters, restaurants and other businesses line the thoroughfare.
See
Geographically, Missoula is dominated by the scenic Clark Fork river that flows through downtown and the mountains ringing the city. The Kim Williams Trail, which follows the waterfront, is an easy way to appreciate the former. Tubing, rafting, and canoe/kayaking are also good options in the summer.
Mt. Sentinel, on the east side of town, offers a scenic trail system. A trail starting at the University of Montana leads 700 feet up the mountainside to the "M," which offers great views of the city. More adventurous hikers may continue another 1400 feet to the peak of Mount Sentinel, which offers great views of the city, the Rattlesnake Wilderness to the north, and Mount Jumbo to the north. Those with binoculars may perceive the ancient shoreline of Lake Missoula on Mount Jumbo, marking the edge of an enormous ice-age lake. One can also take the trail off the backside of Mt. Sentinel, which zig-zags down crossing the parasailing jeep road a few times to a sign which shows the lovely trail down thru forest on Sentinel's north side that ends at the old railroad tracks, now the Kim Williams hike/bike trail, and then back to the parking lot at the "M" trails base. Doing the loop in reverse is also very pleasant.
Manmade scenic attractions include the Missoula carousel in Caras Park, the historic courthouse with eight original murals by E.S. Paxson, and several fine art galleries. Lastly, if you enjoy history, both of Missoula's historic railroad stations still stand, preserved, and in use. One, built by the Chicago, Milwaukee,
St. Paul & Pacific Railroad
is used by the Boone & Crockett Club and the other built by the
Northern Pacific Railway
is used as office space by local businesses and home of the Missoula Farmer's Market during the summer months.
phone: +1 406 728-0447

address: 335 N Pattee

Worth a visit. Knowing that it could never outbid its big-city counterparts for works by famous artists, the museum has instead hosts regularly-rotated exhibits of Western art and works closely with community arts groups. Furthermore, the price is right for visitors, as demonstrated by its slogan: Free Expression, Free Admission.
Do
Missoulians enjoy a range of outdoor activities including hiking, rafting, "tubing", rock climbing, skiing, fishing, golfing, and just about any other activity that can be done outside. It's no wonder—in Missoula you can take a city bus to within walking distance of federally designated wilderness area. After hiking and returning to town, you can visit the historic downtown and enjoy some fantastic local food and drink.
Summer cultural events include: the International Choral Festival, next scheduled for summer 2012, the River Roots Music Festival, Farmer's markets (three) every Saturday morning. Music and food festivals at Caras Park (off Higgins on the banks of the Clark Fork) Wednesday lunches and Thursday evenings and the Western Montana Fair in August.
Snowbowl, at 7,600 feet, is a great place to ski that is very affordable.
Year-round 'First Friday' finds art galleries open to strolling passersby with music and food offered for free.
The public library on Main Street has special talks and presentations, about Montanan history, for example. There is also a movie 'Cheap date' night with popcorn and a drop-in Scrabble Club Monday evenings.
Acton Square Dance Center & Campground

address: 9955 Lolo Creek Road (Hwy 12) Lolo, MT 59847

Campground and RV park. Square dancing with nationally known callers and cuers. See webpage for schedule
Buy
Thanks largely to the city's vibrant arts community, the downtown offers a wide variety of unique shops. Visit on a Saturday if possible, when there is a street market and farm market.
The Sports Exchange Missoula is a long-trusted purveyor of quality second-hand sporting goods, at 1320 S. Third St. W., by the Higgins Street Bridge at the end of the Hip Strip, downtown. Larger outdoor gear stores are available on Reserve Street, domain of Missoula's big box stores.
The best stores feature local goods from Montana artisans.
Worden'sDowntown Missoula, one of the best places to buy obscure, diverse, and pretty much any beer you could possibly want.
Eat
#1 GyrosRun by a Greek family, #1 Gyros can be quite crowded around lunch time. Best french fries in town.

The BridgeUnusual pizzas sold by the slice. $2.50-3.50 a slice.

El DiabloAnother excellent burrito restaurant. Burritos cost around 7 bucks, but worth it. The only burrito shop in town that cooks their meat fresh.

The Good Food StoreMissoula's answer to Whole Foods. Sells natural, organic, and specialty foods in its grocery store and includes a small deli serving prepared meals.

The Iron HorseModern restaurant with good American food (expect to pay $7-10 for lunch dishes and $15-20 for dinner) that turns into a popular sports bar at night.

Liquid PlanetA very unique all-beverage store and organic coffee shop with a one-of-a-kind 10 foot high wooden globe that houses wine.

Lolo Creek Steak House

phone: +1 406-273-2622

address: Highway 12 West, Lolo, Mt

Great steaks, in Lolo on the Lewis and Clark trail. N46 45.406 W114 5.142

Lumberjack Saloon

phone: +1 406-273-6264

address: 2000 Graves Creek Road, Lolo, MT 59847

Great saloon in Lolo National Forest.

The Old PostGreat food, great microbrews, great live music, and terrible lighting--this place has "atmosphere" written all over it. Excellent vegan and vegetarian dishes. Try the weekend brunch. The lunch-only "Reccession Special" is a local favorite.

phone: +1 406 549-0117

address: 337 N Higgins Ave Missoula, MT 59802-4537

Diner style food in a business continuously open for so long that it prides itself on having lost its keys. Friendly staff, live poker, and cheap drinks. The chicken fried steak with JJs gravy is amazing. Those looking for an authentic Missoula experience should check out this place.

Pita PitDowntown on Higgins, open until 3AM seven nights a week. Come here late night to observe frat boys and hipsters at their worst.

Scotty's TableAn American bistro. French bistro in the heart of Missoula. Indoor and outdoor (seasonal) seating on the park level of the historic Wilma Building

Sean Kelly'sIrish pub. Get the Cheesy chips, best appetizer in town.

Taco Del SolLarge $5 burritos. Where many of locals grab a quick bite.

Taco SanoLocally owned burrito shop, good combination of value and quality. Dubbed Taco Sysco, after the name of the food distribution company the restaurant gets its frozen meat from.

Wordens DeliFull-service deli, coffee, wine, and groceries. Missoula's first grocery store, Wordens opened in 1883 and has been a Missoula staple ever since. Wicked Philly is a local favorite.

phone: +1-406-926-1791

address: 322 N. Higgins Ave

A fun, delicious hip restaurant in an art-filled brick dining room. The roof patio is a cool and pleasant retreat on hot days. An extensive list of wines by the glass. Good vegetarian options.

phone: +1-406-543-0719

address: 1500 Burns Street

A very interesting combination of local, seasonal, creative cuisine with a low-key, high-volume style. Expect a long wait in line for weekend brunch. Order at the counter. Find a seat among the plain-wood tables in the bright, warehouse-like dining room. Pour yourself some water, and enjoy the aromas until your plate is brought to you. Extensive vegetarian and vegan options.
Drink
Beer
There are four breweries in the city with public taprooms:
Wine
Missoula wineries include:
Sleep
phone: +1 406 728-1585

address: 803 E. Front St

Located on the banks of the Clark Fork River. Missoula's oldest, and original B & B. Across the river from the University of Montana Campus, 6 blocks from Downtown. Original 1910 home, saved from demolition in 1989 and fully restored. Full breakfast, Wi-Fi, cable. Three Diamond AAA rating, member Montana B and B Association.

phone: +1 406 251-4457

address: 6980 Deadman Gulch Road

Bed and breakfast, nestled on the mountainside among Ponderosa Pines and meditative water gardens.

phone: +1 406 543-4600

address: 2775 Expo Parkway

phone: +1 406-728-3100

address: 100 Madison

Sits directly across the Clark Fork River from the University of Montana with a view of the mountains. Contains a restaurant, the Finn and Porter, which serves fresh steaks, seafood, and chops.

phone: +1 406 549-9000

address: 5059 N. Reserve St

Mountain Valley Inn

phone: +1 406 728-4500

address: 420 West Broadway

phone: +1-406-549-5134

address: 744 East Broadway St

The Campus Inn Missoula is within close proximity to the University of Montana.

phone: +1 406-721-4690

address: 1114 Poplar St

Bed and Breakfast is a completely restored 1910 Crafstsman home close to the Univrsity and Downtown. B&B features full breakfast made with organic food where possible, fireplace, close to hiking trails, bicycles, Wi-Fi, and billards.

phone: +1 406-721-8550

address: 200 S Pattee St

In downtown Missoula, next to Caras Park and the Clark River, and close to the University of Montana. As a full-service hotel, HI Missoula offers an indoor pool, fitness center, and on-site restaurant.

Broadway Inn Conference Center

phone: +1 406 532-3300

address: 1609 West Broadway

At the corner of West Broadway and Russell Street.

Ruby's Inn and Conference Center

address: 4825 North Reserve St

Hotel offers breakfast buffet each morning, outdoor pool, free airport shuttle, and free wireless internet.

phone: +1 406 285-1197

address: 204 E Spruce St

Missoula's only hostel. Kitchen, on-site storage, free Wi-Fi, and guest computer available.
Go next
Missoula's immediate surroundings offer a wide array of activities for all seasons, including the outdoor recreation afforded by vast tracts of public lands, the Old West flavor of several nearby ghost towns, several ski slopes, and a range of unique Montana businesses.
Hamilton, Montana
An hour south of Missoula on US-93, the small town of Hamilton offers several worthwhile attractions and proximity to the spectacular Bitterroot Mountains.
Hidden Legend Winery, just to the north of Hamilton on US-93, offers tastings of several varieties of mead (honey wine). The winery also produces dandelion wine.
Bitterroot Brewery in Hamilton serves about six of its microbrews on any given date. Their taproom and restaurant also occasionally hosts live music.
The Daly Mansion preserves the summer home of mining magnate Marcus Daly, one of Montana's founding fathers.
Hot Springs
About 40 minutes' drive southwest of Missoula, the Lolo Hot Springs offer two pools fed by geothermal springs: an outdoor swimming pool and a hotter (110-116 degree) indoor soaking pool. The springs are clothing-optional after 9PM on Wednesday and Sunday nights.
More adventurous soakers may prefer to hike out to some natural hot springs just across the Idaho border (about an hour from Missoula). Driving from Montana, the Jerry Johnson hot springs' trailhead will be the first. The trailhead is clearly marked--watch for a suspension bridge crossing the river to your left. The springs themselves are less than a mile hike in, and are large enough to accommodate a couple of dozen people. These springs are also clothing optional. If the springs are packed, as they often are, try hiking a quarter-mile further down the trail to two smaller hot springs.
Weir Hot Spring is a smaller hot spring about five miles further down the road from Montana. It is about a mile in on a narrow and hilly trail, which can be treacherously icy in the winter and spring. Although the drive is longer and the hike harder, visitors to Weir are compensated by smaller crowds than at Jerry Johnson. In addition, the Forest Service allows camping at Weir, unlike at Jerry Johnson.
Skiing
Pattee Canyon has Nordic ski trails groomed regularly when there's enough snow by the missoulanordic.org club, for skating and classic techniques with mostly easy flat terrain, though its often icey.
Lolo Pass, 45 miles southwest of Missoula, has good Nordic Ski trails groomed Saturday/Sunday early mornings by the Clearwater National Forest contractor, which offer excellent classic and skating tracks. Theres also a warming hut and a staffed lodge at the pass.
Other sites
Garnet Ghost Town , about an hour's drive east on MT-200, is the closest significant ghost town to Missoula. Maintained by the BLM in a state of suspended decay, the small mining camp of Garnet is an open-air museum of gold rush life on the frontier. It is only accessible by car during the summer and early fall, but two cabins in the town are rented through the winter to adventurous skiers or snowmobilers.
Glacier National Park is three hours' drive north on US-93.