Mitchell (South Dakota)
Mitchell
is a city in
Southeast South Dakota
on Interstate 90 about 75 miles (121 km) west of
Sioux Falls
. Mitchell is located in the heart of South Dakota, with rich rolling farmland leading into wide open prairies.
Understand

Named South Dakota's 2011 Community of the Year, the town has a population of just about 15,000 residents, unique Main Street shopping, and a wide selection of services, entertainment, hunting, fishing, golf and camping opportunities.
Home to the World's Only Corn Palace, a structure known for attracting the unusual, the notable, and the road-weary. Topped with a whimsical mix of onion domes and minarets, the Corn Palace appears as if drawn straight from a storybook.

Get in
By car

The main route to Mitchell by car or motorcoach is Interstate 90. Coming from the east, we are 78 miles from the SD/MN border or 67 miles west of South Dakota's largest city, Sioux Falls, on I-90. From the west, we are located 270 miles from Rapid City and the Black Hills on Interstate 90. You can also get to Mitchell using north-south Highway 37 or Highway 38 from Sioux Falls in the east. For traveler information or road conditions on South Dakota's Highways you can visit the South Dakota Department of Transportation's website. Once in South Dakota you can dial 511 on your cell phone for road conditions including restrictions, conditions and weather reports.

By plane

The Mitchell Municipal Airport (5971 Hangar Road, +1 605 996-1228) is open to the public.
The closest commercial airport is Joe Foss Field in Sioux Falls, serviced by United, Delta, and Allegiant Airlines. There are several rental car businesses available in Sioux Falls. Jefferson Bus Lines runs daily service between Sioux Falls and Mitchell, and between Rapid City and Mitchell.

Get around
Public transport
Palace Transit, (+1 605 995-8440, 7:30AM-4:30PM). Palace Transit serves Mitchell and nearby smaller communities by request.
See
Visitor information center
The information center is off Interstate 90, exit 332. The information center is open daily May 1 - September 30. Hours of operation: 8AM-6PM. Get free brochures, maps, directions, and advice.
Do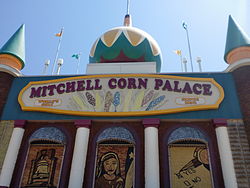 phone: +1-866-273-CORN

address: 604 North Main

The original palace was built in 1892 in order to display the fertility of South Dakota's soil. The current building is the third incarnation and was built in 1921. Each year a new mural designed by local artists related to life in South Dakota is created on the exterior of the palace. The murals are created from a lot of corn, grasses, grains, straw, oats, etc. Inside the palace there is a stage and arena for sporting events. Each year there is a Corn Palace Festival that takes place in front of the Corn Palace.

phone: +1 605 996-2122

address: 1300 McGovern Ave

Learn about American Indian and Pioneer Life on the prairies of the Dakotas, visit the Oscar Howe Art Center, tour a one-room schoolhouse, a train depot, a country church, and the Italianate-style home of Louis Beckwith, co-founder of the Corn Palace. Also visit Discoveryland, a hands-on exhibit area sure to please the kids.

Mitchell Prehistoric Indian Village

phone: +1 605 996-5473

address: 3200 Indian Village Rd

The Boehnen Museum offers exhibits related to the thousand year old village. Included in the museum is a reconstructed lodge. Inside the museum is the "Shoppe Antiquary" which sells a variety of traditional, ceremonial, and contemporary Native American arts and crafts, and more. Outside the museum one can learn how to use and practice the atlatl spear thrower. Then follow the path to the Thomsen Center Archeodome which covers the on-going archeological dig. The dome also provides a teaching and research facility as well as some hands on activities upstairs.

phone: +1 605-996-3209

address: 119 W. 3rd Ave

Discover the comprehensive collection of Mitchell historical information and Corn Palace memorabila, from the first year it was built, including signed photos by many of the famous performers at the Corn Palace. Enjoy the mural "Sun and Rain Clouds over Hills" by Oscar Howe, a Yanktonai Sioux artist who designed the murals for the Corn Palace from 1948-1971 and also taught school at Dakota Wesleyan University in Mitchell.

phone: +1 605-995-2937

address: 1201 McGovern Ave

Experience a unique journey through the lives of two of Dakota Wesleyan University's most recognizable graduates, former SD Senator George McGovern and Eleanor McGovern, from their young lives through World War II and George's political career, their family life, and George's current fight to end world hunger.
Buy
phone: +1 605 996-0337

address: 601 Cabela Dr

Sells hunting, fishing, and outdoor clothing and gear.
Eat

Mitchell offers steakhouses, coffeehouses, bars, grills, doughnuts, ice cream, Chinese, Mexican, pizza, and fast food.

Drink
Mitchells Bar Scene is rather unique with a small town atmosphere. Many bars line main street for about six blocks.

Sleep
Go next