Miyako (Iwate)
Miyako
(宮古) is a small city of approximately 60,000 people on the eastern-most coast of
Honshu
, Japan's main island. The main attraction is its surrounding national park and the Jodoga-hama beach.
Get in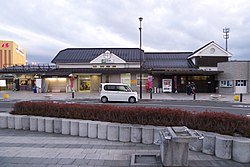 By train, the JR Yamada line is frequently used, which brings you from
Morioka
to Miyako in around two hours. Bear in mind that there are only four to six round trips per day on the line. Seat reservations can be made on the rapid services.
For about the same price (just under ¥2000), you can take the more frequent "106 Bus" run by Iwate Kenpoku. There is about one bus per hour, the earliest leaving Morioka/Miyako around 6 and the last at about 8:30. See http://www.iwate-kenpokubus.co.jp/toshikan_bus/schedule_02.html (in Japanese). From Morioka Station, go out the East Exit and board the bus at stop number 7 (乗り場7). From Miyako, board the bus in front of the JTB Travel Agency.
Get around

Half a dozen buses leave from the stops in front of the station. From stop number 3 buses leave hourly for the Jodogahama beach and get there in about 20 minutes. Get off one stop earlier at the Terminal Building (ターミナルビル) and walk along the coast for some 500 meters to save a few yen and see more.

See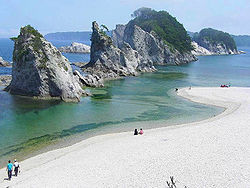 Jodogahama beach
(浄土ヶ浜) is the only real attraction around Miyako, but it alone is worth planning a stopover in the city. There are also some nice hiking trails around the same area.
Eat
Snake EyesServes a wide variety of Japanese food to suit any taste. English-speaking staff is also available.

KaishuThis ryokan and restaurant has great seafood.

Yoshi-zushiSome locals say this is the best sushi in town. The restaurant serves blowfish and also has a large Japanese sake selection.

SunoyaA conveyer belt sushi restaurant with friendly staff. Limited English spoken.
Drink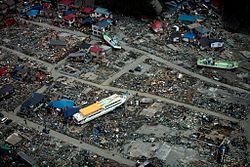 Elk
is the premier hostess bar in town, coming in at around ¥700 for a beer (nothing by Tokyo standards). To get there walk down o-dori (coming from the station) and you will see a sign for it on your left. The atmosphere is friendly and it's a great place to practice your Japanese. The clientele are made up of local politicians and branch directors, so it's also a good place to make connections if you're in Miyako long-term. It is open on all week until 1am except Mondays.
Mecca
is a bar on the south side of town. To get there walk to the crossing where Elk is and instead of crossing turn right, and follow that road. Follow it around to the left and walk to the end of that road, and you should see a big neon sign on your right. The bartender speaks some English and loves foreigners. He's also quite well connected around town and will recommend good places to go. It's about ¥500 for a beer. It's open whenever Nakano feels like opening it until the last customer goes home. Since many hostesses go there after work, this may end up being until 5am. Occasionally holds hip-hop/RnB events.
1950
is a small 50s themed bar on the same road as Mecca. It has reasonable prices, a large selection of drinks and is also open until the early hours. The vast majority of clientele are people winding down from work in restaurants and other bars. Bartender is very friendly.
Roji
is an Izakaya in the centre of town. The bartender is knows his sake and will quite often give you free samples should you express an interest. It comes in a little bit expensive, but the food and decor are first class. Normally stays open until around 1am.
S
is a jazz bar located behind Roji. It has a large selection of whiskies and on occasion, live performances. It is one of the more expensive bars in town, but is often one of the only places still open at 3am. Sometimes has some very elegant, high-class customers.
Momo
and
Tomato
are two hostess bars located in the building above S/Roji. Cheaper than the Elk but you get what you pay for. The barstaff are less pretty and sometimes less friendly. Also, you will need to bring some Japanese skills with you.
Sleep
Suehiro-kan Youth Hostel, just a two minutes walk from the station. It's an old but clean place with no curfew, though you might be hard pressed to stay out late in the city.
Miyako Station Koyou (宮古ステーション古窯) is a business hotel located about five minutes away from the station, with clean, modern rooms and free broadband internet connections available to those with computers. Each room also has two free pornographic television channels.
Go next