Miyazaki (prefecture)
Miyazaki Prefecture
(宮崎県
Miyazaki-ken
) is on the southern
Japan
island of
Kyushu
.
Cities
— The prefectural capital
— an amazing gorge and holy Shinto sites
Other destinations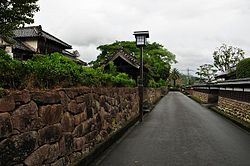 Talk
Miyazaki-ben, the primary Miyazaki dialect, can differ drastically from standard Japanese depending on the age of the speaker. Younger people mostly speak a variation of standard Japanese but older people can be almost unintelligible even for Japanese speakers.
Like much of Japan, English speakers are few and far between but they will still try their hardest to help you if you ask for it. Most tourist information centers have english speaking staff who can help you.

Get in
By plane
Miyazaki Airport (
KMI
), in southern Miyazaki City, is the primary airport in Miyazaki Prefecture. It is a tiny airport with limited flights, but its small size means you can get in and out very quickly and easily. There are many local products for sale on the second floor and restaurants on the third floor.
There is a train station located just outside the airport that can take you to most major cities in the prefecture.

By train
The Nippo Main line is the primary rain line running through Miyazaki Prefecture. This line runs from Kitakyushu to Kagoshima passing through most major cities along eastern Kyushu including Beppu, Oita, Miyazaki, and Miyakonojo.
The Miyazaki Kūkō Line runs from Miyazaki Airport to Miyazaki City. Often, this line will then follow the Nippo Main Line heading north towards Nobeoka.

By bus
By Ferry
Miyazaki Car Ferry is an overnight car ferry that runs between Miyazaki and Kobe. It departs at 7:10pm every day (except Sunday on which the Miyazaki bound ferry leaves at 6:00pm) and arrives at Kobe at 7:30 am and at Miyazaki at 8:40 am.

Get around
To get around, hiring a car is a very good idea as public transport can be rare and not particularly convenient. If you do this, it would be a good idea to briefly study Japanese road signs most but not all of them are also written in English.
If you can't rent a car or adjusting to driving on what can be very confusing and narrow streets isn't on your bucket list; trains are the best way to go when traveling between cities. From Miyazaki City, there are three main routes: The Nippo Main Line heading north along the coast through Nobeoka to Oita, the Nippo Main Line heading west through Miyakonojo to Kagoshima, and the Nichinan Line heading south to Nichinan. Additionally the Miyazaki Kūkō Line is a local train. The north-south bound Nippo Main Line super express trains often stop at the airport.
Buses are available in all cities, but may only come once or twice an hour even in Miyazaki City.
Some cities also offer tourist taxi services and bike rentals. Bikes can be a wonderful way to get around in sunny Miyazaki, but it can get really hot and humid in the summer.

See

==Do==
==Eat==
==Drink==
==Go next==