Moalboal
Moalboal
is a small town on the South-West side of
Cebu Island
. It is mostly used as an entry point to
Panagsama Beach
, a resort area with restaurants, bars and many dive schools.
Understand
The town sits at the base of a peninsula which runs roughly north-south and has an assortment of tourist facilities — resorts, dive schools, bars and restaurants — along much of its west coast.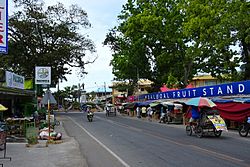 There are two main beach areas:
Panagsama Beach (Barangay Basdiot), closer to town and busier. The diving is good, with underwater cliffs that have much marine life, but the beach is somewhat rocky. This is a haven for snorkelling and diving, with many dive resorts and dive schools. There is also other accommodation and many dining and night life options.
White Beach (Barangay Basdaku), further north and quieter (fewer tourists). This area has two white sand beaches and may be preferable if sunbathing and swimming, rather than diving, are your main interests. Establishments are far from each other so you only enjoy the hotel and its amenities. There are entrance fee of per person to enter the area and another entrance fee of per person and per vehicle to the White Beach.
Most visitors will spend nearly all their time in the beach areas.
Get in
The easiest way to reach Moalboal is from
Cebu City
. The road is in good condition, even the part in the mountains, and is about 80 km.
By van
Many of the hotels and guest houses in Moalboal will send a car or van for pickup at
Cebu Airport
.
Be ready to pay around for this 2½-hr trip. This is absurdly expensive for a single person or couple, but may make economic sense for a larger group. Consider a group of six: two taxis to the bus station for at least each, per person for the bus, around a couple for tricycle to the beach. You would spend close to for the trip, and paying more to get there quicker and in comfort may be worthwhile.
By taxi
Taxis can be hired at Cebu Airport for (fixed rate as of Sep 2018).
By bus
Watch out for problematic ticket collectors
Before boarding the bus, make sure you know the price you have to pay for the ticket. You can also read it off the ticket you get from the ticket collector (who will be on the bus during the whole journey). Do not pay more, this is the final price. It is also a good idea to pay the exact amount since the ticket collectors walk away with your money and tend to forget about the change. Some are very good at ignoring you. Also do as the locals do and pay your ticket as soon as possible and not shortly before you get off. This avoids discussion under time pressure.
As usual, the cheapest method is a local bus; from
Metro Cebu
these depart from the South Bus Terminal, takes around 4 hr. The main company is the yellow color buses of Ceres Liner. the bus fare was for non-AC bus, for an air-conditioned bus (as of June 2019). You will be dropped after the Moalboal market. See the
Cebu Airport
article for ways of reaching the South Bus Station; the cheapest is getting the airport Mybus to SM City for then a taxi to the South Bus Terminal for . A taxi ride directly from the airport to the South Bus Terminal is , a more convenient way if you have a lot of luggage. It may also be worth spending a few days in
Cebu City
before heading to Moalboal.
Coming from
Dumaguete
, it is a four-step process:
get to a ferry port (not Dumaguete port, but one further north)
cross to Cebu Island by ferry
take a trike to the bus station
catch a bus to Moalboal.
Two ports can be used, one in Sibulan or one in
San Jose (Negros Oriental)
; for most travellers San Jose works better. The port in Sibulan is closer to Dumaguete and has a shorter and cheaper ( vs. ) ferry ride, but is is farther to the bus station and the trike costs more (around vs ). Also, there is only one ferry an hour there but two or three at the other port. The Sibulan port can be reached for about by tricycle from the city center or by
jeepney
. San Jose is over an hour and by jeepney, or you can pay more to travel in comfort by Ceres bus since all the Dumaguete-Cebu buses use this port. See
Dumaguete#By jeepney
for locations of the jeepney terminals.
Once you reach the bus station on the Cebu side, look for yellow Ceres buses headed for Cebu City; some of them go via Moalboal (ask the driver). The bus fare is (as of early 2018).
Get around

The easiest way to get around is to use tricycles.
From Moalboal to Panagsama Beach 3.5 km, the fare is for a (shared tricycle per seat) by day. Don't pay more than if you're alone on the tricycle. To White Beach most people were paying (as of Apr 2018). But if you just get one seat, the tricycle is . A tricycle ride anywhere in Moalboal town is .
Most travellers just take a trike to Pangasama then walk everywhere. The main road there has most of the area's restaurants, bars and souvenir shops, plus several resorts and diving schools. There are other resorts and dive places on White Beach, and some on Pangasama south of the main strip. There are also places to stay a bit inland.

See
Pescador Island

phone: +63 32 4743123

address: Tanon Strait Cebu

Pescador Island, about 3 km (1.9 mi) off the coast, is the most popular dive spot with an underwater cave called the Cathedral. The structure of the reef that follows the entire coast line has made the place ideal for scuba-diving, snorkeling and freediving. Divers can enjoy easy access to the reef since the drop off is shallow and close to shore but drops down to more than 40 m (130 ft).

Sarine Run

phone: +639338631396

address: Tanon Strait Cebu

The famous school of a million plus sardines that once called Pescador Island home have now moved even closer ashore. In fact the sardines congregate right at the reef drop-off on Panagsama beach. Shore diving is a breeze here and most dive operators have their shops abutting the shoreline. If you swim 20-30 m from shore, the reef drops off dramatically, as deep as 70 m in some places and it is here where you can watch the huge cloud of sardines creating different shapes and forms against the backdrop of the spectacular reef wall. Sometimes you will even get to see predators feeding on the sardines including jacks and tunas.

phone: +639338631396

address: Tanon Strait Cebu

Fronting Tonggo point lives an abundant number of turles. Get a chance to swim with these creatures and take photos and videos. At the same time respect their surrounding by not touching nor destroying their homes.

Orchid Gallery

address: 123 Moalboal Bl

It's not so much a gallery, but an orchid plant school that has a pool and nice shaded areas and some specimen of the local wildlife. You can buy orchids and other plants.

Lambug BeachTake a tricycle about 20 km south towards Badian to find Lambug, a beach that to a greater extent than Basdako reminds you of a deserted island. Especially during the weeks, you can sometimes find yourself completely alone on the beach. Should you like to work on your swing, there is also an 18-hole golf course nearby.

White BeachAbout 7 km north of Panagsama you'll find White Beach or Basdako, meaning 'Big Sand', a nice white sandy beach lined with a beautiful coral reef about 30 m out. Pack your mask and snorkel. White Beach is a popular spot to visit, especially during the weekend, so if you're looking for more quiet beach life go during the week or make your way a bit further north up the beach. There are a couple of restaurants along the beach and also a few resorts if you would like to stay for the night. To the south you have the high-end Dolphin House Resort (from about /night) and a bit further north Blue Orchid Resort (from around /night) and Club Serena (from around /night). There are also some cheaper options for the budget-minded traveller, Barefoot White Beach Resort (around /night) and HK Beach Resort (around /night) are both good options.
Kawasan Water Falls
Kawasan water fallsThe Kawasan water falls (a three step waterfall) is located in the rain forest approximately 20 km south of Moalboal (past Badian). If you take the bus from in front of the public market in Moalboal (near 360 Pharmacy), you can ask the bus driver or ticket collector to drop you off at the right place. The bus ticket from Moalboal to the water falls or vice versa costs . You also need to pay an entrance fee of and will get an official receipt. Be careful of the guides' offers. The walk up to the fall is very easy and you do not need a guide.
Getting to the falls is approximately a 30 min ascent through an impressive landscape. You can take a nice cooling swim in the natural pools, or take a raft out to the falls. There are resting place tables for a charge, some small restaurants and very simple accommodation available.
The falls can sometimes be a bit crowded (especially on weekends) so if you're looking for more of a nature experience, check out the guided canyoning tours that are offered by some resorts in Panagsama. Tours start in the morning, above the waterfalls, and you make your way down wading along the river, swimming through deeper sections and jumping down waterfalls. Takes about one day, around per person.
Do
Snorkelling
Not far out from the beach shore in Panagsama Beach, there is a drop-off. Near that area, especially towards the south, there are countless reefs, with soft and hard corals, many different species of fish. Sometimes you can spot lion fish, water snakes, and with some luck turtles. The southern half of White Beach is also a good spot for snorkelling if you want to combine it with relaxing in the sun. On typical days, a number of turtles are often seen very close to the shore line especially at Tonggo Point which is in front of
Pescadores Seaview Suites
. Such as the famous Sardine Run, a number of turtles, and lots of micro organisms.
Diving
Most divers come for the more famous diving spots in Pescador Island, which offer terrific diving. However, there are a lot more spots do discover around the Moalboal peninsula. In some areas there are fish sanctuaries, and there is a marine preservation program in effect to encourage fishermen not to fish with nets.
Dives usually cost around with gear. There are a few "local owned" dive shops that are per dive. Most of the dive shops operate 3 dives per day and you can even do your own diving schedule on low season!
If you are not a diver yet, a beginners' course will set you back about depending where you go. It's a good idea to look around for a good deal, but make sure to look for the PADI or SSI certifications of the dive shops as they are a guarantee that the equipment and staff meet certain standards. Set aside about 4 days for the course.
See also
Diving in the Philippines—Moalboal
.
Freediving
Freediving is becoming more and more popular in Moalboal, because the area offers great conditions for the sport. Close to the shore, the reef drops off to about 40 m (sometimes more) and the water is usually calm and clear. There are several diveshops that offer courses and training session.
M'Ocean Freediving
that also arranges freediving courses for PADI or AIDA certification. It is managed by the current Philippine record Holder Wei Zosa.
Hiking
The most famous place for hiking is on Osmeña Peak (Pico Osmeña), which is the highest peak in Cebu island. The trip from Moalboal town takes about 90 minutes, and if you are going by a bike, do note that some of the roads are rough. Entrance fee is . The usual hike can be done in 15-25 minutes with a couple of routes or peak to take. There are some basic accommodations for rent in the hiking trail.
Other activities
Although in Moalboal the most popular tourist activity is Scuba diving, there are a lot more outdoor activities to explore. The area is great for hiking, mountain biking and canyoneering, and there are many natural wonders like caves and waterfalls to explore. There are a few companies that arrange adventure tours. In Panagsama you'll find
Pescadores Seaview Suites
that offers a vast choices of tours. Other than the rich marine life, the strip is surrounding the shore contains a number of restaurants, bars, live music and night life. If you're bored in the hotel you simple walk outside and within 3 minutes walk depending on your location you can be entertained with the life it has to offer. It is an all in one package.
Buy
Banks & ATMs
Most Philippine banks, including all the ones in Moalboal, add a surcharge for an ATM withdrawal using an overseas bank card and have limit of per transaction. However, the HSBC ATM in
Cebu City
accepts most foreign cards, has no fee, and allows per transaction. You may be able to save money by withdrawing funds there before going to Moalboal.
There is an PNB Visa card ATM at Panagsama beach in the entrance of Eve's Kiosk.
In Moalboal town (about 3.5 km from the beach, reachable by tricycle) there is a Metro Bank ATM in the 360 Pharmacy which takes Mastercards.
There is a PNB Bank with an ATM at the Gaisano shopping mall to the left of the main entrance which takes only Visa cards. There is also a Metro Bank ATM at the Gaisano Grand which takes visa Cards and Mastercards.
ATMs are less likely to work on Sundays as they run out of money.
Pharmacy
The Generics Pharmacy

address: National Hwy Moalboal town
Malls & supermarkets
There are two Gaisano malls in Moalboal and soon a new Citi mall which will have a Jollibee and a supermarket.

Gaisano Grand Mall & Gaisano Supermarket

address: National Highway

Has a supermarket and large department store, McDonald's, PNB Bank with a 24-hour Visa card Metro Bank ATM.
Gaisano Town Center Mall & Gaisano Supermarket. Barili-Toledo Road 9AM-8PM. A large department store that has places to eat and a Landbank ATM.
Eat
Panagsama Beach has been overrun by tourists, so expect higher food prices compared to the Cebu City. Almost all eateries are serving the standard menu of sandwich-pizza-burgers for uncultured tourists, and the local dishes are either limited or considerably high price considering the general price level of the country. On average, a burger costs about upwards and a local dish is about upwards. There are some local eateries along Panagsama Rd without name banner where you can get a meal for (as of Feb 2019).
For the Asian lovers,
Island Wok
is a newly opened restaurant in Panagsama which serves a fusion of Asian dishes such as the Korean spicy noodles, Japanese bento meals, Chinese dumplings, cheese sticks and vegetarian to name a few choices. Local and imported beers are also part of the choices as well. The food here is not salty not oily that taste excellent. They also have free wifi which is amazingly fast. Love the service and the nice garden terrain.
Maya's Mexican
is in the main Part on Panagsama Beach and does excellent Mexican food - a nice change. They do superb fresh shakes (mango) and have a great BBQ.
Chili bar
also does good food, and has the best pizza in Moalboal according to a sign outside (many are inclined to agree). If you venture a bit further south along the beach you'll find
Arista Restaurant
, which sits right on the waterfront. They have a decently priced Filipino/German menu, and great service to go with the good food.
A place that can be a bit hard to find, but that's well worth the effort is
Food Stop
, just next to the road between Moalboal and Panagsama. It doesn't look like much from the outside, but they serve generous portions delicious Filipino and Asian dishes for each.
Another culinary delight is to pick up a freshly grilled chicken in Moalboal town. You'll find a good place on the left just down the road from the public market, across from the fruit stands. One chicken is .
Island Wok, Basdiot Panagsama +63 32 4743123 & +639338631396. Opens daily from 10AM to 10PM. Asian cuisine. Fastest Wi-Fi internet in whole Panagsama area!

Mayas Native Garden Restaurant

phone: +63 32 474-3084

address: Panagsama Beach

address: Main road, Moalboal

A deli and restaurant designed to cater to the needs of the locals and foreign visitors. Offers international and local food and the deli has a wide array of imported groceries, cold cuts, sausages and wines. Cheaper than most places in Panagsama.

The Three Bears

address: 2575 Panagsama Rd, Moalboal, 6032 Cebu

Offering nice burger at a decent taste and price compared to the other eateries in the area. Desserts are outstanding. The place is decorated in an amusing bear-related decoration.

address: National Road

Nice bread and cafes and drinks.

address: National Highway

Full A/C. sells beers, rice meals, hotdogs, coffee and ice cream. ice. Has cellphone load.
Drink
There are a lot of restaurants along the beach where you can have a drink with a sea view. Chili Bar in Panagsama Beach is the most popular one and usually full of people all year around. You will find two billiards table there (as in almost all the other bars around) and there's a tournament on Wednesdays. Across from Chili Bar is 7 Sins Bar, also with a pool table and lots of seating.
As you come down to Panagsama from Moalboal and the road turns left, continue straight on down to the beach and take a left to find Ester's Bar. The nice sea view is accompanied by friendly service.
On Saturday nights, there is a disco in Pacitas, just a short walk south along the beach from Panagsama's center. There are also very often discos organised by locals in different locations. Ask around where it is, everybody knows. On your way to Pacitas you can also stop off at Andi's Talisay for some late night singing at their open-mic night.

Sleep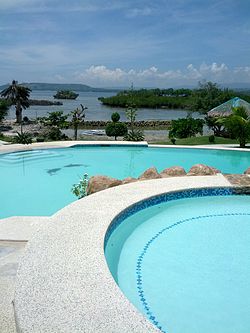 Budget
phone: +63 905 227 8096

address: Panagsama Beach, Basdiot

A very popular place among backpackers. The dorm is a loft, with plenty of light and space to meet people. Free Wi-Fi. You can use the kitchen. Friendly staff. Cheapest option is dorm, next rooms with two single beds and shared washroom; for double bed and private washroom.

phone: +63-9333663925

address: Panaagsama Road

A bed in an 8-bunk fan dorm. Free Wi-Fi.

phone: +63-32-4743548

address: Panagsama Road Brgy Basdiot

Super clean fan or A/C 12-bed mixed dorms. Free coffee. Free Wi-Fi. Has lockers.

phone: +63-9752198219

address: Panagsama Road Brgy Basdiot

A bed in a six-bed fan dorm. Free Wi-Fi.

Villavante Backpackers Lodge

phone: +63-9662779502

address: Poblacion East Cooperative Building

6-bed dorm, single/double rooms, free Wi-Fi. Onsite coffee shop, sun terrace, lockers.

phone: +63-9234040575

address: Paramayon Poblacion East

5 bed dorm, single/double rooms, free Wi-Fi, use of kitchen, garden.

MJ's Residences

phone: +63-9238197642

address: 1300 Babiera Street Poblacion East Moalboal

Fan double room, shared bathroom, free Wi-Fi, outdoor dining area,
Mid-range
address: White Beach, Basdako

Clean, relaxed and close to the beach. There is no pool or restaurant, but the manager there will buy groceries in town and cook for you if you ask.

phone: +63 999 494 3024

One company with several businesses — lodging, two restaurants and a dive shop — clustered together in a central location. Check in is at an office just north of their Italian restaurant on the seaward side of the main road. They offer some good mid-range options, e.g for a/c double room with a fridge and its own balcony. This includes breakfast for two, small (one egg & not much bacon) but OK.

phone: +63 32 474 3123

address: South Panagsama Beach

Pescadores Seaside Suites Is a destination hotel includes free use of snorkeling gears, underwater camera, transparent kayak, classic arcade, billiards, massage and swimming pool. Their beach front are rather nice to view the sun set and if you are snorkeling or kayaking you might spot 3-5 turtles just in front as their house are not far from the shore. Rooms have airconditioning, flat screen TV with the latest movies, hot water shower, probably the fastest WIFI internet in whole Panagsama and breakfast for 2 persons per room. Their front desk is open 24 hours which is unusual in the area. Tours can also be booked at the front desk.

phone: +63 915 480 9610

address: Panagsama beach

Mayas is in the heart of Panagsama Beach. It has five beautiful native cottages built with western luxury & comfort. The big surrounding garden is rough and trimmed with a myriad of plants and flowers where hummingbirds live and kids can play.

Nidos Garden

phone: +63 32 474-3068

address: Panagsama Beach

Simple and clean rooms without aircon. Has the same management as Quo Vadis, so you can use their pool and Wi-Fi.

phone: +63 32 474-3068

address: Panagsama Beach

Nice, clean and close to the beachfront. The resort has a pool, two bars and a really good restaurant. Free Wi-Fi. There is also a dive centre that offers boat dives and certifications.
Splurge
address: Copton Peninsula

On the southern tip of the peninsula.
Go next