Mochima National Park
Mochima National Park
is in
Sucre
state, off the
Northeast
of
Venezuela
.
Understand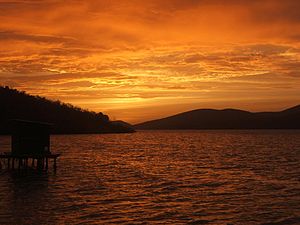 History
Named after the town of Mochima, it is just one of a number of national parks along Venezuela's northeast Caribbean coastline. Created in 1973 it was the second marine park in Venezuela and encompasses the entire shoreline between Puerto La Cruz and Cumaná plus 32 islands just offshore.
Landscape
Flora and fauna
Climate
Get in
i have gone and you can rent a* You can take a bus from Puerto la Cruz to Santa Fe, and from Santa Fe you are able to get an pen backed van to the entrance of Mochima. You will be dropped off at the entrance which is a long road so don´t try to walk. There are buses which seem to run approx every 20-30 mins which then takes you right down to the Inparques office.

Fees and permits

As Mochima is a National Park you have to pay to camp overnight on the beaches. You also need a boat to get to the beaches. If you wait for more people to turn up, the price for you goes down as it is split between how ever many people there are.

Get around
Boats to the westerly islands leave from the Paseo Colon in
Puerto La Cruz
; boats to the eastern end of the Park go from the port at
Guanta
.
See
Some of the more popular islands include Las Borrachas, Monos, Arapito and Chimana Grande.

Do
Scuba-diving, snorkeling, sun-bathing, relaxing.

Eat
Fresh, fried fish from the thatched beach restaurants. Best served with tostones, or mashed and fried plantain.
Oysters with lime - but beware of beach sellers with buckets of oysters who will tell you a low price for your first taster but then will charge a fortune after they've happily cracked open a couple of dozen shells.

Drink
Cold beers, sold on most of the beaches either from thatched restaurants or beach sellers with cool boxes.

Sleep
Lodging
La Carreta

phone: +58 416-307 86 82, +58 416-482 63 68

address: Calle la Marina
Camping
You can camp on the beaches in Mochima. You must pay a fee to Inparques and the office is opposite the boats when you get down to the waterfront.
Backcountry