Modena
Modena
is a town of the
Emilia-Romagna
Region, in the middle of northern Italy.
Understand
The town is well-known all over the world, especially for some famous people who were born and lived here such as Enzo Ferrari and Luciano Pavarotti, and for some of its gastronomical products, such as tortellini, Lambrusco wine, balsamic vinegar, and Parmesan cheese.
It is a town that, since the 1970s, has become one of the richest and most socially advanced in Italy: 77 km of cycling paths, 16 cinemas, 25 libraries, and one of the oldest universities in Europe. It sits at the crossroads between the Brenner motorway and the Autostrada del Sole, 40 km from the important railway and airport node of Bologna. Tourists from all over the world visit the art treasures in Modena: the 12th-century cathedral and masterpieces of Italian Romanesque art, that together with the Piazza Grande and the Ghirlandina tower, create a complex of unique beauty, included by UNESCO in the "
World Heritage list
".
Tourist information
phone: +39 059 203 2660

address: Piazza Grande, 14
Get in
By plane
The nearest airport is
Guglielmo Marconi Airport
in Bologna, about 6 km from Bologna train station and 40 km from Modena. The airport can be reached:
by motorway A1 Milano–Bologna
by train along the Modena–Bologna line, which provides frequent service
by a shuttle bus from 05:15-21:30 from Modena to the airport and from 06:15-22:30 from the airport to Modena. The fare is €15 per person. Tickets can be bought on the bus. Baggage is free and minors accompanied by at least two relatives travel free of charge.
By train
address: Piazza Dante, 14

Modena is on the train line, Milano-Piacenza-Parma-Modena-Bologna, so it can easily be reached from the main nearest towns. At the station you'll find a number of ATCM buses (the local transport company), by which you can reach the main areas of the town or the surroundings. National Call centre Trenitalia (train schedules and booking service) 892021, every day 24 hours. For assistance to the disabled phone 199 303060. Window for national and international railway tickets: Hours: daily 06:00-21:00. Self-service ticket machines are available. There's no left-luggage office.
By bus
phone: +39 80 011 1101

address: Via Bacchini, 1

Modena can be reached by any of a large number of suburban buses, which connect it to the most relevant villages of the surrounding province (Carpi, Sassuolo, Fiorano, Campogalliano, Correggio, Soliera, Vignola, Pavullo, Nonantola, Maranello, and others). Modena Province is divided into 41 districts, each with a different fee. The ticket is valid for a limited amount of time once you get on the bus, depending on the specific district.
By car
The town can be reached by motorway A1 Milano-Napoli. Exit Modena Nord (5km from the town centre) or Modena Sud (10 km from the town centre). The town is at the south end of motorway A22.
Get around
By public transit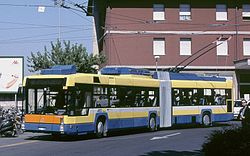 Modena is well served by a trolleybus service, one of the largest in Italy, composed of 3 lines, and a bus service. All public transport is provided by
SETA
.
Urban public transport run from 06:00-21:00. The night urban line 7N runs from 20:30-22:30. Extra-urban buses run through the surrounding province at many different times and on many different routes.
Tickets
Tickets can be bought directly on the bus (automatic ticket machine), outside the railway station or at the autostazione (also on the mobile app Roger of Tper spa).
By car
Modena is crossed by a major road, the Via Emilia, a historic Roman road that connected Modena with other important towns and cities of the region, and that still represents one of the main traffic ways in Italy. The road runs through the middle of the town, in an east-west direction.
The historic centre of the town is a restricted area (ZTL), meaning only residents, commercial operators, or tourists staying at hotels in the centre and with a special permit can go there. Access is regulated by an automated system, named Modena City Pass, which allows local police to monitor cars and motorbikes through a network of webcams placed at access points. These webcams are always on and continuously register the number plates of passing cars, sending the information to a control and alerting system.
In other areas, parking is in part free (identified by a white line) and in part with fee (blue line); the amount of the fee depends on the city area. Payments can be made with coins by nearby park meters. On Sundays and public holidays parking is free. Alternatively, payments can be made with a prepaid card (€20), purchased at ACI (Automobil Club Italia) offices or at some tobacconists in the town centre. Parking is usually free at night (20:00-08:00).
By taxi
Two radio taxi services are available 24/7, also for trips in the province or even further. The services include booking by SMS and services for disabled people.
phone: +39 059 212100

Co.Ta.Mo

phone: +39 059 374242, +39 335 1838555 (SMS)
By bicycle
Bicycles can be rented at:
address: Piazza Grande 14

This is an Italian word pun that refers to the possibility of cycling to the centre. Modena offers everyone a free bicycle. You can take free yellow bicycles at the Tourist Information Office where you fill in a form and pay a deposit. Tourists must be of legal age and have a valid ID. This service is also available in a number of other locations, mostly at the north-east of Italy.

Novi Sad Park

address: Viale Monte Kosica

Policlinico
On foot
The town is easily walked, though it occupies more than 183,000 m². In the historic centre, inside where the city wall once stood, are found the most important buildings.
See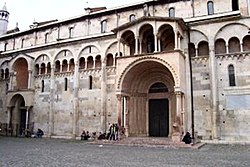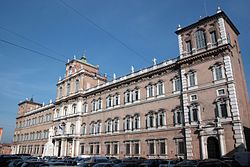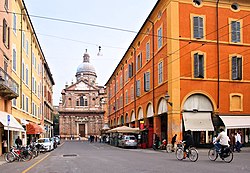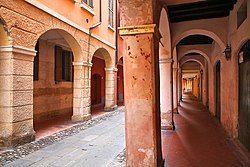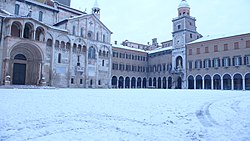 Piazza Grande
A UNESCO heritage site. It is the centre of life of the city. It is a festive, crowded place on Saint's Day (31 January) in honour of the local patron saint, San Geminiano, and on the Thursday before Lent. In front, in the apse of the cathedral, the pole, tile, brick, and fathom units of measure are engraved, to assure honest trading in the piazza. This bears witness to the fact that the piazza was a place of great economic importance and the heart of the city.
Other attractions
Cimitero San Cataldo
Churches
Automotive museums
Do
Tours
Balsamic Vinegar Factory Tour

phone: +39 059 203 2660

To visit a balsamic vinegar production "acetaia", you can contact the Modena tourist office. They'll book a tour for you in one of the factories on the day you request.
Events
International Festival of Military Bands

phone: +39 059 203 3020

Modena international military tattoo. Musicians from militaries around the world parade, give concerts, and great performances.

Modena World of MotorsExhibition of luxury vehicles in the historic centre. Exhibition and show of cars and motorcycles by Ferrari, Maserati, et al.

phone: +39 059 203 3382

address: Largo Porta Sant' Agostino 337

For 3 days Modena, Carpi, and Sassuolo offer meetings with the greats of contemporary thought with philosophic dinners, films, shows, and exhibitions.
Theatres
Eat
phone: +39 059 236106

address: Via Luigi Albinelli 40

Specialities: tortellini, veal escalope in balsamico sauce, brassato (beef in red wine sauce).

phone: +39 059 217284

address: Via Emilia Centro 77

Speciailties are 'barozzi (chocolate cake) and rosine.

phone: +39 059 211204

address: Via Farini 37

Coffee tasting at its best.

Caffeteria Giusti

phone: +39 059 219132

address: Via Farini 71
Splurge
phone: +39 59 210 118

address: Via Stella 22

Constantly voted as one of the world's best restaurants, Osteria Francescana under the guidance of head chef Massimo Bottura elevates Italian cuisine to it's finest.
Drink
On Via Taglio, Via Gallucci, and Piazza della Pomposa there are many cafés and pubs, wine bars, and brunch-cafés.
phone: +39 059 244 309

phone: +39 059 222 232

address: Piazza Grande, 26
Sleep
Mid-range
Villa Gaidello Bed & Breakfast

phone: +39 059 926806

address: Via Gaidello 18

A large farm and estate of renovated farmhouses dating back to the 1700-1800s, surrounded by lush grounds and trees.
Splurge
phone: +39 059 2051530

address: Via Vignolese 1684

Premium business hotel with 84 rooms, located outside the city along the highway.
Buy
address: Via Luigi Albinelli 13

Art nouveau market hall with lots of pasta, vegetables, fruits, cheese and sausage specialities.

phone: +39 059 222533

address: Via Farini 74

All types of regional specialities, great selection of wines

phone: +39 059 549019

address: Via Risala 4

Great choice of balsamico vinegar.
Connect
Main Post Office

phone: +39 059 2053337

address: via Emilia Centro, 86

Thirty other post offices in town.

Municipal Wi-FiWi-Fi is available in many areas of the town. For the service you must ask the municipality for an account. A deposit is required. Apply here:
Antonio Delfini Municipal Library

phone: +39 059 203 2940

address: Corso Canalgrande, 103
Information at Palazzo dei Musei

phone: +39 059 203 3125

address: Viale Vittorio Veneto, 5
Public Relations Office

phone: +39 059 20312

address: Piazza Grande, 17
Go next