Mojave
Mojave
is a city in
Kern County
in the
Desert region
of
California
.
Get in
By car
California State Route 14 passes on the west side of Mojave, providing access to Mojave from the
Antelope Valley
to the south and US Highway 395 to the north. California State Route 58 loops around Mojave to the east and north, providing access from
Bakersfield
to the west and
Barstow
to the east. More distant cities include
Los Angeles
(95 miles south on SR-14),
Las Vegas
(225 miles east on SR-58),
San Francisco
(345 miles west on SR-58), and
Reno
(375 miles north on SR-14).
By taxi
Mojave itself has no local taxicab service, however those willing to pay a $25-$50 minimum can call for taxicab service from:
El Taxi en Espanol +1 661 266-2255 .. (Lancaster)
Red Top +1 661 267-2323 .. (Lancaster)
Southland Yellow Cab +1 661 723-2227 .. (Lancaster and Rosamond)
United Taxi +1 661 267-9850 .. (Los Angeles)
Yellow Star Cab +1 661 951-1155 .. (Lancaster)
Rosamond Taxi +1 661 256-8294 .. (Rosamond) Closest to Mojave
Rosamond Yellow Cab +1 661 256-2227 .. (Rosamond)
By plane
Get around

The town center section of Mojave is relatively small, and easily navigable by bicycle or foot. Automobile traffic is the most common, as sidewalks and bike lanes are not as common as in the average town. Also, several people use golf carts, 4-wheelers, and off-road motorbikes, as the nearby desert is an off-road motor sports haven.

See
phone: +1 661-824-2433

The huge airstrip at Mojave is used by research companies for test flights, and is most famous as the home of Burt Rutan's company Scaled Composites which in 2004 became the first private company to put a human into space. In addition the airlines park many older planes here, either because the planes are not required for service or because the plane has reached its end-of-life. In any case, seeing dozens of huge airplanes parked next to futuristic flight vehicles makes this airstrip in the desert a worthwhile stop. The airport flightline is open to the public, and many aircraft are typically on display during the monthly "Plane Crazy Saturday" event, held on the 3rd Saturday of each month, and sponsored by the Mojave Transportation Museum. A tram tour of the flightline is often available during the event. Admission to the flightline, display aircraft, and featured event speakers is free.
Edwards Air Force Base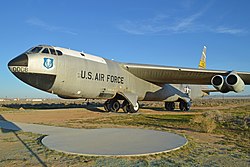 phone: +1 661 277-3510
address: 1 S. Rosamond Blvd
Edwards AFB is a massive testing and training ground for the Air Force and NASA southeast of Mojave. There is a museum on the base and tours are available. See the website for details. Note that this is an active military base so ID will be required and visitors may be required to submit to a search.
Edwards AFB is best known for being similar to Area 51, but test and experimental aircraft will come out of the hangar to experiment. From 1876 there was an unsettled water stop at this point, for the Southern Pacific Railroad. The air base was built in 1933 and opened for use in 1948, for the military and NACA; and in 1958, NACA became NASA. Ever since, Edwards is a NASA base as well. The Space Shuttles that didn't land on the Shuttle Landing Facility at Kennedy Space Center in Florida did it on Edwards AFB's dry lakebed runways.
That is the only civilian gateway to enter Edwards. So, if you are driving from Rosamond, or driving on the Antelope Valley Freeway from Los Angeles, Mojave, or Palmdale, you shall take exit 55, and if from Palmdale, take a right, and if from Mojave, take a left. And leave Rosamond, and never take any turn and enter the base by a gate, and continue to enter the base. This is called the West Gate, If you are on Route 58, take Exit 186, then get on the road, and you will enter via the North Gate. South Gate is Lancaster but it is closed.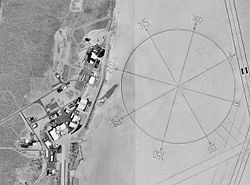 NASA Armstrong Flight Research CenterKnown as the Dryden Flight Research Center until the name was changed in 2014, this center has played an important role in the history of flight. Before NASA, NACA ("National Advisory Committee for Aeronautics") operated and tested the transsonic Douglas Skyrocket. The center also conducted the Controlled Impact Demonstration in 1984, a test in which a Boeing 720 aircraft was remotely piloted and intentionally crashed in order to study fuel additives meant to reduce fires in the case of a crash. Other experiments have included "aerospike" engines and supersonic rockets. Five lunar landing research vehicles were tested at the base, one of which is available for viewing.

Air Force Rocket Research LaboratoryHome to the test rockets, they test rockets to research the rockets.

Retired aircraftThere are a lot of military aircraft, such as Balls 8, a B-52 Stratofortress, on display near the gate. Take a lot of pictures of these planes statues when you are driving or walking in Edwards AFB.

Rogers Dry LakeDry most of the year, the hard surface of the lakebed provides an extension for runways at Edwards, and is home to approximately 16 runways. Many notable aeronautic achievements have taken place here
Eat
Voyager Restaurant

phone: +1 661 824-2048

address: 1434 Flight Line

Located on the flight line of the Mojave Air and Space Port, this restaurant provides a diner-like atmosphere, with many visitors famous to the Aerospace industry. One of the more expensive restaurants in Mojave, but excellent food. Free wi-fi and views of the runway.

phone: +1 661 824-4056

address: 16940 State Highway 14

Great Mexican food, cooked fresh to order. Specials everyday.

Primo Burgers

phone: +1 661 824-2011

address: 16862 State Highway 14

Diverse and reasonably priced menu offer lots of fried food fare. Excellent cheese-steaks and decent pastrami sandwiches made fresh to order.
Sleep
phone: +1 661 824-3601

address: 16200 Sierra Highway

phone: +1 661 824-4571

address: 16958 State Route 58

Palm Inn

phone: +1 661 824-2214

address: 2128 State Route 58
Go next
Tehachapi - Located to the west on Highway 58, Tehachapi is home to a massive wind farm.
Ridgecrest - 60 miles north of Mojave via Highway 14, Ridgecrest is a desert town that is adjacent to China Lake Naval Weapons Station. Many visitors pass through this area on the way to Death Valley or sites further north along the Eastern Sierra.
Barstow - 70 miles east of Mojave on Highway 58, Barstow is located on the former Route 66 and offers visitors several historic and natural attractions ranging from the 200,000 year old Calico early man site to the Western America Railroad museum.
Rosamond - Located south of Mojave on Highway 14, Rosamond is primarily a bedroom community in the desert of the Antelope Valley, although it does have food and lodging options for tourists, and is home to a non-profit center dedicated to feline protection where visitors can see cats ranging in size from the tiny fishing cat up to the Siberian tiger.