Mokpo
Mokpo
(목포시) is a city in
South Jeolla
Province,
South Korea
, on the southwestern tip of the Korean Peninsula.
Understand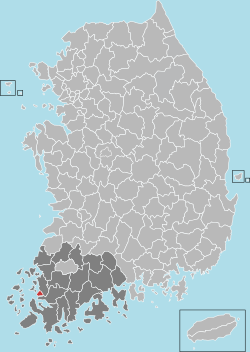 At the very southwestern corner of the Korean peninsular, Mokpo is a large port city with some claim to fame from hosting the Korean Formula 1 circuit.
Get in
By plane
Mokpo is serviced by
Muan
International Airport
(
MWX
). Flights operate domestically to Jeju island, and internationally to Shenyang, Tianjin, Shanghai Pudong International Airport and Beijing in China. The airport is 22 km from the city.
Alternatively Gwangju airport can be used with regular flights to Seoul Gimpo airport.

By boat
There are regular ferries between Mokpo and Jeju-do, and also to some smaller islands in the southwest. Ferries to Jeju cost between ₩25,000 and ₩49,000, depending on how fast you want to get there. Cheaper ferries take about 5 hours, and faster ones can make it in about 3.

By bus
Mokpo is about five hours from Seoul and from Busan by bus, and regular fares cost around ₩25,000. From Ansan to Mokpo costs ₩19,000.

By train
Trains run regularly to Mokpo, which is the last station on the rails in the southwest. The KTX line splits in Daejeon, and only the Honam line continues west. Thus, passengers heading to Mokpo must travel through Seo(West-)Daejeon station. From there, the trip takes just over two hours on the KTX and costs ₩25,000. From the Seoul station or Yongsan station, it takes about 3 hours and costs ₩50,000-55,000 for an adult.
The intercity bus terminal is a 10-minute (₩5,000) cab ride from the ferry terminal and train station. City bus 1 also runs this route, and costs ₩1,100.

Get around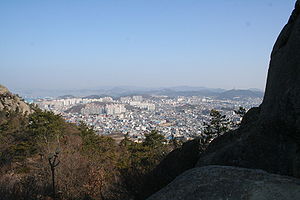 See
SihwaTiny old streets on a hill side, with artistic paintings. Be quiet as people actually live in these small colorful houses. It was made famous by the drama Love and Ambition. At the top is a small resting area. The best place to spend an hour while waiting for your ferry.

GatbawiBig rocks with a strange shape, illuminated at night.

Yudalsan ParkYudalsan is well worth a visit for the commanding view from its summit of the bustling city and the many scenic islands. On your walk up, be sure to visit the noon gun, installed during the Japanese occupation, and two beautiful "Buddhist rock carvings".

Sculpture GardenOn the east side of the ring road surrounding Yudalsan is an impressive sculpture garden showing about 50 large pieces from around the world.

Gatbawi Literature HallFeaturing information about famous writers from Mokpo. No English available.

Korean International Grand Prix CircuitThe annual Formula 1 race used to be held here every year around October. It has been removed from the F1 calendar.

Pyeonghwa Plaza. There are a lot of cafe and restaurants near by the sea. You can easily approach from anywhere in Mokpo.
Do
Yudalsan Flower FestivalIt is a Mokpo's event held around Mt. Yudal. It is held in early April every year.
Eat
Mokpo is famous for its raw ray fish. There are a lot of sushi restaurants in Mokpo. Sushi sold in Mokpo is generally cheaper than in other regions.
Drink
Moe's Bar and Grille

address: Rose Street

Nice western bar run by a guy from California. Offers countless kinds of beers and cocktails. Free popcorn.
Sleep
Norway GuesthouseClean dormitory with breakfast included. Trendy first floor with WiFi, helpful staff when reception is open. If you arrive late, they can give you the door code.

Kumho Beach Hotel

phone: +82 61-2425700

Clean and modern rooms. Cable, Internet and PC in the rooms. Five minutes from the train station and not far from the ferries. Kumho is a very tall building which can be seen from a distance. If you go to the surrounding area, there are many smaller lovelier motels.

phone: +82 61 243 3399

Regarded as Mokpo's top hotel. Rooms are mainly "ondol" floor-heated, or twin.

Hadang Boseok Sauna Jjimjilbang

phone: +82 61-281-8102

address: 1000-4 Sang-dong, Mokpo-si

This jjimjilbang is next to a small park surrounded by buildings near a port.The jjimjilbang clothing is very comfortable, but the common area itself is OK. The floor (in July) is hot enough to make you sweat. There are no floor mats, and the head rests are made of wood and uncomfortable. Try sleeping in an area up some stairs with a low ceiling, which has open windows and a cool floor, which is very comfortable. The restaurant is decent. There is a room for sleeping which has outlets for charging phones, but the air is stuffy. There is another jjimjilbang nearby, near Lotte Cinema.
Go next
To continue on to the islands to the south by bus, visitors must depart from the intercity bus terminal. A ticket on a coach bus to the island of
Jindo
costs ₩6,000 and the trip takes just over an hour. This bus runs every 30-45 minutes from 06:15 - 20:30
You may also want to consider a trip from the city's passenger ferry terminal, from which boats run to a dozen nearby islands, many of which are part of a marine national park.
Heungdae
(about ₩40,000 round trip) and
Hongdo
(about ₩75,000 round trip) are particularly beautiful.