Moldavia
Moldavia
(Romanian:
Moldova
) is a region in north-eastern
Romania
, sharing a border with
Moldova
and
Ukraine
. It consists of the counties of Iași, Vaslui, Galați, Vrancea, Botoșani, Neamț and Bacău.
Regions
Cities
Iași County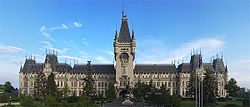 Iași — the main city, former residence of moldavian voivodes, cultural center, university city
Hîrlău - vineyards of Cotnari nearby
Vaslui County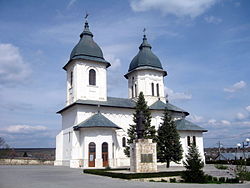 Vaslui
Bârlad
Huși - vineyards nearby
Bacău County
Bacău — an important Moldavian city with 200,000 people, village of Ardeoani - George Enescu memorial house
Comănești
Onești
Moinești
Slănic Moldova - spa resort with mineral waters
Vrancea County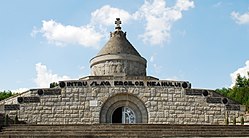 Focșani - wine region
Mărășești - known for the fights in the World War I
Galați County
Galați — city on the Danube, with almost 300,000 people
Botoșani County
Dorohoi - nearby the village of Ipotești with Mihai Eminescu, romanian national poet, memorial house
Neamț County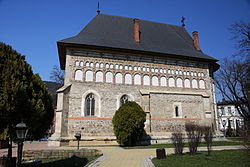 Piatra Neamț - monastery of Bistrița nearby
Bicaz — a good base for nearby lakes, canyon, and Eastern Carpathians, Izvorul Muntelui lake
Târgu Neamț - Neamț citadel, Agapia and Neamț monasteries and the memorial house of the famous writer Ion Creangă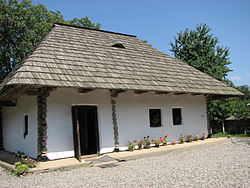 Get in
See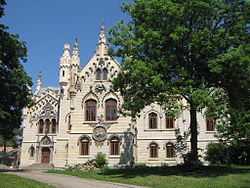 Sturdza Castle

Izvorul Muntelui Lake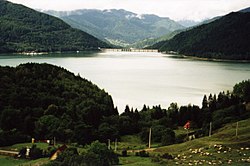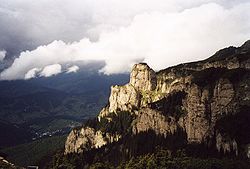 Bicaz Gorge

Bicăjel Gorge

Șugău Gorge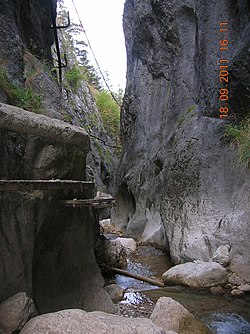 Do
Ski
Off road
Piatra Neamţ - Hard enduro contests
Drink
Most popular drink in Lower Moldavia (Ţara de Jos a Moldovei) is wine from the vineyards of Cotnari, Panciu, Odobeşti, Huşi.